Expert Review
Subaru WRX STI Saloon (2014 - ) review
Read the Subaru WRX STI (2014 - ) car review by Auto Trader's motoring experts, covering price, specification, running costs, practicality, safety and how it drives.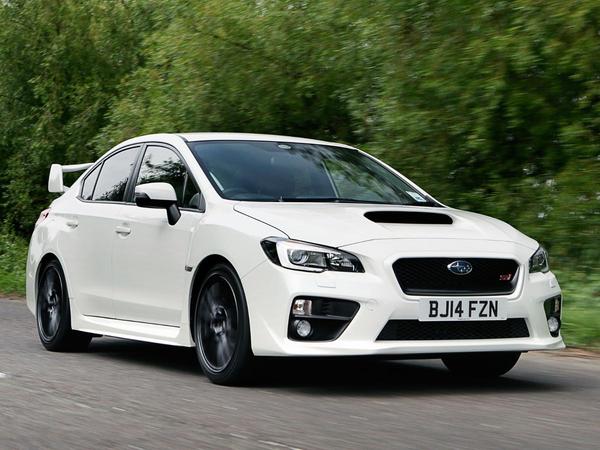 The Auto Trader expert verdict:
At the right time and in the right place, the WRX STI is a fantastic car to drive, and amazingly quick and rewarding across country. However, it's not hard to find rivals that are as quick, but much easier to live with day-to-day, more sophisticated to drive and considerably cheaper to run.
Reasons to buy:
Very fast cross country
Old-school charm and rally-bred pedigree
Sharp, but forgiving handling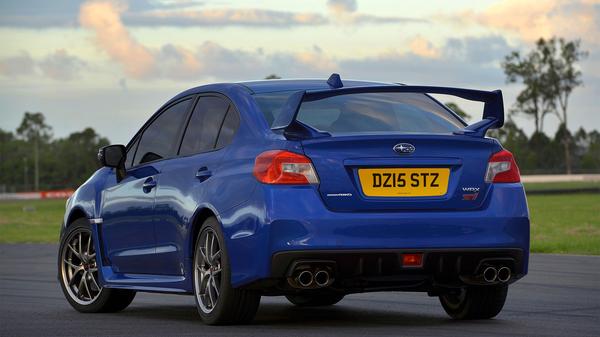 How good does it look?
"

This car proudly shows off a blood-line stretching back to rally-winning Imprezas of the 90s

"
Perhaps the best way to sum up the WRX's styling is 'unabashed' – 'in-your-face', even. What with its huge bonnet scoop, squared-off front wheelarches with air vents behind, and the enormous rear wing, this is a car that proudly shows off a blood-line that stretches back to the rally-winning Imprezas of 15-20 years ago. Such displays are relatively rare these days, as the market tends to favour rather more subtly styled high-performance models, but the WRX still has some old-school charm which will no doubt endear it to the enthusiasts who are likely to buy it - but probably put off several buyers looking for a fast, discreet mode of family transport. Spec in the eye-catching blue for the full effect, if you dare.
What's the interior like?
Like the exterior, the interior is all rather old-school, but it's nowhere near as endearing. On the contrary, there are several places – such as the stereo and dashboard displays – where the whole thing feels very dated and rather low in quality. Rugged perhaps, but certainly not filled with the kind of materials that are likely to receive any admiring glances from your passengers. What's more, some of the features, such as the trip computer, are awkward to use, and the whole impression is of an interior that's not in keeping with the car's relatively high price tag. That said, there are no complaints about the driving position, and the smart, part-leather sports seats are fantastic, providing plenty of support, and a decent view out.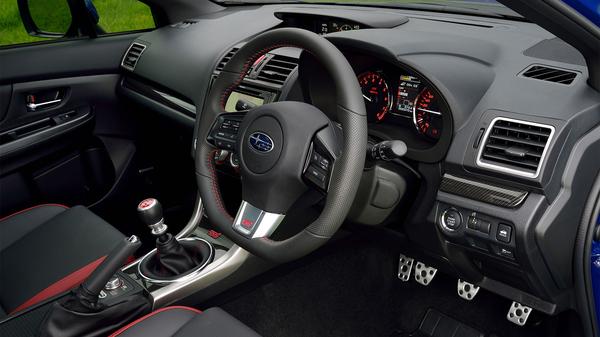 How practical is it?
"

Pretty much any driver should be able to to find a driving position to suit them

"
In the front, there's plenty of room for a couple of six-foot adults, and a good range of adjustment on the excellent part-leather sports seats to allow pretty much any driver to find a driving position to suit them after some twiddling. You can even try and persuade yourself that this performance car is a decent family car, as there's more than enough room for a couple of passengers in the rear seats, as well as a 460-litre boot behind them, which will swallow plenty of luggage. Certainly, that load capacity is greater than the majority of hot hatchbacks, which the Subaru competes against. The only downside is that it's not a perfectly square shape, and the restrictive saloon body style means the car isn't as flexible as rivals such as the VW Golf R or Honda Civic Type R, which have a much wider boot opening and therefore make it much easier to carry wider, taller items with the seats down.
What's it like to drive?
It doesn't take long for the WRX to reveal its rally-bred roots: the ride is very firm and, at low speeds in particular, it can occasionally be genuinely uncomfortable. Mind you, once you up the pace, the car comes into its own, with better body control. You soon come to appreciate the fact that there's precious little body roll; and that – combined with the high levels of grip – means you can maintain serious speed through corners. The steering is very light and feels oddly disconnected at first, but you soon realise that it's nice and quick, getting the car's nose into bends sharply. In wet conditions or if you are too eager, and push in a little too hard, and the natural tendency is for the nose to run wide, but the car's well balanced and pretty forgiving. You can also play with the balance of the differential for the four-wheel drive system using a dial next to the gearstick, sending more power to the front or rear, depending on the type of driving you're doing, a feature that is totally unique to the WRX STi.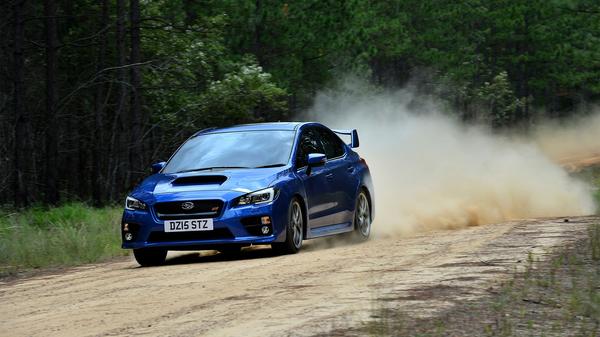 How powerful is it?
"

It's only on empty B-roads or a track that you can really extract the full performance

"
As you would only expect, a car of this size with best part of 300bhp is very quick, but – and it's a big but – you need to work extremely hard to get its full potential. Like so much of this car, the engine (a turbocharged 2.5-litre 'flat' four) is unashamedly old-school, so you need at least 3,000rpm showing before it'll even think about producing its best. In everyday traffic, that's not all that easy to do, so the car doesn't feel as quick as its looks suggest. It's only across country on empty B-roads – or on a racetrack – that you really have the chance to extract the full breadth of performance. Whether that's part of the fun or a pain depends entirely on your attitude: some will find it part of the charm, but others will yearn for a more modern high-performance engine (such as in the VW Golf R or Audi S1), which responds much more keenly at low revs, yet is still capable of the same overall performance, and feels a lot faster during everyday driving. The truck-like manual gearshift, hefty clutch pedal and abrupt throttle response (particularly in the sportiest driving modes) all make this frustrating Jekyll and Hyde persona even more obvious, and it's not hard to see why few cars still drive this way.
How much will it cost me?
There's no getting away from the fact that the WRX will be expensive to run. Its combined fuel economy is just 27.2mpg, and if you regularly make use of the car's full potential, you'll be luck to see more than 20mpg – an expensive prospect when the car runs exclusively on Super unleaded. Likewise, with CO2 emissions of 242g/km, VED rates will be almost at the highest possible rate, and – perhaps unsurprisingly – the car sits in a high insurance group. What's more, if you use the car to its full, you can expect big – and regular – bills for tyres, brakes and other consumables. It does at least come well-equipped compared to its rivals, and undercut them by a few thousand pounds, but 'affordable' it certainly isn't.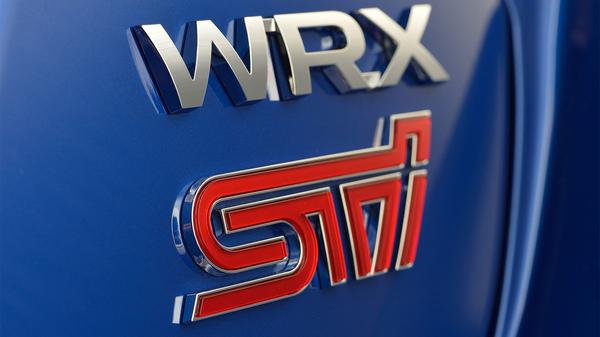 How reliable is it?
"

Like any high-performance machine, it needs looking after properly

"
Subaru is renowned for the quality and robustness of its mechanical engineering, and owners of the old Imprezas report excellent reliability, so we expect this model (which uses pretty much the same running gear underneath) to be just as impressive. Having said that, like any high-performance machine, it needs looking after properly, with more regular servicing to keep it running in tip-top condition. Similarly, parts and consumables like tyres, brakes, and so on are all more expensive than they would be in more conventional models, and will be pricier to replace as a result.
How safe is it?
The WRX STI's first line of defence is its four-wheel drive, excellent grip and strong brakes, which can help you avoid trouble in the first place. However, if you are involved in an accident, you're protected by twin front, side and curtain airbags – as well as one for the driver's knees – while there are even ISOFIX child seat anchors. Subaru's Vehicle Dynamics Control system is standard, but drivers who want to use the car on-track can adjust the level of assistance it provides. However it features precisely none of the kind of active systems that most modern drivers would expect, with no autonomous low-speed braking, collision detection, adaptive cruise control or other hi-tech systems to help prevent a crash.
How much equipment do I get?
The WRX STI may be an out-and-out analogue driver's car, but it does come with some luxuries included, such as dual-zone climate control, cruise control, part-leather sports seats and Bluetooth. However, you'll need to spend extra to get sat-nav, while the accessories range allows buyers to personalise their car to their heart's content. Rival models are more likely to charge you extra for small items, but they also at least give you the choice to buy them in the first place, whereas the Subaru basically comes as it is, so apart from choosing the colour, its hard to tailor the car to meet your exact needs, something that is a lot easier in a car which offers a more extensive range or a broader number of optional extras.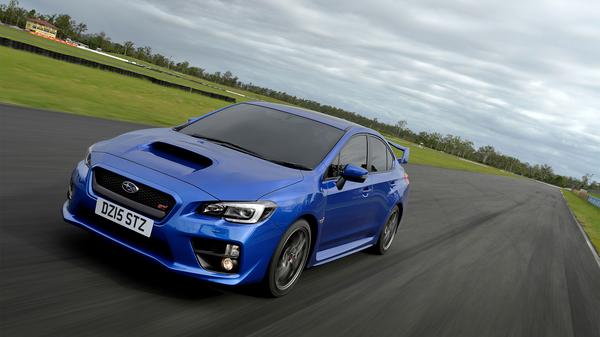 Why buy?
"

Objectively, it's probably a blast from the past rather than a future classic.

"
The only real reason to buy a WRX STI is because you want to enjoy its blistering performance and cross-country pace, or that you've fallen in love with its no-nonsense and aggressive styling. In those narrow respects, the car is superb, but it's a demanding car to live with on a day-to-day basis, and one which is far less accessible than almost all of its hot hatch performance rivals. Objectively, it's probably a blast from the past rather than a future classic.