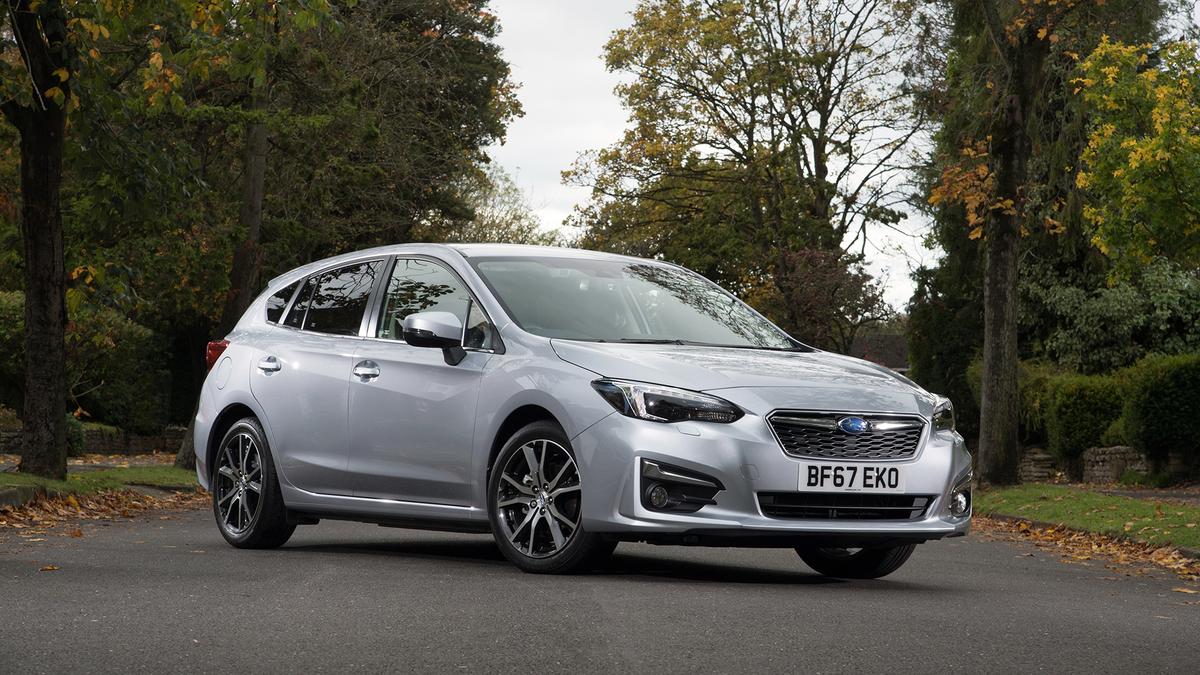 View gallery
The Auto Trader expert verdict: ★★★★★

★★★★★
2.8
If you simply must have a small hatchback with four-wheel drive and an automatic gearbox, the Impreza is one of the few cars to offer this. We'd also praise its strong reliability and build quality alongside its comprehensive safety kit and spacious, airy cabin. However, bear in mind that there are prices to pay for these abilities in the form of steep running costs, sluggish performance and so-so refinement, and there's also the fact that most of these same attributes can also be provided by any number of small SUVs.
Reasons to buy
Standard four-wheel drive

High equipment levels

Plenty of safety kit
Pick of the range
A relatively small premium gets you the stronger engine.
Most economical
It's not great on fuel, but it is better - and cheaper to buy - than the 2.0-litre car.
Best avoided
The engine struggles to produce any meaningful performance.
How good does it look?
Subaru is obsessed with giving drivers good all-round visibility, so the latest Impreza features delicately slim windscreen pillars and unusually large windows. It's lower and wider than the last model, to give a more purposeful stance, and it is fitted with large 17-inch alloy wheels as standard. Sculpted bumpers, a roof spoiler and creased doors panels also do their best to create some sense of visual drama, and the hexagonal grille - flanked by LED headlights - is more prominent than ever. However, despite all that, some might think that the Impreza still looks a little bit utilitarian compared with more flamboyantly styled rivals. It's not like you can rev things up with a few well-chosen extras, either, because other than a choice of metallic paint colours, there aren't any.

What's the interior like?
There's no question that the cabin of the latest Impreza feels more robust and luxurious than previous Subarus. This is mainly because of the rubberised dashboard, chrome door handles and mock carbon fibre trim. Don't get carried away thinking this a match for a Volkswagen Golf, though. It's closer to a Ford Focus. The instrumentation graphics and fonts look dated, and some of the steering wheel switches look and feel like they are from a bygone era. At least there's an 8.0-inch colour infotainment touch-screen displaying big, clear menus, plus an additional screen on top of that, which displays various driving information.

It's also encouraging there are large rotary dials for the stereo and air-conditioning. It's quite easy to find a reasonably comfortable driving position, too, thanks to a decent range of adjustment for the steering wheel and driver's seat. That said, the pedals in the left-hand drive versions we've driven were offset, so it'll be interesting to see if the right-hand drive versions replicate this flaw.
How practical is it?
As those large windows let in so much light, and because the rear seat bases are elevated, little ones travelling in the back will have an excellent view, which should help keep them happy. Just as crucially, taller teenagers will have little to grumble about, as there's plenty of head- and legroom.

With the rear seats in place, the latest Impreza has 385-litres of boot space, which is about the same as a Volkswagen Golf. It can't compete with the likes of Honda Civic or a Skoda Octavia, however. Open the rear tailgate of the Impreza and you might be equally confused and delighted, as the load bay cover is of the sliding fabric variety usually found in estate cars, rather than a conventional fixed parcel shelf. While this makes loading taller items a hassle-free affair, and the rear seat backs split and fold to fit longer items, those seat backs don't fold entirely flat, so they create quite a slope in the floor.
What's it like to drive?
The Impreza is not the quietest car. Quite a bit of road- and wind-noise finds its way into the cabin even at relatively modest speeds, and there's also a notable amount engine noise and gearbox whine.

It is, however, a comfortable car, soaking up lumps and bumps with ease. There is a bit of body roll to contend with, which means it's not the tidiest hatchback in the bends, but it's nothing that's going to discourage you from pushing on a bit if you're in a hurry. However, you won't enjoy that experience much because the steering feels quite remote, so it's a bit of a guessing game as to what the front wheels are up to whenever you turn the steering wheel. There is the reassurance of four-wheel-drive traction, however, which should cope with anything a British winter can throw at you.
How powerful is it?
There's no getting away from the fact that the 1.6-litre model is very slow indeed. Get a few passengers on board, throw in a hill, and there's every chance you'll be looking for a gap in the slow lane. With so little gumption to start with, the 1.6-litre engine is hampered further by being bolted to a sluggish continuously variable automatic gearbox.

The 2.0-litre engine is a better bet, but it still struggles to cope with the slushy nature of the automatic gearbox, which gives you lots of revs, but does little to encourage more than a dawdling increase in road speed. Even the simple task of pulling away from a standstill and gently accelerating up to 30mph is an abnormally noisy affair, and when you press the pedal harder for more performance, the engine always feels a long way short of its 156 horsepower output.
How much will it cost me?
The Impreza isn't a cheap car to buy because with lots of kit, four-wheel drive and an automatic gearbox as standard, it has a lot of 'stuff' on board that all costs money. It's not a cheap car to run, either. Its dated engines pump out comparatively high levels of CO2, and they're not particularly frugal. For instance, the 1.6-litre petrol models returns official fuel economy of 44mpg, and similarly powerful VW Golf (with a turbocharged 1.4-litre engine) fitted with an automatic gearbox will return 11mpg more. The 2.0-litre variant is even thirstier, giving less than 43mpg, and the correspondingly high CO2 emissions mean tax bills will be similarly steep. Insurance groups are also high compared with those of rivals, and although residual values are ok, the Impreza is very much a niche vehicle, so it will have limited appeal to used car buyers.
How reliable is it?
Subaru's reliability record is excellent, and previous Imprezas have always done extremely well in reliability surveys. Subaru is also proud of the fact its cars are incredibly long-lived and capable of sky-high mileages. Subaru dealers normally provide a good service and are well regarded and recommended by most Impreza owners.
How safe is it?
The Impreza has been crash tested by Euro NCAP, and achieved the maximum five-star rating. Seven airbags are standard and an impressive list of standard safety features are in place to help prevent crashes occurring in the first place. Subaru EyeSight technology uses a pair of forward-facing cameras to scan the road ahead to identify lane markings, pedestrians, cyclists and motorcyclists, and will activate automatic emergency braking or lane-keeping assistance when necessary. Blind-spot monitoring is standard, as are auto-dipping headlights. Cameras also help to reduce the risk of low-speed car-park impacts, by informing the engine and cutting power should you select the incorrect drive mode by mistake.
How much equipment do I get?
The Impreza is only available with one SE trim, but it comes with a decent amount of kit. You get 17-inch alloy wheels as standard, along with cruise control, powered folding mirrors, rain-sensing wipers, an electronic handbrake, a reversing camera, automatic headlamps and wipers, dual-zone climate control and heated front seats. Unusually, though, the central touch-screen has no integrated sat-nav, but because Android Auto and Apple CarPlay are standard, you can link the navigation system on your phone to the screen. The only difference between the 1.6 and the 2.0-litre is that the more powerful car gets steering wheel-mounted paddles to allow you manual control of the gearbox.
Why buy?
The Impreza is in a class of one, being a family hatchback that comes exclusively with four-wheel drive and an automatic gearbox. However, if that stuff isn't essential to you, and a more conventional hatchback will do you, then there are lots of better alternatives out there that deliver better on performance, driving pleasure, quietness and economy.