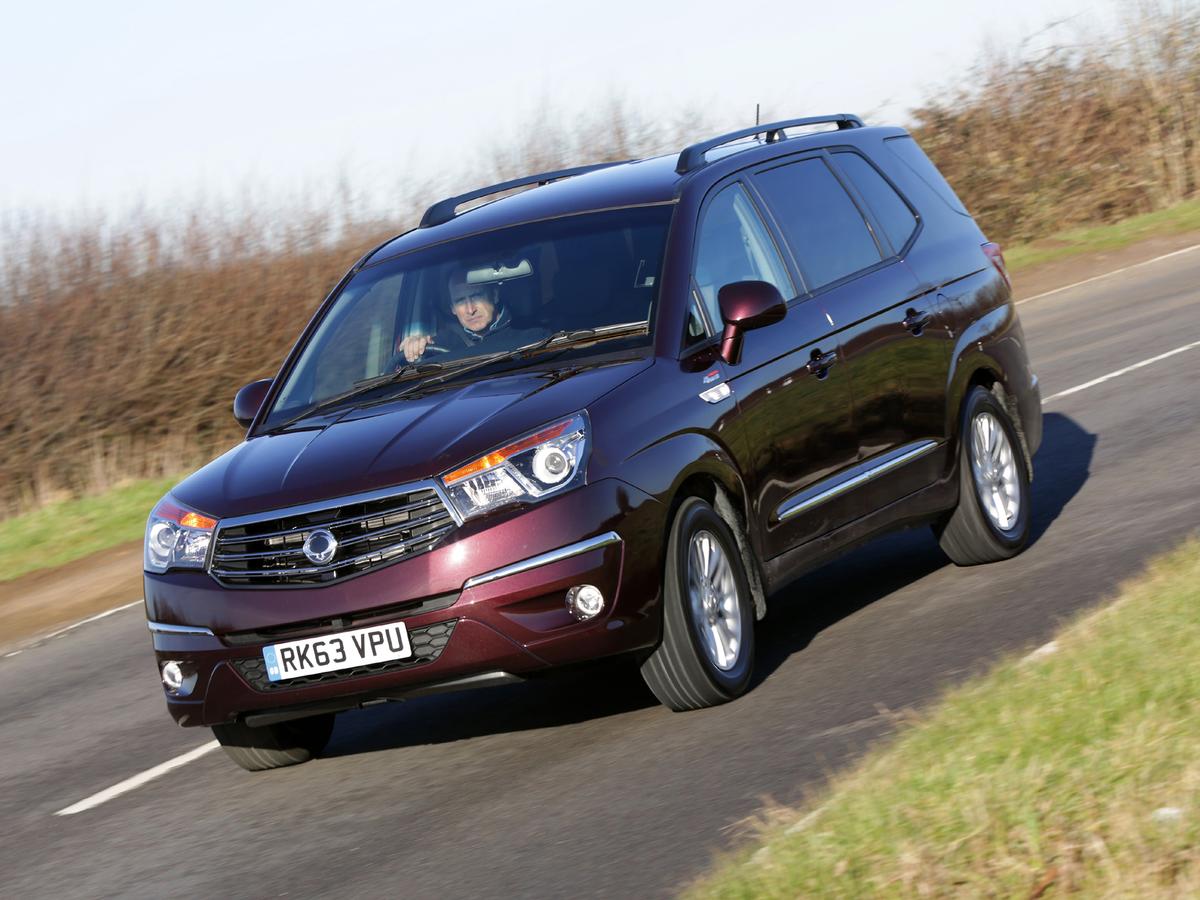 View gallery
The Auto Trader expert verdict: ★★★★★

★★★★★
1.5
The Ssangyong Turismo is a big car for not much money, but don't be fooled. The seating arrangement isn't clever enough, so it's not actually all that practical. It's also terrible to drive, poor on quality, ergonomically flawed, expensive to run and, unforgivably, doesn't have enough safety equipment. There are similarly priced rivals that give you much, much more.
Reasons to buy
Big boot

Pretty good on passenger space

Reasonably cheap to buy
Pick of the range
Second-rung trim has more kit (including airbags) than S model
Most economical
Cheapest version still isn't particularly clean, emitting 199g/km
Best avoided
Expensive, thirsty and not very good. Just don't.
How good does it look?
Ssangyong isn't exactly famed for the visual appeal of its cars, and historically, the firm's MPVs are much of the reason why. The Turismo may not look quite as oddball as previous offerings, but it's certainly nothing that'll get your heart fluttering. The front and rear light clusters, and most of the other detailing, are a little unimaginative, but it's the general proportions of that car that give it its rather awkward appearance. You'll stand out in a crowd, but for all the wrong reasons.
What's the interior like?
Let's start with the good stuff; the row of seven buttons on the leading edge of the dashboard are big and well-marked. Now onto the bad stuff; the driver's seat is high-set and has a short base, so despite having electrical adjustment (on all but the entry-level trim), you'll struggle to find a comfortable position. The foot-operated parking brake is annoying to use, and if you're tall, the pedal will dig into your shin as you're going along. The central rear headrest blocks your rear view, while you'll struggle to see the icons on the display behind the steering wheel. The aftermarket Kenwood touch-screen infotainment system is a nightmare to operate because the menus are illogical, the icons are small and the screen isn't sensitive enough. The build quality is nowhere near European standards, either. The cabin plastics feel desperately cheap, the assembly feels very flimsy and you'll hear various interior panels creaking and rattling when you go over bumps.
How practical is it?
The Turismo is a colossal car, so you'd think it'd be as practical as they come. Well, it isn't. Granted, there are seven seats in a two-two-three formation, and the front two rows have bags of space. However, headroom and legroom are more limited in the third row, and because that's the row with three seats, and it's positioned in the narrowest part of the cabin, shoulder room is also rather tight. The middle seat is raised and uncomfortable, too. Rows Two and Three can be slid and reclined, but the one-piece backrest in Row Three means all three passengers must sit at the same angle. The boot you get depends on where you have the seats, but in any eventuality, it's pretty big. However, while the five rear seats can be folded down, they don't tumble or fold away for to maximise the cargo space available. You can remove the third row, but lifting it takes considerable strength and storing it will be a pain. The Turismo is big, but it sure 'ain't clever.
What's it like to drive?
This area certainly isn't the Turismo's forte, and it's way behind the standards set by more established European rivals. Ride quality is the most important thing in a people carrier, and the way the Turismo jitters and jolts uncomfortably at low speed, yet still manages to float and pitch over even small bumps, is really disappointing; the nose of the car is forever bobbing up and down. This poor control does the car no favours in the bends, either, but it's the steering that causes you bigger issues. It's so slow and has such a huge dead-zone around the straight ahead, that actually pointing the car where you want it to go is surprisingly tricky.
How powerful is it?
Just one engine is available in the Turismo, a 2.0-litre diesel with 153bhp. The bottom two trims come with a six-speed manual gearbox, while the top two get a five-speed automatic. Range-topping EX trim throws in selectable four-wheel drive as well. We've only tried the EX so far, and while it delivers reasonably muscular acceleration in the mid-range, it feels rather lazy either side. The gearbox is hesitant to shift, whether it needs to go up or down, and that shifts aren't particularly smooth when they finally come. The engine isn't the most refined unit you'll ever experience, either; it's loud, gruff and transits too may vibrations through to the cabin.
How much will it cost me?
The price of low-end versions looks tempting, until you realise that you can have better MPVs for similar cash. The range-topping car costs around the same as an entry-level Seat Alhambra, and there's simply no contest there. The Turismo's weak residual values mean you won't make much of your money back come resale time, either. At best, the official fuel economy figure stands at a disappointing 37.2mpg. It gets worse if you add the automatic 'box (36.2mpg), and worse still if you have the four-wheel drive on top (34.9mpg). Correspondingly, the CO2 emissions are high, making the Turismo pricey on tax.
How reliable is it?
Ssanyong doesn't sell enough cars in the UK to be considered in most reliability surveys, so data is somewhat sketchy. However, the brand does feature in Warranty Direct's manufacturer standings, and while the company sits in the lower reaches of the table, it's not as far down the list as you might think. A bigger problem might be finding somewhere to have maintenance work done, as Ssangyong doesn't have many dealers in the UK.
How safe is it?
Ssangyong doesn't sell many cars in Europe, so the Turismo is way down the list of priorities for Euro NCAP's crash testers. However, that doesn't stop us from having concerns. In a car that seats seven people, only the two in the front seats are protected by airbags – that's simply not good enough. And, while most versions get four airbags (side and front), the entry-level car misses out on the sides, taking the airbag count down to two. Stability control is provided, though.
How much equipment do I get?
Entry-level S trim has a leather steering wheel, remote locking, four powered windows, air-con, Bluetooth and remote audio controls, but you have to upgrade to ES trim for alloys, leather seats, privacy glass and parking sensors (that's something you'll really need). That makes it our favourite. ES cars have cruise control and an automatic gearbox, while EX trim has four-wheel drive, rain-sensing wipers and bigger alloys.
Why buy?
To be honest, we can't think of a single good reason why you would. If you're after a seven-seater for as little money as possible, cars like the Chevrolet Orlando will serve you much better. Even the entry-level version of the excellent Citroen Grand C4 Picasso is available for not much more than the entry-level Turismo, so go for that if you can stretch to it.