Expert Review
Smart fortwo Coupe (2014 - 2020) review
The Smart Fortwo is a two-seat city car that does a variety of things that very few other cars can, thanks to its tiny dimensions and incredible manoeuvrability. It's great in the city, then, but is it quite so great out of it?

Words by: Ivan Aistrop

Additional words by: Ivan Aistrop
Last updated on 29 January 2018 | 0 min read
The Auto Trader expert verdict:
The Smart Fortwo is quite expensive for what it is, especially when compared with other city cars, but its tiny proportions do mean that it can do a few things that very few rivals can. Sure, it has its shortcomings – not least the limited practicality, restricted visibility and an unsettled ride – but nevertheless, the Fortwo is a very appealing little car.
Reasons to buy:
Comically small turning circle
Incredibly easy to park
Huge scope for personalisation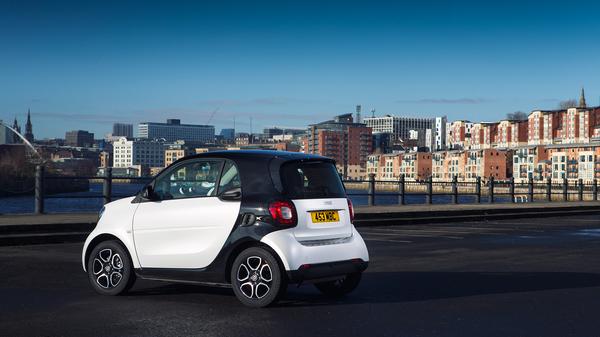 How good does it look?
Obviously, it's the proportions of the Fortwo that grab you first, as it's these that make the car unique, and that allow it to do much of the stuff that buyers love about the car. What's more, the Fortwo is – if you'll forgive the pun – a smart-looking thing, with alloy wheels and LED daytime running lights on every model. Mind you, the standard spec on a Smart is pretty much irrelevant because – as the umpteen pages of colours, trims and accessories in the brochure testify – the point is that the almost limitless combinations allow buyers to create what is effectively a unique car. And, that's the case on every model, even the most expensive Brabus model, which comes with its own sporty bodykit, chrome exhausts and unique alloys.
Expert rating: 4/5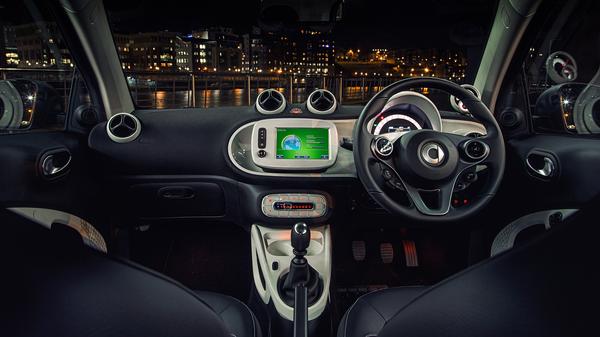 What's the interior like?
There's a cohesion between the exterior and interior of the Smart Fortwo, with a high quality cabin that also manages to inject some fun and frivolity. The design is an appealing mix of interestingly sculpted shapes and dense-feeling textures, and the mesh fabric dashboard is a particularly nice touch, evoking images of your favourite pair of expensive trainers. The standard radio, smartphone cradle and connection app – allowing your phone to become the car's interface – work okay, but the optional touch-screen media system with digital DAB radio, navigation and real-time traffic planning is better because not only does it deliver more functionality, it's also easier to use. The seats could offer more thigh and lateral support, plus those who spec the manual may be annoyed there's no space to rest their clutch foot. It's also a little disappointing to see that you have to head to the options list to get height adjustment on the steering wheel and driver's seat.
Expert rating: 4/5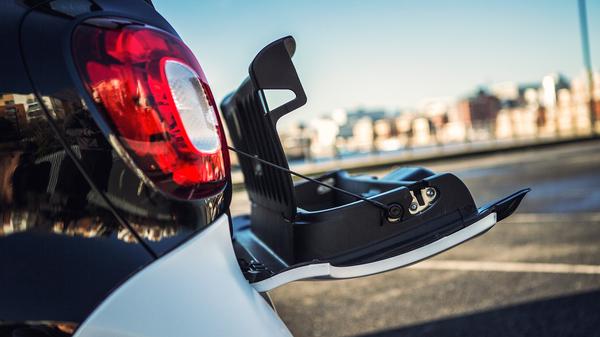 How practical is it?
This may be a tiny car, but the two people it can accommodate will be anything but cramped. Legroom is excellent, as is headroom, and a couple of six-footers will be perfectly comfortable. While the boot is predictably small, it's actually a lot bigger than you'd think at around 260 litres. And, if you were that worried about cargo space, you probably wouldn't be considering a Fortwo in the first place. If you're considering the Electric Drive version, then fear not; the batteries are stored in the floor of the car so there's no price to pay in practicality.
Expert rating: 3/5
What's it like to drive?
Naturally, what makes the Fortwo such a fine car around the city is its tiny size. Not only can it fit into amazingly tight parking spaces, the turning circle is almost comically small and you have to fight the temptation to perform impromptu U-turns just for the hell of it. That said, it's not a universal thumbs-up, with the biggest problem being the unsettled ride. The suspension doesn't deal with bumps in the road particularly effectively, which can give you a proper jolt from time to time, and the effect is also exacerbated because the rear wheels hit the same bumps so soon after the fronts. It's noticeable on the most basic models, but it's even more unpleasant on Proxy models, which come with larger alloy wheels and lowered sports suspension; and, in the sporty Brabus model, it can be genuinely uncomfortable, with the back of your head being bashed against the head restraint from time to time. Out of town, the Smart feels quite agile and nimble, but it's clearly not in its natural (or intended) habitat, and that jittery, unsettled feeling never goes away.
Expert rating: 2/5
How powerful is it?
Mainstream versions of the Fortwo come with a choice of two petrol engines, but our only experience of these so far has been with the most powerful version - the turbocharged 90 horsepower engine - and we've only sampled it with the optional six-speed automatic gearbox. Happily, it's a combination that really suits the car. It responds well around town, dashing eagerly from one red light to the next, but it also has the wherewithal to cope with higher-speed blasts out of town. Mind you, if you are considering regular high-speed journeys in a Smart, bear in mind that they'll be very noisy experiences. If speed is your thing, then you could consider the Brabus version, with its 109 horsepower engine. It's easily the quickest model in the range, but the trouble is that it's still not all that quick. Yes, it does respond sharply in town, but given the price you pay financially and in terms of ride comfort, we don't think it's worth it. We've also had a shot in the Electric Drive version, which has an 80 horsepower electric motor and a theoretical maximum range of around 100 miles. Electric propulsion really suits the Smart's urban-friendly character because the pickup is instantaneous and eager, allowing you to exploit gaps in traffic really effectively. The top speed is limited to 80mph to maximise battery range, but that's unlikely to ever cause you a problem.
Expert rating: 3/5
How much will it cost me?
There's no getting away from the fact that the Fortwo is an expensive thing to buy. Stylish city cars like the Skoda Citigo, Toyota Aygo or Kia Picanto will set you back a lot less, and give you two more seats besides. However, if you can stomach the purchase price, the Fortwo's running costs don't look too bad: every model averages more than 60mpg and only the Brabus version has CO2 emissions of more than 100g/km. Obviously, the Electric Drive version is even cheaper to run, because electricity is much cheaper than petrol, and it qualifies you for all sorts of tax breaks and other fiscal benefits. The Government will even give you a few grand towards buying it in the shape of the electric car grant, but even after you factor that in, the car is still eye-wateringly expensive.
Expert rating: 4/5
How reliable is it?
As a maker, Smart doesn't have the best of records, sitting mid-table in Warranty Direct's Reliability Index. However, previous generations of the Fortwo have a much better score, with a better-than-average rating for reliability. This is borne out by owner reviews on our website, where previous versions of the car score almost universally full marks for reliability. So, while it's too early to comment with any certainty on this model (which was co-developed with Renault), the omens are good.
Expert rating: 3/5
How safe is it?
The Smart Fortwo has always been big on safety – to such a degree that the company has made a design feature of the tridion safety cell by painting it a separate colour – and this version continues in that vein, with the standard kit including five airbags (a driver's kneebag, plus driver and passenger head and thorax bags), anti-lock brakes, stability control and cross-wind assist. Optional extras also include lane-keeping assist – which beeps at you if the car detects you drifting out of your lane – and forward collision warning sensors.
Expert rating: 4/5
How much equipment do I get?
There are four trim levels, Passion, Prime, Proxy and Brabus, and all are reasonably well equipped. Even the basic Passion comes with climate control and Bluetooth connectivity (although it's perhaps a surprise that a DAB radio is only an option), while Prime adds leather upholstery, heated seats and extra instrument pods. Meanwhile, at the top of the range, Proxy models have the Sports package (including a bespoke bodykit, as well as changes to the suspension), but the options list across the range is long and tempting – particularly when it comes to the car's styling – and allows buyers to create a unique package. The Electric Drive model is based on Prime trim, but also adds heated leather seats, rear parking sensors and satellite-navigation. Finally, there's the Brabus version, which comes with its own sporty look inside and out, as well as plenty of luxury items and technology to justify the high price.
Expert rating: 4/5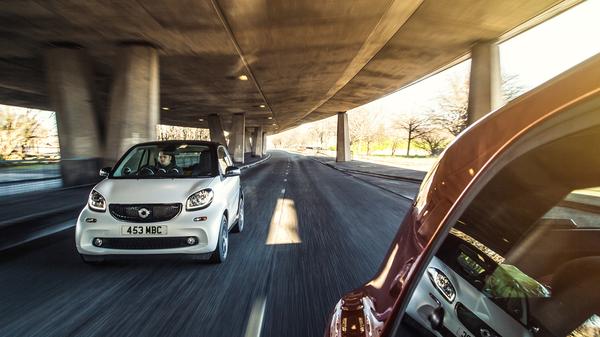 Why buy?
The Fortwo is at its best in the city, where you can really take advantage of its dinky dimensions, implausible manoeuvrability and comically tight turning circle, not to mention its ability to be able to park just about anywhere. You do have to make a few compromises – both in and out of town – in order to get that ability, so we'd recommend that potential buyers make themselves fully aware of these before taking the plunge. However, if the Smart suits your life, you'll absolutely love it.
Expert rating: 4/5