Expert Review
Proton GEN-2 Hatchback (2004 - ) review
Read the Proton GEN-2 hatchback (2008 - ) expert review by Auto Trader's motoring experts, covering price, specification, running costs, practicality, safety and how it drives.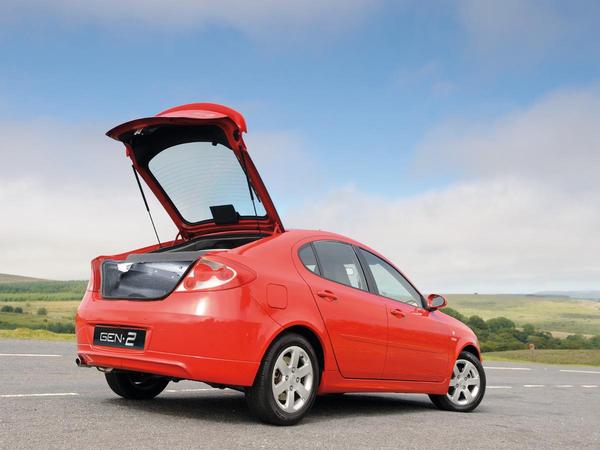 Words by: Ivan Aistrop
Last updated on 7 November 2014 | 0 min read
The Auto Trader expert verdict:
The Proton Gen-2 is a no-nonsense hatchback which rivals models including the Skoda Octavia and Chevrolet Cruze. Choose the ecoLogic model and it will run on cheap LPG gas as well as petrol.
Reasons to buy:
Reliable runner
Easy to drive
LPG version available
How good does it look?
The Proton GEN-2 signalled a design shift for the Malaysian manufacturer, which had long adapted vehicles based on Mitsubishi models and now had a clean sheet of paper. It wanted to create something more curvaceous, aerodynamic and to take inspiration from Lotus, the sportscar manufacturer largely owned by Proton. The result is largely successful, the GEN-2 looking quite European in its design.
Expert rating: 2/5
What's the interior like?
Sadly, this is the GEN-2 saloons weakest area – you can't help but feel the interior is like a step back in time to cars of a decade ago. The Chevrolet Cruze has a much more modern cabin, while the more expensive, but wholly mainstream, Vauxhall Astra, Ford Focus and Volkswagen Golf are leagues ahead in their interior quality. The plastic dashboard feels brittle and scratchy, while the upholstery looks out-dated. Soft seats prove comfortable, so long as you are under six feet tall, at which point there's a lack of headroom. Rear legroom is good, but head space is an issue here too. Top models get a black and red steering wheel and leather trim, which is far better, but still disappointing.
Expert rating: 1/5
How practical is it?
As long as you aren't too tall, the GEN-2 is a practical car, with plenty of space for four occupants and a good boot. It has 460 litres of luggage space and expands to 850 litres with the rear seats folded down. EcoLogic models fitted with an LPG tank in the boot do not have luggage space greatly reduced owing to its fitment in the spare wheel well beneath the boot floor.
Expert rating: 3/5
What's it like to drive?
Lotus has had a hand in tuning the Proton GEN-2's suspension for UK roads and the results are positive. While it might be a very different car to those built by Lotus itself, the GEN-2 has steering with plenty of feel and it is well-balanced in corners. The number one thing it has going for it is a comfortable ride, which should suit its target audience perfectly. Speed bumps are soaked up particularly well.
Expert rating: 3/5
How powerful is it?
There's a 1.6-litre petrol engine, available with either a manual or automatic gearbox. Power is measured at 110bhp, which is quite an impressive figure. It's unlikely you'll wring all that power from the 1.6 though – it's a very noisy and unrewarding experience. Instead, there's enough pulling power to enable quick changes into higher gears, a driving style which suits the engine much better. During our test of two GEN-2 models, the saloon had a rather stubborn gear change, while the hatchback GEN-2 fared better – despite them being identical in theory.
Expert rating: 2/5
How much will it cost me?
Proton is currently offering the GEN-2 ecoLogic with an LPG system fully-installed for no extra charge – a quite unique proposition which may well be the reason you are reading this review. With the price of LPG still well below the £1 per litre barrier, the only reason for most drivers to not switch their own cars from petrol to LPG is the cost of the conversion process – typically between £700 and £1,000. So how does it work? There's a button to activate the LPG system near the handbrake, with a series of blue lights to tell you how much LPG is in the tank. Start the car and it will always run on petrol initially – you can never run the GEN-2 solely on LPG and it's recommended to always keep the petrol tank at least quarter full. As soon as the engine is warm the fuel will switch to LPG automatically, with no perceivable change. LPG is less efficient than petrol, so you won't get as many miles out of 30 litres of LPG as 30 litres of petrol, but it's a difference more than covered by the cheaper cost. Performance felt roughly equivalent too, we only switched back to petrol for extra power once on a particularly steep stretch of dual carriageway and found the difference minimal. As it's registered as a 'dual-fuel' car the GEN-2 ecoLogic is London Congestion Charge exempt. Using petrol alone the 1.6 manages 39.8mpg
Expert rating: 4/5
How reliable is it?
The Proton is designed to be hard wearing, and its mechanical components feature less complex technology than many of its competitors, with less to potentially go wrong. However, the Proton is built to a cost and some of its interior and exterior trim is noticeably cheaper than rivals.
Expert rating: 3/5
How safe is it?
There are ISOFIX child seat mounting points on the rear seat, seatbelt pre-tensioners, twin airbags, anti-lock brakes (ABS) and electronic brake distribution (EBD) fitted as standard. GSX models are also fitted with side airbags. The steering column and pedals are designed to collapse in a front impact, to prevent intrusion.
Expert rating: 3/5
How much equipment do I get?
GLS models are fitted with air-con and a pollen filter, electric front windows, Blaupunkt radio/CD player and four speakers. GSX models are fitted with front and rear electric windows and automatics have cruise control. GSX models can be fitted with Bluetooth hands-free technology as an optional extra.
Expert rating: 2/5
Why buy?
If you want a reliable set of wheels to get you from A to B the GEN-2 will fulfil your needs. Choose the ecoLogic model and it could also start saving you money straight away.
Expert rating: 2/5