Expert Review
Porsche 911 GT3 coupe (2011 - ) review
Read the Porsche 911 GT3 (2013- ) car review by Auto Trader's motoring experts, covering price, specification, running costs, practicality, safety and how it drives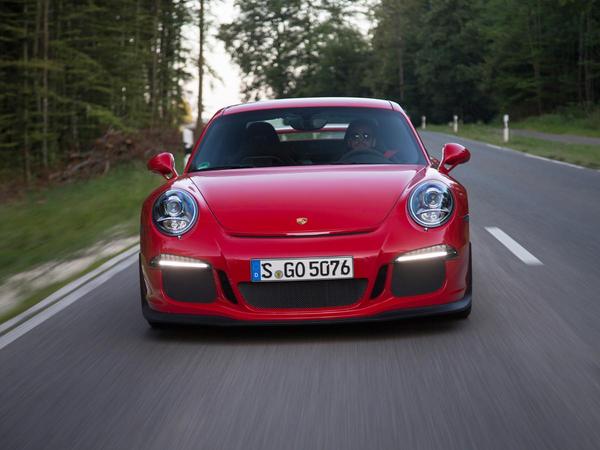 The Auto Trader expert verdict:
The GT3 has always been dubbed the 'racecar for the road', but the latest version fulfils the brief better than any previous GT3. It has every ounce of sensation and engagement needed to thrill you on the racetrack, yet enough comfort and refinement to use every day.
Reasons to buy:
Rip-snorting performance from 3.8-litre engine
Sensational handling
Comfortable enough to use every day
How good does it look?
The GT3 is the hardcore, track-focused version of the Porsche 911, and there's plenty to mark it out from the rest of the range. The most obvious thing is the coffee table-sized spoiler on the rear end, while closer inspection reveals a whole host of new or enlarged air intakes all over the car for improved cooling. The increased track width also helps give the GT3 more visual muscle, because the wheelarches are more flared. This thing really does look the business.
What's the interior like?
As standard, the cabin is hardly any different to a normal 911's. That might disappoint some buyers who want a more bespoke, racecar feel to the interior, but it does mean that quality is top notch and everything is simple to use. What's more, you can give your car that racecar feel by adding the Club Sport Package, which is a no-cost option. This gives you Recaro bucket seats with six-point harnesses, a roll cage and a fire extinguisher.
How practical is it?
The GT3 comes with only two seats, which does rather limit its practicality. However, what you lose in seating capacity, you gain in storage space. The two small boot compartments at either end of the car are supplemented by a huge space for baggage behind the chairs. So, compared with other two-seat sports cars, the GT3 is actually impressively practical.
What's it like to drive?
The GT3's corning ability has to be experienced to be believed. The huge tyres give staggering grip, and the traction is just as impressive; the driven rear wheels are aided by a torque vectoring system. The GT3's lightweight stature contributes to its deftness and precision, while the active rear-wheel steering gives you even more agility and responsiveness in bends. The steering is also beautifully weighted at all speeds, and it's endowed with as much genuine feel as any enthusiast driver will ever need. The GT3's suspension features two-mode adaptive dampers as standard, and whichever setting you select, the body stays dead flat under hard cornering. Incredibly, though, the GT3 still manages to ride over lumps and bumps with reasonable smoothness. It'll thrill you like few other cars on the track, yet it's comfortable enough to use everyday. That's seriously impressive.
How powerful is it?
The GT3's naturally aspirated 3.8-litre flat six engine produces 469bhp and revs to a dizzying 9,000rpm. Standard launch control means the 0-62mph dash comes and goes in just 3.5 seconds, and it won't top out until you're doing 196mph. It's the way the power is delivered that's most intoxicating, though. The engine is impressively tractable at low revs, and the revs don't have to rise much before the acceleration becomes properly savage. However, it's not until you get the dial upwards of 7,000rpm that the engine really shows what it can do; in that final 2,000rpm portion of the rev range, all hell breaks loose. The power is transmitted to the wheels via a brilliant seven-speed twin-clutch gearbox. The shifts are lighting quick, both in automatic mode and in manual mode. The feel of a full-throttle upshift strikes just the right balance between sensation and civility, and best of all, there's no automatic intervention from the gearbox whatsoever when you're in manual mode, meaning no unexpected shifts on your entry into a corner.
How much will it cost me?
The GT3 costs more than £100,000, so it sounds ludicrous to refer to it as a bargain. The thing is, we can't think of another performance car that gives this level of speed and dynamic talent for anything like the price. That alone makes it decent value for money. Of course, bills for insurance and tyres will be hefty, and even if you treat it gently (which, of course, you won't) you'll only get an average of 22.1mpg. Still, if you can afford the initial six-figure outlay, you probably won't care a jot about that.
How reliable is it?
Part of the 911's 'everyday supercar' image comes from the widespread belief that it won't leave you stranded at the side of the road on a regular basis. And yes, historically the 911 has been nowhere near as troublesome as some other supercars. However, problems, particularly electrical ones, are far from unknown, and Porsche currently sits near the bottom of Warranty Direct's manufacturer standings.
How safe is it?
The GT3's staggering grip helps on the safety front, while the rear differential, torque vectoring system and stability control also help keep things on the straight and narrow. If the worst should happen, there are six airbags to help keep you from harm. Naturally, high performance brakes are provided as standard, and these can be upgraded to carbon ceramics – for a hefty cost.
How much equipment do I get?
Generally, Porsche isn't overly generous in the standard equipment it provides. That's certainly been the case with previous GT3s, because they've been stripped out to save weight. The latest version comes with creature comforts like climate control, satellite navigation and sports seats trimmed in alcantara and leatherette. However, Porsche still charges you extra for a Bluetooth phone connection. That's really stingy.
Why buy?
The Porsche 911 GT3 is a tremendous achievement. It provides all the excitement, sensation and engagement you need for the track, along with enough comfort and refinement to allow you to use the car every day. It's expensive, but it's also good value for money. If you're a track day enthusiast, and you can afford it, we strongly recommend you give it a look.