Expert Review
Mitsubishi Outlander SUV (2013 - ) review
Read the Mitsubishi Outlander (2013 - ) car review by Auto Trader's motoring experts, covering price, specification, running costs, practicality, safety and how it drives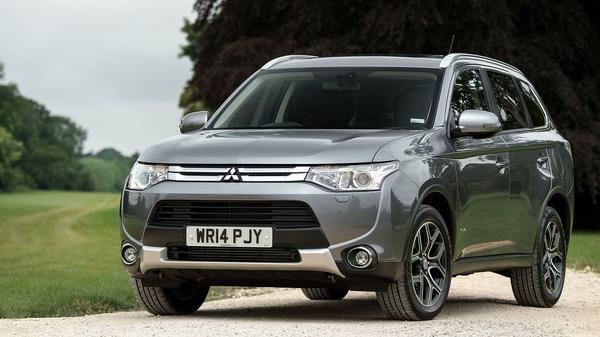 Words by: Ivan Aistrop
Last updated on 26 February 2015 | 0 min read
The Auto Trader expert verdict:
With decent space and good versatility, as well as seven seats on most versions, the four-wheel drive Outlander makes a good go-anywhere family car
Reasons to buy:
Spacious cabin and comfortable ride
Good fuel economy and low CO2 emissions
Seven-seat versatility on most models
How good does it look?
The Outlander may be a rough-and-tumble SUV, but it's not the slab-sided Tonka Toy you might expect. On the contrary, it's much more rounded, but those curved surfaces and that sleek shape aren't just there for effect: they are designed specifically to make the car more aerodynamic, and more fuel-efficient as a result. Still, efficiency and elegance go hand-in-hand, and the resulting shape is a perfectly pleasant one (if not terribly distinctive), without some of the bulk you might expect of a big 4×4. All but the most basic GX2 models come with alloy wheels and tinted rear windows, while roof rails are standard across the range, as are body-coloured bumpers and mirrors. PHEV models look basically identical, but are distinguished by black, rather than silver, roof rails.
Expert rating: 3/5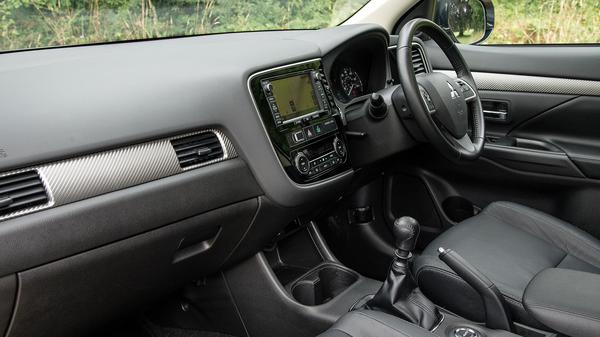 What's the interior like?
"

The quality of the materials compares favourably with any other car in this market

"
Mitsubishi hasn't been renowned for the quality of its cabins, but the Outlander's is probably its smartest yet. The quality of materials compares favourably with any other car in this market, and there's plenty of colour around the cabin to smarten things up. The layout is generally good, too, with nice, chunky buttons, but the touch-screen sat-nav that is fitted on top GX4 trim is fiddly to operate. On the other hand, there are no complaints about the driving position, which has plenty of adjustment (a height-adjustable driver's comes on every model) and gives the slightly higher view that SUV buyers love.
Expert rating: 4/5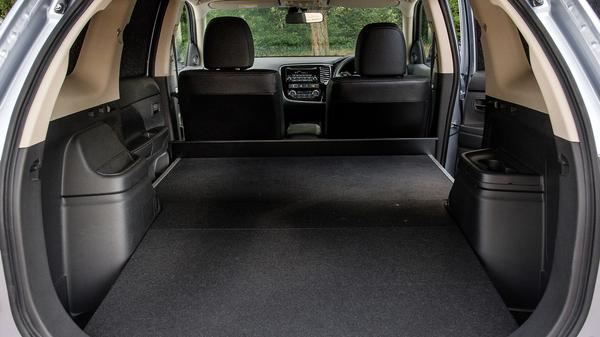 How practical is it?
"

The boot is well-sized and you can fold down all five rear seats (where fitted) to leave a completely flat floor

"
The Outlander will make a fine family car: with a couple of six-footers in the front seats, there's enough room for a couple more in the second row, and only the transmission tunnel in the floor limits the space for a central passenger. On all trims from GX3 upwards, the Outlander is a seven-seater; and, although the third row of seats is only suitable for children, by sliding the second row forward a little, you could get seven on board. To cap it all, the boot is well-sized, and you can fold down all five rear seats (where fitted) to leave a completely flat floor. The hybrid is rather different, however, as it is only a five-seater, no matter what the trim, while the boot is also a little smaller.
Expert rating: 4/5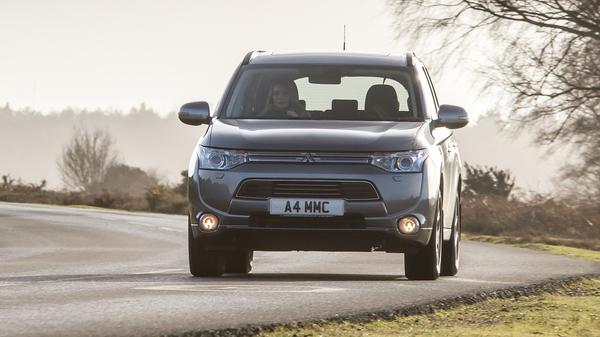 What's it like to drive?
"

If you settle back into a more relaxed driving style, that plays to the car's strengths

"
The suspension has clearly been set up for comfort – and to pretty good effect. Other than a slightly lumpy feel at low speeds, diesel versions of the car ride comfortably - and more smoothly than the hybrid version. The key to that is having plenty of travel in the springs to absorb the bumps, but the price you pay is plenty of body roll in the bends. That's not to say the car handles badly – on the contrary, it's very safe and secure – but the roll (combined with the lack of side support in the seats and the lack of feel through the steering) soon discourage you from barrelling down a B-road. Instead, if you settle back into a more relaxed driving style, that plays to the car's strengths.
Expert rating: 3/5
How powerful is it?
There are two versions of the Outlander, one with a 2.2-litre diesel engine and the other with a petrol/electric hybrid powertrain. Once the diesel-engined version is up and running, it has decent performance, with strong pull in the mid-range and plenty of performance for a car of its type. However, so far, we have only driven the GX5 version, which comes with an automatic gearbox, and our only gripes are that the car was slow to pull away from rest and that the gearbox was reluctant to kickdown when you needed a burst of acceleration. However, using the paddles behind the steering wheel to change gear manually soon sorted that out. The hybrid model is a very different beast, almost silent and plenty quick enough in electric-only operation in town. However, beyond the city limits, it's very noisy when you put your foot down and the petrol engine kicks in. Worse still, even with the petrol engine screaming away, the car doesn't pick up speed all that quickly at higher speeds.
Expert rating: 3/5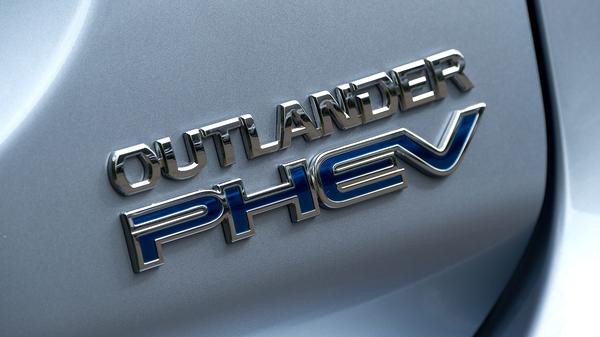 How much will it cost me?
There's no shortage of cars in this class, but it's the excellent fuel economy and low CO2 emissions that may well tempt buyers to look at the Outlander. Models with the diesel engine and a manual gearbox emit just 140g/km of CO2 and average 52.3 mpg, while the equivalent with the automatic 'box are 153g/km and 48.7mpg. These put the Outlander ahead of rivals such as the Hyundai Santa Fe and Honda CR-V, and the only model to beat it - and only slightly - is the five-seat Mazda CX-5. For company car users, the plug-in hybrid is exceptionally attractive: thanks to its amazingly low CO2 emissions, it's in a very low BIK tax band, while the company accountant will appreciate being able to write off the cost of the vehicle in one year, as well as a lower National Insurance bill. It works well for private owners who mainly use it for short journeys and can use all-electric power most of the time, but if you regularly need to make long journeys, the diesel will work out cheaper to run.
Expert rating: 4/5
How reliable is it?
Mitsubishi has always had a good reputation for reliability, with its cars regularly rated as among the most reliable and the company sitting just above mid-table in Warranty Direct's Reliability Index. After our experience with several versions of the car - and judging by the uniformly positive reports from owners on our website - we see no reason for the Outlander to change that.
Expert rating: 4/5
How safe is it?
The Outlander scored a full five-star rating in Euro NCAP tests, with an impressive 94% rating for Adult protection and 100% for Safety Assist. The Plug-in hybrid version was tested separately, because it is a heavier vehicle, but it too scored a maximum five-star rating. Every model comes with seven airbags, including one for the driver's knees, and a speed limiter. Top-spec GX5 models also have Adaptive Cruise Control, Lane Departure Warning and a Forward Collision Mitigation system, which can help to avoid a collision when the car is travelling at less than 20mph, as well as reducing the severity of an accident at speeds above 20mph.
Expert rating: 4/5
How much equipment do I get?
The diesel-engined range starts with the GX2, but although it comes with air-con and cruise control, it misses out on some desirable kit. It's the only model without alloys, for example, and only has five seats, so we'd recommend going for at least the GX3. As well as the extra seats, this also brings dual-zone air-conditioning, alloy wheels and Bluetooth, and upgrades the LCD display to full colour. Go for GX4 and you get leather upholstery, sat-nav and rear parking sensors, while top-spec GX5 models come only with automatic transmission, as well as a DAB radio, adaptive cruise control and the forward collision mitigation system. The hybrid range starts with GX3h, but the trims are basically the same as the equivalent diesel-engined model.
Expert rating: 4/5
Why buy?
The good economy and emissions figures - particularly on the hybrid model - make this one of the most attractive 4×4s to buy and run, especially as a company car. On top of that, the Outlander is also a fine family car, with plenty of room for five and with the added bonus of seven seats on most diesel-engined models.
Expert rating: 4/5