Expert Review
Mini Hatch John Cooper Works hatchback (2010 - ) review
The John Cooper Works version of the Mini Hatch is the fastest, sportiest example of an already fast and sporty car. It competes with small, high-end hot hatches like the Audi S1
The Auto Trader expert verdict:
The Mini John Cooper Works is a hot hatch that can thrill with its raw pace and its barnstorming handling in equal measure. It's expensive to buy, especially if you're not careful with the options list, and there are lots of other hot hatches available that are cheaper, more practical and better equipped. However, few have the JCW's image, character or downright cheekiness, and for many buyers, that'll be the deal-sealer. If you can afford it, you'll absolutely love it.
Reasons to buy:
Scintillating pace
Laugh-a-minute handling
Stylish, high-quality interior
How good does it look?
Part of Mini's goal with the JCW was to give it its own distinct character compared with lesser Minis, and one of the tactics employed to achieve that lies in the styling. You'll recognise the big scoop embedded in the clamshell bonnet from the Cooper S, but the JCW also has a unique front grille with more air intakes to give a more muscular look and improve cooling. Down the sides, you'll see lairy-looking alloy wheels housing red-painted brake calipers, along with with beefy side sills, while that back end has its own bespoke bumper design and a big old roof spoiler. The design is a slightly curious mix – it's quite intricate and there's a lot going on, yet somehow the car still looks a little conservative overall - but the JCW is still a smart and desirable-looking car.
What's the interior like?
You get just as racy a feel from the JCW's cabin as you do from the bodywork. The first things that strike you are the massive bucket seats, with their heavy side bolsters and integrated headrests, and they offer terrific support and ample adjustment, while also contributing to a nice, low-slung driving position. A few other sporty motifs – such as contrasting stitching – are dotted around to top-off the effect, and being a Mini, the quality of the interior is as good as you'll find in any high-end rival. Importantly, the charming character you get from the standard Mini's cabin has been preserved, because all those retro design touches are still there in the JCW. By and large, the ergonomics are pretty good, too, thanks to an infotainment system that's logically laid out and clear to read. Things aren't perfect, though. The location of the dial that operates the system makes it awkward to get at, and the small rear window means your over-the-shoulder visibility is pretty poor.
How practical is it?
Hot hatches aren't usually bought purely for their practicality, but the JCW does better than you might expect. There's lots of space up front and plenty of little cubbies in which to stash odds and ends; and, the rear seats have enough head- and legroom to take two tall adults without too much grumbling. Getting in and out of the back isn't too much of a hardship, either, thanks to front seats that tilt and slide out of the way effectively, but the high shoulder line and small windows do make life rather dark once you're inside. Like all Minis, the JCW's biggest issue with practicality lies with the boot; it's just too darned small. The back seats do fold down flat to boost the capacity, but you're left with a sizeable step in the load area.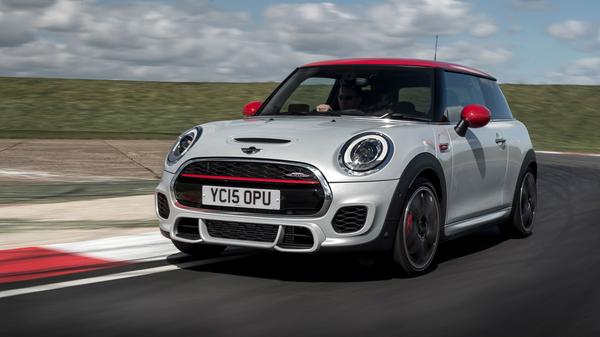 What's it like to drive?
A good hot hatch simply has to be thrilling in the corners – especially when it's a Mini – and the JCW won't disappoint you. It's an absolute laugh-a-minute. The car has bags of grip and is wonderfully balanced. With controls that deliver fast, predictable responses and good feedback, the JCW has a very alert and playful nature that really urges you to muck about. Right enough, things can get a little hairy at times – especially under hard acceleration, hard braking and over mid-corner bumps – but it all adds to the fun. So far, we've only been able to try the car with the optional adaptive suspension fitted, and it does a cracking job. The ride is less punishing than you might expect at low urban speeds, but when you're going faster down your favourite B-road, there's enough firmness to make you feel like you're skipping from bend to bend. That jumpiness isn't quite so appealing on the motorway, but you don't buy a car like this for its cruising abilities. We're very interested in trying out the standard suspension, which has a firmer set-up than the adaptive system in its most hardcore mode. But, if the standard arrangement does prove too harsh, the adaptive system is a very affordable option.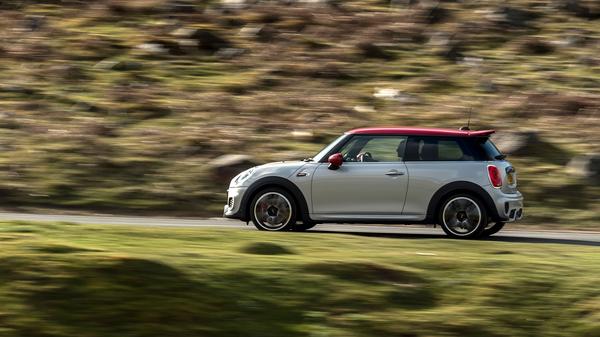 How powerful is it?
If you want a hot hatch that can have you beaming from ear to ear with its pace alone, the JCW is it. Its 2.0-litre turbocharged petrol engine delivers a stonking 228bhp, but more crucial is the 236lb ft of torque you get from as low as 1250rpm. Yes, the 0-62mph times are impressive – 6.3 sec with the standard six-speed manual gearbox, and 6.1 seconds with the optional six-speed automatic 'box fitted to the car we drove – but what's more impressive is the engine's enormous flexibility. When you're already on the move, picking up speed quickly very rarely requires a downshift; just nail the right-hand pedal, and you're away. It makes a cracking noise all the way through the rev range, too. The automatic gearbox impresses, swapping ratios quickly, cleanly and effectively, but most buyers will settle for the manual.
How much will it cost me?
Buying a JCW isn't a cheap business. It costs a similar amount to its most natural competitor, the Audi S1, but a lot more than most other supermini-based hot hatches. Add a few optional extras, which you very probably will, and the price quickly climbs into the territory of bigger hot hatches. You won't be able to negotiate much of a discount when you buy, either, but with very strong resale values, you'll get plenty of your initial investment back when you sell it on. Fuel economy isn't half bad considering the power you're getting. The manual returns a respectable 42.2mpg, while the auto' does slightly better with 49.6mpg. The corresponding pattern with CO2 emissions also makes the auto the cheaper version to run as a company car.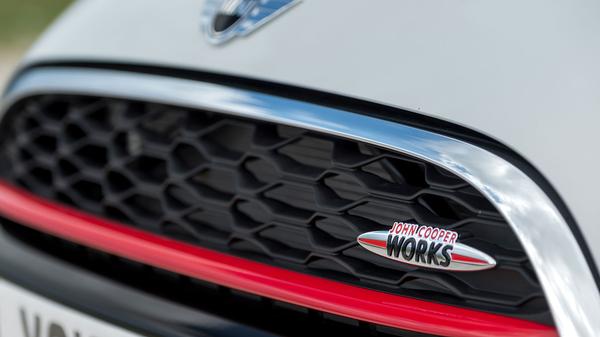 How reliable is it?
Look at Warranty Direct's Reliability Index, and you'll notice that the score for a previous version of the Mini JCW is through the floor. High repair costs seem to contribute greatly to the abysmal score, and most of the issues experienced seem to be engine-related. That said, you can take solace in (or be worried by, depending on your outlook) the fact that this JCW has an all-new engine, and by the fact that, as a brand, Mini ranks in a secure mid-table spot in the manufacturer standings.
How safe is it?
Standard safety equipment in the JCW includes a range of electronic traction and stability systems to help keep all that power going in the right direction, along with six airbags in case the driver's enthusiasm becomes more than the electronics can handle. There's also a partially active bonnet to help protect pedestrians. Tyre pressure monitoring is also standard, along with cruise control that includes a braking function. Options include a head-up display that prevents you from taking your eyes too far off the road for essential information, along with the Driving Assistant Pack that includes a whole host of extra electronic aids. The Mini Cooper has been crash tested by Euro NCAP, but only achieved four out of the five stars available.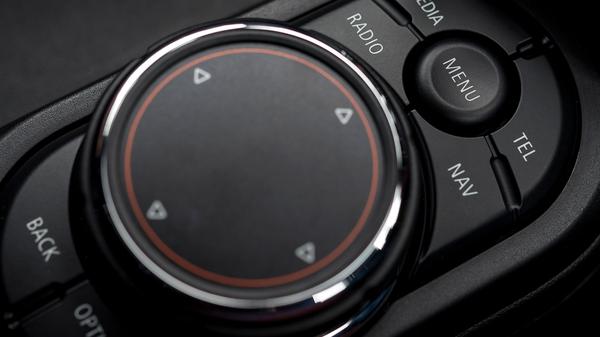 How much equipment do I get?
Considering the price of the JCW, it comes with sufficient standard equipment, but it doesn't really go the extra mile. The roster includes electric front windows, air-conditioning, Bluetooth, a DAB radio, cruise control and a multi-function steering wheel. Being a Mini, the options list is extensive, and there are also a variety of option packs available that prove very popular with buyers and even help improve your car's resale values. The Chili Pack, for example, gives you climate control, ambient lighting, bigger alloys, automatic lights and wipers and a few other bits and bobs, and the pack costs considerably less that it'll cost you to add these items individually.
Why buy?
Because you want a car that's as fast and frenetic as it is dashing and desirable. The Mini John Cooper Works has all those attributes in spades. Granted, it's not cheap – not by a long shot – but if you can afford to buy it, you'll absolutely adore it.