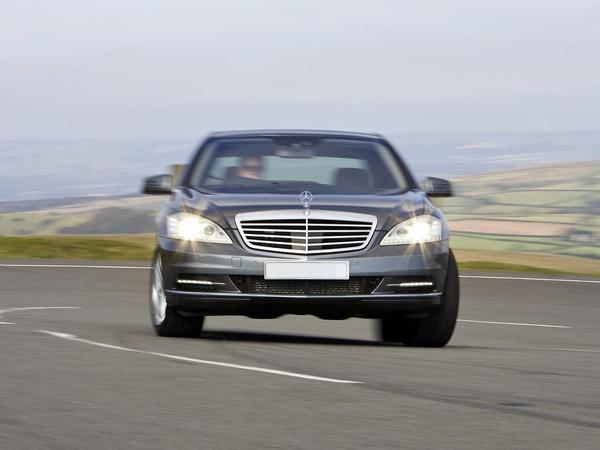 Expert Review
Mercedes-Benz S Class Saloon (2009 - ) review
Read the Mercedes S-Class Saloon (2006 - ) car review by Auto Trader's motoring experts, covering price, specification, running costs, practicality, safety and how it drives.
The Auto Trader expert verdict:
The Mercedes S-Class can justifiably claim to be the best car in the world, thanks to its space, quality, dynamics and build quality. But it comes at a price.
Reasons to buy:
Refinement
Comfort
Performance
How good does it look?
Mercedes makes arguably the most easily identifiable cars in the world, thanks to an imposing grille topped off by that three-pointed star mascot. However, it's not just the design of the S-Class that makes it so imposing – the car's size helps too. Even the standard S-Class is over five metres long, while the long-wheelbase edition is 5226mm between bumpers. When the current model was unveiled in 2006 there were some raised eyebrows, because Mercedes' designers had gone all aggressive, losing some of the elegance of previous models. But familiarity has proved them right, as the car looks great and has presence with it.
What's the interior like?
One of the longest cars on the market, the S-Class offers huge amounts of cabin space – and that's if you opt for the standard car. Choose the long-wheelbase edition and there's an astonishing amount of rear seat space. It's not just about the room though, as the S-Class cabin is one of the most luxurious of any car. All surfaces are covered in premium materials and there's electric assistance for just about everything. However, while it's all very high-tech, you couldn't say the S-Class has a beautiful dash. Just one that works fabulously, has all the kit you could ever need and makes the driver feel special whenever they get behind the wheel.
How practical is it?
Four-door saloons are never especially practical, but when they're this size it's amazing how much you can fit in. This applies to both the cabin and the boot, neither of which is short of space. Because ultimate carrying capacity isn't a priority, the rear seats don't fold which means boot space is limited to 560 litres. However, the boot is easily accessible and so is the cabin for all five occupants, all of whom will have more space than they could possibly need.
What's it like to drive?
The Mercedes S-Class is one of those cars engineered up to a standard rather than down to a price, and it shows in the dynamics. Despite the car's size, the handling is very good,certainly far better than something like the Lexus LS600h. Of course this isn't a car for driving enthusiastically though, which is why a cossetting ride is its forte. Things are helped enormously by air suspension on all models. This, combined with the car's weight and length guarantee that all but the most severe bumps are simply smothered.
How powerful is it?
Every S-Class is capable of 155mph, to which they're all electronically limited. As the slowest S-Class, the S350CDi can get to 62mph in just 7.8 seconds, acceleration isn't an issue either. Indeed, to a point the only way of choosing between the various engine options is by how fast you want to accelerate, because even the smallest powerplants offer effortless, refined progress. The S350CDi accounts for most S-Class sales, and while it may be the cheapest and most economical model, it also offers all the performance you need, thanks to 232bhp and 398lb/ft of pulling power. There are two AMG variants at the other end of the scale though. The S65L packs a ridiculous 603bhp and 738lb/ft while the S63AMG isn't far behind, with 603bhp and 612lb/ft. The upshot is a pair of long-wheelbase limousines that'll do 0-62mph in just 4.4 and 4.6 seconds respectively.
How much will it cost me?
Sitting in the luxury car sector, the Mercedes S-Class is costly to buy as well as to run. It's said that the bigger they are the harder they fall, and that's the case here. With prices starting at around £60,000, you'll need deep pockets to buy an S-Class as well as to run one. Stick to the cheaper versions with a diesel engine and you'll be paying well over £1 per mile in overall costs. Buy one of the sportier AMG versions instead and the cost could be three times this. Best of the lot is the S350 CDi Bluetec, with its 41.5mpg average and 177g/km of CO2 emissions. That's seriously impressive for such a capable, fast and large car. Rather less green are the AMG models, the S63 and S65. True hot-rods, these cars average just 19.5mpg and have CO2 emissions of 347g/km and 346g/km respectively.
How reliable is it?
No car maker can build the number of cars that Mercedes does, without the odd glitch cropping up. Despite its immense complexity and the huge amount of standard equipment, the S-Class has a very good reliability record.
How safe is it?
The Mercedes S-Class hasn't been crash tested by EuroNCAP, but there's no escaping the fact that this is one of the safest cars on the road. Its size, strength of construction and the cutting-edge technology it packs means few cars will look after you should the worst happen. You can take for granted every possible piece of brake, restraint and airbag technology. Everything is standard; where the S-Class has always led the way is with forward-thinking technology that you probably won't find elsewhere. Examples of this include adaptive high beam assist, which automatically dips the headlights for you, then returns them to main beam as soon as possible. Also fitted are Lane Keep Assist, Blind Spot Assist and Adaptive Cruise Control – plus much more. Optionally available is Night View Assist Plus, which uses an infra-red camera to detect things in your path after dark.
How much equipment do I get?
There's no such thing as a trim level on an S-Class. Most things come as standard, but especially high-tech items are sometimes optional. However, on the most costly variants, even many of these are on the standard kit list. All S-Classes come with parking sensors front and rear, park assist, xenon headlights, multi-media system with voice recognition, electrically adjustable and heated front seats, leather trim, alloy wheels and automatic wipers. On lesser editions, which account for over 90 per cent of S-Classes sold in the UK, many things are optional. These included electrically adjustable rear seats, TV screens in the rear, massaging front seats and ambient lighting for the cabin.
Why buy?
If your pockets are deep enough there's no reason not to buy an S-Class. This really is the car that has it all. A strong image,excellent build quality, equipment galore and comfort with cutting-edge safety kit.