Expert Review
Mercedes-Benz C Class Saloon (2014 - 2018) review
Read the Mercedes C-Class Saloon (2014- ) car review by Auto Trader's motoring experts, covering price, specification, running costs, practicality, safety and how it drives

Words by: Ivan Aistrop
Last updated on 2 February 2015 | 0 min read
The Auto Trader expert verdict:
The Mercedes C-Class is one of the best cars of its type, with swish looks, a strong image, a classy interior and good practicality. It also comes with heaps of luxury and safety kit, and efficient diesel engines that mean it's affordable to run. Some rivals are more refined and better to drive, but nevertheless, the C-Class is a cracking all-rounder.
Reasons to buy:
Looks great inside and out
Efficient diesel engines mean low running costs
Super-impressive roster of safety kit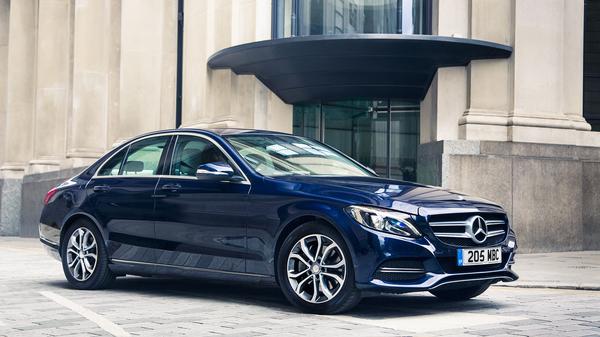 How good does it look?
"

With curvaceous lines and swoopy details, it looks very much like a scaled-down version of the S-Class limousine

"
In a class where image counts for a whole lot, the C-Class makes a very strong case for itself. With curvaceous lines and swoopy details, it looks very much like a scaled-down version of the S-Class limousine, which instantly gives an impression of class and exclusivity. All versions come with alloy wheels, but mid-range Sport models get LED headlamps and more chrome exterior trim than entry-level SE models for a slightly sharper look. AMG Line cars have a sporty body kit as well.
Expert rating: 4/5
What's the interior like?
The good news is that the interior has just as much wow-factor as the outside. All versions have dense-feeling materials, spiced up by plenty of metallic and piano black inserts, and the simple, clutter-free design looks cool and makes things appear even more sophisticated. That layout does mean that most functions have to be controlled via the infotainment system, but while rivals from Audi and BMW have more intuitive systems, the Merc's is easy enough to get to grips with once you're used to it. Provided, that is, you only use the central dial controller. You also get a Touchpad controller, which can be used both like a mousepad and to write out letters and numbers, and it's much more of a faff. The only other slight criticisms are that the screen, that's been styled to look like an iPad, looks like a bit of an afterthought, and the car could have clearer rear visibility.
Expert rating: 4/5
How practical is it?
In this area, the C-Class does as well as any of its compact executive rivals. The rear seats have plenty of headroom and legroom, allowing two lanky adults to stretch out in comfort, and there's enough shoulder space for a third to fit in if needs be. However, the middle seat is rather narrow, and whoever sits there will have to straddle a wide transmission tunnel. The boot is big at 480 litres, but it's surprisingly stingy that if you go for the entry-level SE version, you don't get a split-folding rear seat that allows you to extend the load area. Get a version that does have the split-folders, though, and the backrests lie flat for a nice, level load area.
Expert rating: 4/5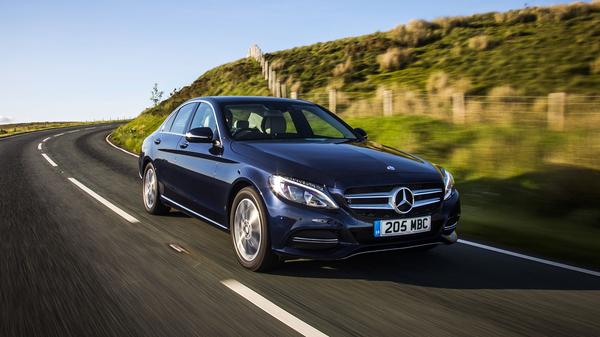 What's it like to drive?
"

Each version of the car gets a different suspension setup. The SE's is the softest and smoothest

"
All versions of the C-Class come with an Agility Select switch, with modes ranging from sporty to relaxed, which lets you tailor the responses of the steering and throttle (and where fitted, the automatic gearbox) according to your mood. However, the steering is never particularly satisfying, being slow and inconsistently weighted. Each version of the car gets a different suspension setup, but none of them can rival the class best for dynamic excellence. The SE's is the softest and smoothest, but it still clunks over potholes and you feel a fair amount of body lean in the bends. The Sport's lowered setup gives ever-so slightly tighter control in corners, but you feel more jitter over patched-up surfaces. The AMG Line's suspension is stiffer as well as being lowered, and when combined with the big wheels you get, the ride suffers much more than the handling improves. There is one more choice, an optional self-levelling air suspension. It delivers a smoother ride than any of the other arrangements, and it also handles more fluidly. It's not a particularly cheap option, but it's definitely worth adding if you can stretch to it, and pretty much essential if you're even thinking about getting a version with bigger wheels.
Expert rating: 3/5
How powerful is it?
Petrol engines include a 2.0-litre unit with 181bhp and 4.0-litre twin-turbo with two outputs sitting just either side of 500bhp. However, the vast majority of C-Class owners go for a diesel. The entry-level choice is the C200d with a 134bhp 1.6, and we reckon it's the pick of the bunch. There's no denying that it doesn't have a lot of outright pace, but it's flexible and eager at the bottom of the rev range, which keeps life nice and easy. It's also the quietest and smoothest diesel engine on offer, and the six-speed manual gearbox has a pretty slick change, too. The best-seller is the C220d, which has a 2.1-litre four-cylinder engine with 168bhp. It's pretty muscular, nipping from 0-62mph in just 7.7 seconds and giving strong in-gear flexibility. However, it's disappointingly noisy, and you feel some vibrations through the controls. Pair it with the optional automatic gearbox, and you'll find that gears are held for too long and shifts are rather slow when you use the paddles. The C250 has the same engine as the C220, but with power uprated to 201bhp. It has a useful performance advantage, but it's not much more refined. The C300 hybrid adds a 26bhp electric motor into the mix with the diesel, improving performance and refinement, but it's also one of the priciest versions to buy.
Expert rating: 4/5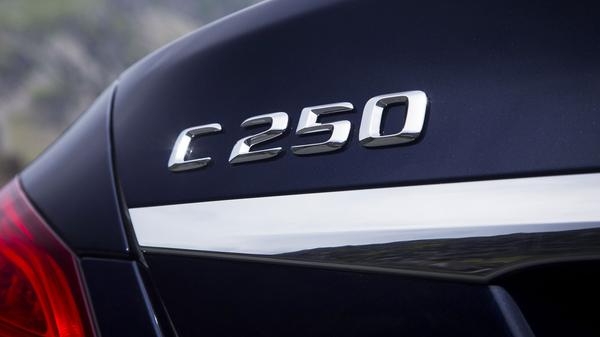 How much will it cost me?
"

Company car drivers will like the impressively low CO2 emissions given by the Merc's engines

"
Prices are roughly on a par with those of rival offerings from Audi, BMW and Jaguar, but you do get bags of kit as standard with your C-Class. What's more, the Mercedes has resale values that'll match anything else in the class, which will protect your investment long-term. Company car drivers will like the low CO2 emissions given by the Merc's diesel engines, because they mean very affordable monthly tax bills (albeit not quite as affordable as the few rivals that bust the all-important 99g/km mark, which the C-Class just fails to do). Everyone will enjoy the strong fuel economy that this efficiency brings. Both the C200 and C220 diesels return upwards of 70mpg according to official figures, while the C250 is only 5mpg behind. Further savings can be had if you opt for the diesel-hybrid C300 Bluetec, which has a small electric motor that improves the CO2 figure to 94g/km.
Expert rating: 4/5
How reliable is it?
Mercedes currently sits in a disappointing, lowly place in Warranty Direct's manufacturer standings, well inside the bottom half of the table. However, as an individual model, the C-Class doesn't do too badly, so it seems like it's Merc's other models bringing the company's overall score down. However, it's worth bearing in mind that repairs aren't especially cheap if something does go wrong.
Expert rating: 4/5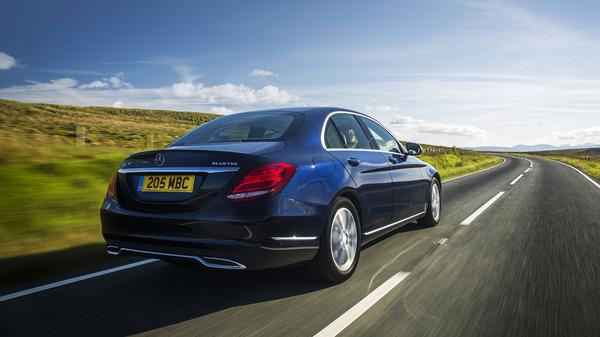 How safe is it?
"

Every C-Class comes with an impressive suite of safety measures

"
Every C-Class comes with an impressive suite of safety measures. As well as stability control and a shedload of airbags, you get a pop-up bonnet to limit injuries to pedestrians, a system to warn you if you're getting tired and another that can sense an impending collision and apply the brakes automatically. Raid the options list, and you can have even more electrical driving aids. This collection of safety-based cleverness is a big part of why the C-Class has achieved the full five-star rating in Euro NCAP crash tests.
Expert rating: 5/5
How much equipment do I get?
All versions come with plenty of luxury kit. Even the SE has cruise and climate controls, leather-effect upholstery, rain-sensing wipers, four powered windows, a reversing camera and a DAB radio. Sport trim adds electric folding mirrors, a parking assistant, sat-nav, heated seats and ambient lighting, while AMG Line trim adds uprated steering and brakes, along with a whole host of sporty styling goodies inside and out.
Expert rating: 4/5
Why buy?
The Mercedes C-Class looks the business, and with a practical, high-quality interior and generous equipment, it has most of the important bases covered. With clean, efficient engines, it's also very affordable to run as a company car. We wish it was a little more refined and a little more engaging to drive, but it's still one of the best compact execs.
Expert rating: 4/5