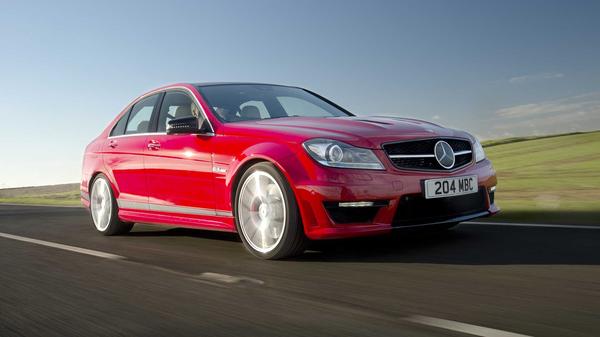 Expert Review
Mercedes C63 AMG saloon (2008-) review
Read the Mercedes C 63 AMG saloon (2008-) car review by Auto Trader's motoring experts, covering price, specification, running costs, practicality, safety and how it drives.
The Auto Trader expert verdict:
AMG shoehorns its bonkers 6.2-litre V8 engine under the bonnet of a C-Class and creates an incredibly rapid sports saloon.
Reasons to buy:
6.2 litres of high-revving V8 engine
Staggering performance
Rousing engine note
How good does it look?
AMG takes the relative restraint of the Mercedes-Benz C-Class and turns the dial up to eleven. There are massive tailpipes around the back, while large air intakes at the nose feed cooling air into no less than seven radiators. Vents, lumps and bumps festoon the bodywork, but despite its obvious visual aggression it's neatly integrated. Standard 18-inch alloy wheels (19-inch items are available optionally) struggle to hide the big brakes. Add a bonnet that's rippled and bumped to cover the huge V8 engine underneath it and the C63 AMG certainly can't be mistaken for a mere ordinary C-Class.
What's the interior like?
With the dramatic exterior looks still fresh in mind the C63 AMG's interior is a bit underwhelming. There are heavily-sculpted, figure-hugging sports seats, dark trim materials and some contrasting brushed metal highlights, but it's a bit ordinary otherwise. AMG-specific instruments fail to bring to life the rather ordinary overall feel. Some of the materials on display also look and feel a bit cheap given the C63's hefty price tag.
How practical is it?
Space in the rear of the regular C-Class saloon is already tight, and fitting a pair of hard-backed, large bucket sports seats up front doesn't improve that. Foot and leg room are tight, while taller rear passengers will also find head room lacking. The boot is a reasonable size, but the C63 isn't the most accommodating car in its class for interior space.
What's it like to drive?
The C63's suspension is taut, but it's not so firm that it's hugely compromised on poorer roads. That's assuming you don't tick the Performance Pack option, which tightens up the suspension to uncomfortable levels. Such is AMG's commitment to a more involving drive it moved the entire front axle assembly forward for the C63. The result is sharp turn-in and steering that's pleasantly communicative. Cornering is largely neutral, but power oversteer is only a mere foot flex away. The standard brakes are mighty, but AMG offers a ceramic upgrade if you're a track fiend.
How powerful is it?
The high-revving 6.2-litre V8's 451bhp produces eye-widening performance. It'll keep accelerating as long as your nerve holds, covering the 0-62mph sprint in just 4.5 seconds. It's a rev-hungry engine, yet, combined with the seven-speed paddle-shifted automatic transmission, urgency is always on offer. The V8 is as noisy as it is fast, the sound emanating from under the bonnet and the four fat tailpipes worth the C63's sticker price alone. The C63's accelerative ability is mighty. That does reveal some shortcomings with the gearbox, which is sometimes reluctant to respond to driver input via the steering wheel-mounted paddle shifters.
How much will it cost me?
No AMG is going to be cheap to run and the C63's average fuel consumption figure of 21.1mpg underlines that. To achieve that you'll need to drive it like a saint, so expect less in real-world driving. Servicing prices will reflect the specialist nature of the C63 too, with consumables like tyres, brake pads and engine oil all being expensive. Insurance costs won't be cheap either, but you don't buy a car as single-minded as this Mercedes without anticipating that.
How reliable is it?
Mercedes-Benz's solid reputation for reliability has taken a bit of a hammering in recent years. Thankfully things are now pretty much back to normal, so your C63 should prove a reliable, trouble-free ownership proposition.
How safe is it?
The standard C-Class scores five stars in the EuroNCAP tests, and the C63 comes with all the airbags and crash-worthiness of its lesser siblings. Add its massive brakes, switchable ESP system and extensive range of airbags and the C63 should protect you well.
How much equipment do I get?
Most of the essential equipment you'd want is included in the C63's hefty list price, but there are a few omissions. Sat-nav and parking sensors are optional, as is a Bluetooth telephone connection. AMG's policy of asking for even more money for a raised speed limiter, larger brakes and limited-slip differential is also a bit cheeky – though it can keep the stiffer, more compromised suspension that comes with the package.
Why buy?
The C63 is hilarious fun to drive, with massive power, pace and surprising poise. It's not the most spacious saloon available, but it's the most unhinged – brilliantly so. The noise is sensational, the power prodigious and it looks fantastic. It's not cheap though, and the interior is disappointing, but you'll forgive it everything when that 6.2-litre V8 fires up.