Expert Review
Lexus IS 300h Saloon (2013 - ) review
The Lexus IS has a very tough job in competing with popular cars like the Audi A4, BMW 3 Series and Mercedes C-Class. It ploughs its own furrow in the compact executive class, with a character all of its own.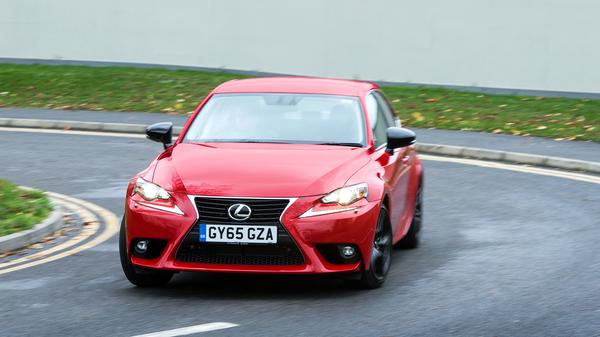 The Auto Trader expert verdict:
The Lexus IS looks fantastic, and that alone could be enough to tempt motorists away from the usual suspects in the compact executive class. So could the hybrid model's tax-friendly CO2 emissions. Overall, though, we still think rivals like the Audi A4 and BMW 3 Series are better all-rounders.
Reasons to buy:
Hybrid model gives low company car tax bills
Looks distinctive next to its German rivals
Should be as reliable as anything on the road
How good does it look?
In a class dominated by all-too-familiar German cars such as the BMW 3 Series, Audi A4 and Mercedes C-Class, the Lexus IS is an extremely striking car. It's all sharp edges and unconventional lines, which are all kicked off with the large pinched grille at the front. The L-shaped strips of LED daytime running lights, which look like slashes in the bumpers beneath the headlamps, add even more theatre. In fact, pretty much every exterior light is fitted with LED technology to give some extra sparkle. All versions of the car look mean and aggressive, but the F Sport version gets some extra styling goodies for an even brasher, racier look.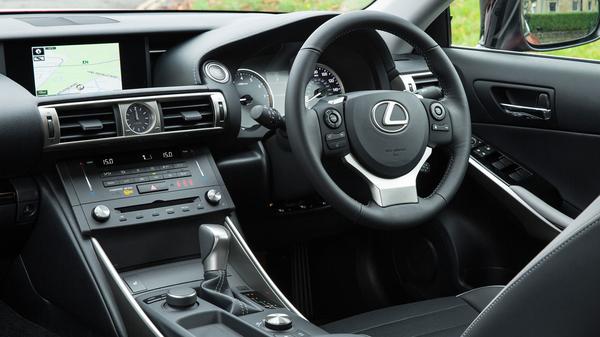 What's the interior like?
"

The cabin feels high in quality and well built, but there are ergonomic issues to contend with

"
Lexus has been as bold with the inside of the IS as it has been with the outside, but sadly, it hasn't been altogether successful. Granted, the cabin feels high in quality and exceptionally well built, and the unconventional design is interesting, but there are some fairly catastrophic ergonomic issues to contend with. For instance, changing the cabin temperature involves sliding your finger along a touch-sensitive strip rather than spinning a dial or pushing a button, and it's a woefully imprecise way of doing things. Ditto the infotainment system, which is operated via a mousepad-like controller rather than the conventional wheel. Throw in the poorly marked steering wheel controls and the unconventional foot-operated parking brake, and the IS just has too many foibles. At least the driving position has plenty of adjustment.
How practical is it?
The IS provides a decent amount of space in the front seats, but those in the back won't be quite so well off. Legroom isn't as generous as it is in most of the car's compact executive rivals, and the sloping roofline means headroom is rather restricted, too. What's more, the extremely narrow middle seat and the bulky transmission tunnel mean that squeezing three people into the back isn't just uncomfortable, it's a complete non-starter. The boot is comparable to those of rivals for outright capacity, but the space isn't a great shape. You get split-folding rear seats as standard (which you don't with many of the car's rivals), but the backrests lie at an angle and there's a small, awkwardly-shaped aperture to load your cargo through.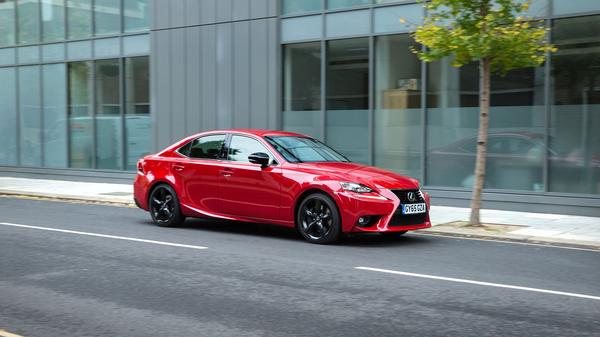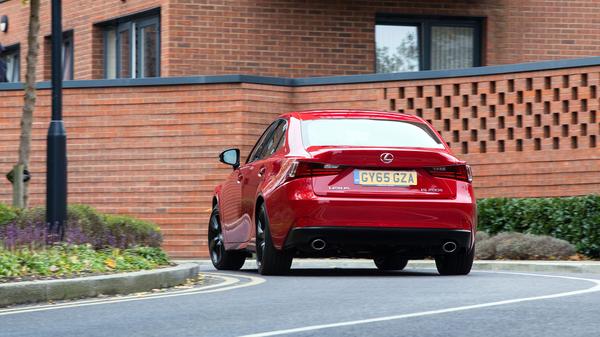 What's it like to drive?
So far, we've only driven the IS in F Sport trim, which comes on a racier suspension setup than the rest of the cars in the range. The ride quality it delivers isn't ideal, with things feeling rather jittery and unsettled at any speed, and on any surface. Granted, the sports suspension does give tight body control in bends, which along with the meaty steering, contributes to a sporty character. However, the IS still isn't as engaging or as rewarding to drive as many of its rivals, many of which also give a smoother ride. The hybrid doesn't feel quite as nimble as the petrol, either, because you can feel the extra weight shifting around in corners. The hybrid is also available with an optional adaptive suspension, but we haven't yet tried this setup, either.
How powerful is it?
Lexus offers the IS in two very distinct – and rather unusual – flavours. While most compact executive drivers choose diesel power, you can have the IS either with a petrol engine, or as a petrol-electric hybrid. The 200t, with its turbocharged 2.0-litre petrol engine, gives an impressive sounding 241bhp. However, while the performance is undeniably perky, it doesn't feel anywhere near as the power output suggests. The engine is mated to an eight-speed automatic gearbox, which operates smoothly but not very quickly. The IS300h combines a 2.5-litre petrol engine with an electric motor to give a total of 220bhp, but again, you'll find the pace on offer rather pedestrian unless you apply a bootful of throttle. Even if you oblige, however, you won't go all that much faster, and the continuously variable transmission will have the petrol engine screaming away in protest. Rivals with diesel engines give you much more instant and more easily accessible performance.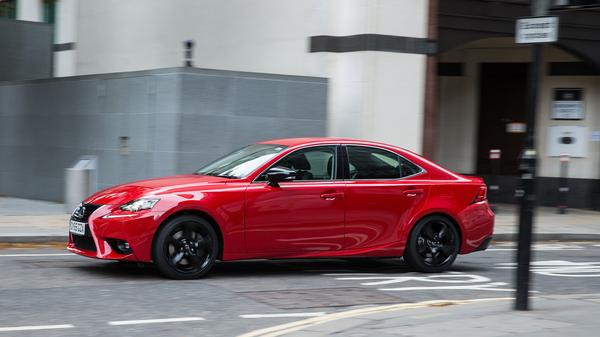 How much will it cost me?
"

The hybrid's ultra-low CO2 emissions will make it very attractive to company car drivers

"
The car's performance in this area largely depends on which of the two versions you're talking about at the time. Let's begin with the positive side of the discussion. The hybrid's ultra-low CO2 emissions will make it very attractive to company car drivers, because the car will command very low monthly tax bills. It's worth noting, however, that tax rates will be slightly pricier on higher-end versions, because the bigger wheels make the emissions slightly worse. Fuel consumption will also take a small hit, with the best version beating 67mpg and the worst getting around 61mpg. In stark contrast to the hybrid, the 200t will cost an absolute packet to run. The claimed average fuel economy can't even crack the 40mpg mark, while the correspondingly high CO2 emissions will mean comparatively lofty tax costs for company car drivers and private buyers alike. It's even harder to justify given the 200t's lukewarm performance; many diesel-powered competitors will give you more pace along with lower running costs. What's more, no IS model is all that cheap to buy, and resale values are pretty shaky as well.
How reliable is it?
There aren't many car companies that have a better reputation in this area than Lexus. The brand regularly features on or near the top of any given reliability survey, and every one of its models weighs in with an equally solid performance. What's more, Lexus dealers are renowned for delivering some of the best customer service in the business, so on the off chance that anything does go wrong, it shouldn't be much of a headache to fix.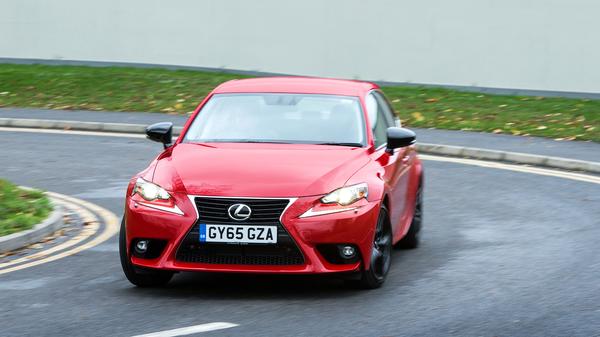 How safe is it?
"

Automatic city braking isn't available, but that's about all that's really missing

"
The IS earned a maximum five-star rating in Euro NCAP crash tests, receiving an impressive 91% score for adult occupant protection. It also scored 80% for pedestrian protection thanks to the pop-up bonnet that is standard across the range. Also standard are eight airbags, including knee 'bags for driver and front seat passenger, while a Pre-Collision Safety system, a Blind Spot Monitor and Rear Cross Traffic Alert system are also available. Automatic city braking isn't available, but that's about all that's really missing.
How much equipment do I get?
The IS comes in a wide range of trim levels, but even the most basic SE comes with plenty of kit including alloy wheels, dual-zone climate control, cruise control, four electric windows, Bluetooth connectivity and a DAB radio. Mid-range Luxury trim brings parking sensors and automatic wipers, while F Sport gives the car a sporty makeover inside and out. At the top of the range, Premier adds an electric sunroof, Blind Spot Monitor, Rear Cross Traffic Alert system, leather upholstery, heated front seats and a Mark Levinson stereo.
Why buy?
The distinctive looks will doubtless win over some buyers, but it's the low running costs – courtesy of the good CO2 emissions – that will be the real attraction of the hybrid model. However, we can't see much appeal in the 200t, especially when its performance is far too lacklustre to justify the high running costs.