Expert Review
Kia Optima Saloon (2015 - ) review
The Kia Optima is a four-door family saloon that competes with popular rivals like the Ford Mondeo, Vauxhall Insignia and Volkswagen Passat. Finally, after some lacklustre previous versions, this Optima is a credible alternative.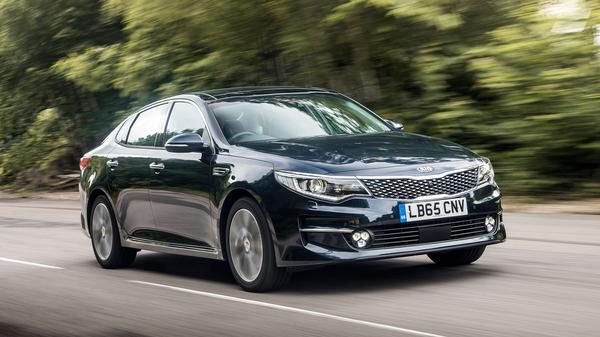 The Auto Trader expert verdict:
The Optima doesn't trouble the finest cars in the family saloon class, but it's not all that far behind them. Lots of space, a pleasant interior and decent refinement make it a reasonably competitive package, with the disappointing drive the only below-par aspect.
Reasons to buy:
Smart, individual looks
Generous equipment
Affordable prices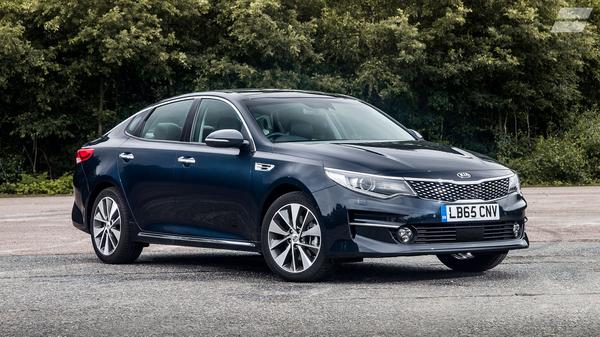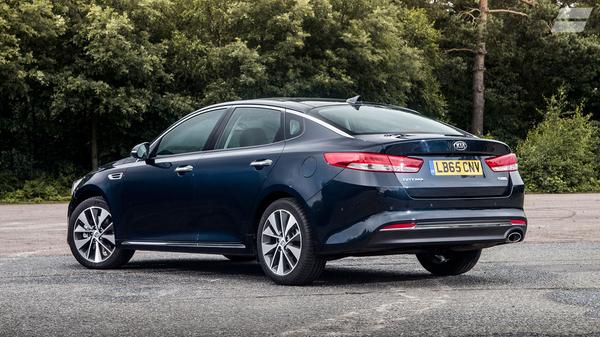 How good does it look?
In a class of car that's renowned for its conservatism, the Optima has always stood out with its sharp, angular styling and bold detailing. That's certainly the case with this latest version, thanks to its finely chiselled features and flowing roofline. The overall look of your car will depend on which grade you go for, though. Entry-level '2' versions have alloy wheels and sparkly LED daytime running lights, but '3' models gain extra chrome accents and body-coloured door handles, while '4' trim adds glossy black door frames. The PHEV plug-in hybrid model, meanwhile, marks itself out with blue-tinted headlamps and a selection of blue trims and badges dotted around the body.
What's the interior like?
Granted, the Optima's interior won't rival a Volkswagen Passat's for outright touchy-feelyness, but you might well be surprised by the impressive quality of the cabin. There's enough soft-touch plastic and glossy finishing to make it feel like a classy environment; and, although you can find one or two patches of harder plastic dotted around, these feel sturdier than the equivalent surfaces in some rivals. Put it this way: if you're a Ford Mondeo driver, you might well feel a little short-changed when you peer into an Optima. The dials are clear and feature a central digital information screen that is easy to read, while the dashboard layout is simple and logical. However, the ergonomics are a little hit-and-miss: some of the switches are rather awkwardly placed, while the touch-screen infotainment system could be easier to navigate. Your over-the-shoulder visibility could be clearer, too.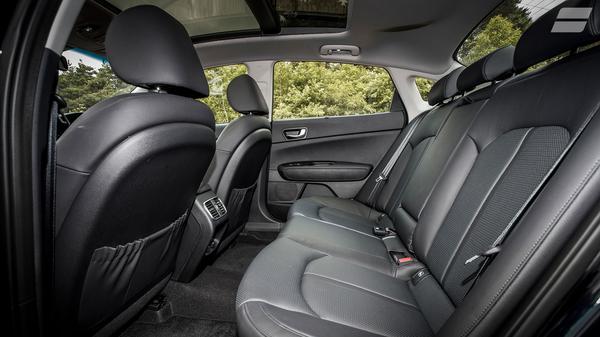 How practical is it?
"

Go for a version with a panoramic roof, and the headroom gets tighter, but six-foot passengers will still be ok

"
Family saloons are getting bigger and bigger, and the Optima is no exception, with bags of interior space. Rear legroom is particularly impressive, and rear headroom is generous, too, although a roof that curves downwards at the sides will make you feel a bit more hemmed in than you otherwise would. Go for a high-end version with a panoramic roof, and the headroom gets tighter, but six-foot passengers will still be (just about) ok. There's plenty of stowage in the cabin, too, while the boot has an impressive 510-litre capacity. However, the saloon bodystyle means the space isn't as usable or accessible as it is in five-door hatchback rivals: not only is there a high lip to lift things over, it's almost impossible to reach into the very depths of the boot. Folding down the rear seats also leaves you with a load area that's stepped and sloped, and the aperture that allows you to load between the boot and the cabin is small and awkwardly shaped. Things are worse in the PHEV. The batteries and hybrid gubbins drastically reduces the amount of boot space you get – you're down to get 307 litres – while the space is awkwardly narrow and you can't drop the rear seats at all.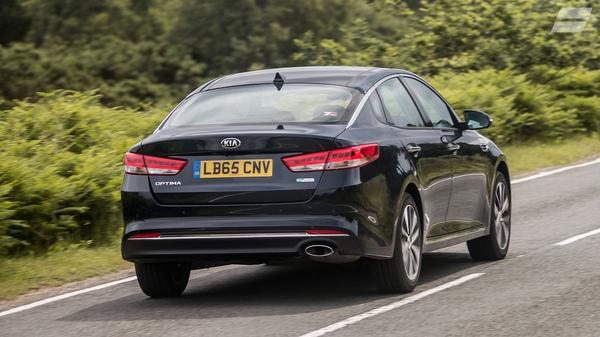 What's it like to drive?
"

The ride feels too firm too much of the time, and especially at low speeds

"
Ride comfort is the most important thing about the way any family car behaves on the road, and unfortunately, we have a few concerns with the Optima. In particular, the ride feels too firm too much of the time, and especially at low speeds. On the other hand, it settles down by the time you reach motorway speeds – and, more importantly, smooth motorway surfaces – and there are few complaints about the way the car handles. It feels secure and stable when negotiating a set of bends, with tightly controlled body movements and plenty of grip. The steering also performs pretty faithfully, with responses that are crisp, accurate and consistent; its weighting is light at low speed for easy manoeuvring, but although it gets heavier at high speed, it never really gives you the kind of feedback that inspires confidence. Overall, the Optima can't match a Ford Mondeo for outright agility, but at least it does what you tell it to, and in a timely manner.
How powerful is it?
The vast majority of Optimas will be sold with a 1.7-litre diesel engine that punts out 139bhp, and it's a lot better than in other Kia and Hyundai products we've tried, because it's more flexible. Peak pull arrives at 1750rpm, but there's a decent slice on tap below that, so you never find yourself in the doldrums unexpectedly. There's very little point in revving the engine to its limits, because you don't ultimately go much faster, so it's best to adopt a relaxed driving style and let the engine's low-down grunt do the bulk of the work. The engine can sound a little gruff at times, but the volume is kept low and you don't feel many vibrations coming through the steering wheel and pedals. And, while wind- and road-noise aren't suppressed to class-leading levels, they're isolated well enough to give an acceptable level of high-speed calm. A six-speed manual gearbox comes as standard, which is entirely inoffensive to use, but many buyers may be tempted by the optional seven-speed twin-clutch transmission. Yes, it swaps cogs smoothly once you're up and running, but it can be a little hard to drive smoothly at low speed, while its hesitancy to react when pulling out of junctions or onto roundabouts can lead to the odd heart-stopping moment. The Optima is also available as a PHEV plug-in hybrid model, which uses a 2.0-litre petrol engine and an electric motor to produce 202bhp while drastically boosting efficiency. Trouble is, it does it in an irritating way when you're not running on electric power alone (which you can do for a maximum of 33 miles, up to speeds of 75mph). Apply any sort of meaningful pressure to the throttle pedal, or come up against an incline, and the automatic gearbox immediately kicks down and works the petrol engine to its limits. The transmission also has a tendency to search around for the correct ratio, and seldom finds it at the first time of asking. The volume and the harshness of the noise makes driving the car too wearing for too much of the time. It's not like you're repaid with strong pace, either; it's reasonable, but the car feels nowhere near as strong or as flexible as the output suggests.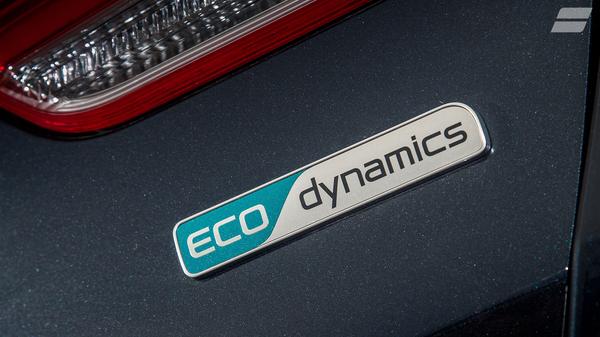 How much will it cost me?
"

You'll get plenty of standard kit for your cash, so it looks like reasonable value for money

"
Choosing an Optima should save you a decent slice in purchase price over rivals like the Ford Mondeo and Vauxhall Insignia. Comparatively, you'll get plenty of standard kit for your cash, too, so it looks like reasonable value for money. Running costs are about par for the course. Both the Mondeo and Insignia offer diesel versions that duck below the 100g/km mark for CO2 emissions, which the Optima doesn't, but compared with the similarly-powered engines that sit just above those eco-focused ones, the Optima's figures for emissions and fuel consumption look reasonably competitive. Adding the twin-clutch 'box makes the Optima slightly grubbier, but not by much. Compare the PHEV with other plug-in hybrids, and the prices look very affordable, while the efficiency figures look very competitive. Granted, you won't achieve the official figures of 176.6mpg and 37g/km in the real world, but you'll still reap the tax benefits those figures bring, namely paying company car tax at a very low rate indeed.
How reliable is it?
Kia has a respectable record for reliability, with the brand achieving mid-table respectability in the manufacturer rankings of Warranty Direct's Reliability Index. The study doesn't have any data on the Optima itself, probably because the car hasn't sold in big enough numbers for there to be a decent sample size, but the performance of the brand as a whole should provide some peace of mind. So should the fantastic warranty provided as standard, which stands at seven years/100,000 miles. You can also transfer the warranty to the next owner of the car, which makes it a more attractive proposition when you're selling on.
How safe is it?
All Optimas come with safety kit that includes electronic stability control, tyre pressure monitoring and six airbags including curtain 'bags that run the full length of the cabin. Go for the '4' trim, and you also get a whole bunch of other clever systems as standard. These include a blind-spot assistant, a lane-keep assistant and rear-cross traffic alert. Autonomous emergency braking also comes as part of the package, but it's a little disappointing that this important safety feature isn't provided a little further down the pecking order. Even so, the Optima scored a maximum five-star rating when it was crash-tested by Euro NCAP.
How much equipment do I get?
Confusingly, the Optima's trim structure misses a step, starting at '2' trim. Even this version comes with most of the must-haves, along with a fair few nice-to-haves. These include climate and cruise controls, cornering headlamps and a touch-screen infotainment system that incorporates sat-nav, DAB radio, Bluetooth and a reversing camera. Upgrading to '3' trim earns you powered driver's seat adjustment, heated front seats, upholstery with added faux-leather panels and an upgraded stereo with a bigger touch-screen. The '4' model gets full leather, ventilated front seats, heated rear seats, a panoramic roof, a wireless phone charger and adaptive cruise control. Go for the PHEV, and the spec of your car will be similar to the '3' model.
Why buy?
Because you want a family saloon that stands out from the crowd, and the Optima certainly does that. It's practical enough for a family, too, and gives you a lot of luxury equipment for an affordable price.