Expert Review
Hyundai Santa Fe SUV (2015 - ) review
The Hyundai Santa Fe is a seven-seat off-roader that'll appeal to families with its practicality, generous equipment list, and long five-year warranty. However, does it have the skills in other areas to compete with rivals like the Kia Sorento and Skoda Kodiaq?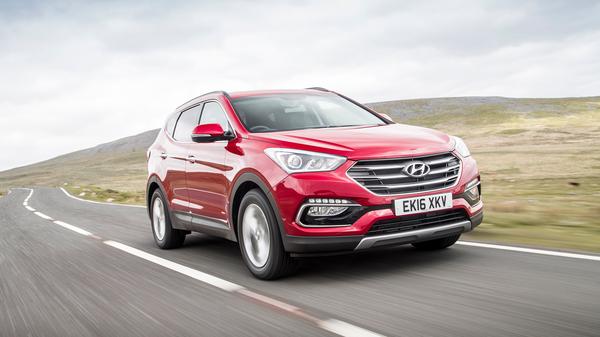 The Auto Trader expert verdict:
The Santa Fe is a good all-rounder, with smart looks, a durable interior, seven-seat practicality, a solid driving experience and an extensive list of standard kit. However, while it performs solidly in most areas, it doesn't really excel in any of them. What's more, the prices and running costs aren't low enough to compensate, meaning it's an also-ran rather than a class leader. A good car, but not a great one.
Reasons to buy:
Seven-seat practicality
Very generous equipment
A good all-rounder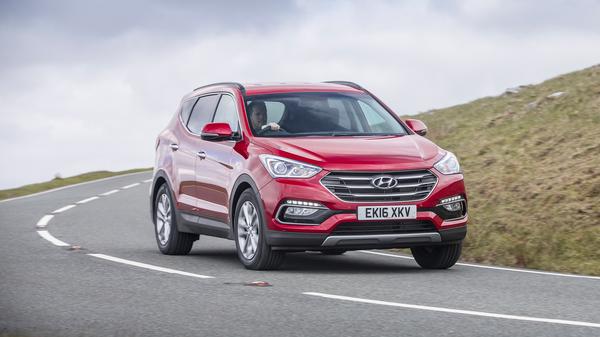 How good does it look?
Because many people buy SUVs for their style above all else, this is an area of critical importance for the Santa Fe. All the usual off-roader design features are present and correct – including chunky bumpers, roof rails and a jacked-up ride height – while the angular details and sharp creases lend a spot of crispness to the design. It doesn't exactly stand out a mile from the numerous other seven-seat SUVs currently on offer, but it's a sharp-looking car nonetheless. Both versions of the car have front foglamps, LED brake lights, privacy glass and a chrome radiator grille. The range-topping Premium SE barely looks any different to the base-level Premium trim, with xenon headlamps and slightly bigger alloys being the only differences.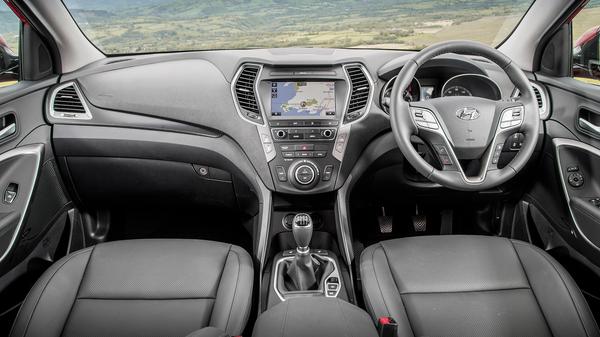 What's the interior like?
The Santa Fe competes with a vast number of other big SUVs, and in terms of interior quality, they vary greatly. The big Hyundai sits pretty much in the middle of the pack. It doesn't feel as plush as a Skoda Kodiaq or a Land Rover Discovery Sport, but it's on a par with the Kia Sorento and considerably better than a Mitsubishi Outlander. Everything feels very solid and robust, though, which should help the cabin stand up to the rigours of family life. With ergonomics, it's a bit of a mixed bag. The buttons on the dashboard are all big and very easy to hit, but there are rather a lot of them, which can make it tricky to pick out the one you want at a glance. That said, the interface for the touch-screen infotainment system is pretty easy to get to grips with, and the supportive seats have lots of adjustment.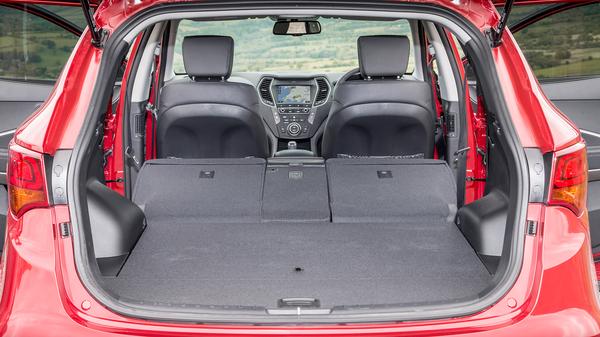 How practical is it?
You can have your Santa Fe as a five-seater, but most customers will opt for the seven-seater version. Those rearmost chairs, which fold up and out of the boot floor, are best used only occasionally due to the limited amount of head-room available, and clambering in and out of them also takes some real gymnastic ability. However, there's a decent amount of knee-room and foot space once you get there, so kids should be able to get reasonably comfy. The middle chairs have lots of space for taller people, and because they slide forwards and backward, the available leg-room can be shared around between the second and third seating rows. The rear footwell also has a more-or-less flat floor, and the cabin is also nice and wide, meaning seating three adults in the middle row isn't out of the question. However, life could be a little comfier if you draw the short straw and have to sit in the middle seat, because your chair is both narrower and harder than those either side. With all seven seats in place, there's enough of a boot for a couple of shopping bags or a slender pushchair, but drop down to five-seat mode, and the boot is huge. Folding all the back seats down gives you a huge load area to play with, and doing so is a doddle thanks to the easy folding mechanism. You also get lots of handy touches, too, like power outlets and an underfloor compartment for your fabric load cover.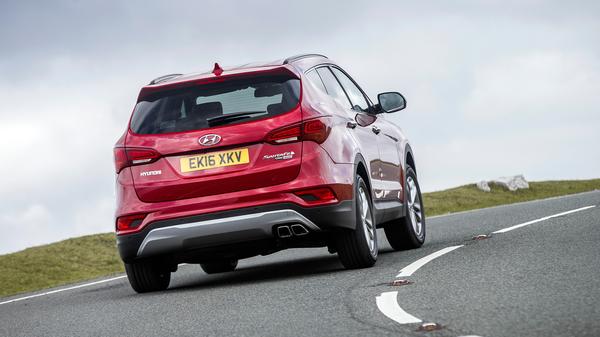 What's it like to drive?
In a car like this, which will spend much of its time ferrying families around, ride comfort is one of the most important attributes. On that score, the Santa Fe does a pretty good job. The soft suspension takes the sting out of most bumps and ruts, and the car generally floats along in a very relaxed manner. It's not perfect, as some smaller bumps and craggy surfaces can send jitters through to the cabin at low speed, but it's nothing that'll have your family moaning. True, the handling feels a little bit roly-poly, with the body slopping over quite a bit when you take a bend at anything more than a crawl, but that won't be much of a problem for most buyers. Neither will the steering, which compared with that in a Skoda Kodiaq, is pretty slow and remote.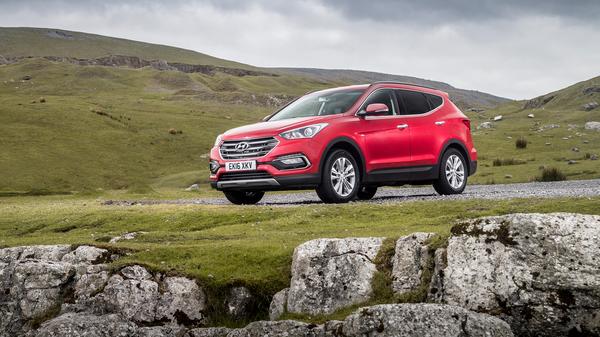 How powerful is it?
All Santa Fes are powered by the same 2.2-litre diesel engine, mated to either the six-speed manual gearbox you get as standard, or an optional six-speed automatic. So far, we've only tried it with the auto. The engine is pretty powerful with 200PS, and it also has a good slug of pulling power available from fairly low down in the rev range. The sheer enormity of the car means it doesn't feel all that fast, but importantly, it feels muscular enough to pick up speed with reasonable purpose in the vast majority of driving situations. Granted, the gearbox isn't particularly quick to shift when you slot it over into manual mode, but just leave it in the auto setting, and it slushes through the gears smoothly and cleanly. It's only when you ask for a sudden burst of acceleration that its reactions feel too slow, and it also makes the engine sounds rather grumbly.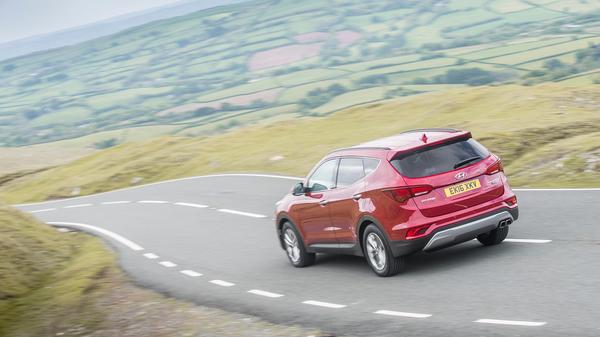 How much will it cost me?
Hyundai is often seen as a budget brand, but don't go thinking the Santa Fe is a budget off-roader. Don't get us wrong, it's priced pretty fairly compared with a lot of rival SUVs (unsurprisingly, it's spot-on with its sister car, the Kia Sorento), but some very talented rivals, like the Skoda Kodiaq, are available for considerably less money. Resale values aren't as strong as the Skoda's, either, and the big Hyundai will also cost you more in fuel, insurance and first-year road tax. What's more, the more desirable Land Rover Discovery Sport also has lower day-to-day costs, meaning that although it's a bit pricier than the Hyundai to buy, it could well cost you less over a typical three-year ownership period.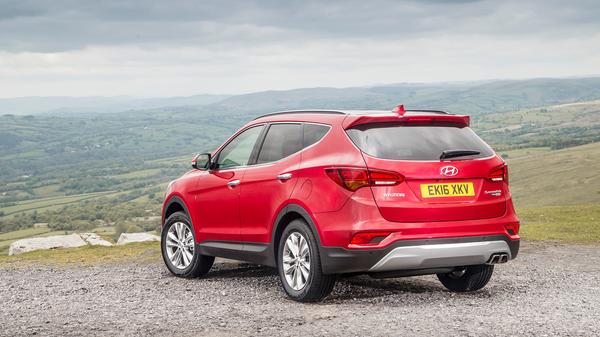 How reliable is it?
Hyundai has a cracking reputation for reliability, and the company's generous five-year/unlimited-mileage warranty does that image no harm whatsoever. Neither does the company's very solid mid-table ranking in Warranty Direct's manufacturer standings. However, look at the Santa Fe's performance as an individual model in the same study, and the situation looks a little less rosy. While other Hyundai's do well, the Santa Fe has a rock-bottom score. Our Owner Reviews paint a slightly brighter picture, with very few horror stories reported.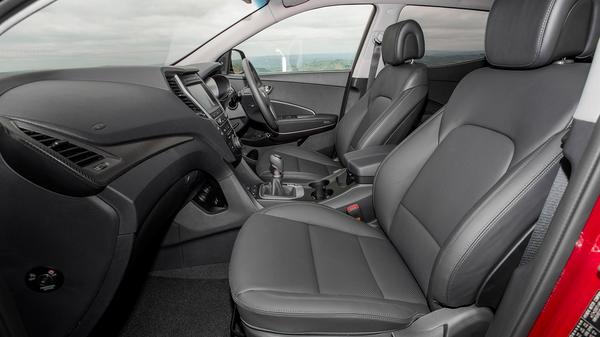 How safe is it?
Parents will be thrilled to hear the Santa Fe comes with seven airbags as standard, especially when this is such a popular car for ferrying families. Most of the usual electronic traction aids are also provided as standard, but you'll have to upgrade to Premium SE trim if you want a suite of extra safety systems that warn you if you wander out of your lane, or if there's traffic approaching from the side as you reverse out of a parking space. Autonomous Emergency Braking – which warns you of an impending impact and slams on the brakes if you fail to react – is available, but only as part of an option pack that costs you extra. That's a little mean when many much smaller, cheaper cars are getting it as standard these days. The Santa Fe has earned the maximum five-star rating in Euro NCAP crash tests, but that was back in 2012 when the tests were much easier.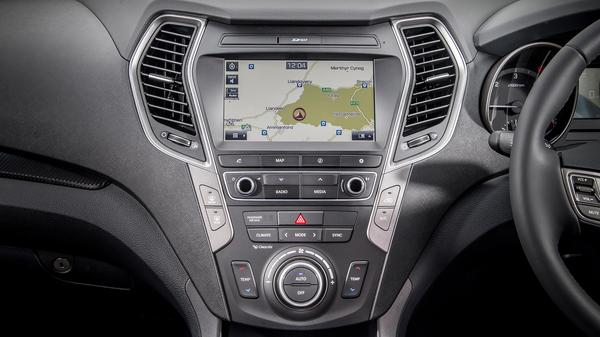 How much equipment do I get?
The Santa Fe is available in two trim levels, both of which are absolutely stacked with kit. The base-level Premium car comes with automatic lights and wipers, cruise control, dual-zone climate control (which blows into all three rows on seven-seat models), four powered windows, parking sensors, front and rear heated seats, leather upholstery, and a touch-screen infotainment system that brings together Bluetooth, a parking camera, DAB, sat-nav and a high-output audio system. The Premium SE adds electric adjustment for the front seats, a heated steering wheel, keyless entry, a panoramic sunroof, a powered tailgate, and a system that pretty much takes care of parking manoeuvres for you.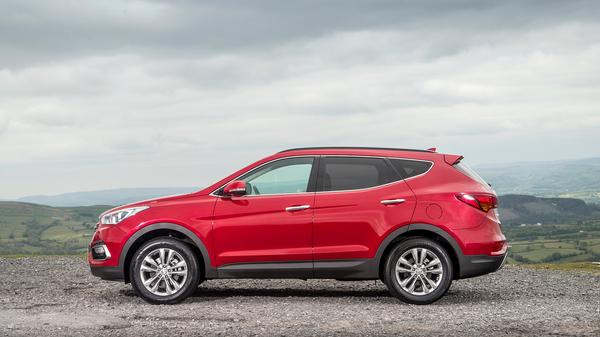 Why buy?
Because you need a large seven-seat family car that's stuffed with kit and comes with the peace-of-mind of a long warranty. On that score, the Santa Fe fits the bills well, but in many other areas, the car is slightly outshined by super-impressive rivals like the Skoda Kodiaq.