Expert Review
Honda Civic Type R (2015 - ) review
The Honda Civic Type R has big shoes to fill, such was the success of its predecessors. It's great in isolation, but less impressive when compared with its super-talented rivals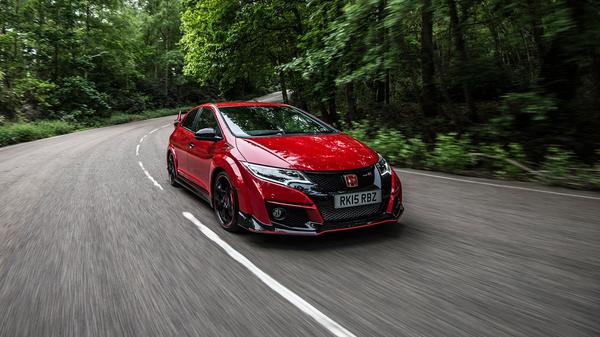 The Auto Trader expert verdict:
The Civic Type R is a good hot hatch that was so nearly a great one. It's fast, fun and frenetic, and it really encourages you to treat it mean and drive it hard. However, steering that's both numb and at times unpredictable thanks to significant torque steer takes the shine off the driving experience, which is the whole point of a hot hatch. It has some fairly fundamental flaws in other key areas, too, so unfortunately, this car is an also-ran in the ultra-competitive hot hatch sector.
Reasons to buy:
Looks brash inside and out
Barnstorming engine
Wonderful gearshift
How good does it look?
There are two types of hot hatch; ones that try, from a visual point of view, to conceal the raw power that lies within, and ones that shout it from the rooftops. The Type R is definitely one of the latter. The bodywork has more fins than a fishmonger's bin, and with huge skirts and a massive rear spoiler, so you're left in absolutely no doubt as to what the Type R is all about. There are two flavours of Type R, the standard car and the GT. However, one of the things that doesn't change between the two versions is the looks, so unless you specify optional alloys wheels, your Type R will look much the same as any other regardless of which trim you decide to go for.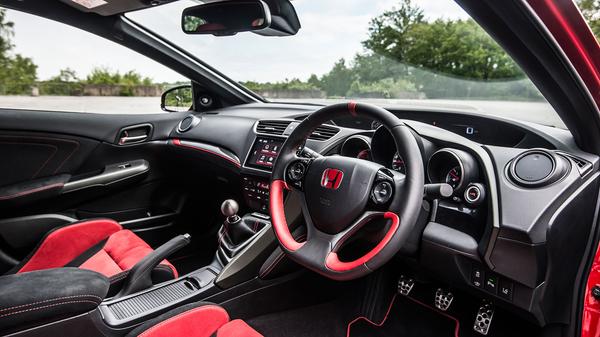 What's the interior like?
"

The seat doesn't go low enough and steering wheel doesn't go far enough away

"
There's plenty to mark the Type R out from humbler Civics, including plenty of contrasting red stitching and some additional Alcantara panels. It feels every ounce the junior touring car, even if one or two hard-to-the-touch panels mean it can't much some hot hatch rivals for outright quality. It does, however, also have plenty in common with other Civics, and that means it has some rather serious flaws. There isn't enough adjustment in the driving position – you might find that your seat doesn't go low enough and that your steering wheel doesn't go far enough away from you – and the rear screen is bisected by a solid piece of plastic that ruins your rear visibility. The dials and instruments are confusingly laid out and hard to read, while the infotainment system is very unintuitive. Ergonomically, it's a complete dog's dinner. Two great touch points, the gorgeous metal gear knob, and the standard sports seats which are nicely figure-hugging but comfortable too, go someway to making up for it.
How practical is it?
Obviously, this is another area in which the Type R is very similar to the regular Civic Hatchback. You'll find that rear legroom is pretty generous, but rear headroom is a little on the tight side compared with many competitors. Adults that are six feet tall or more will find the tops of their heads brushing the headlining. The boot is a fairly generous size and offers more space than you'll find in a Golf R or Ford Focus RS, and the split-folding rear seats fold down in a clever way that leaves you with a flat load bay. It also has the same flip-up rear seats from the standard Civic, giving it an extra dash of versatility on top of the usual carrying capacity. However, there's quite a high lip to negotiate when loading heavy items into the boot.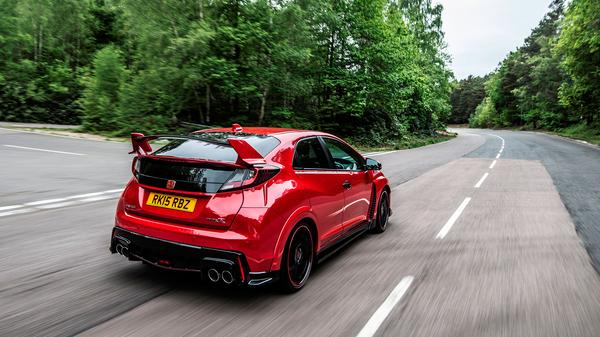 What's it like to drive?
The Type R delivers a really angry and aggressive type of driving experience. Every input on any of the various controls results in a reaction that feels both immediate and severe, and that really urges you to take this car by the scruff of the neck and thrash it for everything it's worth. It's a feeling that's both intoxicating and exciting. Unfortunately, the car's overall handling prowess is almost completely undone by the steering. Responsive and weighty it may be, but it's also rather short of feel so you never really know how your front wheels are doing for grip. This is fine of dry, smooth roads, where the Civic has limpet like grip and will turn in very sharply, but it'll also understeer, spin its front wheels and have you wrestling with the wheel every time it rains thanks to the aggressive tyres and the sheer amount of power being channelled through the front wheels. Obviously, the Type R delivers a fairly firm ride, especially when you press the big red R+ button on the dash, which stiffens the adaptive dampers up by 30 percent, but it's not outrageous when compared with other hot hatches.
How powerful is it?
Hot hatch fans loved previous generations of the Type R for the way its engine only really came alive once you had several thousand revs on the dial. The latest Type R is the first version that's turbocharged, but despite that, Honda has managed to maintain this frenetic, rev-hungry character. True, it punches pretty hard lower down the range, but keep the throttle buried all the way up to the redline and the acceleration becomes even more scintillating. The engine picks up revs seriously quickly, too, which all adds to the chaos, and with thanks to a wonderfully snicky short-throw gearshift, snatching ratio after ratio is a real pleasure. These days, some four-wheel drive hot hatch rivals have even more power and pace than the Type R, but if you're after a sensation of speed rather than bragging rights, the Honda's performance will not disappoint you in any way. However its 2.0-litre engine is not as tuneful as the most exciting cars in this class, with a loud, boomy exhaust that drones on the motorway and never sounds quite as exciting as it should, given the bonkers styling.
How much will it cost me?
The Type R costs a very similar amount to most of its major rivals, including perhaps the biggest one, the new Ford Focus RS. That said, it's way cheaper than rivals like the Audi RS 3 and Mercedes A45 AMG, but much more expensive than other front-driven cars such as the Renaultsport Megane 275. The official fuel consumption figures of 38.7mpg and 170g/km are unlikely to put you off if you're serious about buying a Type R, but be aware that insurance costs will be high, especially for young drivers for whom they could well be prohibitive. Drive it with a heavy right foot and you'll drain the tank considerably faster, and because of the Type R's character you'll probably be going most places in a hurry. You'll more-than-likely spend a fair chunk on tyres, too, depending on how many miles you cover of if you plan to take the car to track days. The Type R's resale value should be pretty strong, which will help protect your investment.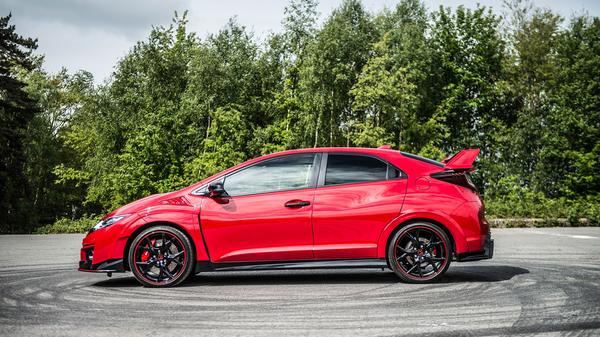 How reliable is it?
"

Unlike many rivals, there's no four-wheel drive system or automatic gearbox to go wrong

"
You won't find many hot hatches that are likely to perform better in this area than the Type R. As a manufacturer, Honda is a constant fixture on - or near - the top of any given reliability study or customer satisfaction poll. As an individual model, the Civic doesn't do half bad, either. Unlike many rivals, there's no four-wheel drive system or complicated automatic gearbox to go wrong. And, if something does go awry, Honda dealers are renowned for their excellent customer service, so getting it put right shouldn't be too painful a process.
How safe is it?
This aspect depends on which version you go for. The base car comes with six airbags, stability control, high-performance brakes, Isofix child seat mounting points and an autonomous city braking function which steps in to avoid small collisions in town if the system thinks you're not paying attention. The more expensive GT model, however, adds an extra suite of safety systems including a blind spot monitor, lane departure warning, high beam support (which automatically dips your headlights when another car is coming towards you) and traffic sign recognition, so there'll be no excuses for breaking the limit.
How much equipment do I get?
The standard Type R comes with a decent amount of standard equipment, including climate and cruise controls, keyless entry and a touch-screen infotainment system that brings together Bluetooth, DAB, internet radio and a rear parking camera. Paying a little extra for the GT trim adds automatic lights and wipers, front and rear parking sensors, sat-nav and ambient lighting, but it also adds a good slice onto the price, which we think on balance probably isn't worth it, unless you're especially safety conscious. It would be nice if you could add the parking sensors as a separate option.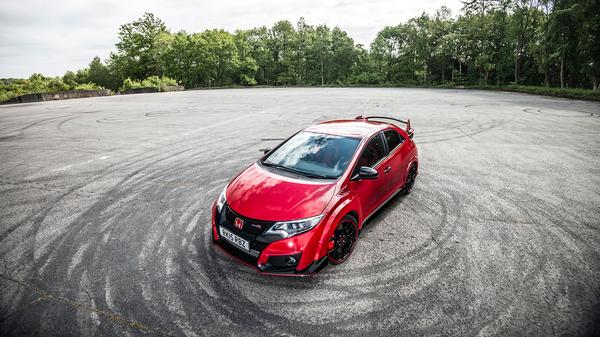 Why buy?
"

The Type R delivers no shortage of excitement, but it also has some pretty severe flaws

"
Because you want to experience hot hatch ownership in its most frenetic sense. The Type R delivers that, along with no shortage of excitement, but it also has some pretty severe flaws, and there are several rivals that are better all-rounders. Make sure you can live with these compromises before parting with your cash.