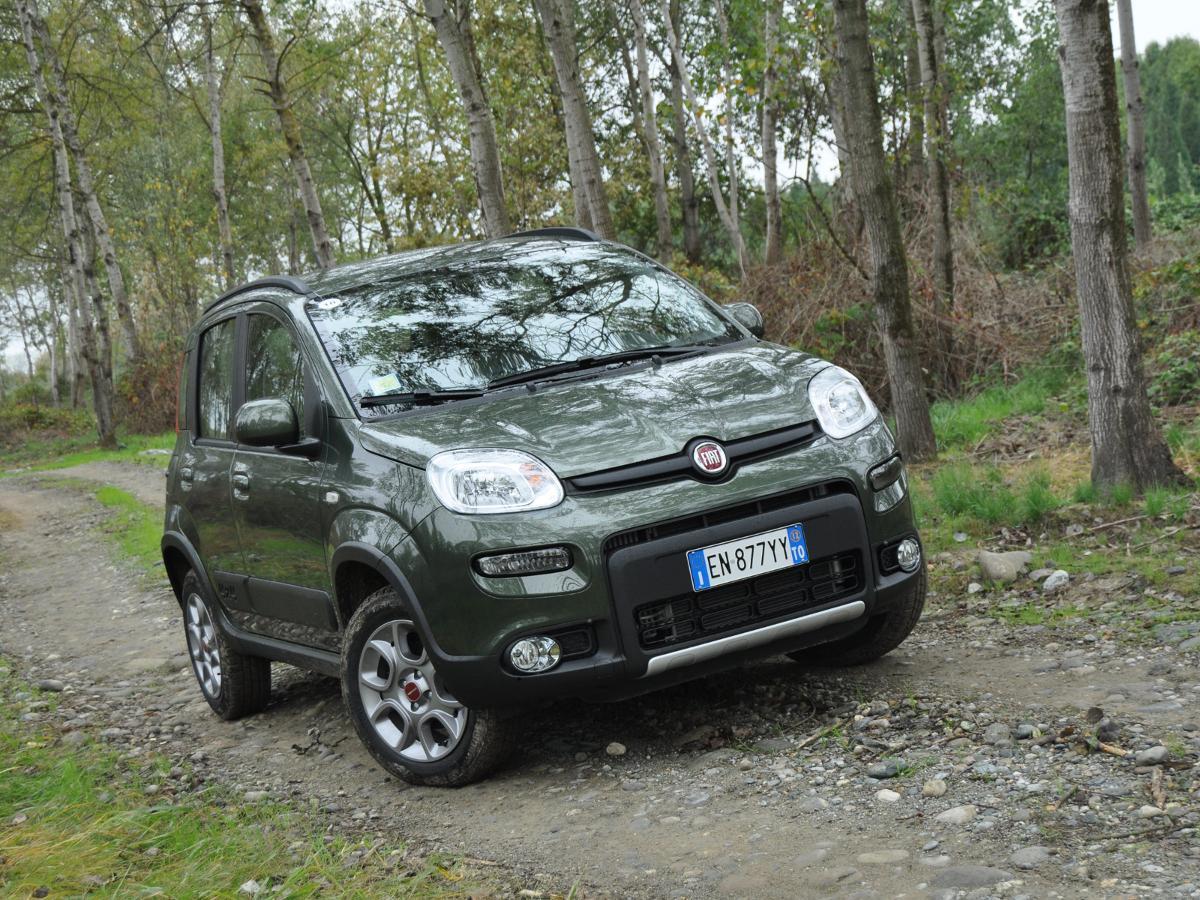 View gallery
The Auto Trader expert verdict: ★★★★★

★★★★★
3.8
The Fiat Panda 4x4 and Trekking are unique in offering a rugged take on the city car format. Bizarrely it not only works, it makes it one of the best city cars on offer. With surprising levels of off road ability, it's ready to take on more than the urban jungle.
Reasons to buy
It's unique

You won't believe what it can do

The rugged suspension makes it comfortable too
Best on a budget
Panda Trekking 0.9 TwinAir
Rugged looks and suspension while being cheap to tax
Best seller
Amazing ability for its size and desirable too
Blow the budget
Go-anywhere prowess and 60mpg
How good does it look?
The Fiat Panda 4×4 looks fun, chunky and most importantly, it's a car you can get excited about. It could only be Italian, its smiling grille, side trims embossed with '4×4' and bubble-font Panda badges making it instantly likeable. Raised ground clearance (by 47mm) and steel front and rear bumper skid plates distinguish it from the standard model. For less adventurous customers, there's also the Panda Trekking, a two-wheel drive version, which shares the raised ride height of the 4×4, but has to make do with black plastic skid plates. We particularly liked the 4×4 in metallic green, which is sure to be a favourite with Barbour wearers.
What's the interior like?
The interior is largely the same as the standard Panda, with its 'Squircle' (square with round corners) theme evident in the instruments and throughout the cabin design. A new dark green dashboard surround is available, as are three new colours for the part leather seats and a new storage compartment. Despite there being no soft-touch plastic anywhere in the Panda, it's a well-designed cabin with the same sense of fun found outside.
How practical is it?
The tall roofline and high driving position mean you'll forget you're driving a city car, until it comes time to park. Look over your shoulder and you remember how small the Panda is, and how well it's suited to the city. The boot measures 225 litres, which can be increased to 870 litres by folding down the rear bench. This configuration does, unfortunately, create an uneven boot floor. Surprisingly the Volkswagen up! has a bigger boot at 250 litres.
What's it like to drive?
We drove the 4×4 at a challenging off road testing facility and came away impressed by just how capable it is. The Panda 4×4 first shrugged off a track made from loose rocks and then scurried up a 70 per cent hill with not a hint of drama. Its engineers have done wonders with its new suspension, which soaks up bumps better than you'd believe for such a small car. On the road this translates to a smoother ride, without too much more body roll than the standard car. The Trekking benefits from the same suspension, although we found the one we drove to be not quite as comfy as the 4×4. The Trekking also has a traction control system to make up for its lack of four-wheel drive, designed to transfer power to the front wheel with most grip.
How powerful is it?
Two engines are available in the UK, a petrol 0.9-litre TwinAir turbo with 85bhp and a 1.3-litre diesel with 75bhp. The TwinAir is most fun to drive, with a six-speed box aiding its refinement at motorway speeds. The diesel only has five speeds, which is a shame as its engine is clearly audible when cruising quickly. The petrol best suits the 4×4 and Trekking's exuberant character too, giving it quick acceleration at urban speeds.
How much will it cost me?
Fiat believes this is the most eco-friendly off-roader on the market, thanks to its pint-sized stature and features like stop and start. The TwinAir 4×4 has official economy figures of 57.6mpg and 114g/km of CO2, while the diesel averages 60.1mpg and 125g/km. For the Trekking, the same engines are capable of 61.4 and 67.2mpg, with emissions under 109g/km of CO2. In Europe a four year servicing, breakdown assistance and warranty package is available, but it has not yet been announced for the UK.
How reliable is it?
Fiat released the first Panda 4×4 in 1981 and has sold a staggering 6.5 million over the years. In that time it has proved itself to be very robust, a trend which should continue with the new model. Both the 4×4 and Trekking feature tried and tested engines and gearboxes, with tougher new suspension designed to take some punishment.
How safe is it?
When it was first launched, the Fiat Panda was awarded four stars in Euro NCAP crash tests, which was disappointing in a class where most rivals have five. However, it was retested in 2018 under more modern criteria, and scored a very unusual zero stars. You could, reasonably, point out that it wasn't designed to the most modern specifications. But as the car is still on sale alongside more recent cars, then it's only fair to point out that its rivals are likely to provide much better protection to its passengers.
How much equipment do I get?
The 4×4 and Trekking are based on the Lounge trim level, so come well-equipped with 15-inch alloys, climate control, stereo and remote central locking.  Optional equipment includes auto climate control, heated windscreen, fog lights, Blue&Me connectivity, sat-nav and variations on how the rear seat splits and folds.
Why buy?
The Fiat Panda 4×4 punches above its weight by essentially being a Land Rover shrunk in the wash, it's also good on the road. Not only that, but it has an infectious sense of fun.