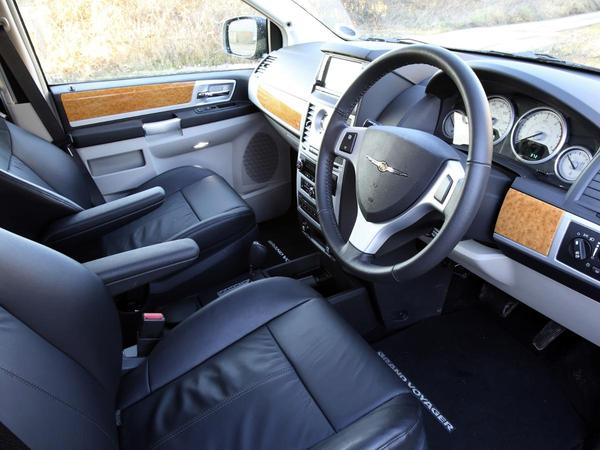 Expert Review
Chrysler Grand Voyager MPV (2008 – ) review
Read the Chrysler Grand Voyager MPV (2008 - ) car review by Auto Trader's motoring experts, covering price, specification, running costs, practicality, safety and how it drives.
The Auto Trader expert verdict:
The Chrysler Grand Voyager is big on equipment and space, but it's short on driver appeal and lacks the sophistication of European and Japanese MPVs.
Reasons to buy:
Clever folding seats
Huge interior space
Plenty of standard equipment
How good does it look?
The Chrysler Grand Voyager is one of the world's biggest-selling MPVs, which, given its relative lack of styling flair, may be surprising. It's very boxy, but a few glitzy Chrysler details help to lift the otherwise unremarkable shape. Those slab-sided proportions are useful though, as they translate to massive interior space. It's unlikely you're going to turn any heads with the Grand Voyager MPV.
What's the interior like?
The Chrysler Grand Voyager is so big, we swear there's an echo if someone shouts. Sadly, that's probably down to the hollow sounding, hard surfaces that seem to be Chrysler's material of choice for constructing the cabin. For a car costing as much as the Grand Voyager does, this family MPV is seriously lacking in any quality feel. Any of its more modern rivals utterly eclipse it for fit and finish, though admittedly the big knobs and switches are easy to use – if not a tactile delight.
How practical is it?
It might not look particularly remarkable, nor feel of the highest quality, but the Grand Voyager scores well on the practicality front. Sliding doors – also seen on the Mazda 5 MPV and SEAT Alhambra – improve access to the rear, while all those back seats fold flat under the floor. Do that and the Grand Voyager's load space is vast. Even with the seats in position there's decent luggage space, while the areas the seats fold into can be used for stowage when they're being sat on. Someone has given the interior functionality a lot of thought.
What's it like to drive?
The Chrysler Grand Voyager can't match the more sophisticated driving experience offered by newer European rivals. The suspension is tuned for comfort and the Grand Voyager feels soft and vague as a result. There's not much roll in the bends though, and the suspension does a decent job of smoothing out bumps in the road. The steering is devoid of any real feel and its very light. The Chrysler feels more bus-like to drive than rivals like the Ford Galaxy or the Volkswagen Sharan.
How powerful is it?
The 2.8-litre CRD turbodiesel engine has 161bhp and does a respectable job. Its mid-range flexibility makes it an adept motorway cruiser. The six-speed automatic transmission is a bit fussy though, kicking down a gear regularly to keep the Voyager's speed up. The result is a lot of noise rather than a significant change in pace. The Grand Voyager at its best when it's being gently coaxed along.
How much will it cost me?
The combination of a relatively old turbodiesel engine, an automatic transmission and the Grand Voyager's weight means that it's not very competitive on fuel consumption and emissions. The official average fuel consumption figure is 33.6mpg, but anticipate a number in the low to mid-20mpg range in everyday use. CO2 emissions of 222g/km are high, too. The biggest ownership cost though is the Grand Voyager's residuals. It won't hold onto its value as well as newer, more recognised rivals, which will cost you when you sell it. Chrysler dealers are scarce in Britain, too.
How reliable is it?
Chrysler's sales in the UK are small so the Voyager's reliability is difficult to ascertain. However, reports for the American model have seen the Voyager's reliability improve significantly in recent years. The current model in particular seems to offer greater reliability than its predecessor, with lower instances of problems. It's not quite in the same reliability league as Japanese rivals, but the Grand Voyager can be bought with reasonable confidence.
How safe is it?
The current Grand Voyager buries its predecessor's poor crash-testing score with a credible four-star performance in the Euro NCAP tests. That's despite a standard safety specification that lacks some of the more sophisticated safety equipment of newer models, cars that manage five-star Euro NCAP scores. There's electronic stability programme and front, side and curtain airbags, anti-lock braking and a tyre pressure monitoring system as standard.
How much equipment do I get?
Hailing from the "consumer is king" land of America the Grand Voyager comes loaded with standard equipment. There's multi-zone climate control, sat-nav, Bluetooth connection, a multi-speaker audio system with a hard drive, cruise control, a powered tailgate and those electrically operated Stow n Go seats. Indeed, if it doesn't come as standard with the Grand Voyager then it's likely you don't need it.
Why buy?
If you need a lot of space and aren't particularly fussed about how an MPV handles, then the Chrysler Grand Voyager is a strong option offering a comprehensive standard specification list.