Expert Review
BMW 6 Series Convertible (2015 - ) review
The BMW 6 Series is a large prestige four-seat convertible that provides competition to everything from the Mercedes E-Class Cabriolet to the Bentley Continental Convertible. Don't be fooled by those slinky looks, though, it's much more of a long-distance cruiser than a sportscar.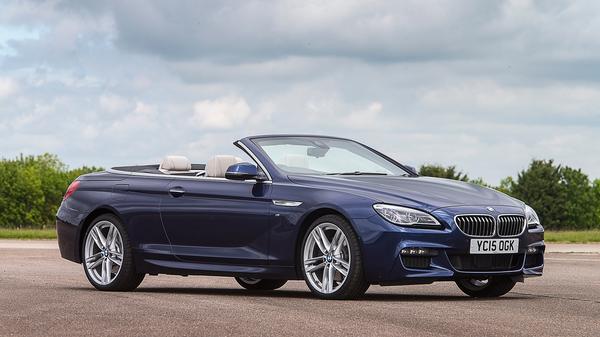 Words by: Ivan Aistrop
Published on 3 March 2017 | 0 min read
The Auto Trader expert verdict:
The 6 Series Convertible, dynamically at least, is designed to do a very specific job, and that's to belt up and down motorways quickly and comfortably, not to blast along B-roads at breakneck speeds. So long as you remember that, you'll love the big Beemer. It looks great, it's comfortable and refined (even with the roof down), it has a luxurious, technology-filled interior, and it's practical enough for weekend trips. It's a car you find yourself respecting rather than loving, but for many drivers, that won't matter a jot.
Reasons to buy:
All versions deliver strong performance and refinement
Comfortable and capable on the road
Interior quality is excellent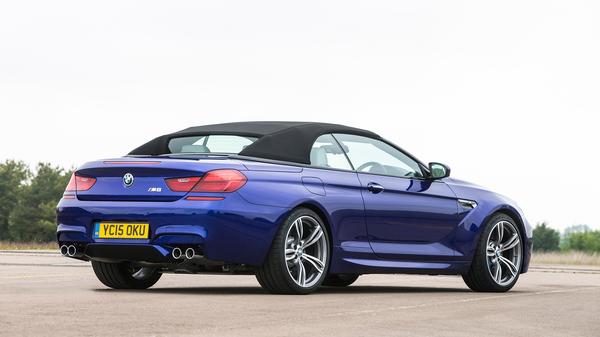 How good does it look?
If you buy a large convertible like the 6 Series, chances are you're more than a little bit interested in looking good. The big BMW achieves that, but in a refreshingly understated way. There are plenty of features to identify it as a BMW – such the famous kidney grille – along with a long bonnet and plunging roofline that give the car proper visual drama. The really good news is the car looks suitably arresting regardless of whether the fabric hood is up or down. Entry-level SE versions have 18-inch alloys and LED headlamps, while Sport versions add bigger wheels and a few glossy black exterior trims. M Sport versions add some chrome flourishes and a subtle-yet-effective bodykit. There's nothing subtle about the way the range-topping M6 version looks, but if you go for such a fast, extravagant version of the 6 Series, there's every chance you want people to know about it.
Expert rating: 4/5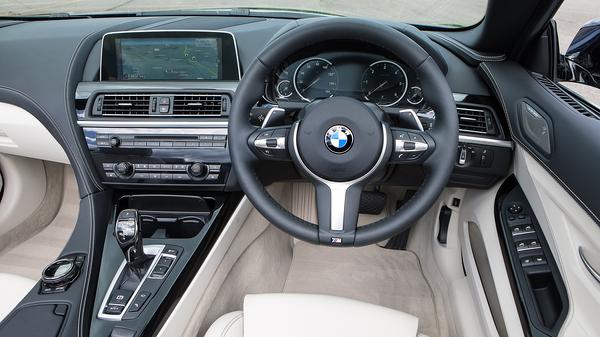 What's the interior like?
The cabin of the 6 Series is exactly what you'd expect from a high-end BMW. The quality is absolutely top-drawer, with dense, tactile materials everywhere you look, and a flawless standard of fit and finish. The luxury toys on display – such as the huge, high-definition central screen and the posh-looking digital ventilation controls – make the cabin feel as high-tech as it does high-end, and it all adds up to a very sophisticated feel. Because you'll spend part of your time with the cabin open to the elements, everyone else will be able to see how impressive it is, too. The infotainment system is one of the most intuitive of its type, with logical menus, sharp graphics and fast responses, while the other controls are also easy to find and use. The driving position has lots of electric adjustment, making it easy to get comfortable, although the small rear window means that your rearward visibility isn't great with the roof up.
Expert rating: 4/5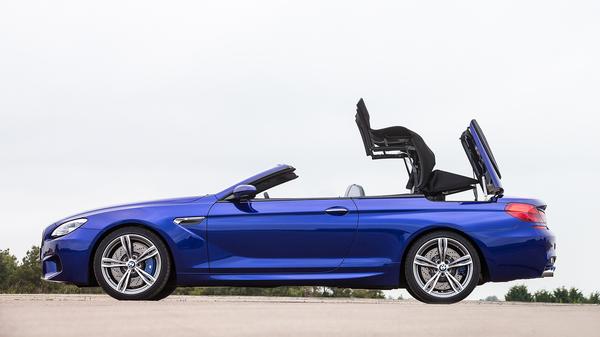 How practical is it?
The 6 Series does a thoroughly decent job in this area when compared with other big prestige convertibles. The boot is smaller than you get in the Coupe version, and you lose even more capacity when you put the roof down, but with a space that's wide and deep, it'll still fit a couple of sets of golf clubs or a few shopping bags. Bear in mind, though, the space is also rather shallow, meaning many bulkier items will be a no-no. The front seats have loads of space for tall adults to stretch out, and there's plenty of storage space in the cabin. The rear seats are predictably tight on space, with limited knee- and head-room on offer, but there's enough for a pair of adults to cope on shorter journeys. That said, many four-seat coupes from rival manufacturers – some of which are smaller than the 6 Series – offer superior space for passengers and luggage.
Expert rating: 3/5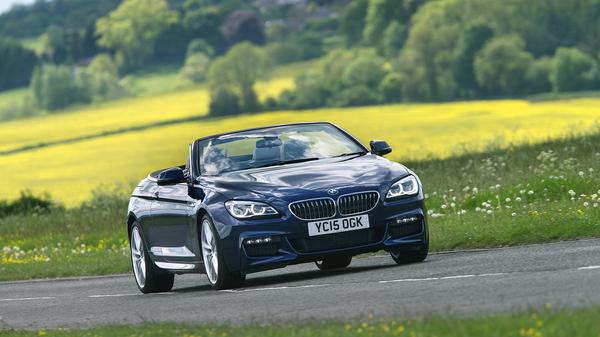 What's it like to drive?
So far, we've only tried the 6 Series with the optional Adaptive Drive variable suspension, and with this fitted, the car is a very competent performer. The ride is edgy enough to give you a feeling of connection with the road, but smooth enough to keep you comfortable and relaxed in most situations. You can feel a little shakiness rippling through the bodywork over bumps, but that's something that blights the vast majority of convertibles. The quietness of the car contributes to that serene feel as well, because noise from the engine and the wind are really well isolated, although a bit more road-noise does make it through to the cabin, and many other convertibles isolate you better from the buffeting effects of the wind with the roof down. Nevertheless, this is a car that'll happily destroy huge distances in a single hit, delivering you to your destination fresh and calm. It's not half bad in the corners, either, with lots of grip, reassuringly weighty steering and sharp control over body movement when you're changing direction. Anyone expecting this to be a sportscar will be disappointed – it's too big and heavy for that and the steering doesn't give to the required amount of feedback – but if you judge this car as the grand tourer it was designed to be, you'll be perfectly satisfied.
Expert rating: 4/5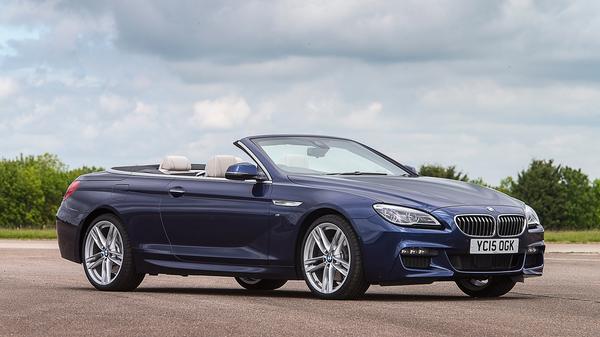 How powerful is it?
So far, the only version of the 6 Series we've sampled is the 640d, which is powered by a 3.0-litre diesel engine developing 309bhp. It suits the car incredibly well, not just because it's hugely fast, but because it provides mighty pull in the lower and middle parts of the rev range, making acceleration a very easy – not to mention exceptionally brisk – affair. More pertinently, this strong urge is accompanied by exemplary refinement. The engine emits a creamy growl when you extend it, but the rest of the time it stays quiet, smooth and relaxed. The other engines on offer are all petrols, and each will see off the 0-62mph dash in less than 5.5 seconds. The 640i's 3.0-litre six-cylinder engine develops 316bhp, the 650i's 4.4-litre V8 has 444bhp, while the M6 has a fire-breathing V8 that serves up 552bhp. If that's not already nuttier than a squirrel's shopping list, there's a performance upgrade available that makes the power output even more ludicrous. The M6 channels its power through a seven-speed twin-clutch gearbox, while the rest have a nine-speed automatic.
Expert rating: 4/5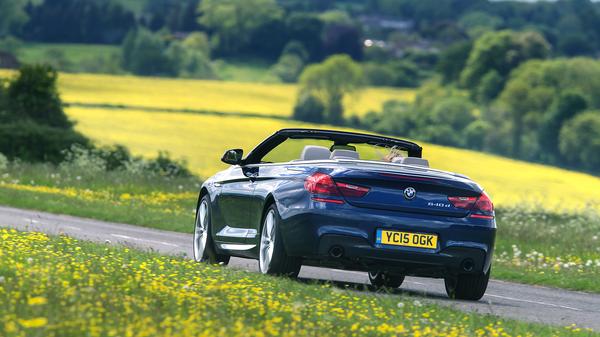 How much will it cost me?
The 6 Series is not a cheap car to buy, but as a high-end BMW, that'll be of absolutely no surprise to anyone. Is it competitive on price when compared with its rivals? Well, it has very few direct rivals in terms of its size and the number of doors and seats it has, so it really depends what you compare it with. It's a lot more expensive than the Mercedes E-Class Cabriolet, which is a little smaller, but much cheaper than the S-Class Cabriolet, which is a little bigger. Choosing the diesel will get you an average fuel return of around 50mpg, according to official figures, but none of the petrols get anywhere near that; even the cleanest can't quite beat 37mpg. The correspondingly high CO2 emissions means tax bills will also sting. Still, resale values are pretty strong due to the car's desirability, which should help safeguard the amount you'll pay to own your car long-term.
Expert rating: 3/5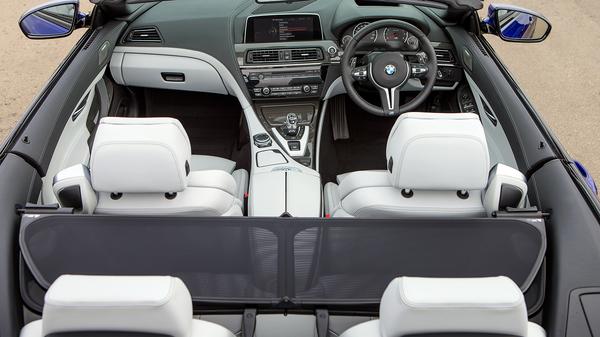 How reliable is it?
Look at the Warranty Direct Reliability Index, and you may be a little concerned about how dependable your 6 Series will be. The car has a pretty rubbish rating traditionally, making it one of BMW's poorer performers, and the brand itself occupies a disappointingly lowly position in the same study's manufacturer rankings. Our owner reviews don't report any reliability horror stories, though, and the three-year/unlimited-mileage warranty you get as standard is pretty good.
Expert rating: 3/5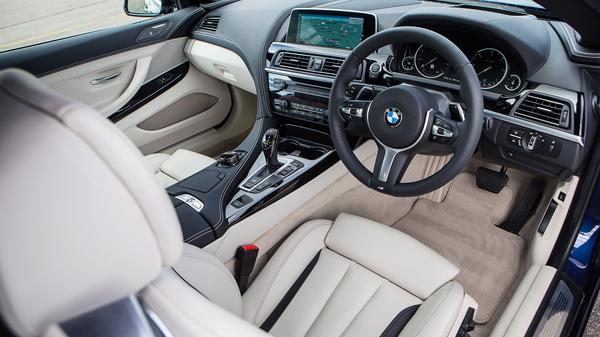 How safe is it?
The 6 Series isn't exactly a game-changer in this area. It comes with a vast suite of electronic driver aids to help you avoid getting into trouble, but it only comes with four airbags as standard and you're charged extra if you want a suite of safety systems including Lane Departure Warning and Automatic Emergency Braking with Pedestrian Protection. It's not a massive sum, but it's a bit stingy that it's not provided as standard on a car this expensive. If you want to upgrade it further to include a system that'll help you drive the car in stop-start traffic, you'll pay thousands rather than hundreds. The 6 Series scored the maximum five stars in crash tests by safety organisation Euro NCAP.
Expert rating: 3/5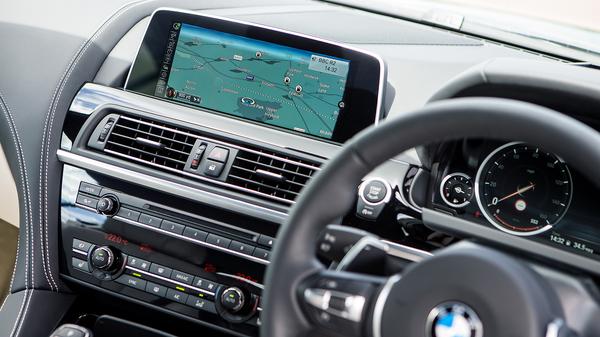 How much equipment do I get?
You'd expect a car like the 6 Series to come stocked with plenty of luxury kit, and it doesn't disappoint. Even the entry-level SE car has leather upholstery, climate control, cruise control, front and rear parking sensors, heated front seats, a multi-function steering wheel and a high-end infotainment system that brings together navigation, DAB radio, 20GB hard drive, advanced Bluetooth with wireless phone charging (where your phone is compatible), plus a whole bunch of connected services. Sport models add comfier seats with posher leather, but otherwise, the upgrades are purely aesthetic, and it's a very similar story with M Sport trim. The M6 does have all sorts of performance enhancing gear aimed at controlling its vast power, but in terms of luxury kit, it's very similar to the rest of the range.
Expert rating: 4/5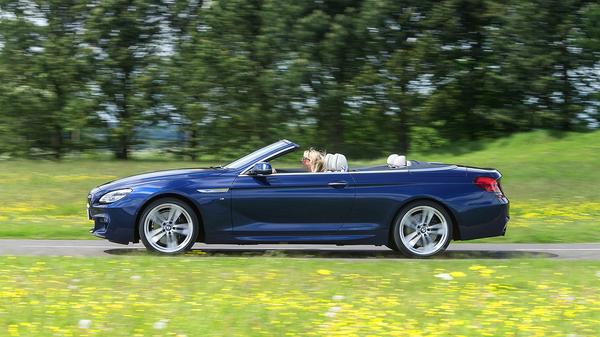 Why buy?
Because you want a big, luxurious convertible with plenty of style, and one that can transport you vast distances comfortably and quietly. On that score the 6 Series fits the bill well. However, although the 6 Series is pretty short on direct competitors, there are lots of other cars that play that role just as well, but also offer more practicality, more entertainment, or more affordability. A good car, but possibly an acquired taste.
Expert rating: 3/5