Expert Review
BMW 6 Series Convertible (2011 – 2015) review
Read the BMW 6 Series Convertible (2011 - 2015) car review by Auto Trader's motoring experts, covering price, specification, running costs, practicality, safety and how it drives.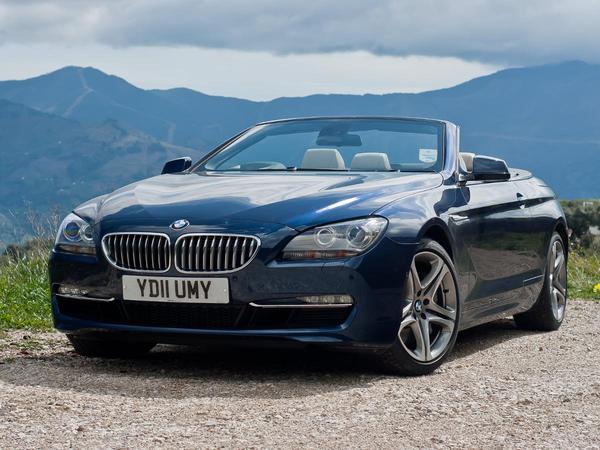 The Auto Trader expert verdict:
The BMW 6 Series Convertible is set to challenge the UK sales dominance of the Jaguar XK. It feels better built and will be cheaper to run, but it just loses out on the Jag's charm.
Reasons to buy:
Impressive performance boost
Better handling and ride comfort
Less polarising looks
How good does it look?
The outgoing
BMW 6 Series
Convertible had controversial styling when it was launched, but its distinctive Shark Nose and edgy surfaces aged well and set the 6 apart. More than 6,000 were sold in the UK. The new model's appearance is much less surprising, but it's probably better looking overall. The aggressive nose is still there and BMW has stuck with a fabric hood which mimics the lines of the Coupe's roof as closely as possible. LED rings around the headlights and the Kidney grille make it unmistakeably BMW and shout "move over, coming through" on the motorway. However, it faces stiff competition in the looks department from the
Jaguar XK
,
Maserati Gran Turismo
and
Mercedes SL
.
What's the interior like?
There's a real feeling of quality and integrity inside. Everything you can touch feels well engineered and designed to last for eternity. Leather upholstery is standard and the steering wheel and automatic gear selector are pleasing to hold. The instrument dials are amongst the clearest and most informative of any car and the same can be said of the huge widescreen sat-nav display, with its crisp graphics. Tests by BMW have confirmed its orange dials are the easiest colour for the human eye to read at night. A full-colour Head-up Display allows speed and navigation to hover in the windscreen and is particularly easy to read. It has a more technical feel than the Jaguar XK, but equally has slightly less character.
How practical is it?
The BMW 6 Series Convertible is a 2+2, which means it has two front seats and two small rear seats. These can be used by children or adults on very short trips. When using the rear seats you forgo the rear wind deflector, which sits across the top of them when in use, aiding the flow of air over the car and leaving front occupants less ruffled. If you want to carry four people with the roof down regularly, the bigger Mercedes E-Class convertible may offer occupants a comfier ride. The boot measures 300 litres with the roof down, but expands to 350 litres if you don't drop the hood.
What's it like to drive?
The 6 Series Convertible is impressively free from the flexing which could be felt in the previous model over bumps. Where that car would shimmy on tough roads, you'd hardly know the new car had no roof to add to its strength. The 6 uses double-wishbone suspension design seen in many racing cars and superb steering give the car an impressive ability to scythe through corners. It's agility is all the more pleasing given its large size and the fact it weighs around 150kg more than the Jaguar XK – the equivalent of having two rugby players in the car. Four driving modes are available: Comfort, Normal, Sport and Sport+. This is perhaps over-complicated, but all the driver really needs to know is that Normal is ideal in almost all situations and Sport+ increases engine response, holds onto gears longer and even allows the driver to slide the car to an extent before the electronic stability programme (ESP) will step in. Ride comfort is very soothing indeed, only the worst bumps causing the car to bounce for a second. We'll need to drive the BMW in the UK to conclude if it beats the class-leading Jaguar XK, but it's apparent it will certainly be a closely fought battle.
How powerful is it?
At its time of launch there will be two petrol engines available, badged 640i and 650i. The smaller motor is a 3-litre turbocharged six-cylinder with 320bhp, propelling the Convertible to 62mph in 5.7 seconds. The 650i is fitted with a 4.4-litre V8 with twin turbochargers and 407bhp, which gets it to 62mph in 5 seconds. Both cars are restricted to a 155mph top speed. While it's slower, we found the smaller engine not only more relevant to UK customers, but also more enjoyable, and hardly lacking in performance. While there's nothing wrong with the muted V8 burble and dollops of acceleration on offer in the 650i, the less powerful car has a sweeter exhaust note and it's fun to use its more conservative power to great effect. A diesel is expected in the coming months, which will account for the majority of UK sales. The 5-litre V8 Jaguar XK takes 5.6 seconds to reach 62mph, with a soundtrack the BMW can't quite match.
How much will it cost me?
Yet again, BMW leads the way here thanks to its Efficient Dynamics technology. The 640i emits 185g/km of CO2, compared with 226g/km from the Mercedes SL350 and manages 35.8mpg versus 29.1mpg. In short, it's cheaper to tax, run and has a better range as a result. It's also the first car in its class fitted with stop and start technology. The 650i emits 249g/km compared with the 272 of the Mercedes SL500 and 264 of the Jaguar XK 5-litre. It averages 26.4mpg. BMW is offering a five-year servicing package costing £400 and the 640i is expected to hold on to 39 per cent of its value after three years of ownership from new.
How reliable is it?
It's too early to tell how this all-new car will perform here, but BMW's reputation is extremely good and the 6 Series felt impeccably well built. The previous generation model was subject to three manufacturer recalls to resolve a potential issue with the rear axle and brake servo.
How safe is it?
An active bonnet will pop up in collisions which take place between 12 and 34mph in order to cushion pedestrians from hard structures beneath it. This allows the car's nose to be lower and sleeker, while still complying with safety legislation. Four airbags are standard, as are run-flat tyres, tyre pressure warning indicators, ESP and anti-lock brakes (ABS). The brakes will also dry themselves if they get wet, prepare for an expected emergency stop and compensate for brake fade after prolonged heavy use.
How much equipment do I get?
The 6 Series Convertible features some of the latest tech, including Surround-view cameras, BMW Night Vision with pedestrian recognition, Park Assist, Lane Change Warning System, Lane Departure Warning System, Speed Limit Display and full colour Head-up Display. Standard equipment includes two-zone climate control, leather steering wheel with gear change paddles, Aux and USB input, Bluetooth, 10.2-inch display, iDrive, sat-nav, trip computer, voice control, parking sensors and Xenon headlights.
Why buy?
The 6 Series Convertible is the consummate all-rounder. It has fantastic performance, handling and looks, yet its running costs shouldn't leave you begging for mercy.