Expert Review
BMW 6 Series Convertible (2003 - 2011) review
Read the BMW 6 Series Convertible (2004 - 2011) car review by Auto Trader's motoring experts, covering price, specification, running costs, practicality, safety and how it drives.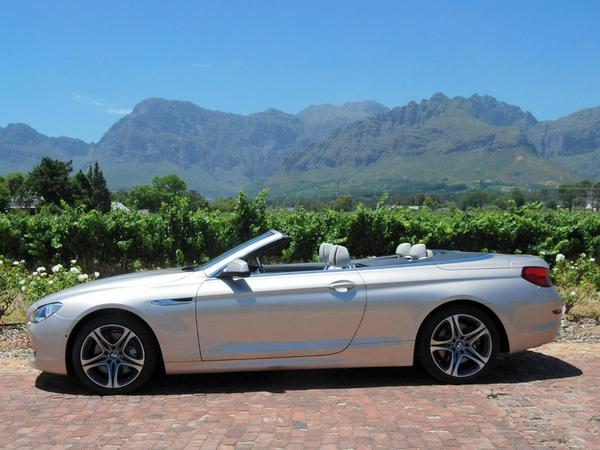 The Auto Trader expert verdict:
The BMW 6 Series Convertible is fast, exclusive and expensive. However, its replacement is due imminently.
Reasons to buy:
Well built
Well equipped
Lots of safety kit
How good does it look?
The BMW 6 Series Convertible looks imposing, expensive and fast, but it isn't beautiful like a Jaguar XK or even a Porsche 911 Cabriolet. The nose looks heavy and awkward with its droopy headlights, although things look better in the metal than the pictures might suggest. The rear is also not especially pretty, although it works better than the rather ugly 6 Series coupe. Where the convertible works really well is in profile, where it looks classy and elegant, especially with the roof down. Crucially, the drop-top 6 Series also looks good when the roof is up, although there's no mistaking this is a convertible, thanks to thick rear pillars.
What's the interior like?
Just like the exterior design, the 6 Series' cabin looks expensive but it's not beautiful. Thanks to the use of high-quality materials it's clear this is the cabin of a premium car. Items like the multi-media screen and its controller on the console dominate the view, and it works well enough – far better than earlier designs of the same technology. More successful is the comfort on offer, at least for those in the front. There's ample adjustment of the seats and steering wheel, while the instrumentation is clear.
How practical is it?
Few convertibles offer much in the way of practicality, and it's no different here. Things are helped by the fact that the roof is a cloth affair, rather than a space-robbing folding hard top, but the boot can still accommodate just 350 litres with the roof up or 300 litres with it down. That might seem miserly, but take the Jaguar XK route and you'll have to put up with just 313 or 230 litres, depending on whether the roof is up or down. Although the 6 Series convertible is claimed to be a 2+2, in reality there's space only for small children in the back. By the time the roof is closed, they're going to feel rather enclosed, so it's best to treat this as a two-seater only.
What's it like to drive?
BMWs are renowned for their superb handling, and while a car as big as the 6 Series will never have the agility of a hot hatch, the dynamics are still impressive. With a mass of electronic aids and a suspension system that's not been designed down to a price, this is an accomplished car dynamically. More impressively, BMW hasn't achieved great handling by just stiffening the suspension and hoping for the best. Even with 19-inch wheels the ride is reasonably compliant and never gets crashy.
How powerful is it?
There's no such thing as a slow 6 Series, as all versions can manage 155mph, which they're restricted to electronically. As a result, which version you buy is largely based on how quickly you want to get there and how deep your pockets are. Fastest accelerating of the lot is the 282bhp 4.8-litre 650i, which gets to 0-62mph in just 5.5 seconds, but the other two options aren't far behind. Selling alongside are the 630i and 635d, both with 3-litre engines, the 630i being petrol while the 635d is a diesel. The 268bhp 630i can dispatch the 0-62mph sprint in 6.7 seconds, while the 282bhp 635d cuts this to just 6.3 seconds.
How much will it cost me?
The 6 Series is a very costly car to buy, and it will soon be replaced. As a result, once bought, the car quickly loses value. You'll need deep pockets to run the 650i, with its 22.4mpg average and CO2 emissions of 299g/km. However, the 630i is more palatable as it can manage 34mpg with CO2 emissions of 198g/km. But the ace up BMW's sleeve is the 635d, as nobody else offers a luxury diesel-powered grand tourer. With its 3-litre turbodiesel engine, the 635d emits just 190g/km of CO2 and can average 39.2mpg. It helps that all models come with brake energy recuperation, to reduce fuel consumption.
How reliable is it?
People buy BMWs for their reliability, and it's no different here. Having been introduced in 2004, the 6 Series has built up an enviable reputation for dependability, with the only glitches being through careless owners kerbing wheels or scraping the bodywork.
How safe is it?
As an expensive premium convertible, the 6 Series comes packed with pretty much every piece of safety kit you could want. However, this isn't a car that's been subjected to the rigours of a EuroNCAP crash test, so there's no official safety rating. There's a massively strong structure, and safety technology galore too, such as electronic stability programme, traction control, anti-lock brakes and electronic brake force distribution. You'll also find a multitude of other braking technologies such as brake drying and brake fade compensation. Naturally there are multiple airbags, anti-whiplash head restraints, a roll-over protection system and run-flat tyres with a pressure monitoring system.
How much equipment do I get?
There are just two trim levels available; SE and Sport. In terms of comfort and convenience features there's nothing to separate them, but opt for Sport trim and you get 19-inch alloy wheels instead of 17-inch items, plus sportier trim inside and out. Whichever trim level you go for you'll get lots of equipment, such as adaptive cruise control, front and rear parking sensors, leather trim, xenon lights, multi-media system, remote central locking and electric windows.
Why buy?
Superbly built, distinctive, unusual and highly equipped, the 6 Series convertible makes a great fast open-topped cruiser.