Expert Review
BMW 4 Series Convertible (2013 - 2017) review
Read the BMW 4 Series Convertible (2013 - 2017) car review by Auto Trader's motoring ecperts, covering price, specification, running costs, practicality, safety and how it drives.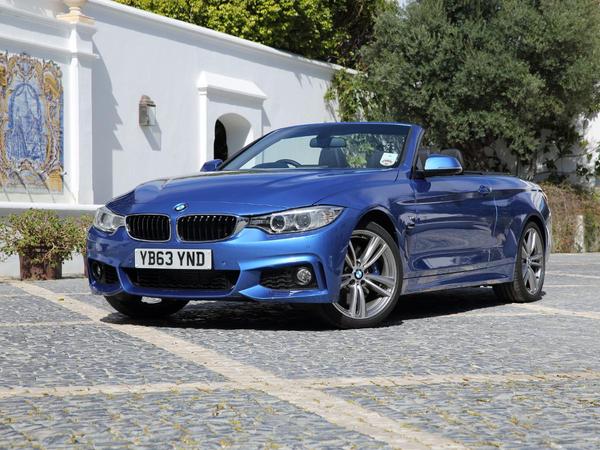 Words by: Ivan Aistrop
Last updated on 4 November 2014 | 0 min read
The Auto Trader expert verdict:
The BMW 4 Series Convertible is more of a comfortable cruiser than a sporting soft-top, but it's a cracking all-rounder nonetheless. If you're looking for a prestige convertible, it should definitely be on your shortlist.
Reasons to buy:
Looks great inside and out
Decent practicality for a four-seat convertible
Impressively efficient engines
How good does it look?
A good convertible, especially one with a prestige badge, needs to convey a glamorous image. To our eye, the 4 Series achieves that. The sleek lines of the 4 Series Coupe are largely maintained up to the rear wheelarches, and behind them, BMW has managed to provide accommodation for the three-piece folding metal roof without making the rear end look awkwardly high or long – something that's not easy to do. Roof up or roof down, the 4 Series looks the business. All versions look smart, but you get more and more aesthetic upgrades as you progress further up the range.
Expert rating: 4/5
What's the interior like?
The 4 Series Convertible is every bit as glamorous on the inside as it is on the outside. Just as well because, with the roof down, your cabin is on show as well. The high-quality materials and deftly damped switches give the interior a real sense of sophistication, and the simple-to-use iDrive infotainment system lends a high-tech feel as well. The driving position has lots of adjustment to help you get comfy at the wheel, but the slightly offset pedals hamper you a little, and the rear view could be better with the roof up, too.
Expert rating: 4/5
How practical is it?
Unlike many four-seat convertibles, the 4 Series' cabin has enough room for four adults to travel in reasonable comfort. Legroom is adequate in the back, and with the roof up, so is headroom.  The boot is fairly tiny with the roof down (just 220 litres, and there's a very narrow gap to load items through), but it's an impressive 370 litres with the top in place. And let's face it, with UK weather being what it is, that's where the roof will stay most of the time.
Expert rating: 4/5
What's it like to drive?
So far, we've only sampled the 4 Series Convertible on the optional Adaptive M Sport Suspension, which uses adaptive dampers to alter the car's characteristics depending on which of the four settings you select. In all modes, the suspension delivers a pretty comfortable ride most of the time, with only the nastiest potholes giving you a whack in the backside. True, things don't tighten up quite as much as you'd expect when you select one of the sportier modes, and you still feel a fair amount of roll in corners. However, with rear-wheel drive and responsive, accurate steering, there's still some fun to be had.
Expert rating: 3/5
How powerful is it?
Two petrol engines are available in the 4 Series, the 428i having a 2.0-litre four-cylinder turbo with 242bhp and the 435i having a 3.0-litre six-cylinder unit with 302bhp. We haven't yet had the chance to try either of these, but we have tried the most popular engine, the 181bhp 2.0-litre diesel. It's no slouch, delivering strong pull throughout most of the rev range, which makes the car easy to drive at low speeds and also lets you hustle the car along at a fair old rate. It's pretty smooth and quiet at motorway cruising speeds, too, although it does get rather clattery when you're building speed in a hurry. Elsewhere, refinement is pretty good: road noise is well suppressed, and there's not much more roof-up wind noise than in your average saloon car.
Expert rating: 4/5
How much will it cost me?
The 4 Series isn't a cheap car, but then again, you wouldn't expect it to be. Importantly, it's priced competitively against its major rivals from Audi and Mercedes. It'll hold its value just as well as either of those rivals, too. Unsurprisingly, it's the diesel that leads the way for fuel economy, and the claimed figures of 55.4mpg and 133g/km are pretty impressive. And, although they're much thirstier, the petrol engines compare well with their similarly powered counterparts from Audi and Merc.
Expert rating: 4/5
How reliable is it?
The quality and attention to detail with which the 4 Series appears to be assembled should give you plenty of confidence in how well it'll last, but the various reliability surveys paint a slightly different picture. BMW currently languishes well down in the bottom half of Warranty Direct's manufacturer standings, and while there's no data yet on the 4 Series, the previous 3 Series Convertible's Reliability Index score is through the floor. This will really need to improve with the 4 Series.
Expert rating: 3/5
How safe is it?
The 4 Series – in either Convertible or Coupe form – has not yet been crash tested by the experts at Euro NCAP. However, the 3 Series saloon, with which the 4 Series shares most of its mechanicals, has achieved the full five-star rating. Standard kit includes a stability control system and six airbags, and there are many more safety measures available on the options list.
Expert rating: 4/5
How much equipment do I get?
All versions of the 4 Series come well equipped, with front and rear parking sensors, heated front seats with part-electric adjustment, leather upholstery, dual-zone climate control, cruise control, Bluetooth and a DAB radio as standard on entry-level SE models. The other versions- Sport, Modern, Luxury and M Sport – add a whole host of aesthetic upgrades to give their own unique look, but very little in the way of extra luxury equipment is earned with the upgrades.
Expert rating: 4/5
Why buy?
Because it's one of the best cars of its type, it's competitively priced and it's affordable to run. It might not be the car you expect, being more of a cruising convertible than an ultimate driving machine, but it has plenty going for it nonetheless.
Expert rating: 4/5