Expert Review
BMW 3 Series Saloon (2008 - 2012) review
Read the BMW 3 Series saloon (2005 - 2012) car review by Auto Trader's motoring experts, covering price, specification, running costs, practicality, safety and how it drives.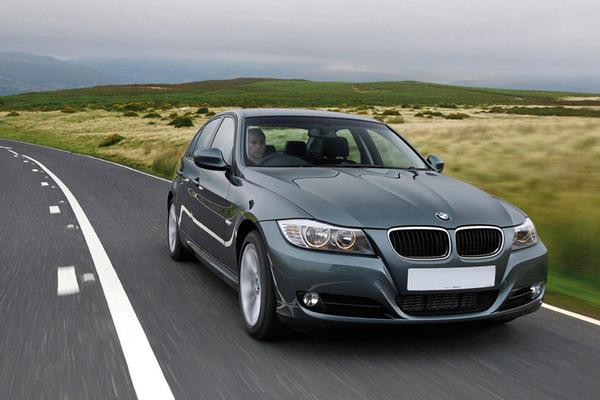 Words by: Ivan Aistrop
Last updated on 24 November 2014 | 0 min read
The Auto Trader expert verdict:
The BMW 3 Series saloon is top of its class for dynamics, while build quality, ergonomics and reliability are excellent too. However, purchase and running costs are high.
Reasons to buy:
Superb build quality
Great to drive
Very efficient engines
How good does it look?
The BMW 3 Series saloon is extremely popular, so the fact that they're everywhere means they're incredibly familiar. The design is also pretty unadventurous as BMW tends to take styling risks only with its more exclusive, more costly models. That's not to say the 3 Series saloon is devoid of any styling flourishes though, as the angel eye sidelights still look great many years after they first appeared. The subtle sculpting of the car's flanks and bonnet also make the car's shape more interesting. However, the Mercedes C-Class or Lexus IS is more interesting to look at.
Expert rating: 3/5
What's the interior like?
The thing that strikes you first about the BMW's cabin is how beautifully built everything is. The quality of the materials, the fittings and the switchgear are all superb – it's immediately clear that this is why the BMW 3 Series is more costly than most of its rivals. BMW has long been the market leader in terms of dashboard clarity, and while some rivals have caught up, the 3 Series is still a model of how things should be done. It's easy to find everything and the ergonomics are spot on, but it's all a bit sombre.
Expert rating: 4/5
How practical is it?
Small saloons tend to be among the least practical cars when it comes to carrying capacity. Some of its rivals, like the Audi A4, are designed to overcome this by having a folding rear seat, but not the 3 Series. The result is a car that can accommodate just 460-litres of luggage, which compares with 480 litres for the A4. But with its rear seats folded, the A4's boot space jumps to 962 litres. At least there's enough space for four adults to travel in comfort – or five if they're small.
Expert rating: 3/5
What's it like to drive?
One of the key reasons why the 3 Series is so sought after is because of the fabulous driving experience it offers. The fact that the power goes to the rear wheels makes all the difference – it's cheaper to make cars front-wheel drive, which is why most of the BMW's rivals have this layout. This more expensive engineering ensures the steering is uncorrupted, and as it's perfectly weighted and offers just the right amount of feedback, it makes every journey that bit more enjoyable. Even better, the ride is still comfortable although M Sport editions get bigger wheels and sport suspension, which don't help comfort.
Expert rating: 4/5
How powerful is it?
Whether you want something that's decently swift or a serious road-burner, there's a 3 Series to fit the bill. Even the slowest model, the 316d, can crack 123mph and 0-62mph in 11 seconds, while the fastest variants are restricted to 155mph and can get to 62mph in six seconds or less. There are 318, 320, 325 and 335 editions in both petrol and diesel forms, while the diesel range also includes the phenomenal 330d. With a massive 384lb/ft of pulling power, it's a performance car and a relaxed cruiser all in one.
Expert rating: 5/5
How much will it cost me?
BMW has invested a lot of cash in developing ways to make its cars run more efficiently, and the 3 Series showcases many of them. The package of technologies is called Efficient Dynamics and the result is a car that's ahead of most rivals in terms of fuel consumption and CO2 emissions. For example, the cleanest model, the 316d, emits just 118g/km of CO2 while the significantly more powerful 318d notches up just 119g/km. If you're tempted by a performance car such as the 330d you'll officially be able to average 49.6mpg with CO2 emissions of 152g/km – but use the performance and you'll be doing well to see much over 30-35mpg.
Expert rating: 4/5
How reliable is it?
As a premium car maker, BMW has a reputation for building dependable cars. With high purchase prices and consequent high expectations on the part of owners, BMW rarely seems to fare as well as most Japanese car makers in customer satisfaction surveys though. Few fault patterns have cropped up so far, but the tyre pressure monitoring system can fail, the tyres can wear unevenly and steering racks have been known to leak.
Expert rating: 4/5
How safe is it?
BMW prides itself on producing some of the safest cars on the road, and the 3 Series is typical of the company's thoroughness with its engineering. As you'd expect, the 3 Series comes with a five-star EuroNCAP rating which proves how strong it is. However, that rating also requires a lot of standard equipment to be fitted, which is why the 3 Series comes with front and side airbags for those in the first row, curtain airbags for everyone, seat belt pre-tensioners and anti-whiplash head restraints. There are also electronic stability programme, anti-lock brakes, traction control and electronic brake force distribution.
Expert rating: 4/5
How much equipment do I get?
You can choose from ES, Exclusive, SE, M Sport and Sport Plus trim levels. The entry-level ES comes with a six-disk CD/tuner, air-con, electric windows all round, 16-inch alloy wheels and a multi-function steering wheel. Moving up to SE trim adds front and rear parking sensors, 17" alloys, upgraded cabin lighting and extra interior detailing. Exclusive brings metallic paint and leather trim while the Sport Plus has sports seats, 18-inch alloys and cruise control.
Expert rating: 3/5
Why buy?
You don't have to be an enthusiast driver to appreciate the BMW's superb dynamics. You'll also love the build quality, reliability and hopefully the classy, discreet good looks too.
Expert rating: 4/5