First published: 8th May 2015
The Auto Trader expert verdict: ★★★★★

★★★★★
3.8
The combination of smart looks with the added attraction of good standard equipment and a range of frugal engines means this 1 Series is a more attractive proposition than ever before. It drives nicely, too, so if you like your small hatch with a sporty flavour, then it's worth a look. However, the firm ride, patchy interior quality and limited practicality mean it's not our favourite small hatch.
Reasons to buy
Sporty looks matched by sharp drive

Some very economical engines

Sat-nav standard on every model
Pick of the range
A fine, economical engine, along with plenty of kit, and the more practical bodystyle
Most economical
Average economy of more than 80mpg, but with no loss of everyday driveability
Best avoided
Spend more or less: more to get the superb M135i hot hatch; less to get something as smart and almost as quick, but more economical
How good does it look?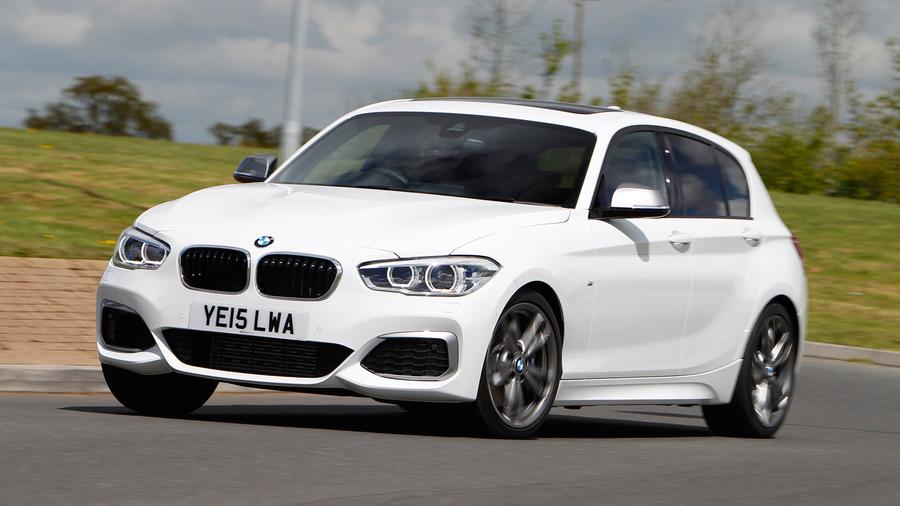 "
Even the cheapest version looks like anything but a poor relation
"
If there's one word BMW's designers use more than any other to describe the 1 Series, it's 'sporty'; and that shows through in the wide grille, pronounced sculpting on the bumpers and the sleek headlights, which incorporate LED daytime running lights. It's a similar story at the rear end, where the adoption of LED technology has allowed the company to fit slim lights that conform to the brand's trademark L-shape. With the bulging rear wheel arches adding a further sporty touch, as well as alloy wheels and plenty of chrome trim on every model, the result is a car that – right from the cheapest version – looks like a fully fledged member of the BMW family and anything but a poor relation.
What's the interior like?
Inside, too, there's no mistaking that this a BMW, with the sporty theme continued in the way the centre console is angled towards the driver, while the high centre console and low seating position giving a cockpit-like feel. At the same time, the iDrive infotainment control system continues to be a lesson to other car makers in ease of use; the dash-top screen has beautifully clear graphics. However, it's not all good news. The pedals are offset to the right, which some drivers will find awkward. Also, the 1 Series' cabin is now showing its age next to more modern rivals like the Audi A3. Too many of the BMW's controls look and feel rather cheap, and you don't have to drop your eyeline too far to find some distinctly lower-quality materials. The glovebox lid and doorbins are particular offenders in this respect.
How practical is it?
Although there's no shortage of space in the front seats, when we say this is a small hatchback, we mean it. Compared to the likes of the A3 and Volkswagen Golf, the rear seats are cramped, with legroom in short supply and the combination of a narrow centre seat and a large transmission tunnel in the floor making it pretty much impossible to sit three passengers across the rear seat. Similarly, the boot is a little smaller than what you'll find in a Golf or A3, and there's quite a lip to lift luggage over when you're loading and unloading. So, if carrying people is your top priority, there are better options out there.
What's it like to drive?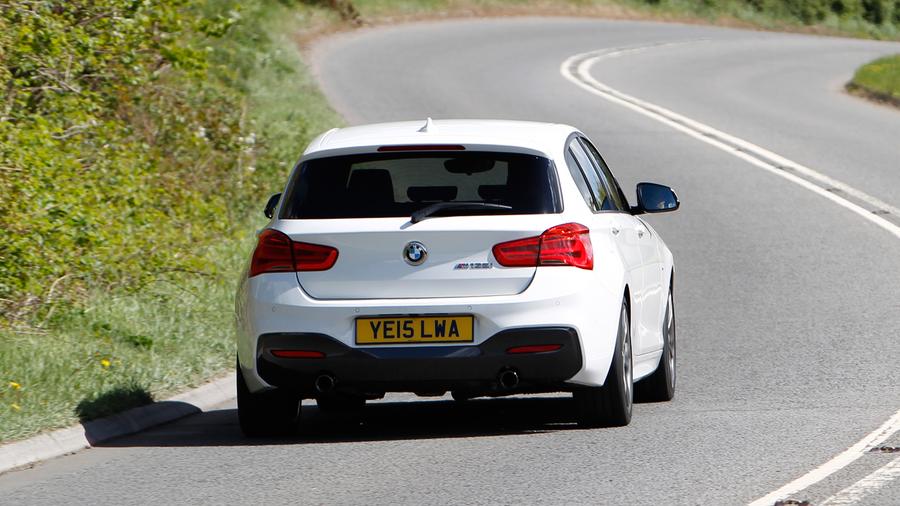 "
The car tackles bends with a degree of balance and fluidity that few of its rivals can match
"
BMW is proud of the fact that the 1 Series is the only rear wheel-drive car in the class, and rightly so. It means the car can tackle bends with a degree of balance and fluidity that few of its rivals can match, and that's something that shines through even in the economy-focused models. This is a genuinely fun and enjoyable thing to drive, and at the top of the range, the M135i is truly impressive even when judged alongside its best hot hatch rivals. Trouble is, there's a price to pay – a slight shortage of ride comfort. On less-than-perfect road surfaces, the 1 Series thumps and bumps its way around, and even on apparently smooth roads you never completely lose that slightly firm feel. Specifying the adaptive suspension (an option across the range) does lead to a smoother ride in Comfort mode, but there's still a firm edge. On the other hand, Sport mode does give appreciably sharper handing.
How powerful is it?
So far we've only had the chance to drive a few of the wide range of engines, but it was enough to show that the 1.5-litre three-cylinder diesel engine (also used in various Minis) is a perfect partner for the car. It makes the car enjoyable to drive despite its focus on low emissions and excellent fuel economy. It's generally quiet, too, and the only time you're even slightly aware that it has only three cylinders is at low speed around town or when you rev it hard. For the bulk of the time, all you'll notice is that it pulls smoothly and strongly from around 1,500rpm. This makes it easy to not only keep up with everyday traffic without any great effort, but also to get decent economy in the real world. Meanwhile, the 120i revs smoothly and gives something approaching warm hatch performance, although in typical hot hatch fashion, you need to rev it quite hard to get the best from it. The M135i, meanwhile, is a genuinely quick car, with proper sports car pace when you driveit hard, but there's still enough flexibility at low revs to allow you to pootle along comfortably when you have to.
How much will it cost me?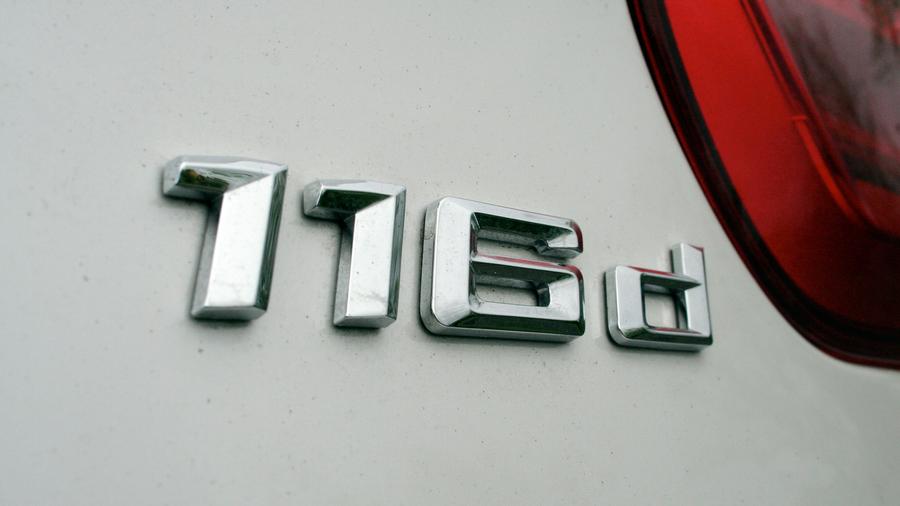 "
The star of the show is the 1.5-litre 116d engine – particularly the ED version
"
The 1 Series may be quite dear to buy, but it won't necessarily be dear to run. The star of the show is the 1.5-litre 116d engine – particularly the EfficientDynamics version – with its low CO2 emissions and correspondingly low BIK bills for company car users. In fact, all the engines across the range are impressively efficient when compared with their equivalents in rival models. Every diesel-engined version (even the four-wheel drive versions) average more than 60mpg, for example, while the only petrol model to average less than 40mpg is the M135i. Given the performance it offers, its return of 35mpg is still pretty impressive. On top of that, BMW's traditionally strong residual values will help to give the car very competitive lease rates against its rivals, and fixed-priced servicing is traditionally offered over the first three years, too.
How reliable is it?
Despite BMW's reputation, its cars aren't always the best for reliability. Previous versions of the 1 Series have been around average, according to both figures from Warranty Direct and reports from owners on our own website. On the other hand, BMW's three-year, unlimited mileage warranty is much more par for the course, and because this model is a facelift (rather than a brand new car) there are likely to be fewer teething problems with the engines and gearboxes.
How safe is it?
Ahead of its 2015 facelift, the 1 Series received a five-star rating from Euro NCAP, and it comes with a suitably generous package of standard safety-related kit. However, there are plenty of options to tempt buyers, too, including the Driving Assistant Package, which (for a reasonable price, although you have to buy it with the Driver Comfort Package) brings City Collision Mitigation, Forward Collision Warning, Lane Departure Warning and Preventive Pedestrian Proctection. The Mercedes A-Class and Audi A3 offer a similar suite of active systems, but the BMW is comfortably on a par with these key rivals.
How much equipment do I get?
"
The real headline-grabber is the fact that sat-nav is standard across the range
"
There are three mainstream trim levels in the 1 Series – SE, Sport and M Sport – but the real headline-grabber is the fact that sat-nav is standard across the range, something that none of the BMW's rivals can boast. On top of that, SE models come with air-conditioning, Bluetooth connectivity, DAB radio, and automatic lights and wipers, while Sport models have a sporty interior makeover, including ambient interior lighting and sports seats. M Sport models take the sporty looks up another notch, as well as adding LED headlights and sports suspension. Meanwhile, the M135i has its own bespoke trim level, with dual-zone climate control, leather upholstery and a unique bodykit.
Why buy?
The 1 Series' decent equipment, entertaining handling and sporty styling will be what attracts buyers to the car, and it's certainly worth a look, especially as it has some very economical engines and very low running costs. However, it's not without its shortcomings, particularly in terms of its ride comfort, practicality and cabin quality. Our favourite premium hatch remains the Audi A3, which is a fine drive in its own right, but crucially more comfortable, classier inside and – in the Sportback body style – more practical.