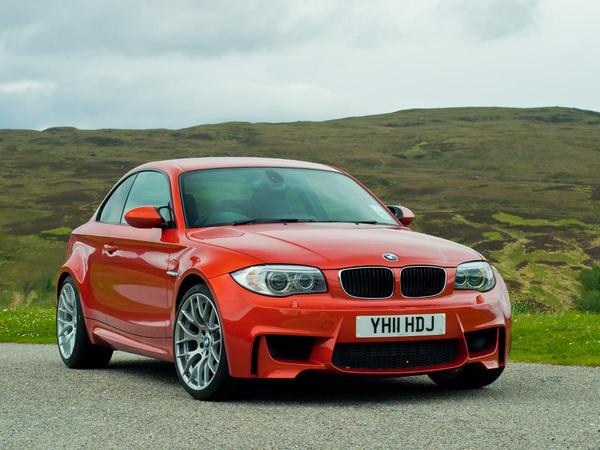 Expert Review
BMW 1 Series Coupe (2007 - 2012) review
Read the BMW 1 Series coupe (2007 - ) car review by Auto Trader's motoring experts, covering price, specification, running costs, practicality, safety and how it drives.
The Auto Trader expert verdict:
The BMW 1 Series Coupé benefits from aggressive looks and an excellent range of engines, including some powerful diesel units. It's both a brilliant and underrated coupé.
Reasons to buy:
Great range of engines
Bullet-proof reliability
Expensive looks
How good does it look?
Let the debate begin. It's fair to say the BMW 1 Series Coupé splits opinion like few other cars on the road, but one thing is for sure: it looks expensive. Our test car was black and hugged the ground thanks to its low suspension and deep M-Sport bumpers and sills. It's an aggressive car in this trim, and looks driver-focussed thanks to its taut lines and power bulges which accentuate the car's rear-wheel drive and perfect 50:50 weight distribution. Unfortunately there is just no getting away from the fact it looks a bit awkward from some angles. The 1 Series M Coupé has a dramatic appearance, thanks to bulging wheelarches and motorsport-inspired 19-inch alloy wheels. It's available in just three colours – orange, black and white.
What's the interior like?
BMWs traditionally have well-built and restrained cabins, and the 1 Series Coupé is no exception. The dashboard is as black as a coal face, and there is none of the extravagant dial and switch illumination we've seen in many competitors. Everything is purely functional, as you would expect from BMW. If you do want to lift the interior ambience the optional red leather interior certainly makes a visual impact, and gives the small BMW a much more exotic vibe. The 1 Series M gets leather seats with orange stiching on the door inserts, handbrake, gear lever and dashboard.
How practical is it?
It may come as a surprise to learn the sleek coupe has a bigger boot than the 1 Series hatch (up from 340 litres to 370 litres). It also features split rear seats which fold down to liberate an even more useful luggage space. The biggest practicality issue with the BMW 1 Series has always been a lack of room for rear passengers, and the Coupé is no better. If you drive with two or three adult passenger on a regular basis then look elsewhere – perhaps consider a BMW 3 Series instead.
What's it like to drive?
The first thing we noticed driving the 1 Series Coupé was its incredibly firm ride, due to the M-Sport suspension. Initially, it was hard to gel with the stiffness of the chassis, but after a few changes of driving style the 1 Series started to make a whole lot of sense. Bodyroll is almost non-existent and the Coupé has a level of poise which is almost exclusive to BMW models. Our test car seemed to grow more comfortable over the week, but if you value comfort over outright handling or do lots of miles, we'd recommend the SE-spec Coupé. Strangely, the hardcore M Coupé also has a reasonably comfortable ride thanks to its excellent damping. It also summons up incredible grip, covering challenging roads at a scintillating pace. It's a real rival to the brilliant Porsche Cayman, with a less delicate, but equally satisfying level of balance on road and track.
How powerful is it?
Heading the power race is the 135i with 306bhp, accelerating from 0-62mph in 5.3 seconds and making it a true sports car baiter. The M Coupé goes one step further, with true sports car performance, thanks to its 335bhp. Zero to 62mph takes 4.9 seconds, making it quicker than a manual Porsche Cayman S. It sounds amazing and simply eats through third and fourth gears, making it a real blast to drive. The 125i petrol has a 3-litre engine with 218bhp and takes just over a second longer to reach 62mph. In the UK most sales will be fought out between the diesels. The 120d has 175bhp and hits the benchmark in 7.6 seconds. The cream of the crop is the 123d, a 2-litre engine fitted with two turbochargers. Its 201bhp is produced smoothly and quietly, it arrives at 62mph in seven seconds and a top speed of 148mph.
How much will it cost me?
BMW claims the 175bhp 120d emits just 128g/km of carbon dioxide while averaging 59mpg, and even more impressively it says the twin-turbo 201bhp 123d emits only 138g/km and averages 54mpg. BMW's efficient dynamics package is a big help, incorporating automatic stop and start, direct fuel injection, brake energy regeneration, electric power steering and energy saving tyres. There is a big gap between the diesel and petrol engines, which are altogether thirstier (35.8mpg for the 125i and 30.7mpg for the 135i) and emit 190g/km and 220g/km. Most expensive is the M Coupé, with consumption of 29.4mpg and emissions of 224g/km of Co2.
How reliable is it?
There should be no causes for concern here. The quality of engines and other components is top notch and the cabin feels extremely well built.
How safe is it?
The 1 Series Coupé has scored a full five stars in the EuroNCAP crash test programme for occupant protection, but a poor one star for pedestrian safety. It features six airbags, stability control and traction control.
How much equipment do I get?
ES models are fitted with 16-inch alloy wheels, while SE and M-Sport models get 17-inch rims. Only the range-topping 135i M-Sport is fitted with 18-inch wheels. SE trim models include climate control, rear parking sensors, multi-function steering wheel and fog lights. M-Sport models are fitted with firmer suspension and sports seats and the 135i gets its own uprated brakes, rear spoiler and automatic wipers and lights.
Why buy?
We think small cars often prove themselves as the best to drive on Britain's cramped roads, and the 1 Series Coupé reaffirms this: it feels nimble and light on its feet. With such impressive engines available too, it's a convincing package. The 123d in particular works miracles with its high levels of performance and eco credentials rolled into one. The only downside is the price. Performance enthusiasts will be blown away by the 1 Series M Coupé, which is a true Porsche rival and spiritual successor to the original BMW M3.