Expert Review
Audi TT RS Coupe (2019 - ) review
The TT RS is the pinnacle of the TT range, with extra power and more performance. Read our review to see how it compares to a wide range of sports car rivals.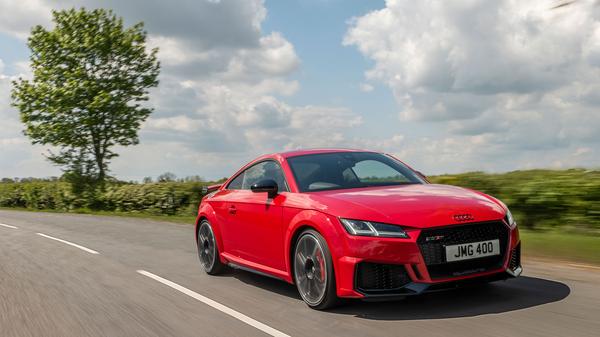 The Auto Trader expert verdict:
Available new from £57,115
The changes to the revised Audi TT RS have been minimal, which means it remains an excellent sports coupe in a market full of highly competent rivals. It's very fast and very well-made, and a glorious engine and all-wheel drive traction make it an appealing alternative to rivals. It should certainly be considered by anyone looking at a new sports car at this kind of price range.
Reasons to buy:
Excellent performance
Great quality interior
Confident handling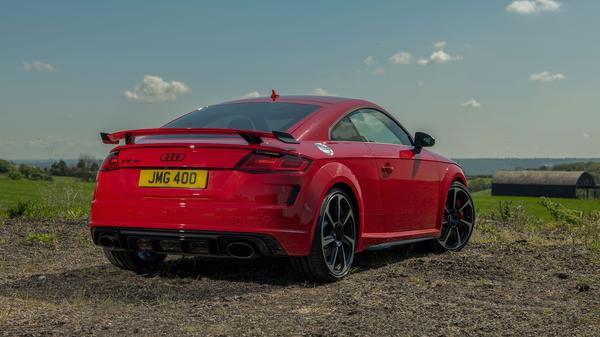 Running costs for a Audi TT RS
The
Audi TT RS
is not a cheap car, and although there are very similarly-priced rivals, you'll quickly bump up the purchase price once you start adding options. Our test car had more than £10,000 added to the price, and it's worth noting
Toyota's Supra
comes with virtually every bit of kit included as standard. When it comes to running costs, fuel economy is likely to be slightly worse than the Supra, virtually identical to
Porsche's (less-powerful) 718 Cayman S
and better than the
BMW M2 Competition
. Resale values are likely to be strong against the BMW and the Supra, but not as strong as the Porsche. However, we do expect the Audi to be very competitive when it comes to servicing, maintenance and repair compared to the M2 and the Cayman. Overall, we'd expect the TT to offer reasonable value for money, as long as you don't go too crazy with the options when you buy it. But the Cayman's strong resale value could make it a slightly better financial bet.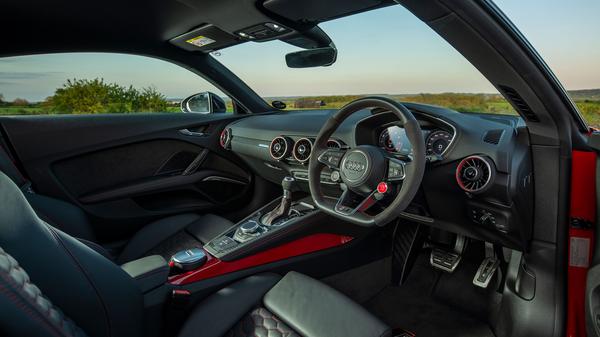 Reliability of a Audi TT RS
Reliability has not been a strong suit for
Audi
in recent years, and the 2019 JD Power Vehicle Dependability Study does nothing to allay concerns. Audi was third from bottom in the manufacturer rankings, although it does at least outperform BMW. Should anything go wrong with your TT RS, Audi offers a three-year, 60,000-mile warranty, which is pretty standard, although
Toyota
offers a five-year warranty on the Supra.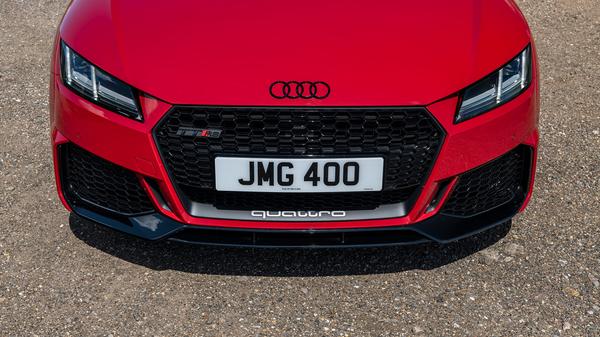 Safety for a Audi TT RS
The Audi TT scored a disappointing four out of five stars in Euro NCAP crash tests back in 2015, and as safety standards have improved since then, this could be cause for concern. The RS version has the same standard kit as the regular TT, save for the standard addition of Lane Assist to stop you inadvertently wandering out of your lane. Four airbags are included, as are Isofix child seat mounting points on the rear seats and front passenger seat, but some of the more modern features, such as automatic emergency braking, aren't available.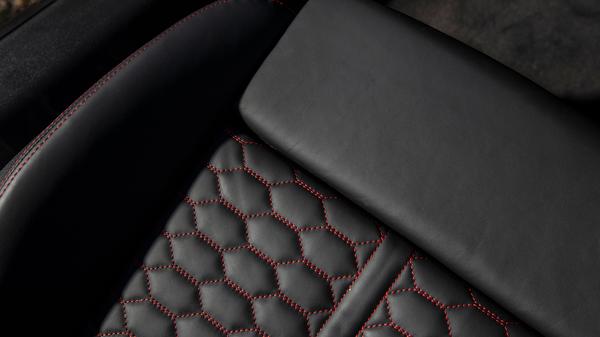 How comfortable is the Audi TT RS
Audi has long made excellent quality interiors, and the TT RS is no exception, with great materials and rock-solid fit and finish. The seating position is low, with plenty of adjustment of both the sports seat and steering column. Like the rest of the TT range, there's no central infotainment screen. Rather, everything is done through the Virtual Cockpit, which is Audi's term for the screen that replaces traditional instruments in front of the driver. It can be navigated via buttons and dials on the steering wheel or a dial between the two front seats. While it can take some time to get your head around how it works, once you've done that it's all pretty straightforward. You don't buy a sports coupe for practicality, but within this genre of car, the TT is reasonable. The rear seats are almost for decoration only – you'll really struggle to get anyone other than small children in there – but that does mean it's easy to chuck smaller bags on there as a complement to the good-sized boot. You don't get the extra front boot of the mid-engined Porsche Cayman, but when you factor in things like cupholder and cubby holes in the TT RS, it's got the edge for everyday usability. The TT RS is mechanically unchanged in this revised version, which means it carries over its characteristics from the 2016 car. We've only tried the new car with the upgraded Magnetic Ride suspension, and on the larger 20-inch wheels, and found that the ride, while firm, is entirely tolerable. We did find on the earlier car the standard springs were too firm even on the smaller 19-inch wheels, so this is an option box we'd recommend ticking. It's standard on the top-end Vorsprung model. Handling-wise, the TT RS feels rock solid through the bends. It stays flat and composed, with huge amounts of grip. The steering isn't quite as sharp as the Porsche Cayman – it doesn't have that final edge of agility – but it's still very impressive. The all-wheel drive system helps it feel assured at all times, so if you like a bit of edge to the way your sports car handles, you might prefer a rear-wheel drive rival. The flip-side to the TT RS' rock-solid composure is that it can feel a little staid at road-legal speeds.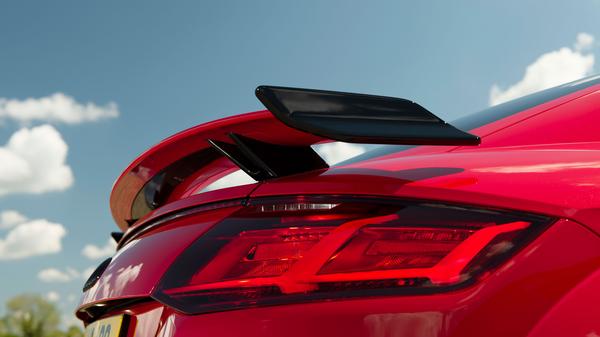 Features of the Audi TT RS
As standard, the TT RS rides on 19-inch wheels over big brake discs and black calipers, and has full LED headlights. You can also opt for the Audi Sport Edition, which has extra-swanky 20-inch alloy wheels, black door mirrors and a black styling pack, which adds – as you might expect – black bits to the exterior styling, including on the radiator grille, badges and rear diffuser. It also comes with the louder RS sports exhaust system. The standard TT RS comes with leather upholstery and heated front seats, although power adjustment for the seats is extra. All the infotainment systems are included, including a 36-month subscription to the internet-connected services like live traffic information. You get an eight-speaker sound system and rear privacy glass too. The extras on the Audi Sport Edition are mostly exterior cosmetic things like wheels, black elements and the sports exhaust, while the top-end Vorsprung gets clever Matrix LED headlights that can maintain full beam without dazzling oncoming drivers. It also gets magnetic suspension and a Bang & Olufsen sound system.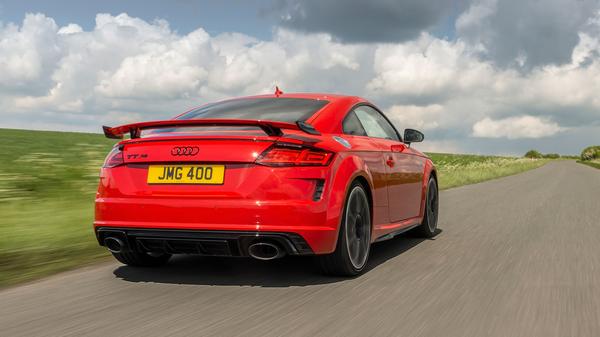 Power for a Audi TT RS
The engine is the beating heart of the TT RS and a major selling point in its character. It's a five-cylinder, turbocharged, 2.5-litre unit with 400 horsepower, and it's excellent, with bags of power and performance. Thanks to the all-wheel drive, that performance is deployed to the road without a hint of slip from the tyres, even when it's wet, which means it'll rocket you to 62mph from standstill in just 3.7 seconds and on to a top speed of 155mph (or 174mph if you pay a bit more to remove the speed limiter). That amazing traction also means you can fire out of bends with absolute confidence. If you have the sports exhaust fitted (an option on the standard car, standard on the Audi Sport edition), that chest-squashing acceleration is joined by a glorious, hard-edged fanfare from the rear of the car. It's the engine that really brings the drama to this car. Some might bemoan the lack of a manual gearbox, which would have added an extra level of involvement, but it comes only with a (very good) seven-speed automatic.