Expert Review
Audi S6 Avant estate (2006 – ) review
Read the Audi S6 Avant estate (2006 - ) car review by Auto Trader's motoring experts, covering price, specification, running costs, practicality, safety and how it drives.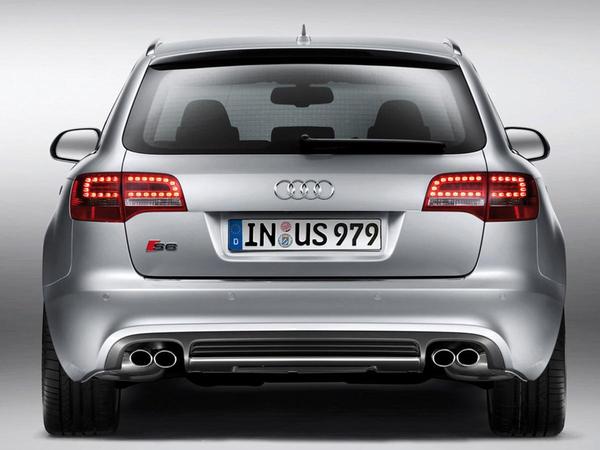 The Auto Trader expert verdict:
The Audi S6 Avant is one of the fastest and most practical estate cars around. But with the even more extreme RS6 above it, this represents a half-way house, guaranteeing rarity but also cheaper running costs.
Reasons to buy:
Practicality
Performance
Discreet looks
How good does it look?
The beauty of the Audi S6 Avant is its discreet design. It looks subtly muscular but the S6 doesn't shout about the performance potential. Only those in the know will spot the S6 badge on the grille, the V10 logo on the front wings along with the four exhaust pipes instead of the usual two. The other key giveaway is the 19-inch alloy wheels, while there's a smattering of upgrades dotted around the exterior such as a rear spoiler and reprofiled bumpers. But unlike the RS6, with its pumped-up wheelarches, the S6's bodyshell looks little different from that of the 2.0TDi. For many this discreet design will be a major bonus, but there will be some who want to shout about the fact that their Audi estate cost £60,000, not £30,000.
What's the interior like?
The tastefully-discreet design continues in the cabin, with few hints at the potency on offer. Once again, there are hints that only the connoisseur is likely to pick up, such as the S6 logo in the seats and on the steering wheel. With Audi's cabins being among the best in the business, the S6 Avant benefits from superb ergonomics and a solidity that's lacking in many cars. Even much newer designs like the BMW 5 Series Touring and Mercedes E Class estate can't beat the S6's design clarity, even if they can match its build quality.
How practical is it?
It may be able to humble some supercars, but that doesn't stop the S6 Avant from being eminently practical. The load bay can swallow 565 litres with the rear seats in place, but fold them down and this space mushrooms to a massive 1,660 litres. BMW no longer produces an M5 Touring and the Mercedes E63 AMG estate is more of an Audi RS6 rival, which leaves the S6 Avant in a class of its own. So if you're after a really fast load-lugger and the S6 Avant doesn't appeal, you've either got to spend significantly less money, or more.
What's it like to drive?
Audi often gets a bad press for the firm ride of its cars, but they're not usually any less comfortable than rivals. The S6 Avant is a case in point, as it's no more uncomfortable than the now defunct BMW M5 Touring. However, the S6 Avant does have a firm ride, partly because of the low-profile tyres and partly because of the stiff suspension. The result of this is handling that's everything you'd expect of a performance Audi – good, without being thrilling. There's not much roll in corners and the body control is excellent, but the steering is a little numb which ensures there's only so much fun you can have behind the wheel.
How powerful is it?
With its Lamborghini-sourced 5.2-litre V10, the S6 Avant can't help but be astonishingly fast. Putting out 429bhp and a seriously strong 398lb/ft of pulling power, extremely swift acceleration is just a prod of the accelerator away. Capable of sprinting to 62mph in just 5.3 seconds, the S6 Avant is electronically limited to 155mph, just like most high-performance Audis. Unlike any potential rivals though, the Audi's four-wheel drive ensures the power is put down without fuss whatever the conditions. That may sound like a small point, but don't under-estimate how reassuring that is when the roads are streaming wet.
How much will it cost me?
You can't expect to buy a 5.2-litre V10-engined estate car and run it for peanuts, and the S6 Avant certainly won't be cheap to run. A £60,000 list price sets the scene, and to follow there will be high road tax, insurance and fuel costs, while servicing isn't cheap either. Audi claims a 22.4mpg average fuel consumption, but we found that if you drive the car as intended, that plummets to the mid-teens. With CO2 emissions of 299g/km the S6 Avant sits in the highest road tax bracket.
How reliable is it?
Only the finest materials are used in the S6 Avant and it's superbly engineered too, so it's no surprise that so far, the S6 has carved itself a reputation for lasting well. It also helps that despite the available power, the V10 engine isn't especially stressed, helping it to last that much longer.
How safe is it?
While the S6 Avant's strong structure and massive amount of safety kit offer huge peace of mind, the car's abilities are also reassuring. Such huge performance reserves, in terms of overtaking power, braking and handling, mean the S6 Avant rarely gets ruffled. The standard safety kit includes traction control, ESP (electronic stability programme), two-stage airbags for the driver and front-seat passenger plus Isofix mountings front and rear. Throw in head airbags front and rear plus side airbags for those in the front, and it's no wonder the S6 Avant carries a five-star EuroNCAP rating.
How much equipment do I get?
Only the even faster RS6 sits above the S6 Avant, so as you'd expect there's a huge amount of standard equipment. A 10-speaker multi-media system, cruise control, dual-zone climate control and electric windows front and rear are joined by xenon lights, heated windscreen washer jets and leather trim. Despite such a high level of standard equipment, it's still possible to spend more on optional extras such as heated front seats, an in-dash TV, Bose surround-sound system, sunroof and various parking sensor packages. Annoyingly, iPod connectivity costs extra, which is extremely disappointing as Audi regularly points out that its customers are early adopters of new technologies.
Why buy?
Astonishingly fast, practical, discreet and beautifully built, the S6 has it all – including a high purchase price and steep running costs.