Expert Review
Audi Q7 SUV (2015 - ) review
The Audi Q7 is a prestige seven-seat 4x4 that competes with cars like the BMW X5 and Range Rover Sport. It's luxurious, practical and very desirable.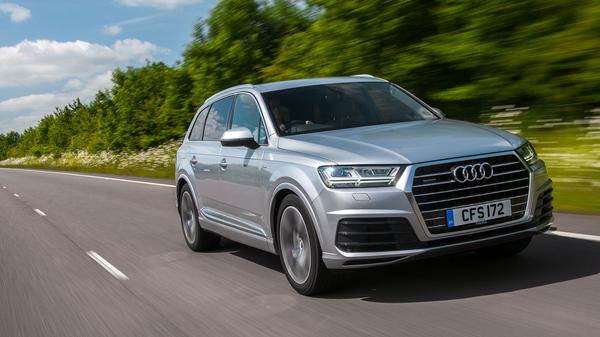 The Auto Trader expert verdict:
The Audi Q7 is as practical as any seven-seat SUV should be, and it also does a pretty good line in luxury and desirability. It delivers comfortable and refined driving manners and a beautiful interior, and even though it's pretty expensive to buy, the ownership proposition actually makes a lot of financial sense. If you're after a prestige seven-seat 4x4, it should definitely be on your shortlist.
Reasons to buy:
A very practical and roomy seven-seater
Very pleasant to drive
Exemplary build and interior quality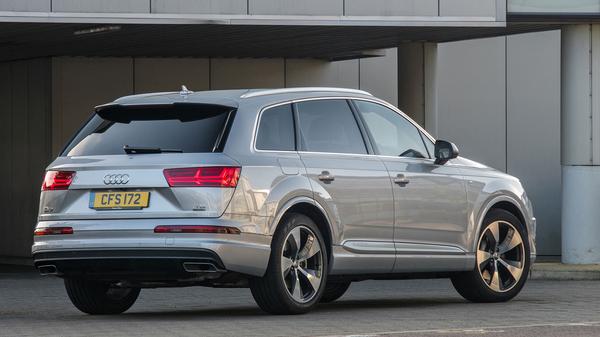 How good does it look?
The Q7's styling has us a little stumped, if we're honest. The car has some majorly aggressive details, like the bold LED strips across the headlamps, some sharp creases in the bonnet and bumpers and a massive gaping grille that covers the entire depth of the front end. At the side, you'll notice bold-looking door blades and more sharp ridges, while the back end features bright LED tail lights and oval twin exhausts. Despite all the blingy details, though, the whole thing comes over as rather conservative. Entry-level SE models have 19-inch alloys and xenon headlamps, while S line models feature 20-inchers, LED headlamps, scrolling rear indicators, privacy glass and some sportier body styling. At the top of the range, the high-performance SQ7 stands out thanks to its unique radiator grille, an aluminium finish on the side air inlets and mirror housings, and four rectangular tailpipes on the exhaust system. There is no denying that rivals such as the Range Rover Sport or Volvo XC90 both have a bit more visual pizazz though, and will do a better job of impressing the neighbours.
What's the interior like?
You'd expect the cabin of any Audi to dazzle you, and when it's one of the firm's biggest, most aspirational models, you expect to be truly blown away. Thankfully, the Q7 doesn't disappoint. Every surface that surrounds you is appealing to both the eyes and the fingertips, while the standard of the fit and finish is truly immaculate. The infotainment system is fairly straightforward to use and lends a high-tech feel, and if you fancy adding it as an option, that's boosted by Audi's Virtual Cockpit system (standard on the SQ7) that displays your infotainment menus on a massive 12.3-inch instrument screen positioned where the conventional dials would usually go. It's a little counter-intuitive at first, though, so have a play around with it in the showroom before ticking that box on the spec sheet. The driving position is comfortable and is electrically adjustable as standard, while your all-round visibility is fairly clear.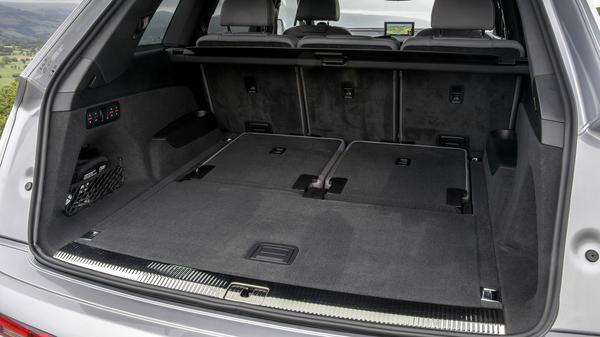 How practical is it?
With the exception of the five-seat e-tron, every version of the Q7 is a seven-seater, and we expect practicality will be a major priority for any buyers. Happily, the Q7 does a cracking job. The three individual seats in the middle row recline, fold and slide independently of each other, and legroom is limo-like when they're slid all the way back. What's more, there's enough kneeroom for a tall adult to travel comfortably, even when they're set at their forwardmost position. Doing this also frees up enough legroom behind for adults to sit in the two extra seats that pop up (at the flick of a switch) from the boot floor; headroom is a shade tight back there for anyone over six feet, but what do you expect? All five of the rearmost seats drop easily and quickly into the floor, leaving a huge – and perfectly level – extended load bay. The boot is also fairly enormous in five-seat mode, and reasonably useful with all seven chairs in place, although some rivals do provide a shade more in this instance. However, a powered tailgate is standard across the range - a nice touch when you're stuck juggling bags, bikes or furniture outside.
What's it like to drive?
On its standard suspension, the Q7 has a slightly firm ride, especially at low speeds and around town; and, in our experience, the e-tron is a little less comfortable than the other versions. However, if you specify the adaptive air suspension (optional on most versions, but standard on the SQ7), the Q7 provides a nice blend of abilities. Importantly, the car keeps you comfortable no matter which of the numerous settings you select. Bumps, ruts and uneven surfaces are absorbed effectively no matter what your speed. The body can feel rather floaty in Comfort mode, but selecting Dynamic mode ties the car down a lot more tightly without the bump absorption suffering too much. That, if anything, makes the sportier mode more comfortable and settled than the cushier mode. You'll also appreciate the improved resistance to body lean and weightier steering you get from the Dynamic mode, which help give the Q7 an assured and stable feel in the corners. You can also specify an all-wheel-steering system that tightens the turning circle at low speeds and improves stability at high speeds. The range-topping SQ7 handles more sharply than you would believe possible of a two-tonne SUV, but the weak link is the steering, which doesn't deliver the kind of feedback and precision you want in such a quick car.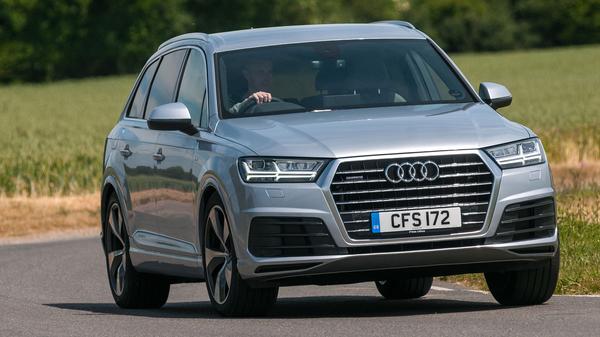 How powerful is it?
"

The gearbox and engine are always super-smooth, too, and that helps contribute to a very impressive level of rolling refinement.

"
There are two mainstream engines available, both 3.0-litre V6 diesels mated to an eight-speed automatic gearbox, with either 215 or 268bhp. The less powerful of the pair has to work hard to get the car moving, with the car noticeably slow to pull away from rest, and it makes a lot of noise doing so. And, while things are much better once the car's on the move, with some momentum built up, we think the stronger engine is worth the extra, as it gives a brisk, yet smooth, surge of acceleration when you prod the right pedal. However, your on-the-go performance will depend on which mode you've selected. In Comfort, the gearbox shifts into too high a gear too early, and that can leave you with an irritatingly long gap between you hitting the accelerator and the car picking up speed. Select Dynamic, though, and things feel much more lively and responsive. Both the gearbox and engine are always super-smooth, too, which contributes to a generally very impressive level of rolling refinement; and, when you're taking on a long journey with a car loaded up with family, that's really important. Our one criticism is that the car is a little slow to respond to the accelerator and re-start the engine when the stop-start system is operating - and that is a pain around town. On the other hand, slow responses are not something you could accuse the SQ7 of; on the contrary, it provides astonishing levels of performance, hitting 62mph in less than five seconds (making it several degrees hotter than any of its rivals from Porsche, Range Rover or BMW) and having incredibly sharp responses to the throttle. The e-tron, too, performs very well, but there are a couple of caveats: first, it's a little sluggish to respond when you first pull away, so it doesn't feel as quick as the figures (0-62mph in 6.2 seconds) suggest; and, secondly, if you take advantage of the full performance, you'll barely see any electric-only running, and you won't see anything like the fuel economy it returns in official tests.
How much will it cost me?
There's no doubt that the Q7 is an expensive car, but then again, you wouldn't expect it to be cheap, and when compared with its main rivals, the pricing is actually very competitive. It'll also hold onto its value very stubbornly too, more stubbornly than most of its rivals, so you'll get a decent slice of your investment back when you sell it on. Figures of 47.9mpg for fuel consumption and 153g/km for CO2 emissions don't sound all that impressive, but for a car of this size and type, they're very impressive indeed - as is the near-40mpg average economy in the SQ7. Again, though, Volvo's XC90 managed to just better those figures, with the - admittedly less powerful - D5 AWD sneaking below the 150g/km mark, which puts it into a lower tax bracket than the Audi. For the very lowest tax liabilities, company car drivers should look at the e-tron, with its sub-50/g/km CO2 emissions. It also has the best economy of any version of the Q7, but bear in mind that the car will only return anything close to that 'official' figure if you can spend a lot of time running only on electric power; and, with a maximum range of only 35 miles from the batteries (a full charge takes about two and a half hours), you'll need ready access to charging facilities and not many regular long journeys in the diary to do that.
How reliable is it?
The solidity of the Q7 gives you the impression it'll last forever, but according to Warranty Direct, that's an impression that might prove misleading. The previous Q7 has a rock-bottom score on the firm's Reliability Index (concerningly, engine faults made up the majority of those reported - not an cheap part to replace or fix), and as a brand, Audi sits dangerously close to the bottom of the manufacturer rankings. We can only hope that the latest model can improve on the dependability – or lack thereof – of its predecessor.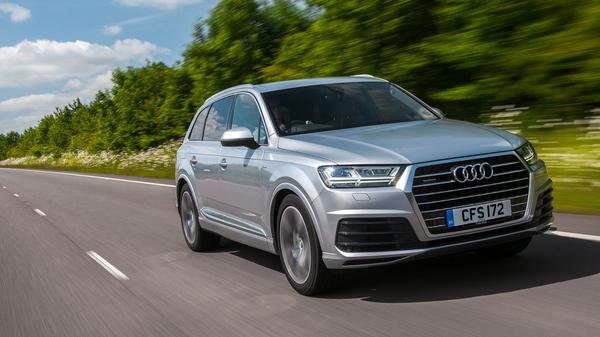 How safe is it?
The Audi Q7 scored a maximum five-star rating in Euro NCAP crash tests, and comes with a decent amount of safety kit as standard. As well as the six airbags and stability control that you expect as a minimum, you also get all sorts of other traction aids and an autonomous low-speed braking system. The options list also contains more complex safety kit, such as radar-guided cruise control and lane assist, another two airbags for the rear passengers, cameras for every possible angle (even one with thermal night vision) traffic sign assist, and everything else you might expect to find in a big, plush, SUV.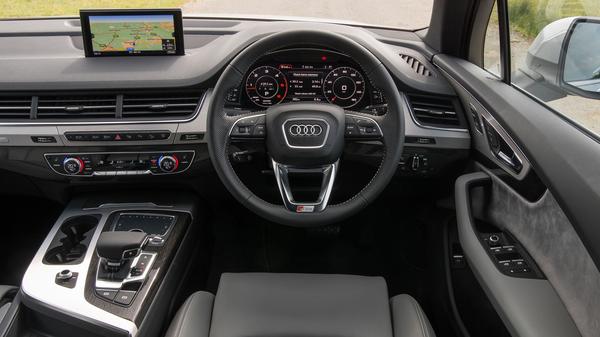 How much equipment do I get?
You'd expect any high-end SUV to come with lots of luxury equipment, and the Q7 delivers. Even the 'basic' SE model comes with keyless-go, all-round parking sensors, dual-zone climate control, leather upholstery, automatic lights and wipers, heated seats and an all-singing infotainment system that incorporates sat-nav, DAB and Bluetooth. Aside from the aesthetic goodies, S line trim adds four-zone climate control, and fancier LED headlights, while both the SQ7 and e-tron come with their own unique package of equipment that justifies their high prices.
Why buy?
Because you want a car that'll cope with any family duty you could possibly throw at it, and do it in comfort and luxury. The Q7 has most of the glamour, desirability and tech that buyers will want from it, and it's also really good to drive. Thoroughly recommended.