Expert Review
Audi A6 Saloon Saloon (2011 - ) review
Audi A6 saloon (2011 - ) car review by Auto Trader's motoring experts, covering price, specification, running costs, practicality, safety and how it drives.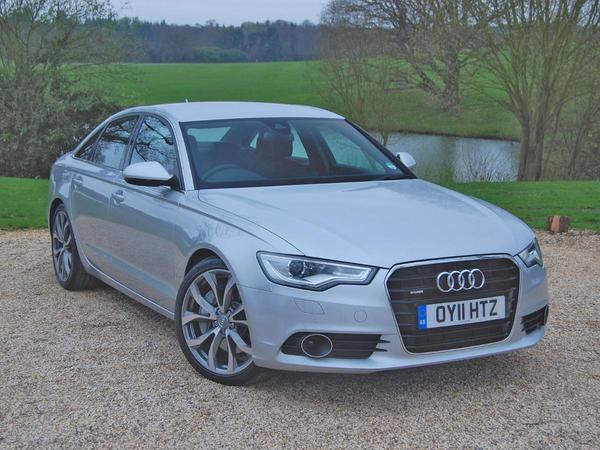 The Auto Trader expert verdict:
The Audi A6 saloon is more comfortable than the BMW 5 Series, but less fun to drive. It's packed with impressive technology, including in-car Wi-Fi.
Reasons to buy:
Impressively quiet
Comfortable to drive
Impressive technology including in-car Wi-Fi
How good does it look?
Audi says it aimed to design a subtle, understated car, which would appeal to those "in the know". It has succeeded, and the A6 slots in perfectly between the smaller A4 and larger A8, with all three sharing a family look. All models feature Audi's trademark lighting strip in the front and rear lights, and all come fitted with alloy wheels measuring 17 or 18 inches in diameter, although 19s are available as options. Sporty S6 models are differentiated by a unique twin-spoke grille design, black painted brake calipers and quad exhaust tail-pipes. A boot-lip spoiler completes the subtle yet effective performance makeover.
What's the interior like?
Audi has become known for the quality of its interiors, and the trim fitted to the new Audi A6 is the latest evolution. The materials used, and the fit and finish, are as good as the very best, and a choice of upholstery colours and trim finishes are available. Audi has gone to great lengths with its trim offerings, with even a layered oak and aluminium dash insert available as an option. While of exceptionally high quality, the pin-stripe suit effect grabs attention and won't suit those looking for a more cathartic ambience. The dials are all easy to read, and a colour screen in the main instrument cluster offers all kinds of driver information, but is never distracting. The top-of-the-range S6 differs slightly, featuring subtly different instruments, a smattering of S6 logos and aluminium trim highlights. It is also equipped with some supremely comfortable sports seats, which add to the feel of luxury with their diamond quilted stitch pattern.
How practical is it?
The interior of the A6 is spacious enough for four adults to travel long distances in comfort, with excellent leg, head and shoulder room. Its 530-litre boot is large and compares well to its rivals', although it's as hampered by a small opening, as are most other saloons. The boot itself is larger than the BMW 5 Series's luggage compartment, and only slightly smaller than the Mercedes E-Class saloon's. The upholstery feels particularly well finished, but as with most luxury cars, the cream leather option marks easily and requires lots of TLC to keep it looking factory fresh. The glossy black plastic on the centre console appears as though it may scratch easily, too.
What's it like to drive?
In the main, the Audi A6 is a comfortable car, supressing engine, road and wind noise well, but fitting larger wheels inevitably means the ride comfort is compromised. Entry-level models feature 17-inch alloys, which give a supple ride, but the optional 19-inchers fitted to higher-spec models give a much firmer ride. The standard suspension does a good job of smoothing the worst of Britain's Tarmac, but enthusiasts should opt for the air suspension, which offers softer or firmer settings for extra comfort or driving thrills. Audi's Quattro four-wheel-drive system provides plenty of traction, although standard front-wheel drive models are still capable on damp roads. An optional sports differential is available, and that improves roadholding further on Quattro models. The S6, which is equipped with both the Quattro system and a locking, torque-sensing differential as standard, provides the best handling balance. While the A6 doesn't have the same sharp and sporty dynamics as the BMW 5-series, it provides high levels of grip and remarkable all-weather traction. A new torque vectoring system channels power to the wheel with the most purchase, giving the car a feeling of iron-fist grip. The steering also isn't BMW 5 Series sharp, but is direct and makes the A6 more enjoyable to drive than the softer Mercedes E-Class.
How powerful is it?
While the bulk of the engine range is made up of 3.0-litre engines, the entry-level 2.0-litre diesel is the pick of the bunch. It's a smooth engine, with lively acceleration thanks to the A6's lightweight construction, using a mixture of steel and aluminium. The larger diesels give seriously strong performance, with the BiTDI unit getting this big car to 60mph in just over 5.0 seconds – barely any longer than a Porsche 911. If that isn't enough, the range-topping S6 ups the ante with its 4.0-litre turbocharged V8, which has more than enough grunt to stand shoulder to shoulder with the best fast executive saloons. Indeed, its 0-62mph time of 4.6 seconds is comparable to many purpose built sports cars.
How much will it cost me?
Audi says the A6 is the class leader for fuel efficiency and emissions. The highlight is the 2.0-litre TDI 'ultra' diesel, which (in combination with the S tronic gearbox) returns an impressive average of more than 60mpg while emitting only 114g/km of CO2 – less than a 1.25-litre Ford Fiesta – all of which will make it very attractive as a company car. What's more, given the performance they provide, the 3.0-litre TDI engines are remarkably economical, too, and even the high-performance BiTDI averages the best part of 45mpg. As you would only expect, the V8 petrol-engined S6 is the most costly to run, but with a combined fuel consumption figure of 29.4mpg and CO2 emissions at 225g/km, it doesn't disgrace itself. This is partly down to its cylinder-on-demand technology, which shuts down part of the engine when not needed under light loads. Used values are among the best in class too, with the 2.0-litre models retaining the highest proportion of their value, which helps to keep whole-life costs down.
How reliable is it?
Most engines and technology found in the A6 are prevalent in the Audi range, where there have been few reliability issues. The car is impeccably built, inside and out and Audi has a customer satisfaction rating which continues to rise.
How safe is it?
Aside from its five-star Euro NCAP safety rating, the A6 is a very technologically advanced model which goes above and beyond in terms of its safety kit. As well as the usual airbags and skid prevention electronics there's a new form of lane assist available, which can tell if the car is wandering over a white line an automatically help to steer the car back to safety. A camera mounted in the windscreen can read road signs too. Audi Pre-sense can also be ordered, which senses impending collisions and applies the brakes to mitigate damage.
How much equipment do I get?
The A6 is offered in SE, S line and Black Edition trim levels, with all getting 17-inch alloys, stop and start technology, cruise control, park assist and auto headlights and wipers fitted as standard. S line has 18-inch alloys, firmer and lower suspension, sports leather seats, body styling kit and LED daytime running lights, while the Black Edition models build on that, with a unique look inside and out, as well as a Bose stereo. There are lots of cutting-edge options available, including the ability to give the car its own Wi-Fi hotspot and integrate Google Earth maps with its sat-nav. The S6, meanwhile, benefits from an extended list of standard-fit equipment including a seven-speed twin clutch automatic gearbox and Active Noise Cancellation – a system which listens to the noises in the car and plays counteracting 'anti-phase' noises to cancel them out. Audi claims it can reduce ambient noise by up to 75%. The S6 can also be specified with some very high-level optional equipment, including digital television, a night-vision camera and lightweight ceramic brakes, which were once the preserve of the most exclusive supercars.
Why buy?
The Audi A6 is the world's biggest-selling executive car. It's more comfortable than a BMW 5 Series, more enjoyable to drive than a Mercedes E-Class and features some hard to ignore technology, including in-car Wi-Fi.