Advice
How to plan a long distance drive in your electric car
Long-distance driving in an EV doesn't have to cause a headache. From mapping out charge points, to our 10 top tips; we have you covered with this handy guide.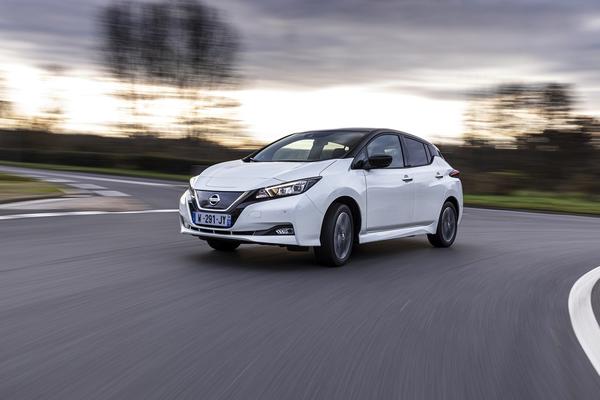 Words by: Lex Kristan
Published on 13 January 2022 | 0 min read
While petrol and diesel
drivers have recently faced fuel anxiety
,the range anxiety that comes with driving an electric car has been around much longer and is still a real concern for many, whether they own an electric car or are simply contemplating buying one.
Range anxiety
can be conquered though, so let's break down what needs to be considered to keep your mind at ease if you're planning a long-distance drive in a plug-in car. Find
electric car charging points
near you with our map.
How far can you travel on a full charge?
The first thing to consider when planning a long-distance journey in an electric car is how long the battery will last on a full charge.
Of course, the ideal scenario would be to make the journey on a single full charge and recharge overnight while you catch some Zs but, if your range doesn't quite cut it, you'll be able to plan out where to make that tactical first stop to recharge and how many times you'll need to stop along the way to your destination. Depending on the make and model, weather conditions and your driving style, you can expect to have a range of anywhere between 100 and 300 miles from a fully charged electric car, although technology is advancing every day and it's not unheard of for electric cars to completely surpass this average. The EV with the longest range on sale in the UK (at the point of writing) is the
Mercedes-Benz EQS
, which boasts approximately 485 miles of pure electric range, retailing from around £102,000. The UK's best-selling electric car of 2021 was none other than the
Tesla Model 3
, having sold over 22,000 units by 1st December and topping the best-selling car list back in September. This sought-after beauty comes with a range of 360 miles, which could get you from Cambridge to Edinburgh on a full charge, so depending on where you're heading to, you wouldn't have to make many stops, if any at all! Another UK best-seller beloved by many including our very own
Rory Reid
, is the nifty
Nissan Leaf
, giving you up to 226 miles on a full charge to play with. This doesn't sound a lot compared with the Tesla, but it's actually the distance between London and Manchester.
Check out which electric cars had the best range last year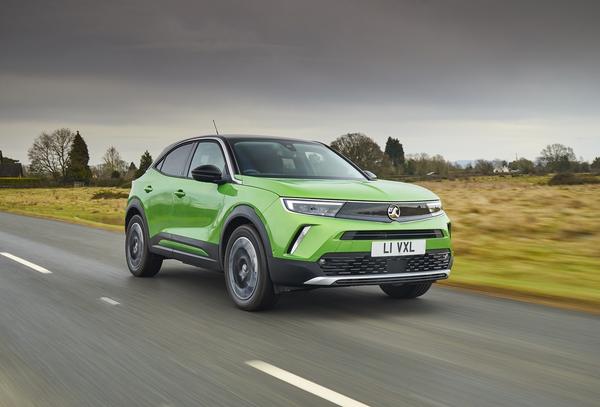 Green Vauxhall Mokka-e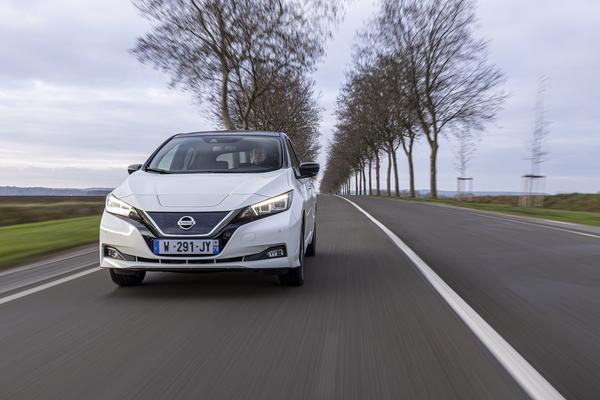 White Nissan Leaf driving on a quiet road
Unsure how far your electric car can travel on a full charge?
Not a worry. When you start your car, it should flash up on the dashboard letting you know how many miles you have left before you need to plug in and recharge. If not,
head over to AutoTrader
where you can search for a review on your car and you might just learn something new.
What type of electric car charger will you need?
Once you've figured out how often and whereabouts you'll need to stop, you'll need to check which type of charger your electric car needs and which charging stations cater to you.
Electric cars either have a Type 1 or Type 2 socket for slow or fast charging, and CHAdeMO (Charge de Move) or CSS (Combined Charging System) for DC (Direct Charge) rapid charging. You'll need to find out which your car is compatible with, though most charge points these days have a Type 2 socket. Some charge points are tethered, meaning they already have a cable attached. For others, you'll need to bring your own cable. All DC rapid charging stations have a cable attached, but they're not compatible with all cars. Keep a portable charging cable that matches your vehicle's Type 1 or Type 2 socket so that you're able to connect to public networks en route to your final destination. Just like all rechargeable battery-operated equipment, different cars require different charging cables and connectors, so make sure you check the manufacturer's instructions.
You can also read all about electric car chargers and how to use them here.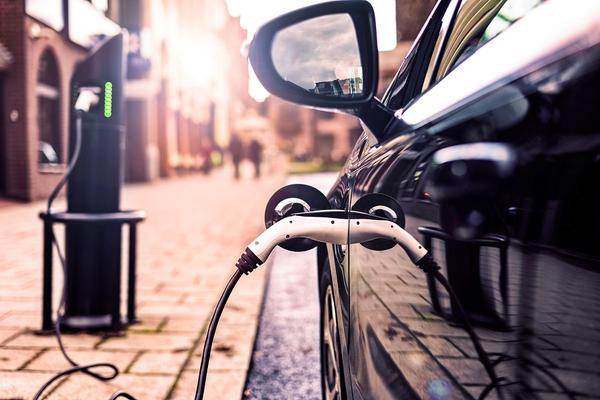 Electric car charging at charge point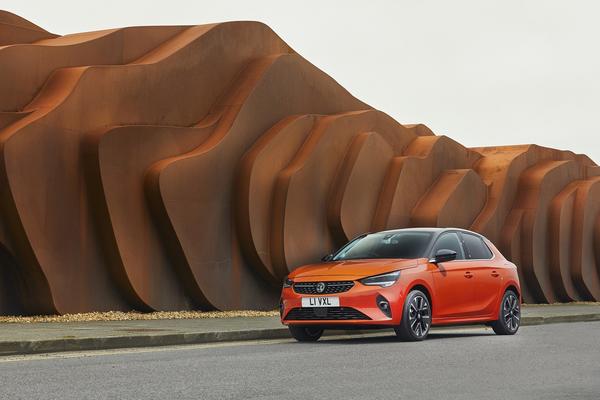 Vauxhall Corsa-e in colour Power Orange
Locating charging points along your route
At the time of writing, there are currently over 30,000 public electric car charging points across 19,000 locations in the UK, with some being free to use, often located in handy spots such as shopping centres, supermarkets and hotels.
Many sat navs already have functions built-in, to direct electric car drivers to their nearest charging point. If not, there's no need to stress –
Auto Trader has launched their very own electric charge point map
, which shows you the locations for all of the UK's public chargers and includes other important information such as the supplier, number of stations, available equipment and cost to use.
Out of order or busy charging points
After all your meticulous planning, what if you arrive at your designated charging point and it's out of order or busy?
Keeping that in the forefront of your mind, you should never put all your eggs in one basket and hope for the best – instead, map out alternative charging points that aren't too far away when planning your pitstops, just in case. It's better to be safe than sorry! If your car can take a rapid charger but they're all occupied you shouldn't have to wait more than half an hour for the car ahead of you to charge, so grab yourself a brew and freshen up. Using a rapid charger can provide you with up to 100 miles of range per half an hour, but regular excessive use of rapid charges can be detrimental to your battery's lifespan, so use them sparingly.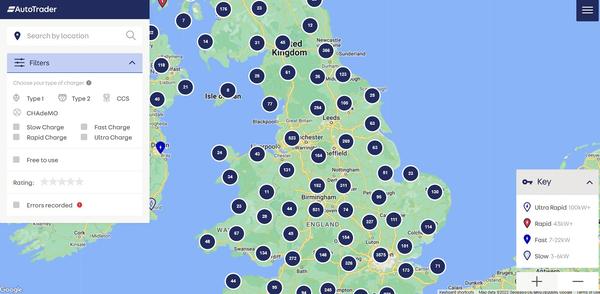 Auto Trader's charge map displayed on laptop screen
Is there an app for all this?
Absolutely! Using one of the many apps out there to locate charge points, use and pay to recharge your electric car is perhaps your best option. Not only will you have access to live maps that signal availability and operating status, but you can set it all up and pay online too.
Here are some of the top-rated apps for charging your electric car:
Tesla
If you own or are thinking of owning a
Tesla
, you're in luck. Tesla boasts one of the nation's best-rated charge-point networks, providing over 560 high-power superchargers and 1,100 destination chargers.
As it's only available to Tesla owners, the charging process is streamlined with no need for any cards, and the charge points are situated across various handy locations such as retail parks and hotels.
Pod Point
Pod Point operates one of the UK's largest charging point networks, with over 6,200 public charging bays in easily accessible locations across the country and you'll be glad to know that every single one of them are compatible with all plug-in vehicle brands. To top it off, many Pod Point charge points are free to use, and the ones that aren't use a simple pay as you charge system.
There are no hidden membership fees either. All you need to do is download the app to your smartphone, locate your nearest charge point and Google Maps will direct you straight there.
Auto Trader's charging map
Unlike the others,
Auto Trader's charge point map
isn't an electric car charging network. It's actually a super nifty locator for every public charging point in the UK, so no matter where you are, Auto Trader can point you in the right direction completely free of charge.
You can search for your nearest charge point or plan a route via the charging map, with options to filter by type of charger, speed of charge, whether it's free to use or not, rating and errors recorded by users.
Other apps for charging your electric car
There are lots of options in the charging market, but it may be worth downloading the apps for big players like Shell, BP Chargemaster, Osprey or Ionity. All you'd need to do is register your bank details with them and you're good to go.
Some manufacturers also offer subscription deals across a number of networks through a single account, simplifying charging and helping you manage costs. Look for offers when browsing which EV to buy or ask the dealer about any partnerships the manufacturer may have with specific charging networks.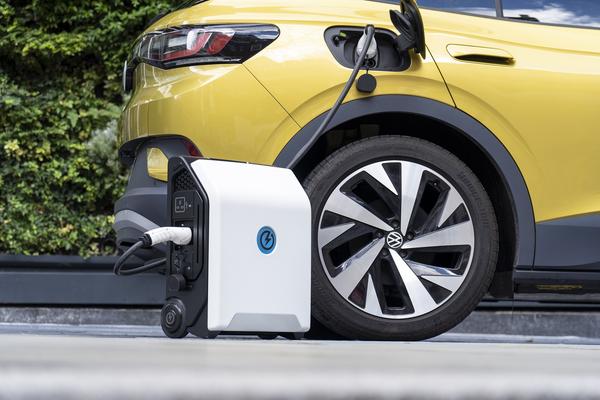 Yellow electric car using portable charger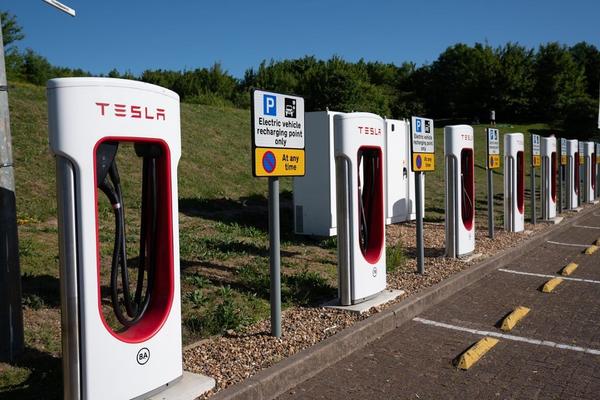 Tesla charging stations
10 Top tips for long distance driving in an electric car
1. Phoning ahead for charge point status might be more trouble than it's worth. Instead of phoning ahead, which often involves a premium rate during office hours only, download an app like Zap-Map for instant live updates on charger status.
2. Never rapid charge above 80 per cent. You may have already noticed that the last 20 per cent usually takes a lot longer to complete and your battery will thank you in the long run. As will any other EV drivers who may be behind you in the queue for the charger! 3. Charge overnight wherever possible. Regular rapid charging isn't recommended as it can negatively affect the longevity of your battery life, so if your plan will allow for it, stay over at a friend's house, hotel or alternative where you can plug-in overnight. You'll wake up in the morning refreshed and with a full charge. 4. Try to recharge at your earliest convenience when your range drops below 30 per cent. You don't want to arrive at your chosen charge point only to realise that it's either not working or there's a queue a mile long, which brings us to point 5… 5. Always have a Plan B. Even if you don't end up needing to use it, you can never be too prepared and you'll thank your past self if you do need to divert from your original plan. 6. Conserve your energy when appropriate. Barrelling down the motorway might get you to your destination quicker but at what cost? Higher speeds generally mean that your battery life will deplete faster, so maintaining an optimum cruising speed of around 60 mph would be beneficial. On cold days wear a nice warm jumper or similar to avoid depending on the AC or heater, which can seriously impact your range. Heated seats (where fitted) use a lot less energy so use these rather than running the fans. Otherwise, have a plan C ready. 7. Familiarise yourself with different charger types and charge points and pre-load the apps for the big players on your phone to avoid faff when you get there. Each may differ slightly, and you might not get the hang of using them on your first try, so stay calm and be persistent. 8. Don't forget to turn the auto-charging timer off when you're making a long journey. 9. Portable EV chargers are expensive but could provide you with power in emergency situations. If that isn't an option though, make friends with
Hyundai
owners; the
Ioniq 5
's V2L function actually means you can charge one EV from another! 10. Don't just drive for the sake of it. Before planning an unnecessarily long drive, work out whether there's an easier, quicker and affordable alternative such as a train etc.