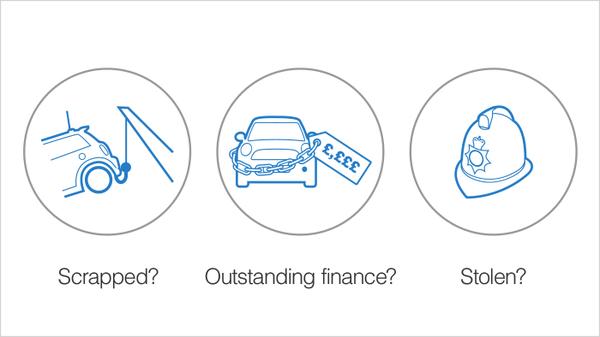 Advice
Getting an instant vehicle history and ownership check
Before buying a car, getting details like the car's history, tax, MOT, SORN status, mileage and so on is important to make sure that the used car matches the details provided to you.
There are some great bargains to be found in the
used car market
. Once in a while, however, a deal can be too good to be true, which is why it's important to get a car check done. Vehicle checks can help you know everything you need to know about the car's history and get hidden or missing information.
Every car listed on Auto Trader undergoes a free five-point background check which covers whether the car is stolen, has been scrapped, written off, imported or exported so you can shop with a certain peace of mind. That said, once you buy a car it becomes your responsibility. This means you're liable if the car has outstanding finance or other issues, so it pays to be aware of any issues before you buy. A Vehicle Check can help provide you with peace of mind by getting additional checks such as outstanding finance, previous keepers, mileage, colour and plate changes and so on. Here, we look at what vehicle checks include and how you can use them when buying a used car.
What is a vehicle check?
A Vehicle Check is a document that shows you the history of a vehicle including the number of previous owners, date of first registration, mileage details and other key details.
Information is gathered from a variety of sources including the police database, DVLA, insurance companies and finance houses. A full
Vehicle Check
provides you with a 26-point independent report that ensures you peace of mind through our key vehicle spec and data check at a guarantee of up to £30,000. In case of any inaccuracies in the data provided to you related to the car you purchase, the guarantee ensures you a money-back of up to £30,000 or purchase price for two years. Besides the standard car check of whether the car is stolen, scrapped, written off, imported or exported, Auto Trader's Vehicle Check looks for crucial data related to any outstanding finance, registration plate changes, number of previous owners, risk of third-party trace, along with other information such as date of first registration, engine size and number, current keeper of the car, Co2 emissions registration plate changes and other such data.
See what a Vehicle Check report by Auto Trader looks like.
Why should I get a Vehicle Check?
Vehicle checks offer peace of mind when buying a used car, as they can be used to make sure the car matches the description and that you're paying a fair price. You can check whether the car has had any paint changes or work done to the vehicle.
We've all heard cases of cars being stolen. But did you know, once these cars get
stolen
, many find their way back to the market with an identity change. If you end up buying a stolen car, the police can seize it. Besides cases of used cars being stolen, some are clocked – the mileage recorded is reduced to increase the car's value; or cloned – a car's given a stolen number plate of another same make and model car. If you buy a used car with
pending finance payments
, you'll inherit any pending debt, and it'll be your responsibility to settle the debt. Through the car checks carried out on Vehicle Check in 2020, it was found that:
• 1 in 6 vehicles had outstanding finance
• 2873 vehicles had mileage anomalies
• 1 in 10 vehicles were written-off
• 79,390 vehicles were reported stolen in 2020, as per Police National Computer (PNC)
What does a Vehicle Check include?
• Safety - Buying a vehicle without checking its history puts your money and your safety at risk.
• History check – Vehicle check the car's background and tells you
if the car is stolen
, has outstanding debt, is written-off or scraped, any third-party trace risk, number plate or colour changes, imported or exported, and number of previous owners • Mileage check – Vehicle check ensures that the mileage recorded is correct and not tampered with and reduced to make the deal look more attractive • Legal requirement - It helps in keeping you out of legal trouble by checking that the car is legally allowed to be driven • Car pollution – with the car check, you can get to know the car's Co2 emissions, environmental impact and if it's ULEZ compliant • Car specifications – the report double checks specific details provided to you about the car such as the car's make, model, colour, transmission, number of gears, fuel type, body type, and engine capacity • Money-back guarantee of up to £30,000 or purchase price for two years
Vehicle checks on Auto Trader
To help you make an informed decision, we've partnered with Experian, the leading global information services company, to provide vehicle checks on all of our adverts. Every car for sale on Auto Trader has a free five-point background check, which covers whether the car is stolen, has been scrapped, written off, imported or exported. You can see how this appears on our adverts in the image below.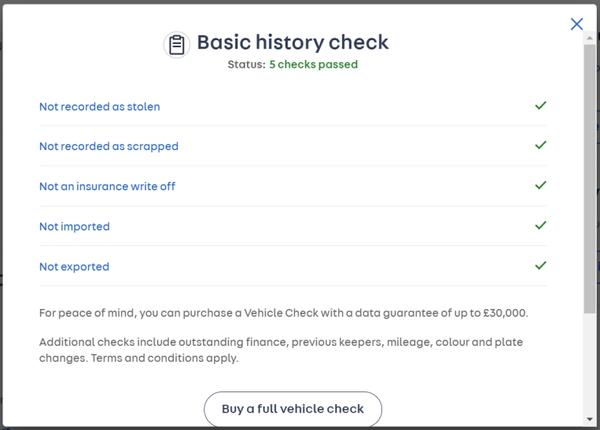 In addition to our five-point background check, some dealers perform a full vehicle history check on cars they're advertising. This means you'll also be able to see if the vehicle has outstanding finance, a mileage discrepancy, if a third party is tracing the vehicle and more such crucial information. You can see how these checks appear on our adverts in the image below.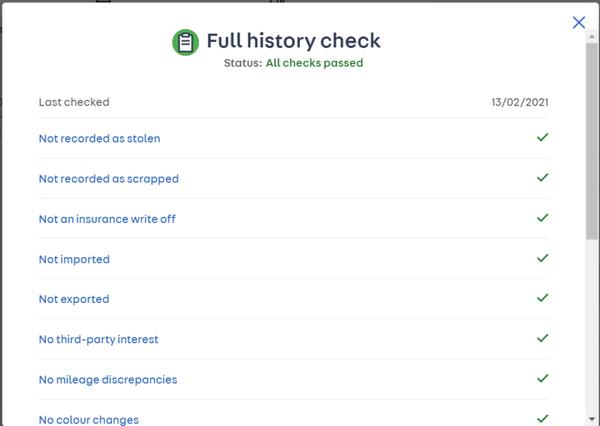 We take every precaution to ensure that the data supplied to you is correct and complete. However, due to the complexity of the data provided, it is possible that a piece of information is not passed to us. Data can always change, so to ensure that you do not suffer a financial loss due to incorrect or incomplete data, we strongly suggest you buy a
full vehicle check
which includes a data guarantee of up to £30,000.
How do the checks on Auto Trader adverts differ to buying a full vehicle check report?

The checks you see on our adverts are a summary of what's included if you bought a full report. A full vehicle check report will cover 26 points and gives a lot more detailed information, including the number of previous owners, details about any plate changes and historical mileages recordings. The main difference with buying a full vehicle check, is that you get a Vehicle Data Guarantee of up to £30,000 or the purchase price (whichever is the lower) for two years. This guarantee is provided on the car you eventually purchase, not every car you check. Once you've checked out a few cars and made your decision to purchase one of them, you should check the terms and conditions to ensure that you will be able to qualify for the guarantee. As soon as you've purchased the car you should login to register the Vehicle Data Guarantee to protect yourself from certain financial losses. You will need to state the date purchased, the amount paid and whether it was a private sale, from a motor dealer or an auction.