Used Vauxhall Grandland X
With 2,028 used Vauxhall Grandland X cars available on Auto Trader, we have the largest range of cars for sale across the UK.
Used Vauxhall Grandland X cars available to reserve
Used Vauxhall Grandland X cars in stock
Is the Vauxhall Grandland X a good car?
Read our expert review

Words by: Auto Trader
"The Grandland X is Vauxhall's rival for mid-size family SUVs like the Seat Ateca, Ford Kuga and Kia Sportage. With good space and practicality, generous equipment and reasonable running costs, it makes a very decent family car. The addition of a plug-in hybrid option increases its appeal considerably too, though it's pushed hard by the closely related Peugeot 3008 Hybrid4."
Read the review by category
Running costs for a Vauxhall Grandland X
When you look at the price list in comparison to some rivals, you may think the Grandland X looks a bit expensive, but when you consider how well-equipped the car is, it starts to look like considerably better value. Vauxhall's cars sometimes struggle with the strength of their resale values, but the Grandland looks to fare better, and on a par with many of its rivals, so you shouldn't lose out long-term, either. It does a great job on efficiency, too, with some of the best figures for CO2 emissions and fuel consumption in the class, saving you money both in tax and at the pumps. The addition of a new Hybrid4 version is another feather in the cap for the Grandland X, given the growing importance of plug-in hybrids and appeal of SUVs. Combining the two is a no-brainer and the low CO2 figures will offer a huge tax savings for company drivers to offset the significantly higher purchase prices. Vauxhall also offers 'Business' versions priced and equipped specifically to save money for company drivers and look good on fleet managers' spreadsheets. That won't necessarily play out for those running one privately, given lease rates are in the same ballpark as far more prestigious rivals like the Audi Q5 TFSI e.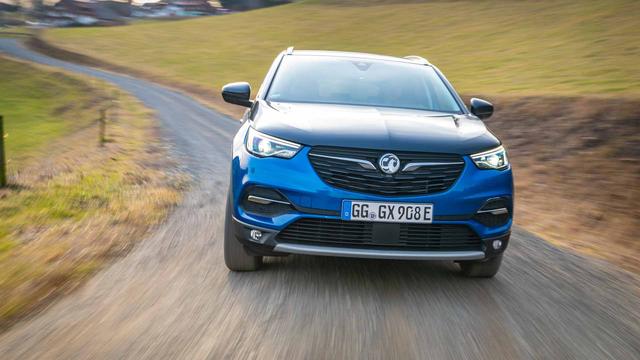 Reliability of a Vauxhall Grandland X
As a brand, Vauxhall sits mid-table in the manufacturer rankings of Warranty Direct's Reliability Index. However, the 2019 JD Power Vehicle Dependability Study, which ranks more recent manufacturer performance, has Vauxhall in sixth place out of the 24 manufacturers featured, which is very encouraging news. The company offers a pretty standard three-year/60,000-mile new car warranty, but that's well below what you'll get with a new Kia Sportage.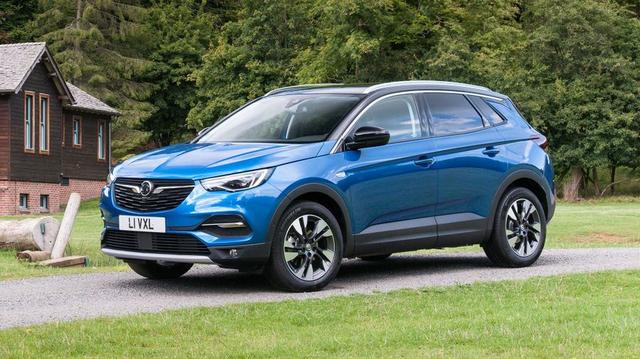 Safety for a Vauxhall Grandland X
Every model comes with six airbags and a lane departure warning system. We think it's worth stepping up from the basic SE model, as all other models come with a Safety Pack that includes a system to detect driver drowsiness, forward collision alert, automatic emergency braking and a lane assist system, as well as a blind spot assist system.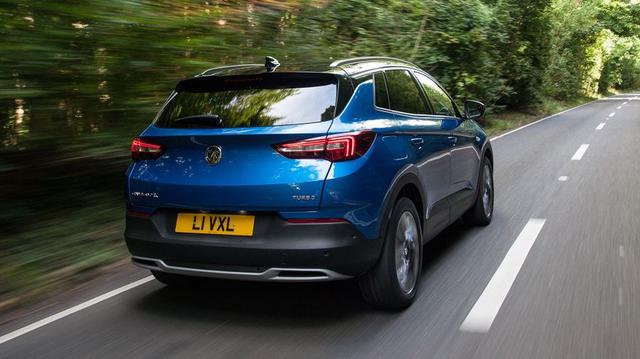 How comfortable is the Vauxhall Grandland X
On top of the good room in the front, you also get a very decent amount of space in the rear seats, as well as nice, square doors that make it easy to get in and out. With a flat floor and relatively flat rear seat, you could get three people across the back seat easily enough, and the Isofix mounts are easy to get to for anyone fitting a child seat. That alone makes it a very capable family car. The boot is very practical, too. It's a nice, square shape, and full of handy hooks and so on to help hold luggage. It's not quite as big as you'll find in a Peugeot 3008, but it's on a par with the Seat Ateca and much better than in a Nissan Qashqai. However, when you fold down the rear seat backs (split 60/40 on every model), they leave a big lip in the floor, unless you have a version that comes with the movable boot floor that levels everything out. Loading and unloading is made a bit awkward by the high lip and wide bumper you have to lift your luggage over. It's worth noting boot space on the hybrid version is about a fifth less than the standard car, due to the battery taking up some of the internal space. The Grandland's cabin is rather conservative in its design, and there are some hard plastic surfaces to be found about the place, but there's no faulting the layout, with lovely clear dials and sensibly positioned controls. While Vauxhall has given every version of the car a touchscreen, it's also designed the dash in such a way that you can rest your hand on it while you're prodding at the screen, which helps improve your aim when the car's on the move. There's also no faulting the driving position, either, with lots of adjustment on both the driver's seat and steering wheel. The same can't be said of the rear visibility, though, as the small rear window, flanked either side by a wide expanse of metalwork, means it's pretty hard to see what's going on when you're parking. On the road, the Grandland's comfort largely depends on the size of the wheels on your car. On the smaller wheels of the more humble versions, things are a shade unsettled at most speeds, but still easily bearable. On the bigger wheels of pricier versions, the level of comfort deteriorates markedly. The Grandland X is also nice and easy to manoeuvre around town, and in the corners, there's decent control over body roll and fairly strong grip. The overly light steering means it's less rewarding to drive than a Seat Ateca or Peugeot 3008, but this isn't going to bother most family car drivers.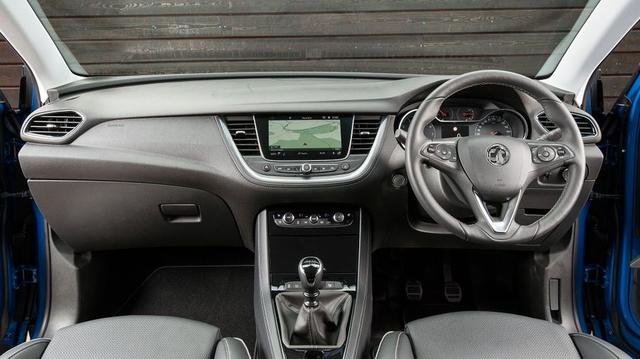 Features of the Vauxhall Grandland X
he base model is the SE, and it comes pretty well equipped, with Bluetooth, DAB, Android Auto, Apple CarPlay, dual-zone climate control and cruise control, as well as automatic lights and wipers, and rear parking sensors. Business Edition Nav, which is targeted at fleet customers, adds sat-nav and a larger, 8.0-inch touchscreen, as well as some interior niceties like the movable boot floor, rear centre armrest and puddle lights on the outside, as well as front parking sensors and some extra safety systems, SRi Nav sits alongside Business Edition Nav in the range, and is similarly equipped, but has a dark roof and door mirrors, while Elite Nav has leather, heated front seats, an electrically adjusted driver's seat and a panoramic sunroof. Meanwhile Ultimate Nav throws in plenty of toys, from a wireless phone charger and Denon sound system to adaptive cruise control, more high-tech LED lights and a panoramic camera for ease of manoeuvring. It also has keyless entry and start.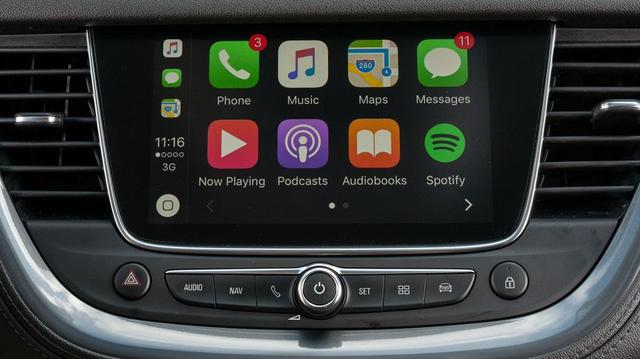 Power for a Vauxhall Grandland X
There are three turbocharged engines to choose from in the Grandland X – a 1.2-litre petrol unit, a 1.5 diesel - both with 130 horsepower - and a 2.0-litre diesel with 177 horsepower. We've tried the first two, and on paper, they look similar in terms of power and performance, and both do a very decent job of getting the car around. Despite its apparently small size, the 1.2-litre petrol doesn't struggle at all, responding well across the rev range and every bit as quick as similarly powerful engines in rival cars. Against the clock, it's quicker than the smaller diesel, but it doesn't feel that way on the road. That's because the diesel has considerably more pulling power, which means it feels easier to drive, as it responds more quickly and doesn't need working as hard as the petrol engine for the same performance. The standard manual gearbox isn't the slickest, but both the 130-horsepower engines are also available with an automatic gearbox at extra cost, while the bigger diesel gets one as standard. The hybrid version is a different beast altogether, not just for the fact it can cruise up to 35 miles on electric power alone by Vauxhall's figures. If you do a lot of short, urban journeys that will save you a lot in fuel while the combined 300 horsepower when the electric motor and petrol engine are working together makes it impressively fast out of town. The seamless switchover between electric and petrol power is impressively managed too, though if you drive a lot on the motorway you may find it thirstier in reality than the official figures suggest it should be.