Used Suzuki Baleno
With 54 used Suzuki Baleno cars available on Auto Trader, we have the largest range of cars for sale across the UK.
Used Suzuki Baleno cars available to reserve
Used Suzuki Baleno cars in stock
Is the Suzuki Baleno a good car?
Read our expert review

Words by: Ivan Aistrop

Additional words by: Ivan Aistrop
"The Suzuki Baleno looks like great value for money, with low prices, generous equipment levels and lots of space. Granted, it's not the best car of its type to drive, nor is it the nicest to sit in, but for many buyers, the rational merits will overpower the emotional shortcomings."
Read the review by category
How good does it look?
The Baleno only comes in relatively high trim levels, so the positive impressions begin with the way it looks. Indeed, it's a very smart little thing, with alloy wheels on every model, as well as chrome grille accents, tinted rear windows, a rear spoiler and a huge chunk of chrome trim on the tailgate. The most obvious differences between the SZ-T and dearer SZ5 model are that the SZ5 comes with chrome (rather than body-coloured) door handles, chrome beltline mouldings and indicators built into the door mirrors.
What's the interior like?
Unfortunately, the good impression created by the exterior doesn't continue when you step inside. You can't help but notice the swathes of hard, cheap-feeling plastic, along with some pieces of trim (the console around the gearlever and handbrake, for example) that flex in your hand. On the other hand, there are no complaints about how easy everything is to use, with most of the infotainment system's functions being operated through the central touch-screen, and the ventilation controlled by nice big buttons. We've only driven the SZ5 model and the driving position is fine, but it's worth noting that the SZ-T model has only a tilt-adjustable steering wheel, whereas the SZ5's wheel adjusts for reach and rake.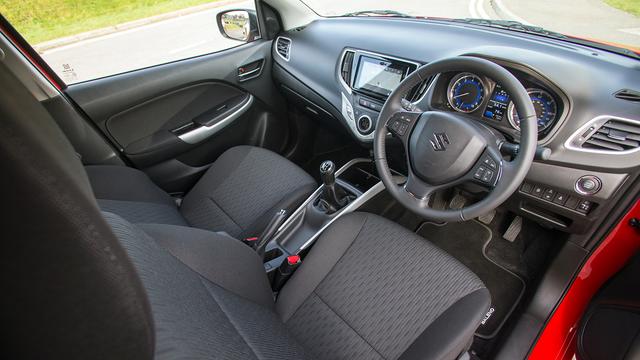 How practical is it?
There's plenty of head- and legroom for those in the front seats, but given the car's relatively small dimensions, what's more impressive still is the amount of space in the back. Even with a couple of six-footers installed up front and with their seats pushed well back, there's enough legroom in the rear seats for another couple of adults. Unless they're well over six feet tall, they'll have no complaints about the headroom, either. Fitting three across the rear bench would be a squeeze – as the centre seat is narrower than the outer two – but not an utter impossibility. True, the design of the boot is a little less impressive – in particular, the high sill and narrow opening make loading and unloading rather tricky – but the capacity of 320 litres is more than you'll find in a Ford Fiesta or Vauxhall Corsa. All in all, it means the Baleno is one of the more spacious and practical superminis.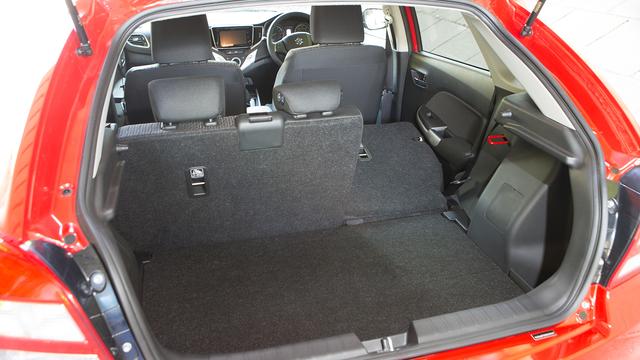 What's it like to drive?
Around town, the Baleno is very much in its element, with the little engine whisking you from one junction to the next, and the light steering making easy work of manoeuvring. However, even at these modest speeds, you soon notice one of the Baleno's shortcomings: the standard of road surface doesn't have to deteriorate very much before the ride quality follows suit. On the mangled Tarmac that covers far too many of the UK's city streets, the Baleno can make a real meal of ruts and ridges. Worse still, it doesn't get any better once you escape the city limits, and it's only once you're on decent main roads or motorways thats things smooth out again. The handling, too, is rather disappointing, and certainly not a match for the likes of the Ford Fiesta. There's lots of body roll through bends. That, combined with the lack of feel through - and inconsistent weight of - the desperately slow steering, makes for a car that doesn't encourage you to press on. Instead, the Baleno responds better to a more restrained style of driving.
How powerful is it?
The turbocharged 1.0-litre 'Boosterjet' engine is one of the most impressive aspects of the Baleno. It's quiet and smooth, and as long as you keep it revving at more than 2000rpm, it responds nice and keenly, too. True, it's not all that fast, but it's plenty quick enough for everyday use. It's certainly much less hard work than the 1.2-litre engine, which (despite its extra cylinder) doesn't respond as keenly and feels less willing and refined by comparison.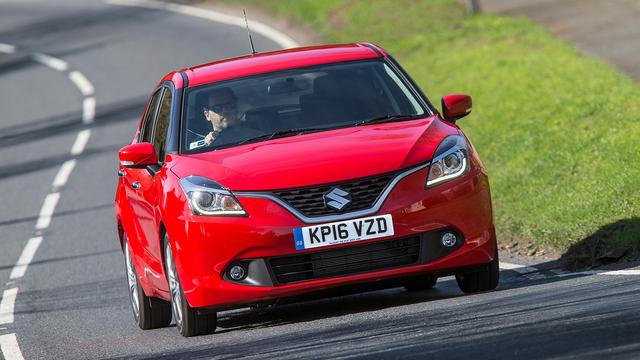 How much will it cost me?
Given how much space and standard equipment the Baleno gives you, the pricing is very aggressive and so the car looks like very good value for money. Better than that, it's also one of the more economical petrol-engined superminis, with the three-cylinder engine averaging more than 60mpg. And, if our experience is anything to go by, it's capable of getting not far short of that in typical everyday driving. For even better economy – as well as lower tax bills and longer service intervals – you should choose the 1.2-litre engine. It has a basic petrol-electric hybrid system that makes it the cleaner choice.
How reliable is it?
It's far too early to know just how reliable the Baleno will be, especially with its new engines, but the omens look excellent. Not only does Suzuki sit almost at the very top of Warranty Direct's Reliability Index, the company's other supermini, the Swift, is rated as well above average for reliability. Our only slight reservation is that the three-year/60,000-mile is not as good as that provided on some rival cars, such as the Hyundai i20 and Kia Rio.
How safe is it?
Both versions of the Baleno come with the same basic safety kit: six airbags, anti-lock brakes and electronic stability control. However, there are several extra features on SZ5 trim, which makes it more attractive and well worth the extra it costs. These include Adaptive Cruise Control and a Radar Brake Support system, which warns the driver of an imminent collision and, if no action is taken, can apply the brakes automatically. This difference in specification also accounts for the Baleno having two ratings from Euro NCAP: with Radar Brake support, it earns four (out of five) stars, but without, that score drops by a star. To be honest, though, both of these scores are rather disappointing.
How much equipment do I get?
Even on top of the various styling and safety features mentioned above, the Baleno comes very well equipped. Fans of the latest tech will appreciate the fact that every model comes not just with Bluetooth, DAB and sat-nav, but also with Apple CarPlay and MirrorLink, allowing better integration of smartphones. The major differences between SZ-T and SZ5 trims are that the higher trim adds rear electric windows, an extra LCD colour display on the dashboard and climate control, rather than air-conditioning.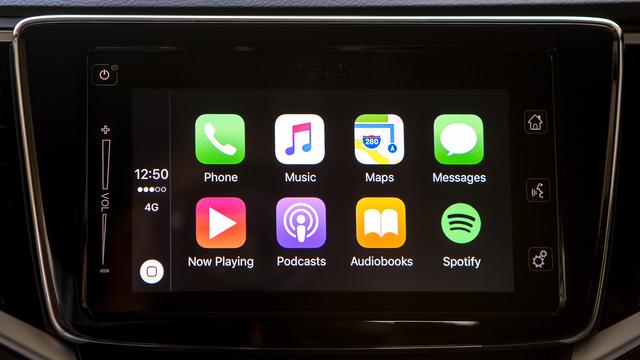 Why buy?
The Baleno's big selling points are its extensive standard equipment and spacious cabin, so this is a car that will appeal to people who buy with their head rather than their heart. Put it this way: you'll struggle to find another supermini that offers so much space and equipment for such an affordable price. However, if you're rather less rational and want a car that tugs more strongly at your heartstrings, then you should probably look elsewhere – although, if you explain that to a Suzuki dealer, they may well just point you in the direction of a Swift.

Good points
Everything needed in a car
Bad points
Nothing
CLAIRE
Published 2018-08-31
Good points
all of it
Bad points
no
MICHAEL
Published 2018-01-26
Good points
display panel for satnav, calls, radio etc...
Bad points
3 buttons on the steering wheel as an alternative...