Used Renault Twizy
With 7 used Renault Twizy cars available on Auto Trader, we have the largest range of cars for sale across the UK.
Used Renault Twizy cars in stock
Is the Renault Twizy a good car?
Read our expert review

Words by: Auto Trader

Additional words by: Dan Trent
"The Renault Twizy is fun in the right circumstances, and pretty much unique. It makes a great zero-emissions city runabout and it costs pennies to run, so long as you accept obvious limitations and don't try to make comparisons with more conventional cars."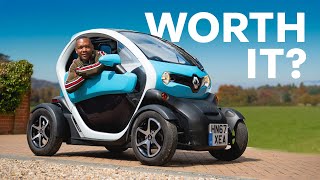 Read the review by category
Running costs for a Renault Twizy
The Twizy is one of the cheapest electric cars you can buy, and costs less than half as much as Renault's own Zoe. The reason for this is largely because the Twizy technically isn't even a car – it's a quadricycle, or four-wheeled motorbike. Apart from the low outlay up-front, running costs are almost negligible: there's no road tax to pay, it's exempt from the London Congestion Charge and electricity costs will be very small, with the cost of a full charge little more than a pound. You will have to budget for a one-hour service each year, however, and insurance costs – although low – are a little higher than those of the most basic superminis, including cheaper versions of the Renault Clio .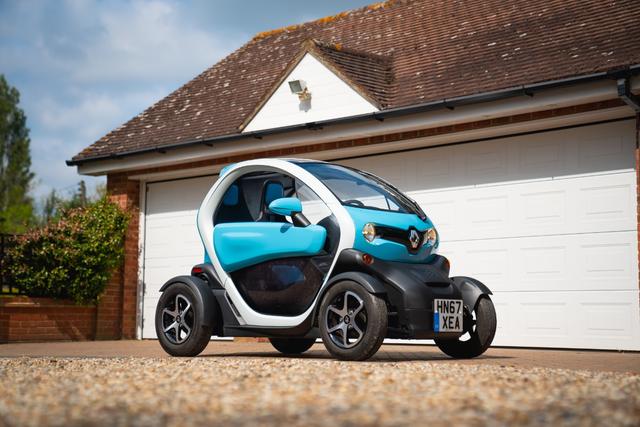 Reliability of a Renault Twizy
The Twizy is one of the most simply constructed machines on the road, so in theory there isn't a huge amount to go wrong with it. Warranty cover is very good, too, at five years or 100,000 miles (whichever comes soonest). There are only a handful of Auto Trader owner reviews of the Twizy and these are generally positive. As a brand, however, Renault's reliability record is nothing special, with a mid-table ranking in the Warranty Direct Reliability Index and a below-average score in JD Power's UK Vehicle Dependability Survey.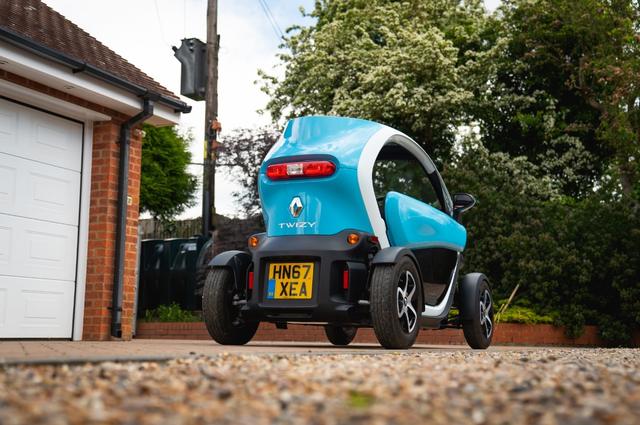 Safety for a Renault Twizy
Despite its apparent lack of any real structure, Renault has taken crash safety seriously. The Twizy's two occupants sit within a tough safety cell, and while there isn't a huge amount of safety kit as standard, the driver gets an airbag along with a four-point seat belt, and the passenger gets a three-point restraint. There are disc brakes all round, but no stability control or anti-lock brakes. Although the Twizy has been tested by Euro NCAP, it doesn't carry an official rating because quadricycle tests are not performed to the full standards. Nevertheless, in more than one consideration (including protection of the neck, chest, knees and femurs, the Twizy was rated as poor.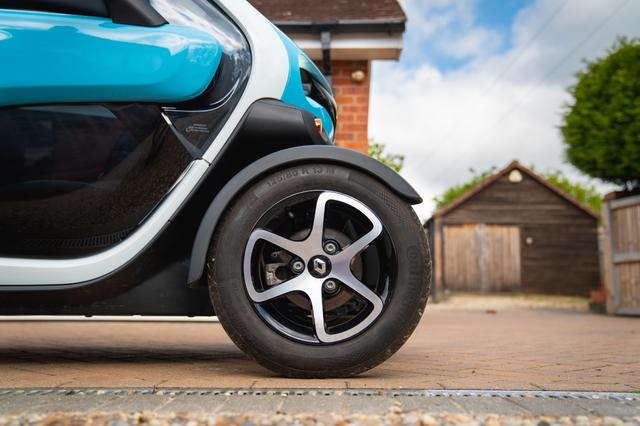 How comfortable is the Renault Twizy
You could call the Twizy's interior a break from the norm. You can't really call it a cabin, because it is effectively a four-wheeled electric motorbike, with two seats in tandem and doors (and windows, for that matter) only available an option. 'Basic' is the only word to describe it, and there's little more than a very simple dash, a push-button gear selection and lockable cubby box, plus an umbrella-style handbrake under the dashboard in the way of amenities. As you might expect in car that is effectively open to the elements, the materials inside are practical and durable, but not terribly glamorous. Once you're behind the wheel, it's not too bad, but you can forget about luxuries you would expect in a 'real' car, such as height adjustment on the driver's seat or steering wheel. Or any kind of infotainment system. The Twizy is best viewed as a single-seater, although there's space for two if they're not both six-footers. To make matters worse, getting in and out of the back seat is awkward, but once you're in, it's comfy enough. With little in the way of luggage-carrying capacity and pretty much no weather protection unless you invest in the optional doors, the Twizy is less impractical than most open-topped sports cars. Thanks to its short wheelbase and tiny wheels, the Twizy also has a ride quality that's firmer than many performance cars. It's certainly not a car for long journeys. Still, that's not what it's designed for – stick to city driving and the Twizy is a hoot, being able to thread through gaps and get into parking spaces that would defeat even a Smart car. The official range is just 62 miles, but in real-world driving you're likely to get less than that.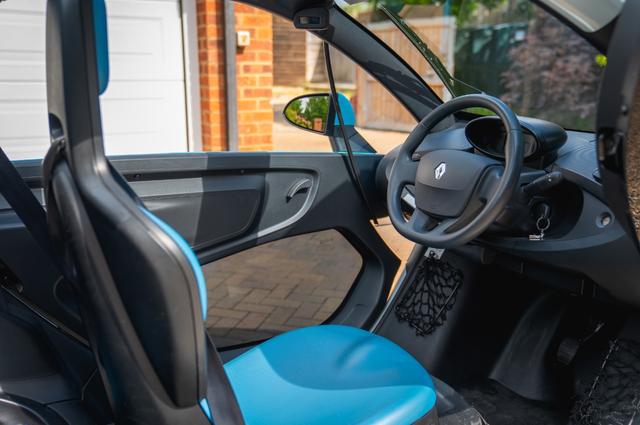 Features of the Renault Twizy
Standard equipment on a Twizy is sparse, to put it mildly. Non-existent is closer to the truth, with the cheapest version getting little more than a heated windscreen. Higher-spec models gain alloy wheels, metallic paint and floor mats, but that's about it. You'll still need to head to the options list to get doors, a clear roof and a Bluetooth hands-free system.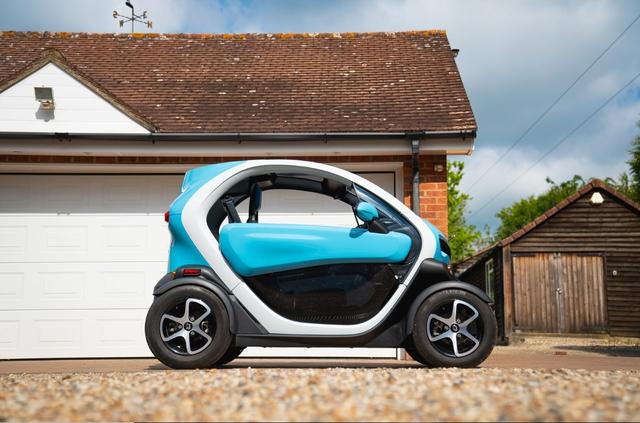 Power for a Renault Twizy
The Twizy's 17 horsepower electric motor is the same, whichever version you go for. With nippy acceleration from standstill and a single-speed transmission you can pull away from traffic lights smoothly and swiftly, which is all the Twizy is really designed to do. Fair to say with a top speed of just 50mph it feels out of its depth on bigger, faster roads and you're best off sticking to city streets or smaller lanes where its performance is more appropriate.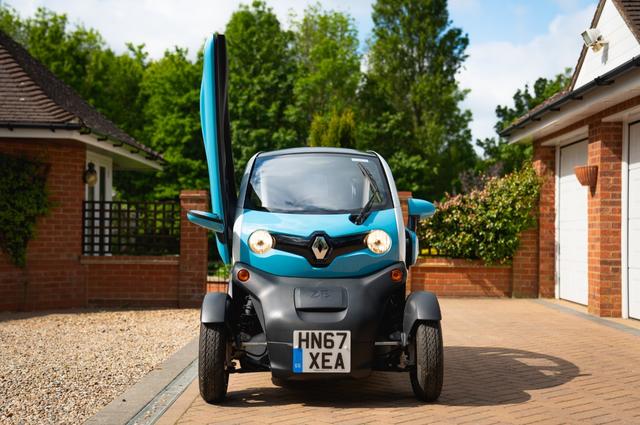 Good points
Great for the city, gets me everywhere, easy...
Bad points
No windows for winter so had to get third party...
GIULIA
Published 2020-01-27
Good points
Quirky looks new elec car?
Bad points
Gaps around doors and windows firm ride lack of...
ANDREW
Published 2019-09-27
Good points
Very attention grabbing! Offsets carbon back to...
Bad points
Should come with windows (and doors) No sun visor.
DENNIS
Published 2019-06-14