Used Infiniti QX30
With 7 used Infiniti QX30 cars available on Auto Trader, we have the largest range of cars for sale across the UK.
Used Infiniti QX30 cars in stock
Is the Infiniti QX30 a good car?
Read our expert review

Words by: Ivan Aistrop
"Like the Q30 on which it's based, the Infiniti QX30 SUV has some pretty serious flaws, particularly with its practicality and its balance of ride and handling. Thing is, the QX30 also happens to be a lot more expensive than its sister car, which makes it even more difficult for us to recommend."
Read the review by category
How good does it look?
The QX30, unsurprisingly, looks much like the Q30 on which it's based, but with a range of styling touches designed to give it more of an SUV-style flavour. These include a set of shiny roof rails, beefier bumpers and wheelarches, front and rear scuff plates, and a jacked-up ride height. If we're honest, the effect is a subtle one, rather than one that screams off-roader ruggedness, but it's a fairly handsome-looking car nonetheless.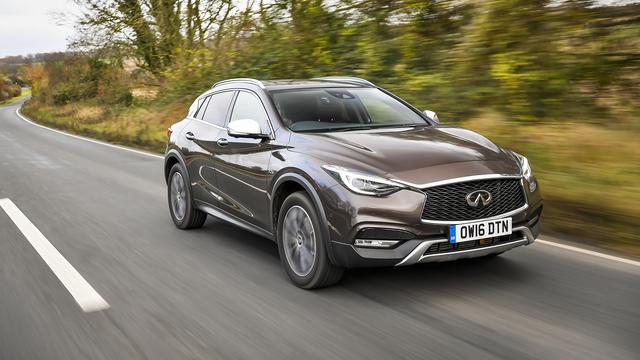 What's the interior like?
By and large, the QX30's cabin looks pretty smart, with some very pleasant materials on display. That said, there are one or two tucked-away places where the surfaces are a little harder and grainier than those in your direct eyeline, and the wood trim that sits on the centre console and in the doors on Premium Tech versions is somewhat less than convincing. Anyone familiar with the Mercedes A-Class will recognise the various switches and dials used in the cabin, as these have been recycled pretty much wholesale in the Infiniti, but that's no bad thing because they look good and most of them are pretty easy to use. It does mean, however, the Q30 shares some of the Merc's more annoying foibles. The switch for the electronic parking brake is tucked away underneath the dashboard and works in an unintuitive way (you push the switch to engage it and pull to disengage). The pedals are heavily offset, too, while the small rear window means your rear visibility is less than ideal.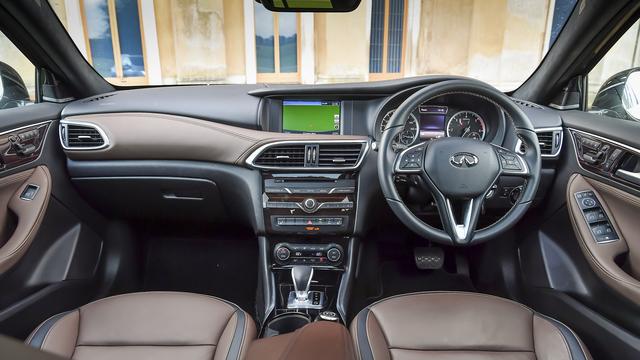 How practical is it?
Like the Q30 hatchback on which it's based, the QX30 does a pretty disappointing job in this area. The rear seats have a reasonable (if not particularly generous) amount of leg- and head-room, but with a roof that curves a long way downwards on either side of the car, your passengers have to duck underneath it when getting in and out, and will knock the side of their head each time you go around a bend. The limited shoulder space, narrow middle seat and bulky transmission tunnel also make this a car that's best suited to carrying four people, rather than five. The boot is a decent size for the class, and the rear seats fold more-or-less flat when you need to boost capacity. However, the loadspace is hard to get at due to a narrow boot opening and a high load lip.
What's it like to drive?
The QX30 has a higher ride height than the Q30 on which it's based, but unfortunately, that does little to improve ride comfort. While calling it uncomfortable would be a touch harsh, there are too many types of road surface where the suspension simply doesn't keep life smooth enough, meaning it's nowhere near as cosseting as it should be. Critically, there are numerous rivals that'll keep you more comfortable. That wouldn't be so bad if the Infiniti could out-handle the competition, but sadly, it can't. The body control is fairly decent once the car settles into a bend, but there's an initial period of sloppiness before that, which makes the turn-in feel rather laboured. The steering, meanwhile, is reasonably quick, but you don't get a great deal of feedback through the wheel. Bends are dispatched with plenty of grip, and the standard four-wheel drive also means plenty of traction on the Tarmac, but don't expect the QX30 to be able to venture too far off the beaten track.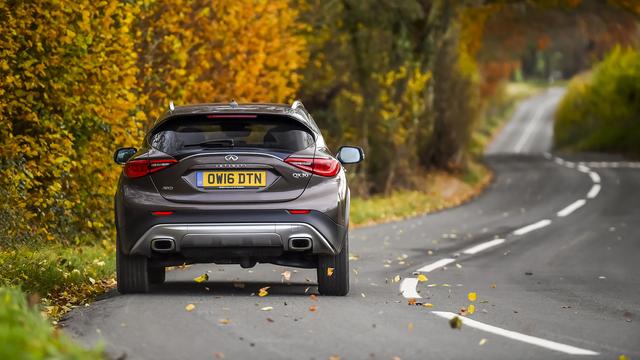 How powerful is it?
While the Q30 hatchback is available with a range of engines, the QX30 is offered with only one, a 2.1-litre diesel (Infiniti calls it a 2.2, but it's not) with 168bhp. It delivers generous low-down muscle to keep your progress easy and relaxed, and it also makes the car pretty brisk when the need for speed arises. The engine is also a little more refined than it is in the several Mercedes models in which it also makes an appearance, primarily due to the active noise cancellation technology at work (the stereo emits sound waves to counteract external noises). However, it's still not as smooth or as quiet as the diesel engines in rivals from Audi and BMW. The engine is pared as standard with a seven-speed twin-clutch gearbox, which unfortunately is rather irrational in character: it feels too lazy in Eco mode, too hardcore in Sport mode, and there's no happy medium in between.
How much will it cost me?
If you're expecting the QX30 to be a cheaper alternative to an Audi Q3 or BMW X1, you'll be extremely disappointed. While those cars are available in a range of different forms with correspondingly wide-ranging prices, the Infiniti is only available with a powerful diesel engine, a twin-clutch automatic gearbox, and four-wheel drive, and that makes it incredibly expensive to buy. What's more, the QX30's resale values are considerably lower than they are for those desirable rivals, and this will put an even more colossal dent in your whole-life running costs. That said, fuel economy and CO2 emissions aren't too bad at 57mpg and 128g/km, respectively.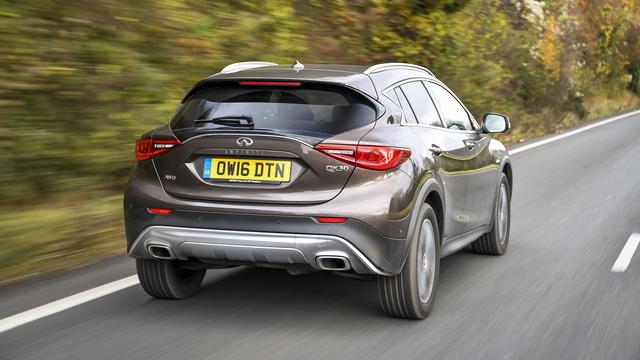 How reliable is it?
This is a rather tricky one. Infiniti hasn't existed for long enough in the UK – and hasn't yet sold enough cars – for there to be any meaningful reliability data on the company's products. You could take heart from parent company Nissan's performance in this area, because it's a brand that's riding fairly high in Warranty Direct's manufacturer standings, as well as other reliability studies. However, since the Q30 shares so much with the A-Class, it's probably more sensible to look at Mercedes' performance, which is nowhere near as strong. The fact the car's production process involves assembling Mercedes parts in a Nissan-operated factory (the car is built in Sunderland) adds another level of uncertainty. Whatever the situation turns out to be, prospective owners might struggle with servicing and repairing their car, due to the logistical difficulties posed by Infiniti's tiny UK dealer network.
How safe is it?
All QX30s come with a total of seven airbags to help keep you safe in a smash, along with a range of systems to help prevent you from having one in the first place. Stability control, advanced anti-lock brakes and an automatic collision mitigation system are all standard, as is lane departure warning and traffic sign recognition. Upgrading from Premium to Premium Tech trim also earns you adaptive LED headlights, along with the opportunity to add an optional safety pack that includes a blind spot monitor, a self-parking function and adaptive cruise control. The QX30 hasn't been crash tested by the experts at Euro NCAP, but the Q30 hatchback has, and it achieved the maximum five-star rating.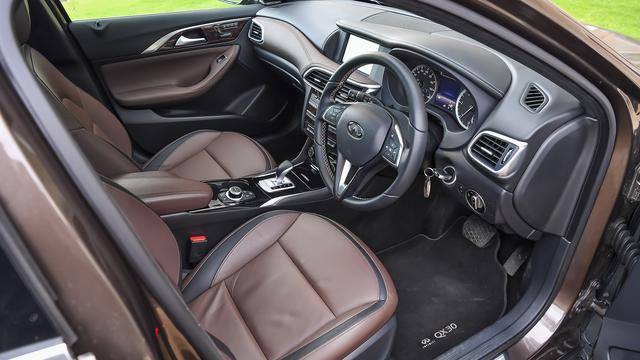 How much equipment do I get?
As the QX30 is only available in high-end trims, it is undoubtedly bad for the price you pay, but at the same time, it's good for the amount of standard kit you get. Premium trim comes with gizmos including climate control, cruise control, rain-sensing wipers, rear parking sensors and a touch-screen infotainment system that brings together sat-nav, DAB radio, voice control and Bluetooth. Premium Tech trim adds powered leather seats, a rearview camera, and keyless entry.
Why buy?
Because you want something a little different to the other cars in the small SUV class, and the Infiniti QX30 certainly offers that. However, it doesn't offer anywhere near as much ability in a number of key areas as its more obvious prestige rivals, so we still think you're better off with one of those.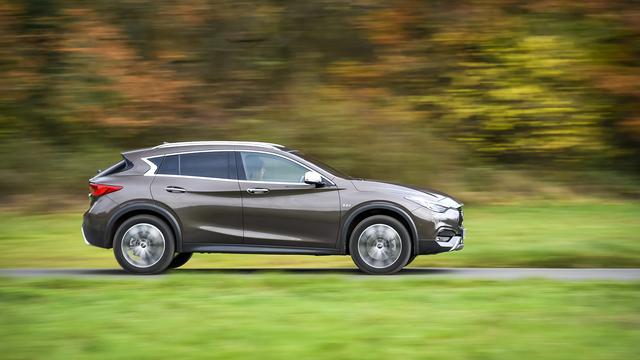 Infiniti QX30 SUV (2016 - ) review
The QX30 is Infiniti's answer to small premium SUVs like the Audi Q3, BMW X1 and Mercedes GLA. It's fashionable, then, but is it any good?