Used Ferrari 488 Coupe
With 66 used Ferrari 488 Coupe cars available on Auto Trader, we have the largest range of cars for sale available across the UK.
Used Ferrari 488 Coupe cars in stock
Is the Ferrari 488 a good car?
Read our expert review

Words by: Phill Tromans
"Considering how much it costs (which is a lot), there are a few things we'd like to see improved on the 488 Spider, but in the areas that really matter - namely the chassis and the engine - it's one of the greatest convertible sports cars you can buy. If the experience behind the wheel is what matters most to you, then you can do no better than this."
Read the review by category
How good does it look?
We'll leave it to you to decide whether the 488 Spider is a looker or not, but its design is certainly effective to its purpose as a performance sports car. Its curvy lines are an evolution of its predecessor, the 458, which was styled by iconic Italian design firm and long-term Ferrari partner Pininfarina. The 488 design was done in-house at Ferrari, but it retains much of the same look, driven by function as much as by aesthetics. Air flow is directed over the bodywork to provide extra downforce and grip at speed. The 488 Spider rides on 20-inch alloy wheels – available in a variety of styles and hues – and a range of paint colours are available, from solid to metallic. The folding roof retracts and deploys in 14 seconds, and will do so on the move at speeds up to 30mph.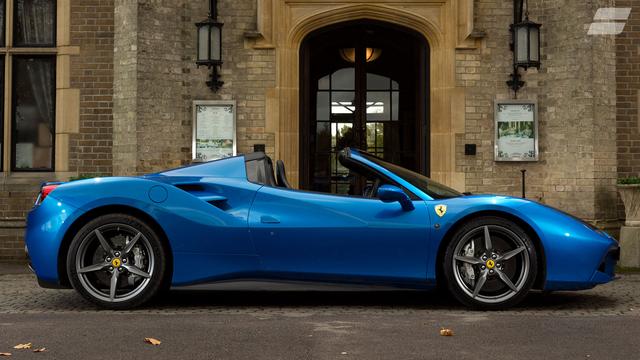 What's the interior like?
For a car that costs north of £200,000, and comes with a badge most associate with high-end luxury, you might be a bit disappointed with the 488 Spider's interior. It's not bad – everything feels solidly screwed together – but it's not anything to take your breath away. Infotainment systems like the sat-nav, stereo system and all manner of technical information are displayed on two screens to either side of the main instrument panel, and awkwardly controlled by two (different) interfaces, neither of which are particularly easy to get to grips with on the move. However, all the important things are just right. The seating position is adjustable and drops into the floor pan to put you in the best place to appreciate the handling, and the Formula 1-inspired steering wheel contains all the main controls, rather than outsourcing them to stalks, which, if nothing else, looks cool. Engine start and headlight flasher buttons, and the stylish manettino switch that controls the car's modes, all add to the sense of occasion, although we did find the wheel-mounted indicator switches a bit awkward to use at times.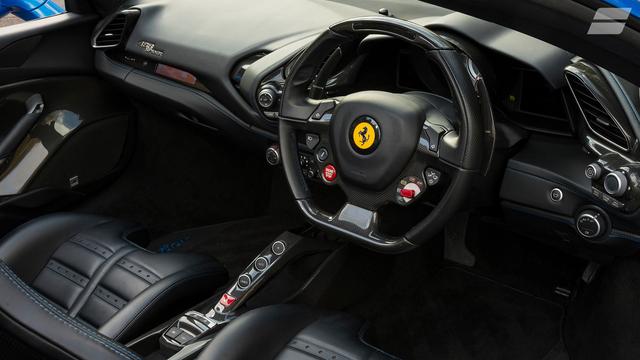 How practical is it?
You don't buy a mid-engined supercar for its practicality, but for its type the Ferrari is actually pretty usable. The cabin feels enclosed and cockpit like – with the roof down, anyway – but there's plenty of room for two tall adults and space behind the seats for a suit carrier or a handbag. The cupholders are only of use for very small coffee cups – forget about stowing drinks bottles – and the glovebox is hardly cavernous. Under the bonnet is enough space for a couple of weekend bags, but not much more than that. You should be able to take your 488 Spider for a weekend away without scrimping too much on luggage, but don't bank on taking it for a two-week holiday.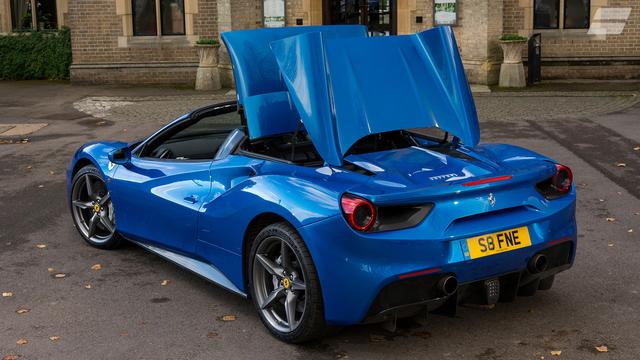 What's it like to drive?
This is where the 488 Spider shows its worth. It might not have the inherent stiffness of the now-discontinued McLaren 650S Spider, but it's one of the sweetest convertibles to drive at pace that you'll ever experience. The steering is light but full of communication, which means that threading the nose of the car between bends makes you feel part of the car. So plentiful is the grip and the speed that you can carry, you'll barely scratch the surface of what it can do on the road, but unlike several other supercars, you'll still have fun at road-legal pace. Despite the suspension's stiffness around the corners, the ride is compliant enough to not prove a nightmare on the motorway. We covered hours at a time in our test car, and while it's noisier than a proper performance cruiser, such as a Bentley Continental GT, it's entirely tolerable.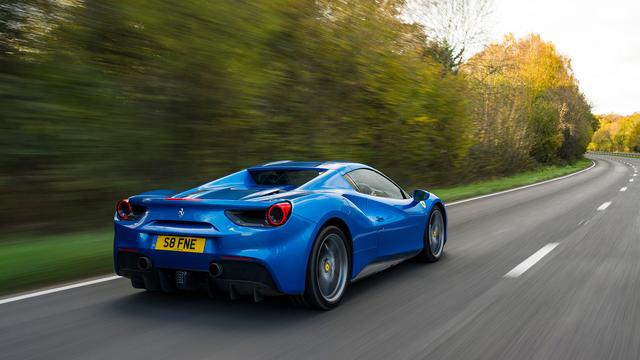 How powerful is it?
Enzo Ferrari, the company's founder, once said "aerodynamics are for people that can't build engines". The firm has moved on a bit since then, but Enzo's belief that the engine is king means Ferrari continues to strive for excellence in its motors. And it's succeeded once again. The 488 Spider is powered by a 3.9-litre, turbocharged V8 mounted behind the seats, producing 670 horsepower, which will propel it to 62mph in three seconds flat. It's a beautiful bit of kit, but all that power is controlled by a perfectly weighted throttle that won't have you spinning up the rear wheels when all you want to is pull out of a side road. It's sharp without being overpowering, and easily usable around town. Oh, and there's the sound. It's glorious, and even more so if you spec the optional sports exhaust.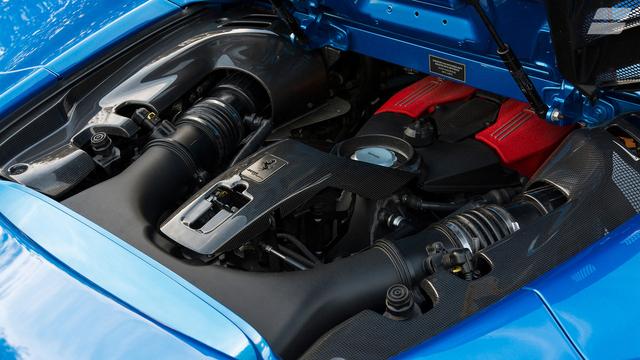 How much will it cost me?
You'll pay north of £200,000 for a 488 Spider before you start adding options, and you can quite easily add tens of thousands more in extra bits and bobs. However, Ferraris tend to hold their value well. You'll pay a lot to run it before you sell it on though. The engine is geared for performance, and while the official combined fuel economy is in the mid-to-low 20s, you'll be lucky to see that kind of performance unless you drive it very cautiously. Insurance costs will be very high too, although Ferrari includes seven years of free servicing with all new 488s, which is good to know.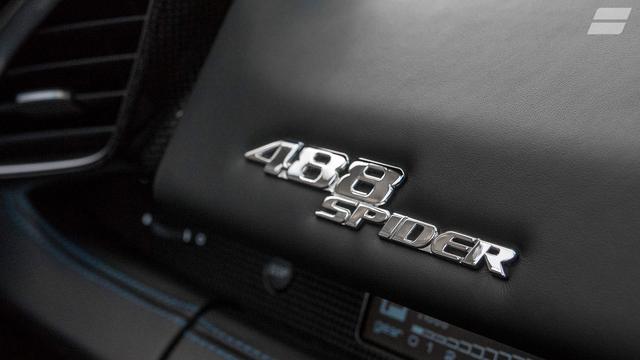 How reliable is it?
We don't have any data on reliability for the 488 Spider, so the closest thing we have to go on are a few owner reviews of its predecessor, the 458, which reported no issues. Should anything go wrong, Ferrari offers a standard four-year warranty on all its cars, but you can extend that to up to five years, and then to 15 years using Ferrari's New Power warranty scheme, which covers most major components.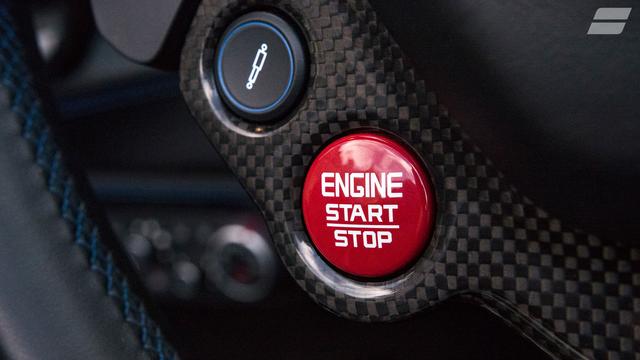 How safe is it?
Ferraris are sold in such low numbers that they're not crash tested by safety organisation Euro NCAP. The 488 Spider lacks the active safety features of most volume cars, such as automatic emergency braking, which are also available on loose rivals like Porsche's 911 Turbo S or the Mercedes-AMG GT R. It does come with four airbags and powerful carbon composite brake discs, but it's fair to say that Ferrari doesn't rank safety as a priority when it's designing cars.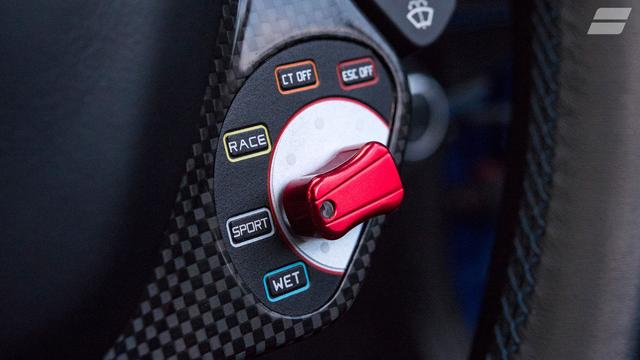 How much equipment do I get?
It's unlikely that any two 488 Spiders will be the same, such is the scope of personalisation that Ferrari offers. Most of the standard equipment you'd expect is included, but you'll pay extra for fancy paint colours, different interior trims and lighter, sportier sports seats, or seats that are electrically operated. You can also slather carbon fibre bits all over the car if you want, although these will largely be for aesthetics rather than performance benefits. The sports exhaust, which gives an incredible soundtrack, is an extra you'll have to pay for, as is an uprated stereo and a telemetry kit, which will let you analyse your driving performance, much like in a race car.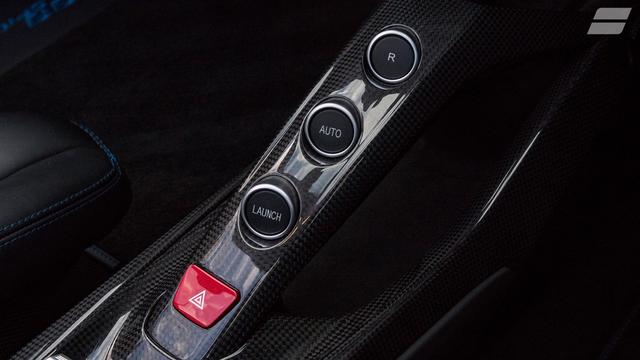 Why buy?
Buyers of the 488 Spider may be wooed by the looks, or by the badge, but ultimately, this is the best convertible sports car you can buy. The main appeal is behind the wheel, out on the open road or on a track, savouring levels of performance that just a few years ago would be unthinkable. It's a car with impressive performance stats, but more than that it's a car that delivers incredible feelings and a driver experience that's unparalleled.