Used Audi RS3 Saloon
With 175 used Audi RS3 Saloon cars available on Auto Trader, we have the largest range of cars for sale available across the UK.
Used Audi RS3 cars available to reserve
Used Audi RS3 Saloon cars in stock
Is the Audi RS3 a good car?
Read our expert review

Words by: Dan Trent
"First there were hot hatches, then there were super hatches. And the Audi RS3 is definitely the latter, thanks to its distinctively throbby 400 horsepower engine and sophisticated all-wheel drive. As such it's a step above alternatives like the related Golf R and its own S3 brother and aimed more at the Mercedes-AMG A45 S. Audi's sticking with a proven formula here, but this latest generation of RS3 is perhaps the best it's made yet thanks to that charismatic engine now having the handling to do it justice. An expensive indulgence. But quite possibly worth it."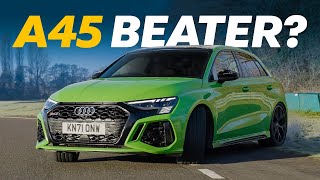 Read the review by category
Running costs for a Audi RS3
Expensive to buy, expensive to run and, due to its popularity with undesirables, likely expensive to insure as well, nothing comes cheap with the Audi RS3. In that sense it's an old-school performance car, built around a big, powerful petrol engine that both sucks in lots of petrol and pumps out a lot of CO2. For what is effectively a jazzed-up version of a regular A3 the purchase price is also pretty burly (more so by the time you added the options you'll be wanting) though no worse than the cars it's up against. Consider it an indulgence as, perhaps, your last purely internal combustion engine (ICE) performance car and it could make some sense, the fact Audi traditionally manages supply of its RS models to preserve residual values perhaps one glimmer of hope for the number crunching.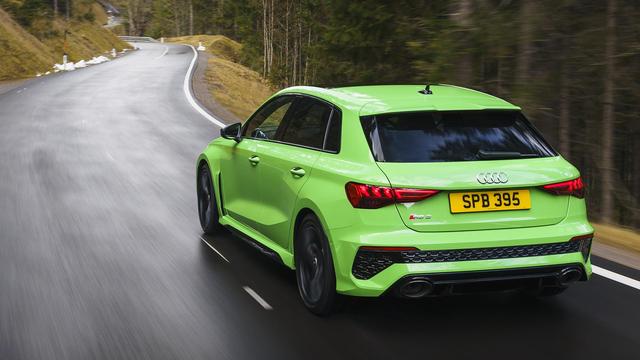 Reliability of a Audi RS3
Generally speaking Audi suffers a similar problem to other premium manufacturers in that repairs, when required, are expensive. This pushes these brands down the rankings on reliability surveys, the one bright spot in the RS3's case being that its signature engine has been well-proven over three generations. So, you'd hope any inherent issues here will have been sorted.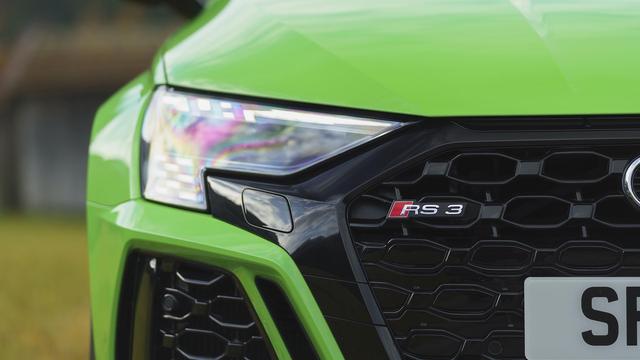 Safety for a Audi RS3
All RS3s come with the safety tech you'd expect of a modern premium hatch, including sensors that detect cyclists, pedestrians and cars in your path and slam on the brakes if you don't react, lane-keeping tweaks to the steering and more besides. An optional Driver Assistance Package (standard on top spec models) adds automated cruise control and alerts if you're about to open the door into passing traffic or haven't seen something coming when reversing out of a space. At this price we'd kind of hope these systems would be standard, though.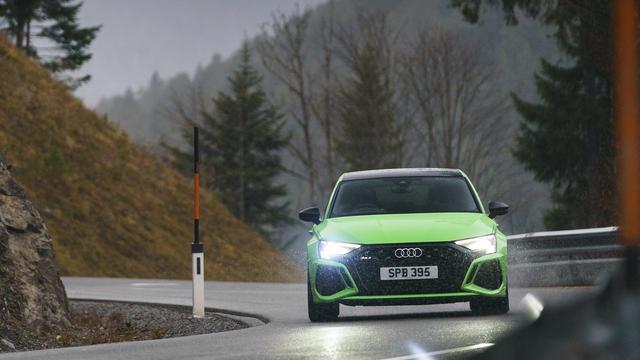 How comfortable is the Audi RS3
At heart the RS3 is as comfortable and practical as any A3, just a ton faster. That's always been the appeal, the fact you can have sports car performance with five-door hatchback practicality huge selling points. Each to theirs but we were less taken with the angular interior styling, which looks very high tech but doesn't feel especially relaxing and feels a little claustrophobic in the back. On the plus side the RS3 does get figure-hugging sports seats with posh looking quilted leather upholstery, so feels rather more special than regular A3s. On the road the RS3 is a big step up from previous sporty Audis and the work done on the improved suspension really shows. Our First Edition test car had the desirable RS Sports Suspension, which you can adjust at the touch of a button along with things like steering feel and throttle response to customise the car to the driving conditions. The standard modes are fine for the everyday while your chosen preferences can be called up in an instant via the RS 'hot keys' on the steering wheel for an instant switch in character between mellow and manic. For our money the more comfortable suspension settings are preferable, given they deal with lumps and bumps in the road while maintaining the body control you want in a car as potent as this. Standard on top versions and optional on others we'd be seeking an RS3 with this adaptive suspension where possible.,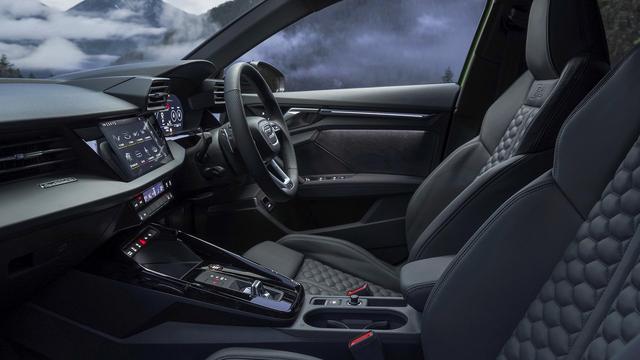 Features of the Audi RS3
Like all A3s the RS3 gets Audi's digital Virtual Cockpit instruments and touch-operated centre screen, these gaining some unique RS-themed performance displays according to which mode you happen to be in. While there is a standard RS3 most people will want the better equipped Carbon Black or Vorsprung editions for their more desirable spec. To really deliver on the promise of the car we'd also be wanting the optional RS Dynamic Pack, which bundles in that adaptive suspension, fancy ceramic brakes, the desirable RS sports exhaust and a raised top speed limiter. It's an expensive tick on the options sheet but worth it for the fun it delivers at the wheel and the increased desirability come resale time, on the basis buyers will be looking out for cars with this extra kit.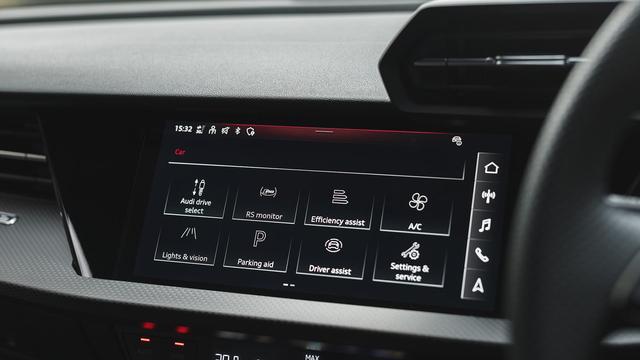 Power for a Audi RS3
Heart and soul of the RS3 has always been that five-cylinder turbocharged engine, the boosty power delivery and distinctive warbling sound harking back to Audi's iconic 80s Quattro rally cars. The impressive performance its 400 horsepower delivers is only half the story as well, the character of this engine really selling it over the A45 AMG. It's something you can appreciate even when just cruising around as well, even if the automatic gearbox is just a little too slick for its own good and robs some involvement. But if you're having a last blast of petrol-fuelled fun before going electric we can think of few better ways of doing it. And Audi has finally delivered an RS3 to do that fabulous engine justice as well, the fatter tyres up front giving you something to lean against in the corners while the new RS Torque Splitter acts on the rear wheels to actually push the nose into the corner and even rotate the car into subtle drifts if you're really pushing on. This combination of muscular looks, that charismatic engine and a chassis that lets you enjoy it in all weathers is Audi really playing to its strengths.