Used Audi A6 Allroad
With 132 used Audi A6 Allroad cars available on Auto Trader, we have the largest range of cars for sale across the UK.
Used Audi A6 Allroad cars available to reserve
Used Audi A6 Allroad cars in stock
Is the Audi A6 Allroad a good car?
Read our expert review

Words by: Andy Pringle
"For most people, an A6 Avant Quattro (which is cheaper to buy and run) will fit the bill perfectly. However, the allroad has enough added attractions – particularly its looks and extra off-road ability – to make it worth considering in its own right."
Read the review by category
How good does it look?
Essentially, the allroad is a jacked-up version of the A6 Avant estate, a halfway house for buyers who want some of the go-anywhere ability of a traditional 4x4, but without the image. With that in mind, it's no surprise that the allroad is the very definition of understated: it sits only a little higher than the regular A6 Avant, with the off-road-lite styling limited to extended sills, flared wings and stainless steel underbody guards front and rear. As standard, the wheelarches, bumpers and sills are painted in a contrasting colour, but if that's all a bit too brash for you, they can be body-coloured as an option. Otherwise, the allroad doesn't stray too far from the A6 Avant it's based on, with its LED daytime running lights and rear lights. Every model comes with alloy wheels, and body-coloured door mirrors and handles; but, if you go for Sport trim, you also get tinted rear windows, LED headlights and 'sweeping' rear indicators, where the lights don't just flash, they appear to 'run' across the car.
What's the interior like?
Audi has become known for the quality of its interiors, and the allroad is a perfect example of why. The materials used, and the fit and finish, are as good as the very best, even in the 'basic' models; and, if you upgrade to Sport trim, it's all topped off with electrically adjustable sports seats and leather upholstery. Common to all, though, is a cabin that's as easy to use as it is to admire, and the wide range of adjustment on the seat and steering wheel means that pretty much anyone is guaranteed an excellent driving position. Our only complaint – and it's a minor one – is that the MMI system that controls the infotainment system isn't quite as good as BMW's iDrive, but you get used to its idiosyncrasies pretty quickly. The driving position is also a tad high, but not as lofty as, for example, the Volvo XC70 Cross Country.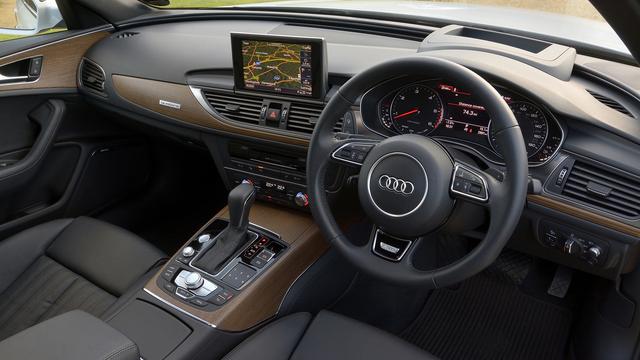 How practical is it?
Other than sitting a little higher off the ground, the allroad's cabin is identical to the A6 Avant's – which is no bad thing. There's enough room for four adults to travel long distances in real comfort, with excellent leg-, head- and shoulder room. It doesn't sacrifice space for the sake of style, either: the boot will take 565 litres with rear seats upright, slightly more than a BMW 5 Series Touring. Fold the 60/40 split seats down and there's 1,680 litres to fill. Again, that's a little more than in the BMW, but the Audi can't match the Mercedes-Benz E-Class Estate, with its massive 1,950-litre load bay. However, the allroad does have a few neat creature comforts, such as a powered tailgate fitted as standard on every model, and we like the way the luggage cover retracts automatically as the tailgate is opened, before returning into its original position once the boot is closed.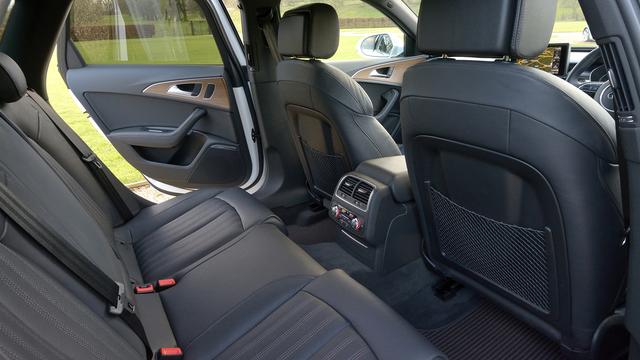 What's it like to drive?
Even though the allroad comes only with the most powerful engines from the A6 range, it's not a car that labours under the mistaken belief that it's a sporting car. Instead, it concentrates on lowering your pulse rate by providing a refined and comfortable drive – and, generally it does a pretty decent job. Its most impressive aspect is its refinement, and the car is at its best over long distances on major roads at cruising speed. Admittedly, it's not without its shortcomings – even with the standard Audi Drive Select system set to Comfort mode, the ride has a disappointingly firm edge; the steering is rather too light even in Dynamic mode; and, the car's body is not as tightly controlled as in, say, a BMW – but the excellent grip and traction from the four-wheel drive system make the allroad feel sure-footed and reassuring in all conditions. Take it off-road and despite having long overhangs front and rear, it deals well with muddy tracks, slippery surfaces and small inclines - but we wouldn't recommend getting too adventurous.
How powerful is it?
All allroads come with a six-cylinder turbocharged 3.0-litre diesel engine, and buyers can choose from three power outputs, ranging from 215- to 316bhp. So far, we have only driven an allroad with the range-topping bi-turbo BITDI, but experience of the two 3.0 TDI engines in other A6s suggests that both will give very strong performance. The BITDI, on the other hand, is seriously fast and, with peak pull coming at well under 2,000rpm, it does it all with alarming ease. It keeps up with everyday traffic without making any apparent effort, but once you use the engine's full potential, there's precious little that can keep up with it; overtaking manoeuvres are blissfully easy. The only fly in the ointment is that the eight-speed automatic gearbox is a little slow to respond in its standard mode – especially at low speeds – but things sharpen up nicely when you swap into Sport mode or decide to change gear manually.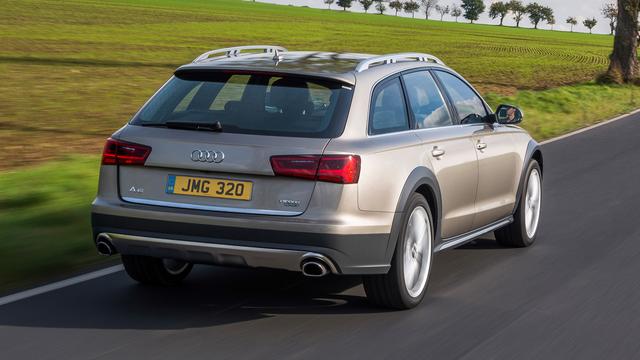 How much will it cost me?
Given the performance they provide, all the allroad's engines return very good fuel economy. Even the BITDI averages more than 40mpg, while both versions of the TDI average more than 50mpg. However, the impressively frugal 2.0-litre ultra engine, which is such a star in mainstream A6 models, isn't available in the allroad. Overall, perhaps the biggest question to ask yourself is whether the allroad makes financial sense, when you compare it with the near-identical A6 Avant, which is also available with four-wheel drive. The standard Avant is not only cheaper to buy, it's also cheaper to run, with better fuel economy and lower CO2 emissions, all of which equates to lower tax for company car users. The Audi also commands a price premium over it's rival from Volvo - with seriously big discounts available on the XC70 Cross Country.
How reliable is it?
Audi may have a reputation for high quality, but that's not necessarily borne out by the historical evidence of owners. In fact, the company sits rather low down in Warranty Direct's Reliability Index, while previous versions of the allroad are well below average for reliability, with repairs and replacement parts being particularly costly. Likewise, if you scan through the reviews from owners of recent allroads on this website, they give a very mixed report about the car's reliability - rivals including the Subaru Outback are much less likely to break, and have a proven track-record for durability.
How safe is it?
This latest allroad hasn't been tested by Euro NCAP, but the 2011 A6 saloon (which is based on a very similar platform to this model) earned the maximum five-star rating when it was tested. Standard equipment across the range includes six airbags, stability control and Isofix mounts on four seats, and there are plenty of options beyond that. For instance, you can specify rear side airbags, the Pre-sense system (which warns the driver in advance of potential dangers), a Night Vision Assistant and a Head-up display, while the advanced technology pack includes adaptive cruise control, a lane departure warning system and a blind spot warning system.
How much equipment do I get?
The allroad is offered in standard and Sport trim levels, and every model comes with sat-nav, DAB radio, cruise control, park assist and auto headlights and wipers, as well as four-zone climate control, leather upholstery and what Audi calls the Luggage compartment system (the double floor, rails in the floor and bag hooks). It also comes with adaptive air suspension, which almost single-handedly justifies the extra the allroad costs over the Avant. Beyond that, the extras on Sport models are primarily style-based, but you can also choose from a whole host of options that include everything from style to technology, many of which are available in affordable packages. Of particular interest will be the Convenience Pack, which includes a reversible boot floor mat, tie-down straps and a set of fixings to be used in the rails. Be warned, though: it's horribly easy to give in to temptation, say yes to lots of options and end up with a very expensive allroad indeed.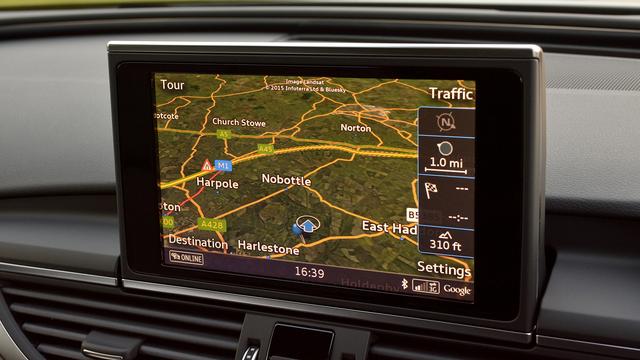 Why buy?
The Audi A6 allroad will appeal to people who want a practical and classy estate with some 4x4 ability, but without the 4x4 image. Not only is it spacious, practical and versatile, it also feels suitably classy and high-quality. Trouble, most of the above is also true of the regular A6 Avant, and that's cheaper to buy and run.

Good points
Great handling
Bad points
Timing belt change at 4 years.
Good points
None
Bad points
Aftercare not been very good .Still waiting for...
GRAEME
Published 2014-09-27
Good points
All I wanted was a car with a large boot space...
Bad points
More colour choices would be better.
NIGEL
Published 2014-09-27