Suzuki Jimny
New from £21,379
Is the Suzuki Jimny SUV a good car?
Read our expert review
Words by: Tom Webster
"The Jimny will be perfect for some buyers, but those buyers have very specific needs and are in a small minority. It falls short of almost all the usual parameters by which a van is judged – it has barely any space in the loading bay, has a pitiful payload by usual standards and it's tricky to get comfortable in the cabin. Regardless, it will win fans due to its lightweight nature, old-school driving experience and off-road abilities. Its limited numbers in the UK means it will sell out and even potentially achieve a cult-like status as a result."
Read the review by category
Cargo & practicality
The Suzuki Jimny is not a big vehicle, which is part of its appeal, which means that it is not a wonderfully practical van either. That's certainly the case if you judge it by the traditional measures for assessing a commercial vehicle's practicality. The payload is, frankly, tiny. At just 150kg it is about as small as you can get, and is less than a third of the payload on offer in a Ford Fiesta Van. The loading bay is, as is normally the case with car derived vans, simply created by removing the seats and adding a touch of practicality. The lack of wheel arches means that there are no major intrusions into the space and the floor and loading lip are both free of bumps and lips but the overall space is again not huge. At 863 litres it is again smaller than the Fiesta, although the bigger, side-hinged rear door means that getting things in and out of the back is easier in the Jimny than it is with the Ford. If you want to tow then your options are limited once again, as the braked towing capacity is just 1,300kg and the unbraked maximum is 350kg. There is very little storage in the cabin either, with a small glovebox, a pair of cupholders in the central console and door pockets that are more suited to an A4 clipboard than a bottle, even a small one.
Interior
The Jimny's interior is basic to the extent of being charming in many ways. There is no infotainment screen and no digital instrument cluster but a host of chunky old-school buttons and switches that operate things like the air conditioning and the electric windows in a pleasing manner. You do get a digital radio and Bluetooth, but they are all controlled through a basic three-line digital display that is fiddly enough that you'll not want to get rid of the instruction manual if you plan on pairing your phone. The materials continue this chunky theme, with the plastics giving the impression of durability and practicality rather than luxury. It all feels a little dated but it carries it off somehow. What is less charming is the seating position. The footwell is cramped with no space for your left foot to the side of the clutch pedal, which means your leg has to rest in a slightly awkward bent position. The steering wheel only goes up and down, too – you can't move it in and out. The addition of a bulkhead means that the driver's seat neither slides back far enough nor tilts enough for a six-foot driver – you will fit in, but you might not be able to get properly comfortable. You end up slightly more upright than you might like, which can get wearing after a longer stint behind the wheel.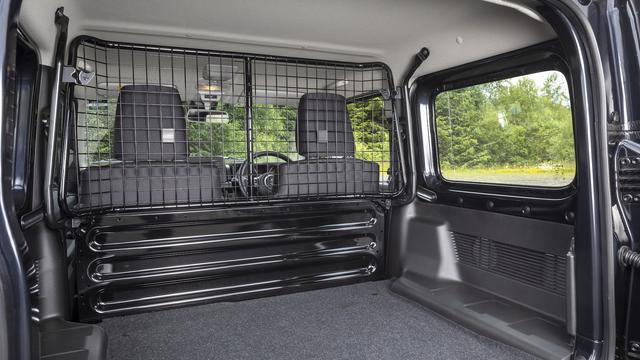 Running costs
The Jimny's low price is very much in its favour when it comes to buying and owning – it is a relatively inexpensive commercial vehicle with only the Dacia Duster priced lower than it in the 4x4 sector. You can get into a van for less, but it is right down there with the more affordable commercial vehicles when you consider list price alone. Running it will set you back a little more as, despite its size, as it only offers an official fuel economy in the mid 30s with CO2 emissions of 173g/km. Its commercial vehicle status means that it will qualify for the set rate of VED tax and company car tax, though. The relatively short service intervals – they are just 9,000 miles apart – means that you will be booking it into the dealer more often than you would with, say, a pickup truck.
Reliability
The Jimny hasn't been around long as a commercial vehicle, but the passenger version has earned a reputation for being a reliable little thing, with some strong scores in surveys. It also does well in owner reviews, and Suzuki has a good reputation as a whole. The only elements that urge a little caution are the fact that the Jimny wasn't originally built as a van and has been adapted, and the fact that the warranty is 3 years/60,000 miles, which is a little short compared to some in the commercial vehicle sector.
Performance
There is only one engine in the Jimny, and it is the same one that appeared in the car version with just 101 horsepower. This brings a relatively low top speed by modern standards of just 90mph. Driving it at motorway speeds isn't much fun though. It's a very high revving engine, which means it sits at about 3,500rpm at 70mph, which makes for quite an intense experience. The gearing is very short, too, which means you have to change regularly if you are moving at any sort of speed. There are only five gears, too, and that motorway behaviour means it definitely feels like it could do with a sixth at times. It is a peppy and responsive engine, though, which is quite entertaining at lower speeds where it is at its happiest.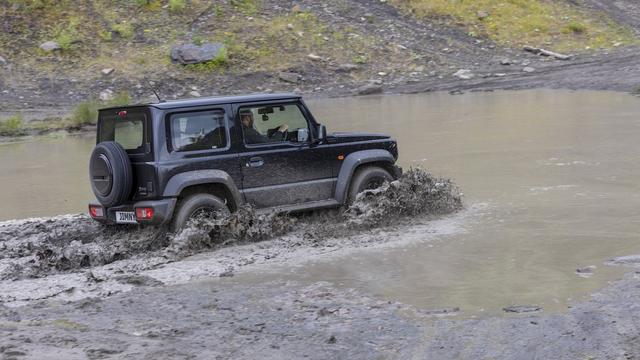 Ride and handling
There are two very different sides to the Jimny – on and off road. The latter is where it is happiest, with a very basic and old-school approach to the equipment that you need in the tougher stuff. The hill descent and hill hold control are the two most modern electronic aids – most of the rest of it is done via a more traditional lever that switches you to 4WD and then low-ratio gears. The change is smooth and there is barely any difference in how the Jimny feels when you move from one to the other. The Jimny's coarse and intense on-road handling is the main reason why you won't be able to tell the difference between 4WD and 2WD though. It bounces over small potholes and bumps and there is a fair amount of lateral body movement around corners and even when you change direction slightly at higher speeds. The steering doesn't help this as it is remarkably light, even at higher speeds. This means you can twitch around unless you are really paying attention.
Safety
The safety kit on the Jimny is adequate rather than great, with just two airbags up front, autonomous emergency braking, hill hold and hill descent control and an eCall system that alerts the emergency services in the case of an accident. The van version hasn't been crash tested by Euro NCAP, and probably won't be given its limited numbers, but the car version only managed a three-star rating in the most recent assessment. As context, the van has fewer airbags and less safety kit than the car version.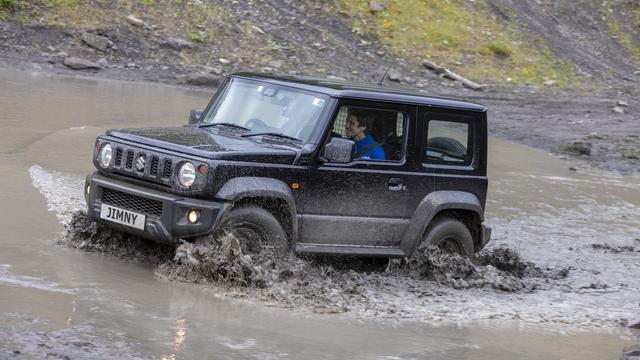 Equipment
There is only the one version of Jimny Commercial Vehicle on offer and just the one option – the paint. The restricted supply – there are only likely to be 500 at most coming each year – means that you might well have get what you can on that front anyway. That single trim brings cruise control, 4WD with low-ratio gears, a tyre pressure monitoring system, a full-size spare, air conditioning, high-beam assist headlights, heated door mirrors, DAB digital radio with USB connector and Bluetooth.
Why buy?
The Jimny Commercial Vehicle is one of those unusual vehicles that will be perfect for some while the vast majority will be able to find something that is better suited to their needs. If you want a small car-like van to drive on the road then there are more relaxing and more practical options out there. If you want a two-seater that can tackle tough terrain then a single-cab pickup truck will carry much more stuff for not much more money. However, the Jimny's diminutive dimensions and relatively low price mean it will tick a lot of boxes for some buyers. As an added bonus it is a charming looking thing that is a bit different to the norm.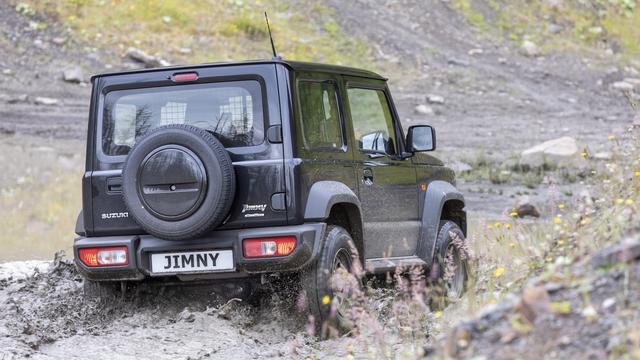 Standard equipment
Expect the following equipment on your Suzuki Jimny SUV. This may vary between trim levels.
Related articles and reviews