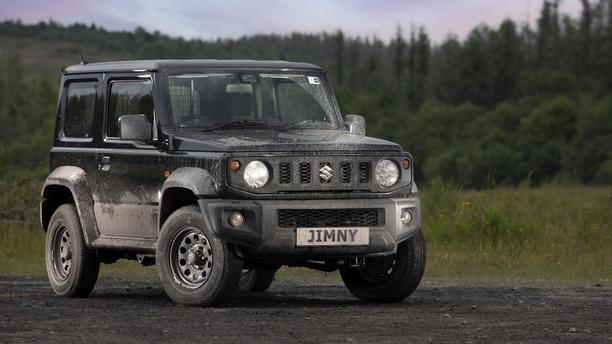 Discover the
Suzuki Jimny
New from £19,709
3 doors

2 seats

Manual

Petrol
Is the Suzuki Jimny SUV a good car?
Read our expert review Words by: Tom Webster
"The Jimny will be perfect for some buyers, but those buyers have very specific needs and are in a small minority. It falls short of almost all the usual parameters by which a van is judged – it has barely any space in the loading bay, has a pitiful payload by usual standards and it's tricky to get comfortable in the cabin. Regardless, it will win fans due to its lightweight nature, old-school driving experience and off-road abilities. Its limited numbers in the UK means it will sell out and even potentially achieve a cult-like status as a result."
Read the review by category
Cargo & practicality
The Suzuki Jimny is not a big vehicle, which is part of its appeal, which means that it is not a wonderfully practical van either. That's certainly the case if you judge it by the traditional measures for assessing a commercial vehicle's practicality. The payload is, frankly, tiny. At just 150kg it is about as small as you can get, and is less than a third of the payload on offer in a Ford Fiesta Van. The loading bay is, as is normally the case with car derived vans, simply created by removing the seats and adding a touch of practicality. The lack of wheel arches means that there are no major intrusions into the space and the floor and loading lip are both free of bumps and lips but the overall space is again not huge. At 863 litres it is again smaller than the Fiesta, although the bigger, side-hinged rear door means that getting things in and out of the back is easier in the Jimny than it is with the Ford. If you want to tow then your options are limited once again, as the braked towing capacity is just 1,300kg and the unbraked maximum is 350kg. There is very little storage in the cabin either, with a small glovebox, a pair of cupholders in the central console and door pockets that are more suited to an A4 clipboard than a bottle, even a small one.
Standard equipment
Expect the following equipment on your Suzuki Jimny SUV. This may vary between trim levels.
Related articles and reviews
Suzuki Jimny SUV LCV (2021 - ) review
The smallest car-derived van you can buy and the one that is perhaps most single minded in what it is designed to do – go off road into the hardest to reach places.