Subaru Solterra
New from £52,495 / £467 p/m
Is the Subaru Solterra SUV a good car?
Read our expert review

Words by: Dan Trent
"While the Solterra is, to all intents and purposes, a Toyota bZ4X with different badges the partnership between the two brands runs deeper, not least in the development of the all-wheel drive technology Subaru buyers expect. Toyota meanwhile brings the might of its electric expertise to the table, the result perhaps the best of both. The angular looks are certainly distinctive, and the Solterra is a large and spacious car perfectly suited to its family SUV role. Limited range may count against it, and while its pricing looks fair against equivalent versions of the Skoda Enyaq, Nissan Ariya and VW ID.4 these brands all offer cheaper entry models that may appear more attractive at first glance."
Read the review by category
Running costs for a Subaru Solterra
Electric cars may be a relatively new thing for many buyers but the market has quickly settled and there's lots of choice at this level. Unlike its Toyota bZ4X brother the Solterra is only available in the higher-spec, twin motor form for the all-weather, all-wheel drive dependability Subaru is known for. That makes it look a bit more expensive but, in fact, when you compare like-for-like costs with the Toyota it's perhaps slightly better value for money, while also being competitive against rivals like the VW ID.4 or Nissan Ariya. In terms of running costs the gap between internal combustion engined (ICE) cars and electric ones has narrowed in terms of 'fuelling' unless you can install a home charger and score a domestic energy tariff with cheaper off-peak rates for overnight top-ups. Which the Solterra will need, on the basis it doesn't have the best range. Cheaper VED and tax incentives for company drivers remain in place, though, and could make running a Solterra much cheaper than an ICE equivalent.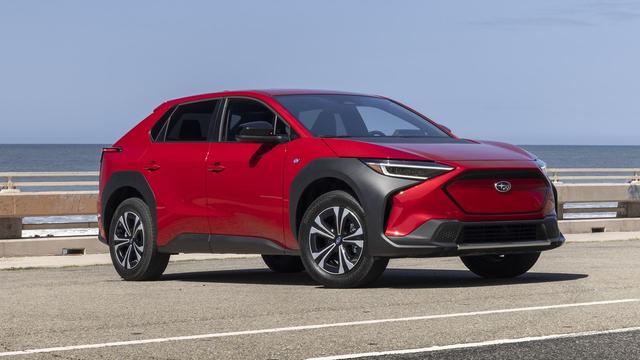 Reliability of a Subaru Solterra
Subaru is a small brand all things relative but has a decent all-round reputation for quality engineering. The fact the Solterra is, in fact, little more than a rebadged Toyota is no bad thing either, given that brand's similarly strong reliability record and proven expertise in electrified cars. Saying that, the bZ4X hasn't got off to the strongest start with an early recall and wobbles related to the range predictions, but we'd expect both to be addressed before Solterras land with customers.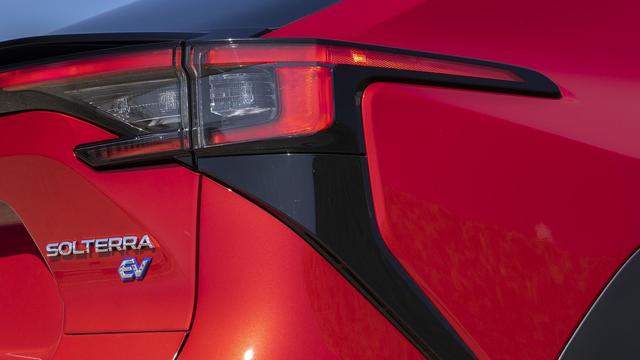 Safety for a Subaru Solterra
We're awarding the Solterra another point over its Toyota brother here, on the basis the Subaru is only sold in the higher trims where all the safety aids are included as standard. And there are a lot of them, of which you're made only too aware by the constant bonging and beeping. While it's all well-intentioned we found the emergency parking braking system somewhat over-sensitive, the violent application of the brakes long before there was any actual risk of backing into something more alarming than useful. Still, better that than scraping the paintwork and, given the poor rear visibility, you need all the help you can get.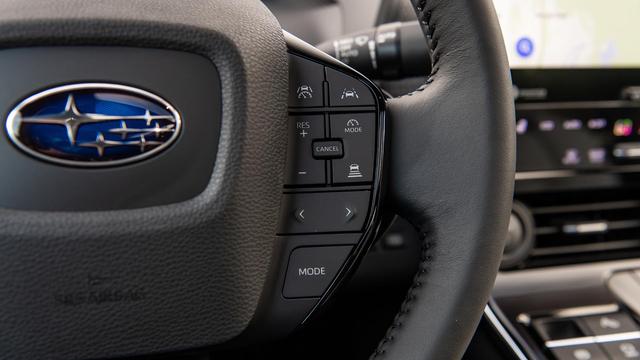 How comfortable is the Subaru Solterra
With lots of space between the wheels and the battery tucked away under the floor there's tons of space inside the Solterra, which makes it a perfect family SUV. There's plenty of legroom in the back, even for the centre seat, and the rear backrest reclines for further adjustment. Up front the driving position feels very high off the groujnd, which a lot of people seem to like, and your visibility over the small steering wheel and relatively low bonnet help confidence, little 'peaks' on the bodywork helping you place what is an otherwise big vehicle in tight spots. The boot looks a decent size as well, and includes a stash space under the floor for your charging cables. A pity the powered tailgate is so slow to operate, and involves yet more bonging. On the road the Solterra feels relatively soft and comfort-oriented, though the light steering is unexpectedly fast and accurate so it's far from sluggish through the bends. We suspect the bigger 20-inch wheels fitted to our top-spec test car may have contributed to a bit of harshness at lower speeds and around town. As such we'd be minded to opt for the 18s on the standard trim if comfort is a greater priority than pose value.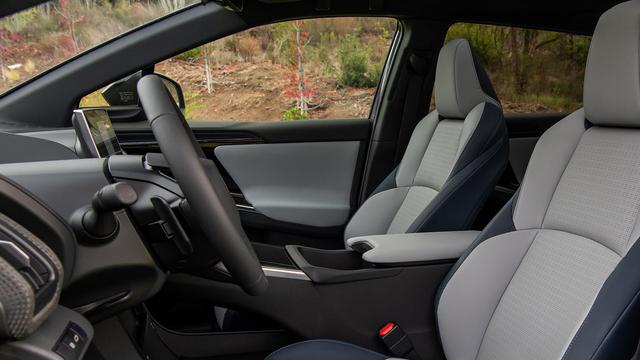 Features of the Subaru Solterra
The starting price of the Solterra may look chunky but, credit to Subaru, that's because it doesn't play the usual trick of listing a basic model for an attention seeking 'starting price' nobody will actually buy. So, you get nice stuff like heated seats front and rear, a 12.3-inch infotainment screen with smartphone connectivity (wireless for CarPlay, on a cable for Android Auto), navigation, all the driver aids you could wish for and two-zone climate control. Another worthwhile feature is the standard fit heat pump, something you pay extra for on many EVs but means you can keep the heating on with less impact on the range than conventional air-conditioning. The more expensive trim grade adds stuff like fancy Harmon/Kardon speakers, a panoramic roof and power adjustable front seats, which are all nice-to-haves but not essential. In terms of interaction with the various systems it's a case of careful what you wish for having criticised VW and its sister brands for stripping buttons and switches out of its cars in favour of touch control – Subaru goes the other way and the confusing array of buttons takes some getting used to. The operating system on the screen is also pretty fiddly and difficult to figure out compared with the phone-inspired widgets and tiles used by many rivals.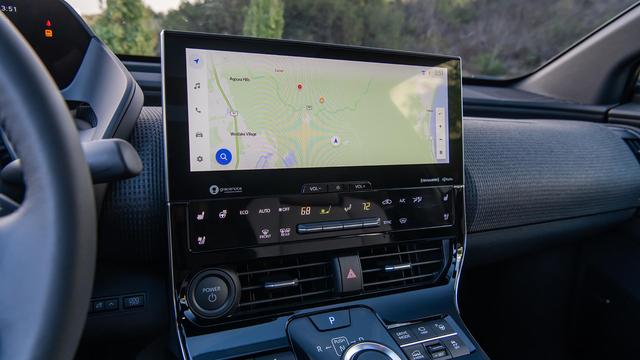 Power for a Subaru Solterra
Like the bZ4X, the Solterra doesn't go chasing headlines in terms of pointless power output or acceleration figures. Instead, it focuses on core Subaru values like all-weather traction from its twin-motor, all-wheel drive system. Snowfall during our test with the car was a perfect opportunity to test this out, the Solterra pulling away smoothly without fuss even on a steep, snow-covered road. This will probably be more relevant for most owners than the credible off-road performance but is very much on-brand for Subaru. On the road the Solterra is smooth and refined in its power delivery, a manually selectable regeneration mode and paddles behind the wheel meaning you can choose how much it slows when you come off the throttle. All good, though we were less than impressed with the range predictions and efficiency we got. True, it was cold while we had the car and that can have a big impact on how far an EV will go but the claimed 289 miles was a distant dream, the display saying we had just 120 or so with an 80 per cent charge. It's also worth noting the Solterra can only replenish its battery at 7kW via the AC cable, which is off the pace of most rivals and means more time plugged in if you can't hook up to a faster DC charger when out and about. Like the bZ4X this is due an upgrade to 11kW, so if you're ordering one make sure it's futureproofed with this higher rate. We'll also hope this update includes adding the percentage of remaining battery charge to the instrument cluster, the lack of this basic info frustrating when you're trying to figure out how much range you have left.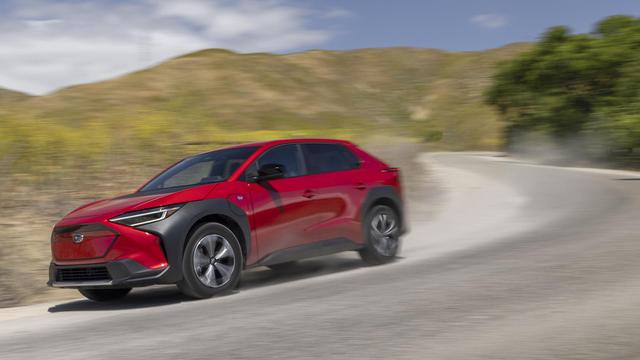 Lease deals
These deals are based on terms of 8,000 miles, for a 36 month lease with a 6 months initial payment.
Standard equipment
Expect the following equipment on your Subaru Solterra SUV. This may vary between trim levels.
Related articles and reviews