MG MG5
New from £30,995 / £554 p/m
How long will it take to charge?
Results based on 61.10kWh MG MG5 battery
0

For a part charge (up to 0 miles)

0

For an 0% charge 0
You can charge this vehicle in 45 minutes at its fastest charging speed of 100 kW
* We have used data from the manufacturer to estimate these charging times, they are only a guide. Charging times for some speeds may not have been provided.
Is the MG MG5 Estate a good car?
Read our expert review

Words by: Dan Trent
"MG has come on a long way since the days of classic convertible sports cars and hot hatch Metros and Maestros, the brand now Chinese owned and sharing little more than a badge with these blasts from the past. And it's thriving as a builder of no-nonsense, good value electric cars like this updated MG5 estate. Already a winner in the 2022 Auto Trader New Car Awards where owners voted it Best Car For Dog Owners, the MG5 is also popular with hard-working fleet drivers, taxi firms and commercial users alike for its affordability, practicality and ease of use. Fresher, MG4-inspired styling helps bring the looks up to date somewhat while improved onboard tech and adoption of the bigger Long Range battery as standard equipment help offset the price increase. Even taking these into account the MG5 is still cracking value if you need a spacious electric car that puts usefulness first."
Read the review by category
Running costs for a MG MG5
All the usual running cost advantages for electric cars of course apply to the MG5, including cheaper VED/road tax and Benefit In Kind, not to mention the attraction of much reduced 'fuel' costs over a petrol or diesel car if you can get a home charger installed and charge it overnight on an off-peak tariff. Value for money is, of course, a key motivation for choosing an MG but with recent price increases the brand's advantage has narrowed compared with some other big-name EVs like the Nissan Leaf, Renault Zoe and Kia Soul. It also faces stiff in-house competition from its fresher MG4 brother but demand remains strong and, with that, residual values, which helps keep monthly finance costs reasonable and pretty much covers the increase in price over the previous model.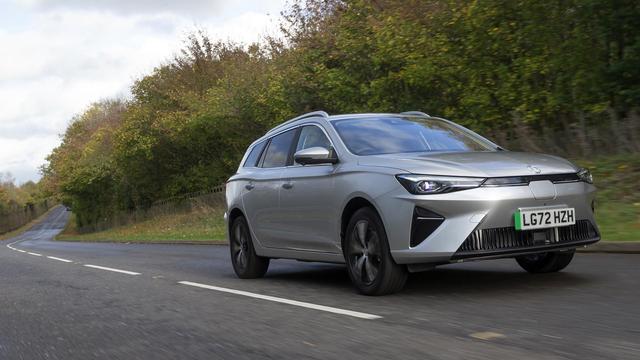 Reliability of a MG MG5
Although the name has been around for years MG recognises its current range of products are a bit of an unknown quantity, while the Chinese heritage may (unfairly) be seen to count against it. So, it's a smart decision to demonstrate the faith in its products by including a seven-year/80,000-mile warranty that can be carried over to any subsequent owners for both peace of mind and to preserve resale values in the medium to long-term.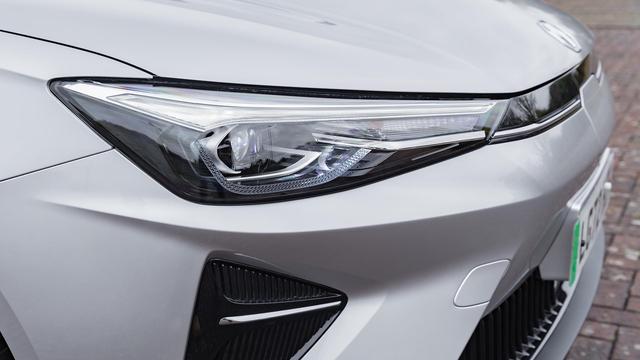 Safety for a MG MG5
When the previous version of the MG5 launched its safety kit looked pretty basic, the situation thankfully much improved with this update. Under the MG Pilot branding this wraps up the kit modern drivers expect, including brakes that engage automatically if you don't respond to a hazard in front of you, steering tweaks to keep you in your lane and automatic cruise control to maintain a safe distance to the car in front in busy traffic. If, perhaps, a little over-sensitive it all seems to work well enough and you can take confidence the MG5 is out to take care of you.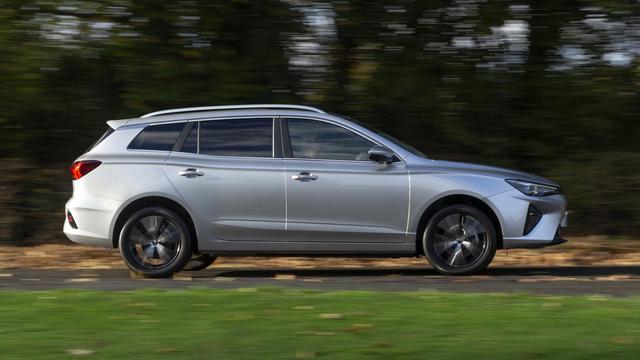 How comfortable is the MG MG5
For all the supposed 'lifestyle' appeal of SUVs the raised ride height isn't always the most practical, especially for getting your dog in and out of the back in a muddy car park. Little wonder the MG5's more conventional estate format earned it Best Car For Dog Owners in the 2022 Auto Trader New Car Awards, the lower boot sill making it easier for four-legged friends to jump in and out unaided or you to load and unload your stuff. Where SUVs often have stiff suspension to stop them rolling about in the corners the MG5's lower stance also means it can instead run softer springs for a more comfortable ride and, while it can wallow a bit through the corners as a result, we'll take that as a fair swap for the isolation from lumps and bumps. There's also ground clearance for it to comfortably tackle bumpy car parks out in the sticks, which again will score well with dog owners and other outdoorsy types. It's not all good news and from the tall driver's seat we struggled to find a comfortable position, despite power adjustment for the seats and a steering wheel you can tweak for both height and reach – even with the latter it always felt too far away for us. It's also quite tight between the driver's door and the centre console, meaning it could be something of a squeeze for the fuller figured. Truth be told, it's details like this where the MG's foundations feel their age and spending a bit more on the Soul, Leaf or other big-name alternative might seem worthwhile.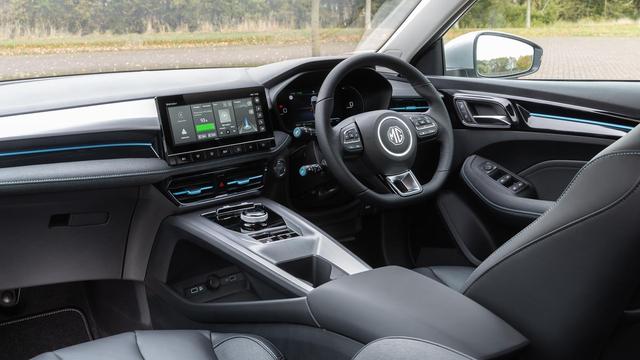 Features of the MG MG5
Key upgrades for this freshened-up MG5 include a new interior, with a digital instrument cluster, bigger central screen and resculpted centre console opened up to release more space to stash your bits and bobs. It looks a lot more modern inside than the previous car, and quality seems to have taken a bit of a step up as well. As has the tech, with app support so you can now manage charging and other functions remotely from your phone. The in-car system's new operating system is shared with the MG4 and looks a lot fresher than before, though the graphics are a little bit fiddly to use on the move. There are, at least, still some physical buttons for basic operations that you can operate without having to take your eyes off the road. With just two trim levels to choose from the higher one with its faux leather, heated front seats, keyless start and privacy glass is probably the one to go for, new tech for this updated MG5 including a 'vehicle to load' system where you can use your car as a mobile power bank with a mains socket for powering garden appliances, charging e-bikes or even plugging in a fridge on a glamping trip.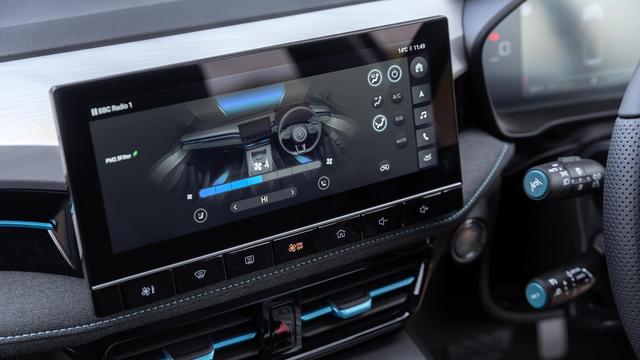 Power for a MG MG5
There's now just the one battery option for the MG5, this being the bigger one with range of 250 miles on the standard model or a bit less with the 17-inch alloy wheels of the Trophy version. Experience shows it makes very efficient use of the power it has, which suggests MG's electric tech is more sophisticated than the rather old-fashioned looks suggest. To put that into context, in our hands the MG5 would go about a quarter further for each kWh you put into the battery than the likes of a VW ID.3, proving the MG literally makes your money go further. It's also surprisingly fast, with an impressive turn of pace when you need it and ability to catch hot hatch drivers napping if you fancy it. Which is fun, given the otherwise unassuming appearance.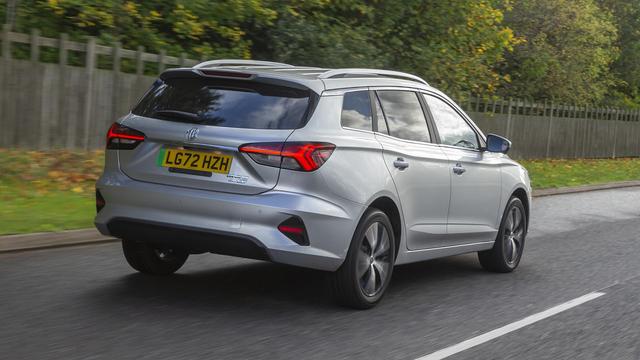 Lease deals
These deals are based on terms of 8,000 miles, for a 36 month lease with a 6 months initial payment.
Standard equipment
Expect the following equipment on your MG MG5 Estate. This may vary between trim levels.
Related articles and reviews
MG MG5 (2022 - ) review
Winner of our Best Car for Dog Owners 2022, the updated MG5 adds sharper looks and improved tech to its already appealing offering