Maserati Ghibli
New from £57,155
Is the Maserati Ghibli Saloon a good car?
Read our expert review

Words by: Phill Tromans
"The Ghibli offers an Italian alternative to the popular German premium saloons, albeit at a higher price. It struggles to match those rivals for quality and doesn't drive as well either, but the engines are strong, the badge is a proper luxury draw and its exotic looks really make it pop."
Read the review by category
How good does it look?
This particular Ghibli, from 2017 onwards, is a facelifted version of the car first introduced in 2013, which makes it older than virtually all its rivals. It's had a subtle exterior makeover but retains its signature swooping lines that make it stand out from its German opposition. Three versions of the Ghibli available. The standard car rides on 18-inch wheels and has bi-xenon headlights, while the Granlusso adds 19-inch wheels, chrome inserts on the bumper, side skirts and full LED headlights. The Grandsport model adds a sportier design of bumper and clever matrix headlights that can maintain full beam without dazzling oncoming traffic, as well as 20-inch wheels and red brake calipers.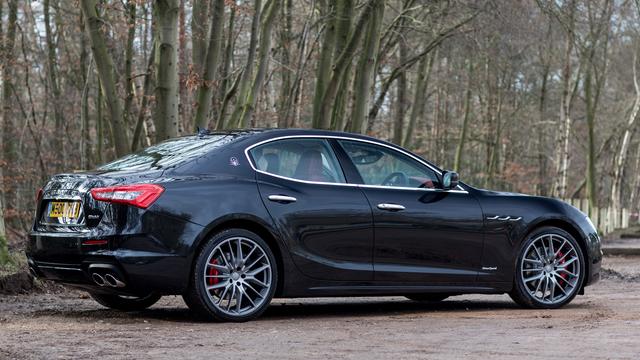 What's the interior like?
Maserati has thrown quite a bit of luxury at the Ghibli's interior, although it feels a little like they've dressed up something that isn't quite as well-made as rivals such as Audi. Some of the plastics lack that premium edge of quality, but they're made up for with – depending on which version you go for and what options boxes you tick – some very nice upholstery and wood or carbon-fibre trim. GranSport models also get some nice hefty gearshift paddles behind the steering wheel. All cars get an infotainment system with an 8.4-inch touchscreen that has Apple CarPlay and Android Auto. It's operated with a rotary dial between the front seats that's fairly easy to use, if not quite as slick as the system that BMW uses. There's plenty of adjustment in the seat and steering column to find your preferred position.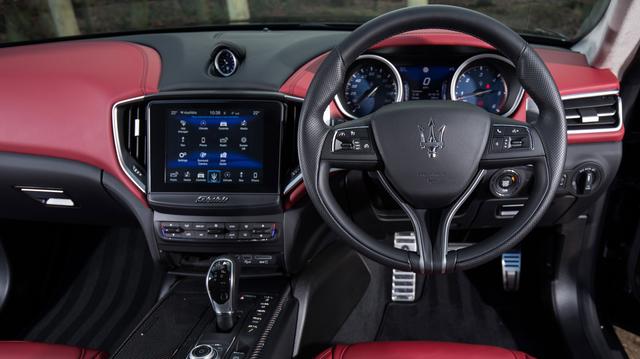 How practical is it?
Up front in the Ghibli is a nice place to be, with plenty of space for even tall adults. It's not such good news in the back though, as those swooping lines in the car's silhouette mean headspace is pretty limited. The middle back seat is pretty small too, although the back does fold down to reveal a storage space and two cupholders. There are a couple of cupholders and cubby holes in the front to make it practical for everyday journeys. The boot, at 500 litres, isn't exactly small, but it's less roomy than an Audi A6, BMW 5 Series or Mercedes-Benz E-Class. While the back seats will fold down for extra space, they don't go completely flat.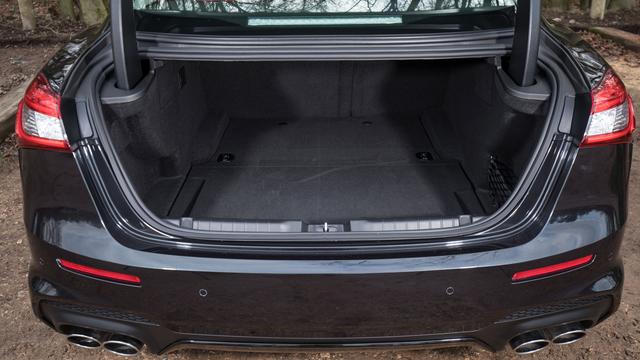 What's it like to drive?
Taken on its own merits, the Ghibli is reasonably decent to drive, with nice, meaty steering and an athletic feel. But its problem is that its rivals deliver a more rounded experience. Maserati's adaptive damping system, called Skyhook, is available as an option but is standard on the GranSport model, which is the one we tried. That means you can adjust the stiffness of the suspension depending on whether you want more focus on sportiness or comfort. But there's a bit more bobbling from the suspension than you'd want, and it feels rather jittery even when you're not in Sport mode. It lacks the agility of BMW's 5 Series, and that's not helped by the fact that it's considerably heavier than its rivals. It also lacks the comfort of the Audi or the Mercedes. If you're sold by the looks and the badge then you're unlikely to be too upset at the driving experience, but there are better alternatives out there if it's important to you.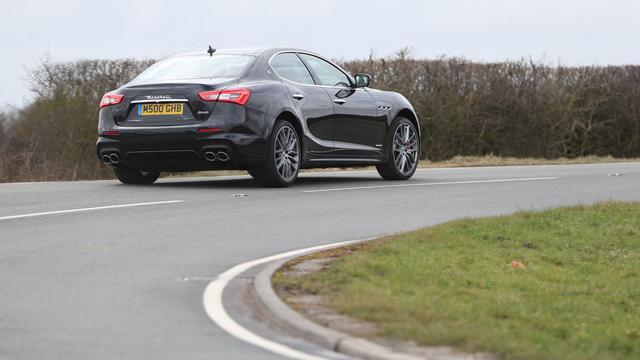 How powerful is it?
The Ghibli comes with a choice of petrol engines, or a diesel, all of which are towards the more powerful end of the market when compared to rivals. The entry-level petrol is a 350-horsepower, twin-turbo 3.0-litre V6, while the S models have 430 horsepower. Fans of pub-based car boasts will want to note that the petrol engine was built by Ferrari. Even the diesel has 275 horsepower from its 3.0-litre V6, which means that you won't be short of grunt, whatever version you go for. However, if you're after something more frugal – something that rivals also offer – then you're out of luck. We've tried the diesel model, which will likely be the choice of those doing long motorway miles, and while it can be a bit noisy at lower speeds, it's got plenty of low-down and mid-range grunt to make progress seem effortless. The eight-speed gearbox is good too, with quick and seamless changes of cogs.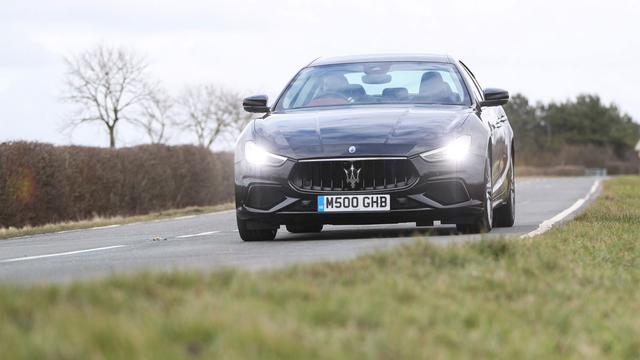 How much will it cost me?
There's no getting away from the fact that the Ghibli is expensive compared to its rivals, even when you go like-for-like when it comes to engine power. The equivalent E-Class, A6 and 5 Series are all several thousand pounds cheaper to buy, and will get better fuel economy and CO2 emissions too. They'll also be cheaper to service, maintain and repair, and less expensive to insure. In addition, they'll cost less in depreciation over several years. In short, you'll buy the Ghibli because you like it, and you want one, rather than for any financial reasons.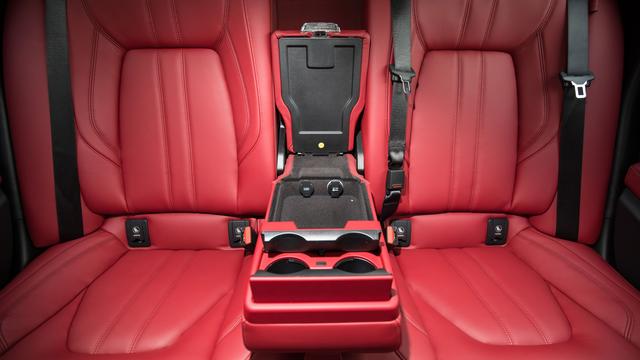 How reliable is it?
Getting an accurate steer on Maserati's reliability is tricky, because they sell in relatively small numbers and so aren't usually listed on industry studies. But what data we have doesn't paint a rosy picture. The company ranks last of all the manufacturers in Warranty Direct's Reliability Index, and by some margin. The owner reviews on Auto Trader also highlight reliability as an issue.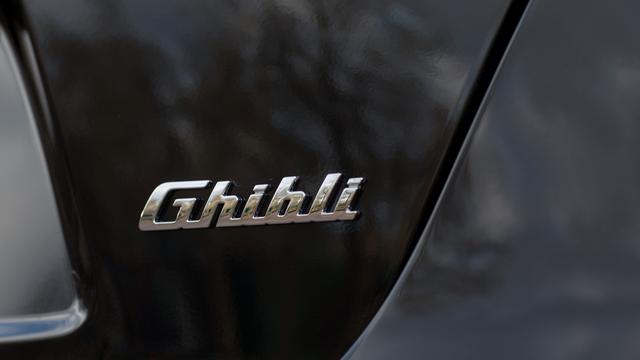 How safe is it?
The Ghibli received the maximum five stars in crash tests by safety organisation Euro NCAP, although that was back in 2013 and standards have moved on since then. All cars have Isofix child seat mounting points on the outer rear seats, and front, side and head airbags, as well as a driver's knee airbag. Modern features like automatic emergency braking are available, but only as an option, which is a shame. You can also specify, as part of the Driver Assistance Package, a blind spot warning system and adaptive cruise control, but it isn't cheap.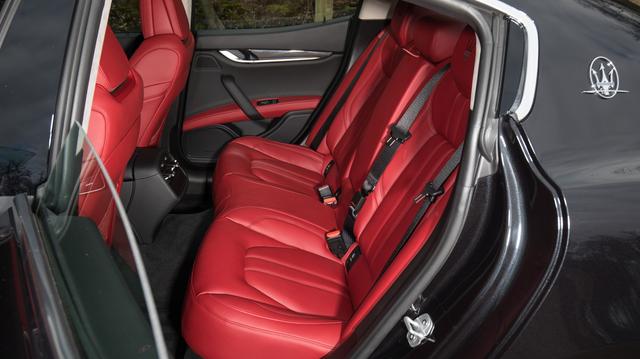 How much equipment do I get?
All Ghiblis come with an infotainment system that gives you DAB radio, Apple Carplay and Android Auto for smartphone integration. You also get leather seats and dual-zone air-conditioning. Upgrade from the base model to the luxury-focused Granlusso and you'll get a swankier interior adorned with Ermenegildo Zegna Silk, while the sportier Gransport gives you sports seats and a different steering wheel with gearshift paddles. Options include the Premium Package, which features an electric bootlid and keyless entry, and the Cold Weather package that adds heated seats, heated windscreen washer jets and an electric sunshade for the back window. Nice to have if you live in a chilly part of the country, but it's very expensive. There are two Driver Assistance packages that are worth considering if you want features like adaptive cruise control and traffic sign recognition.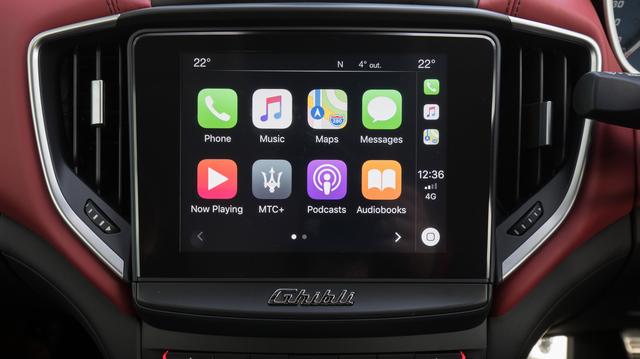 Why buy?
The Ghibli offers a left-field alternative to the established German premium and luxury brands, and brings Italian styling and presence to a relatively conservative section of the market. If you like to stand out, and you're sold by the looks and the prospect of a Ferrari engine under the bonnet, then the Ghibli could be for you.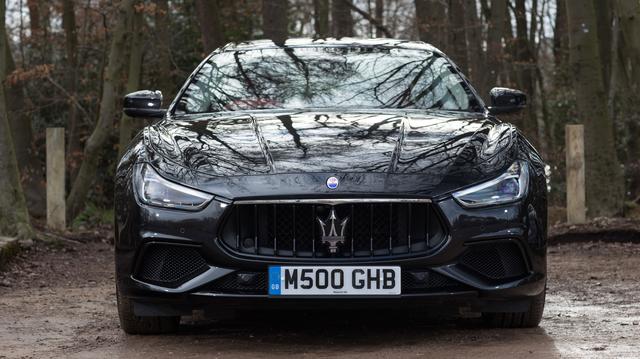 Standard equipment
Expect the following equipment on your Maserati Ghibli Saloon. This may vary between trim levels.
Related articles and reviews
Maserati Ghibli Saloon (2020 - ) review
The Ghibli is a premium saloon that competes with the likes of the BMW 5 Series, Jaguar XF, Mercedes-Benz E-Class and Audi A6. It's also the most affordable way into Maserati ownership.