Kia EV6
New from £45,245 / £513 p/m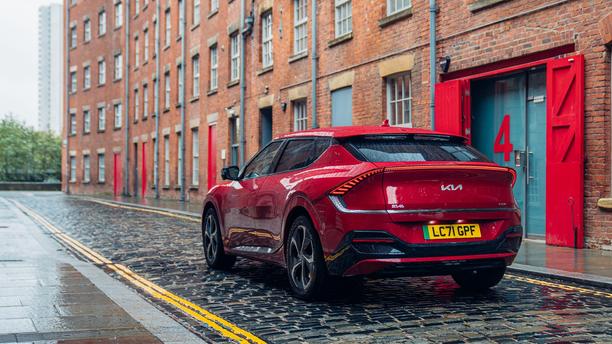 About the Kia EV6
Great electric range

Loads of space

Easy to live with
One of the most desirable electric cars out there. Amazing value for money: tonnes of space for passengers and boot stuff, six drive modes, over 300 miles' range and Kia's seven-year warranty on top of its brilliant reliability record. Decent standard stereo and optional 4x4 drive. Striking looks, and it's bloomin' quick off the line. A toybox of delights, and a genius buy for company-car drivers with the tax break.
How long will it take to charge?
Results based on 77.40kWh Kia EV6 battery
0

For a part charge (up to 0 miles)

0

For an 0% charge 0
You can charge this vehicle in 20 minutes at its fastest charging speed of 350 kW
* We have used data from the manufacturer to estimate these charging times, they are only a guide. Charging times for some speeds may not have been provided.
Is the Kia EV6 Hatchback a good car?
Read our expert review

Words by: Erin Baker
"Could the Kia EV6 be the perfect electric package? Striking looks, generous space, well over 300 miles of range, the option of all-wheel drive and loads of tech ought to put this large car firmly on your shortlist and give you serious pause for thought before ordering that VW ID.4 or Skoda Enyaq."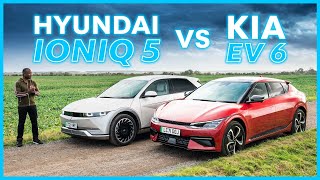 Read the review by category
Running costs for a Kia EV6
It's the same story here that applies to all electric cars - the price is high, starting at £41,000 and rising to about £52,000 but the running cost are low, which means your total cost of ownership soon starts to look very appealing. There are two power outputs to choose from (see Power for the Kia EV6) and three trim levels - Air, GT-Line and GT-Line S. As the Kia EV6 is pure electric, there are fewer things to go wrong, no congestion charge, attractive Benefit In Kind taxation and very low road tax/VED duties to pay. Charge your car home on an off-peak tariff, and you could get a full charge for as little as £4, rising to about £20 during peak hours, which, for a range of 300 miles, is still pretty good. Kia has a partnership with Ionity, a public charging network, and offers a bolt-on tariff at its chargers for £11.25 a month reducing the cost or rapid charging at its points form 70p per kWh to 25p per kWh. If you can charge overnight at home this probably won't be of interest but, if you are reliant on the public network, the monthly subscription will pay for itself in the first charge.
Reliability of a Kia EV6
This is Kia we're talking about. It's already one of the most reliable brands out there, backed up by a seven-year/100,000-mile, transferrable warranty for more peace of mind. You also get 12 months' complimentary roadside assistance, an online service booking system and £250 insurance excess return for one year. There's a five-year paint warranty and servicing is required every 20,000 miles or 24 months. The battery is covered by the same conditions.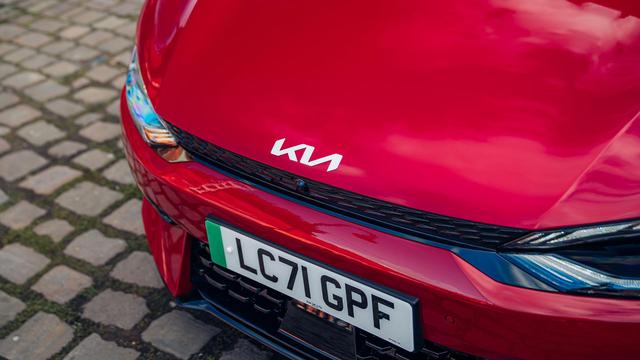 Safety for a Kia EV6
Impressively, a rear parking camera is standard alongside rear parking sensors. Lane Following Assist is standard across the range and keeps the car in the centre of the lane. Happily, for those who find this system intrusive (we do) you can turn it off easily on the touch-screen. There are all sorts of 'assist' functions fitted as standard that are options on other cars – Forward Collision Avoidance Assist, Intelligent Speed Limit Assisst, Multi-Collision Brake Assist and more. They'll all ping and bong at you and get ready to take evasive action. There are lots of airbags and Isofix for both outer seats in the rear.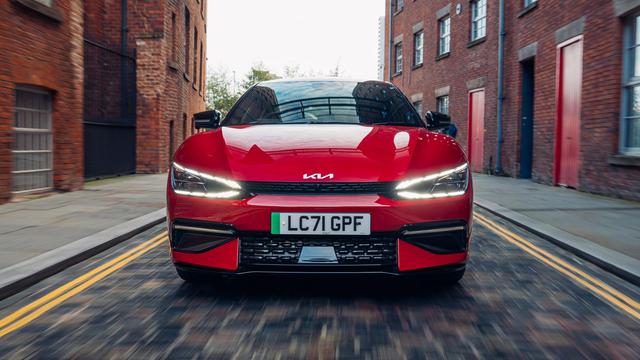 How comfortable is the Kia EV6
The 'vegan leather' is a great idea but can't disguise the slightly naff mish-mash of differing black surfaces - some in plastic, some in the vegan stuff - heading off in different directions, with little LED lines in the dash switching between blue and red depending on which driving mode you're in. It's all a bit 90s, a bit brash and feels somewhat blokey. Loud design aside, the storage options in this large car are brilliant. You get three massive areas to store large items between the two front seats plus a wireless charging phone tray on GT-Line and GT-Line S models. The boot has a false floor you can remove to reveal and extra few inches of depth - we say jettison the false floor when you get it as you'll want to make full use of the space, which is average in the class. There's also a front boot (or 'frunk' in the lingo) under the bonnet, which is far bigger if you opt for the cheaper rear-wheel-drive version.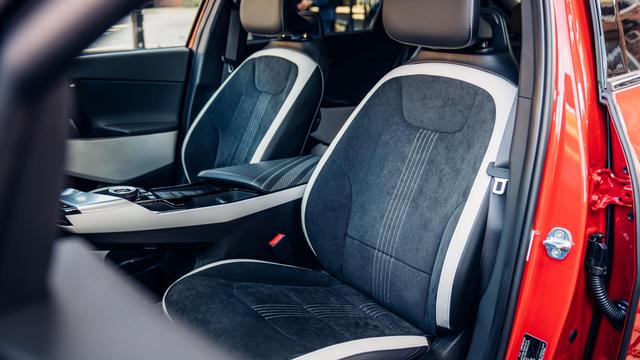 Features of the Kia EV6
A large touch-screen dominates the interior with a huge menu of features to choose from. Standard features from Air trim upwards include smartphone mirroring, sat-nav with the nearest public charging points en route, Bluetooth with voice recognition, USB ports, ambient lighting and steering wheel 'paddle shifts' to control the amount of regenerative braking. Go up the trim levels and you get the options of active cruise control and an augmented reality head-up display that projects turn-by-turn nav instructions on to the view of the road ahead. The cluster in front of the driver shows all the electric information you need such as how much battery is left, how much power you are using (or saving) in each of the three drive modes as well as converting sections of the screen into your side blind spots when you press the indicator stalk down or up. You get six speakers as standard or can upgrade to a 14-speaker Meridian system. A well-being system lets you choose from audio soundtracks including rain falling (made us need a toilet break), a crackling fire, ocean waves and other sounds of nature. Our only negative comment is the design of all the digital graphics on the screens which, despite the car being designed in three global locations, including Frankfurt, still feels very un-European and too clunky. All the information is there, it's just not very pretty.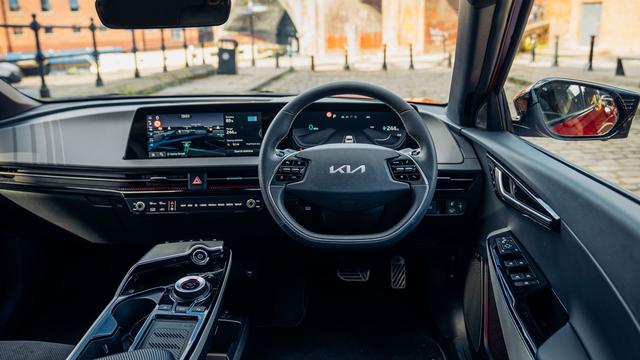 Power for a Kia EV6
Two power outputs are offered with the one 77.4kWh battery, offering the choice of 228 horsepower with rear-wheel drive, or 325 horsepower with all-wheel drive from a dual motor arrangement, even if most of the time it's only using the rear one. If you opt for the latter your maximum range on one charge falls from 328 miles to 314 miles. An EV6 GT boasting 585 horsepower goes on sale at the end of 2022 - you can imagine what that does to the range. The paddles on the steering wheel let you to choose from six levels of regenerative braking, the last of which turns the accelerator into an 'i-Pedal' which essentially allows you to bring the car to a halt without touching the brake. The three driving modes - Eco, Normal and Sport - have astonishingly different driving characteristics. Sport is a lot of fun; switching back to eco to save battery juice makes you feel like you're wading through treacle but will be a blessing for the more anxious EV drivers. The EV6 is set up for 800Vt ultra-fast charging and if you can find an Ionity ultra-fast charger it'll replenish your car's battery to 80 per cent in 18 minutes (for a cost of £13.55, at the time of writing), which is as fast as we've come across. We drove both versions of the EV6 over two days, on motorways and country lanes, and preferred the cheaper rear-wheel drive version with the slightly longer range. Both versions were wonderfully smooth, comfortable and quiet and a brilliant choice for those going electric and looking for a large car.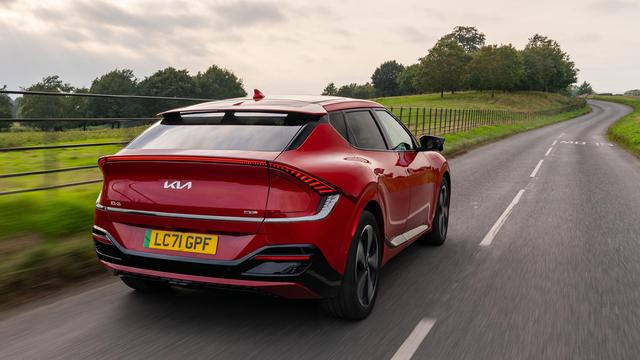 Lease deals
These deals are based on terms of 8,000 miles, for a 36 month lease with a 6 months initial payment.
Standard equipment
Expect the following equipment on your Kia EV6 Hatchback. This may vary between trim levels.
Related articles and reviews
Video: Kia EV6 GT
Rory tries out Kia's supercar-fast EV6 GT to find out if it's more than a one-trick pony
Kia EV6 GT (2022 - ) review
The already impressive Kia EV6 turns up the heat with this high-performance, 585 horsepower, Tesla-chasing EV6 GT