Honda Honda E Hatchback
New from £34,420 / £749 p/m
How long will it take to charge?
Results based on 35.50kWh Honda Honda E battery
0

For a part charge (up to 0 miles)

0

For an 0% charge 0
You can charge this vehicle in 33 minutes at its fastest charging speed of 50 kW
* We have used data from the manufacturer to estimate these charging times, they are only a guide. Charging times for some speeds may not have been provided.
Is the Honda Honda E Hatchback a good car?
Read our expert review

Words by: Erin Baker
"Beauty is in the eye of the beholder but, please, look at this car. How could you not love it? While other brands have tempted electric car buyers with a glimpse of the future, Honda has tugged at heart strings with a vibrant, quirky nod to the Swinging 60s. The small battery means low range but short charging time. Read our long-term review to find out what the Honda E is actually like to live with!"
Read the review by category
Running costs for a Honda Honda E
No 'road tax' for 2020, no congestion charge, no Benefit In Kind tax for fleet users, low insurance, and, Parkers reckons, £1 will get you 24 miles if you're charging at home, which is a darn sight cheaper than fuelling it for 24 miles using petrol or diesel. Go for an electric-car tariff and you could recharge for as little as £3. However, it does cost a lot of money to buy, which is the same tale for all electric cars. Bought outright (and depending on which of the two trims you go for) the Honda E will cost you between £27,000 and £30,000, or about £300-£350 on a monthly finance deal, subject to deposit and terms. But the Honda E won't cost you as much as competitors such as the Peugeot e-208 or Vauxhall Corsa-e, both of which are about £1,000 more. Which is weird because Hondas are normally far more expensive than Peugeots. The answer is probably lies with the Honda's range which, at 137 miles, lags far behind the 200 miles of the other two. Arguably you do get possibly the best looking and most fun electric car out there, so swings and roundabouts. Oh, and handy hint: go for the smaller wheel size. They may not look as good, but you'll squeeze an extra 10 to 12 miles out of every charge.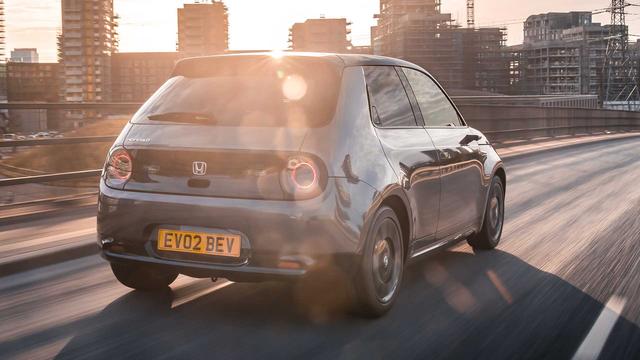 Reliability of a Honda Honda E
Hondas are well known for their excellent engineering and build quality, and thus their longevity. Prices are high, but so are residual values, as a general rule of thumb. The Honda E sits on a new platform, with Honda's first application of this electric technology, plus all the new connectivity software and screens inside, so we'll need to wait and see what problems, if any, arise. You get Honda's standard three-year warranty.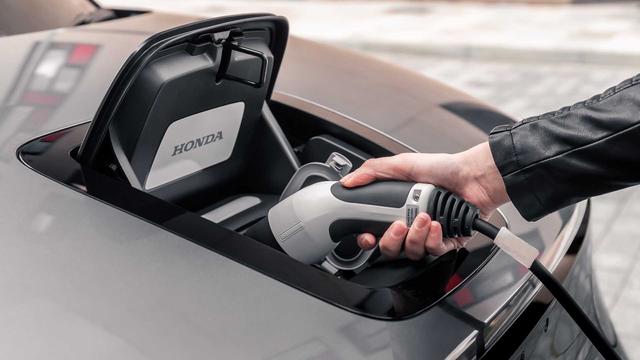 Safety for a Honda Honda E
Honda's fantastic advanced safety package, Honda Sensing, comes as standard on the Honda E. You get adaptive cruise control, collision mitigation which senses when you might collide with a car, cyclist or pedestrian and applies the brakes (now improved to cope with night-time conditions), lane-keep assistance, road-departure mitigation to stop you straying off the side of the road if tired, traffic-sign recognition and intelligent speed limiter which holds the speed of the car to below that stated on road signs. In addition, the Honda E comes with cameras instead of wing mirrors, as standard. The camera image is relayed on screens inside the car, at either end of the dashboard. The images are crystal clear, can have their angles adjusted like ordinary mirrors, and provide a better view in the dark than traditional mirrors.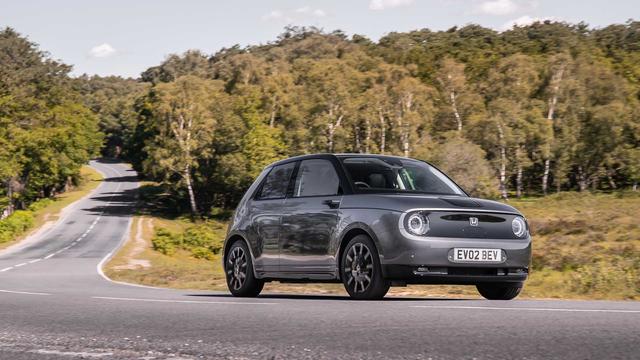 How comfortable is the Honda Honda E
Impressive for such a small car. Make no mistake, the e is not Ford Fiesta or VW Polo size but, rather, more like a Fiat 500, Toyota Aygo or similar. It still feels very light and airy, the horizontal design of the dash and screens accentuating the sense of width and space. Thanks to the flat floor, you can step around the central transmission housing, or put a bag there, and there are lovely grey fabric pouches for storing purses, keys, wallets or magazines. You get USB charging points and an entire three-pin plug socket up front, and there's a pull-out cupholder. The rear seat is a simple bench but swathed in the same grey cloth used on the doors, and leg space in the rear will be fine for most adults on the short hops the Honda E is capable of on one charge. The boot is big enough only for a few bags, but we'd rather have that rear leg space anyway.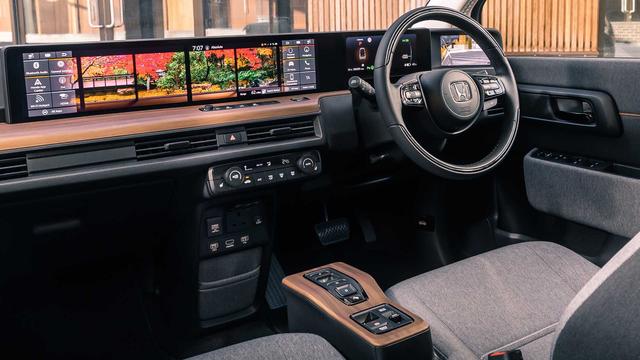 Features of the Honda Honda E
If the Honda E looks appealing from the outside, wait until you sit in it. A bank of large screens flows the width of the windscreen and houses myriad functions, apps and activities. Bookending it on either side are the screens for the 'mirrors'. You can look at information about the state of battery charge and how to preserve it, switch to sat-nav, DAB, Apple CarPlay, flick between apps, or turn the whole bank into a moving digital aquarium of tropical fish, swimming among the waving coral. You can also activate the OK Honda app, with its childish crayon smiley face, and ask it what the weather will be like, or to recommend a nearby sushi restaurant, perhaps. The My Honda app for your phone can link to the car to tell you what charge you've got left and plan the range of your journey, and whether you'll need to recharge. You can press a button to switch the displays of the two main screens over if you want to take a closer look at something, and you can choose different wallpapers for the resting image for the system. You can also control a lot of the functions from the buttons mounted on the pleasingly large, retro steering wheel. There's also a wifi hotspot and digital key option. Beneath the screens is a span of open-grain, natural wood running the width of the car. The same has been used for the trim surrounding the gear selector buttons, the brown seatbelts complementing the wood for a restful, natural and inviting ambience.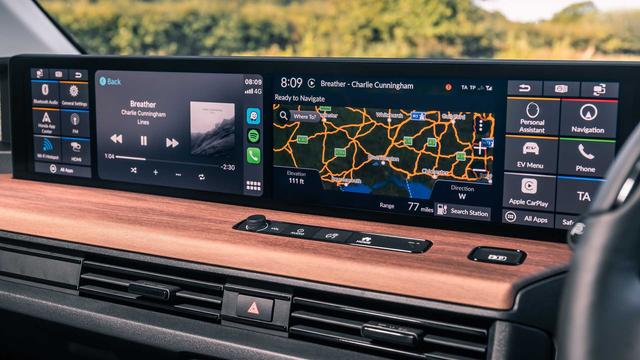 Power for a Honda Honda E
There are two options: the standard Honda E, with 136 horsepower, and the Honda E Advance, which costs a couple of grand more and has 154 horsepower and hits 0-62mph in 8.3 seconds. The former is good for a maximum 137 miles, the latter with 17-inch wheels slicing that to just 125 miles. That range puts it on a par with the Mini Electric and far short of the Renault Zoe, Peugeot e-208 or Nissan Leaf, all of which comfortably top 200 miles. However, they all take about seven hours to charge on a domestic wallbox, whereas the Honda takes just four hours, or 30 minutes at a public rapid charging point. In no way, then, is the Honda E any use as the sole car for a household, unless you are a city dweller who never ventures beyond the city limits, or is prepared to wait at least 30 minutes to recharge each time. Such limited range means most critics have deducted points, but show us many households where the electric car is the only car. Even 200 miles is not enough to convince most people they don't need a petrol or diesel back-up plan. In which case, if your electric car is going to be your second car, we say this is a fine choice. And one made even finer, may we add, by the incredible, taxi-esque turning circle. You also get normal and sport driving modes, and can switch to one-pedal driving, where easing off the throttle acts as braking and conserves the energy. Unlike most other EVs, you can then modulate the severity of the one-pedal effect from mild retardation, to a complete stop without touching the brakes. We also like the unapologetic celebration of the charging point on the car - Honda has made a feature of it, sticking the black plastic lid and housing right in the middle of the bonnet. This car feels like the first overt, joyous celebration of electric driving. It's not trying to be smart, impressive, enviable or futuristic. It's trying to be fun, to which we tip our collective Auto Trader hat.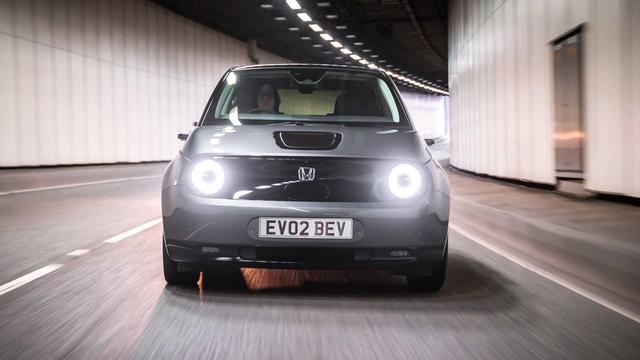 Lease deals
These deals are based on terms of 8,000 miles, for a 36 month lease with a 6 months initial payment.
Standard equipment
Expect the following equipment on your Honda Honda E Hatchback. This may vary between trim levels.
Related articles and reviews