Audi RSQ8
New from £109,800 / £2,076 p/m
Is the Audi RSQ8 SUV a good car?
Read our expert review

Words by: Dan Trent
"The Audi RS Q8 is a technical tour-de-force packed with an incredible array of technology. This complements the unapologetically aggressive styling and awesome power of its muscular turbocharged V8 engine. Comparisons with luxury SUV equivalents from Porsche, Bentley and Lamborghini sharing the same platform are not entirely favourable though and, despite token claims to the contrary, it's unashamedly excess all areas."
Read the review by category
Running costs for a Audi RSQ8
No bones about it, though it's competitive by the standards of super-SUVs the Audi RS Q8 is a hugely expensive car to buy and will be similarly excessive when it comes to keeping it on the road. But, for a certain type of buyer, the very public statement it makes to that effect is exactly the point. The fact it's a heavy SUV powered by a large petrol engine tells you all you need to know about fuel consumption and emissions, and the implications for running costs and taxation given it sits in the worst possible band for CO2. Audi fights back with technology that cuts power to half the cylinders under part load, a 'mild hybrid' system to claw back electrical energy and the ability to coast with the engine off for up to 40 seconds in motorway traffic. The stop-start system is also very smart, only turning the engine back on when cameras detect the car in front has pulled away. Don't be fooled though – the RS Q8 is all about excess. The huge tyres on the optional 23-inch wheels are just one example of where parts will cost a fortune in comparison with regular cars, and the engine has considerable thirst. While residual values aren't at all bad, the projected figures for the RS Q8 lag behind equivalents like the Range Rover Sport SVR and Porsche Cayenne, with likely knock-on for comparative finance and lease deals.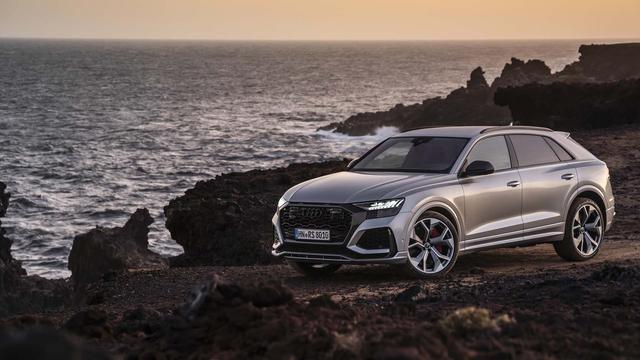 Reliability of a Audi RSQ8
If you're buying an RS Q8 new you're of course covered by Audi's standard manufacturer's warranty, which lasts for three years and 60,000 miles. For a cost this can be extended to four or five years and is transferable should you sell the car in this time – given its position in the range the RS Q8 will be at the costlier end of the spectrum here. It's also worth bearing in mind the weight and performance will take their toll on expensive consumable items like tyres and brakes that aren't covered by any warranty. Like many luxury rivals, Audi also scores disappointingly on the JD Power Vehicle Dependability Study, lagging behind rivals like Mercedes-Benz and Land Rover and only three places off the very bottom of the rankings. The Q8's predecessor model, the first generation Q7, rates poorly on the Warranty Direct Reliability Index in the Large SUV category, partly due to its high average repair costs. It'll be some years before the Q8 range appears on this study but, generally, it indicates Audis are expensive cars to maintain, especially premium SUV models like this.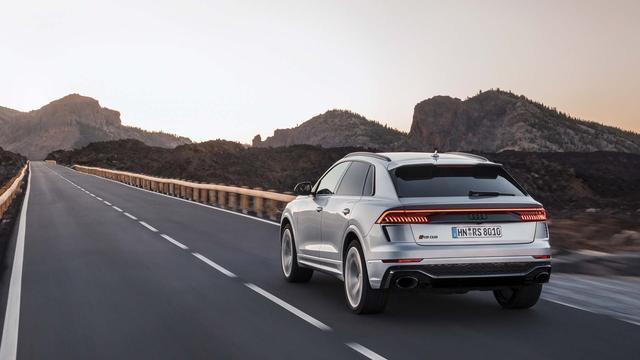 Safety for a Audi RSQ8
SUVs are popular for the sense of safety you get from being in a big, burly car and the RS Q8 certainly delivers here. As a technology showcase and enthusiastic pioneer for the latest gizmos, Audi has gone to town with all the latest driver assistance kit too, the RS Q8 packing a formidable array of safety features as standard. These include sensors to detect traffic when reversing out of parking spaces, automated emergency braking, sensors in all directions to sense hazards around the car, lane-keeping assistance, active cruise control to keep a fixed distance to the car in front and more besides.
How comfortable is the Audi RSQ8
The RS Q8 is a luxurious car and suitably appointed with quilted leather upholstery and top-quality fixtures and fittings, while pricier Carbon Black and Vorsprung variants gain luxurious suede headlining among their additional features. These models also get the RS design package as standard, including contrast stitching and various other expensive-looking adornments. This is a large car too and rear-seat passengers have plenty of legroom with space across the rear bench for three. There are three top-tether child seat mounts in the rear too, though only the outer two have full ISOFIX mounts and headroom in the centre position is restricted by the low roofline. In terms of ride quality Audi openly has prioritised performance and lap times on race tracks ahead of comfort. The effects of this are felt no matter which of the multitudinous driving modes or settings for the air suspension you may be using: the fundamental issues of controlling the weight of the vehicle in corners and need to use huge wheels and tyres mean a harsh ride, even on relatively smooth roads. The steering meanwhile feels disconcertingly light at high speeds but unpleasantly heavy when manoeuvring at low ones and even the impressively large brakes feel strained against the weight and performance. Features like active roll control prevent the wallow in corners top-heavy SUVs typically suffer from. But this comes at the cost of considerable harshness, the low-profile tyres and stiff suspension crashing over bumps, noisy on rougher surfaces and unpleasantly fidgety at speed. It is, however, an effective means of getting a big, heavy SUV round corners quickly.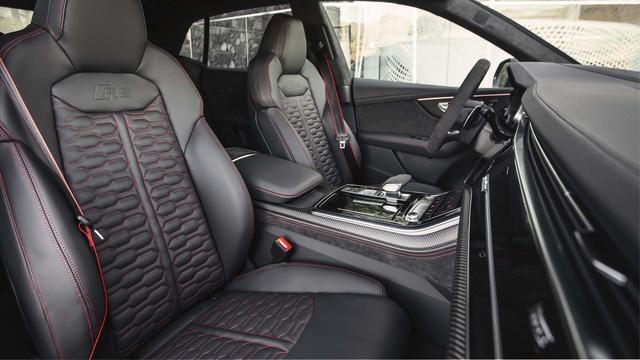 Features of the Audi RSQ8
Audi is celebrated for its interior quality and design and, as a flagship model, the RS Q8 is the embodiment of these brand values. Everything looks and feels suitably high-tech and premium, from the adaptive 'virtual cockpit' instruments to the massive, integrated central touchscreen with its huge array of features and configurability. The 'hidden' switchgear is cleverly incorporated into the surfaces for a seamless and futuristic look and it all hangs together beautifully. Tech fans are going to love this car and find endless distraction among its gizmos, these including fully connected navigation with various smart features to guide you round jams, a Wi-Fi hotspot meaning passengers can stay online with their personal handheld devices too.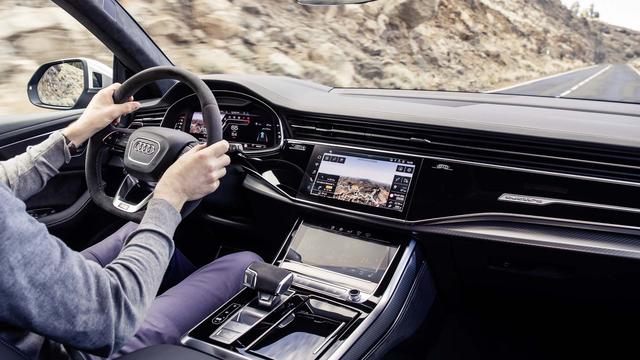 Power for a Audi RSQ8
RS is Audi's premier performance sub-brand and any car carrying the badge requires a suitably impressive engine at its heart. The turbocharged petrol V8 in the RS Q8 is certainly that, boasting an incredible 600 horsepower and offering a muscular power delivery living up to the imposing looks of the car. It's paired with a slick-shifting automatic gearbox and a sophisticated four-wheel drive system that can actively distribute the power to whichever wheel is best placed to use it, meaning you can safely deploy the performance whatever road conditions you may encounter. Suffice to say, this gives the drive immense confidence and a huge sense of security, not to mention the thrill of a stirring soundtrack from the prominent exhausts. This, not fuel economy, will be the main attraction for RS customers – if you want a more efficient version you need to look at the regular Q8 range and the wider engine choices (diesels included) therein.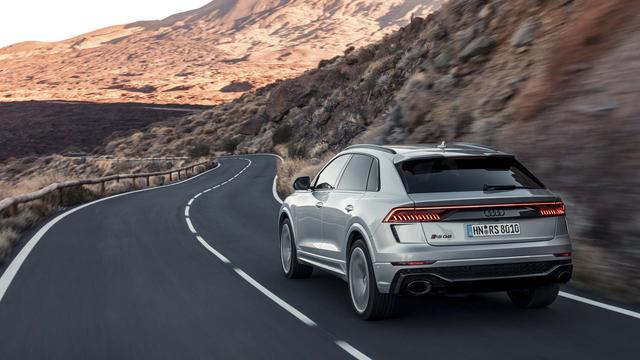 Lease deals
These deals are based on terms of 8,000 miles, for a 36 month lease with a 6 months initial payment.
£12,455.70
Initial payment
Standard equipment
Expect the following equipment on your Audi RSQ8 SUV. This may vary between trim levels.
Other vehicles in the RSQ8 family
Related articles and reviews