Aston Martin DB11 Convertible
New from £162,955
Is the Aston Martin DB11 Convertible a good car?
Read our expert review

Words by: Erin Baker
"The DB11 Coupe marked a step change for Aston Martin when it was launched in 2015: new looks, new engine, new bodywork, new chassis. The Volante - or convertible - version of the DB11,builds on that success with fantastic looks and Aston's brilliant V8 engine driving the rear wheels."
Read the review by category
How good does it look?
Luxury convertible sports cars don't really get any more handsome than this, from the outside at least. The smart fabric roof delivers a great compromise between being thick enough for effective sound-deadening, and thin enough to fold into a shallow space behind the seats. It folds down in just 14 seconds, and it happens almost silently. The rear windscreen sits flush with the roof and the seams are hidden, which shows impressive attention-to-detail. The champagne-like colour in our pictures is known as "pearl blonde", which already make it sound like a James Bond character.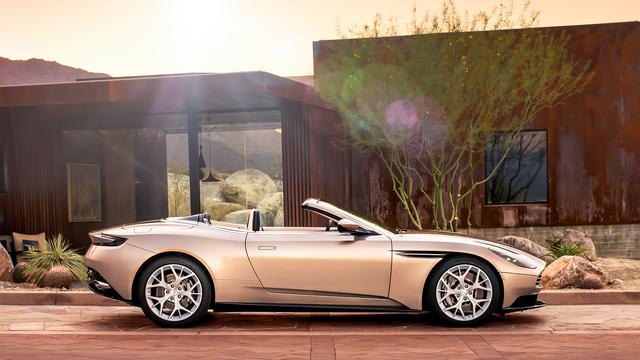 What's the interior like?
Not good at all. Like the coupe version of the DB11, while the outside is perfectly judged in its sobriety and simplicity, the inside is a mess of clashing fabrics, patterns and shapes, along with cheap-feeling plastic air vents and a few other below-par materials. You can't see anything out of the back really, and the seat controls aren't very intuitive, either, but the sat-nav, touch-screen controls and various other switches come from Mercedes, and that's no bad thing.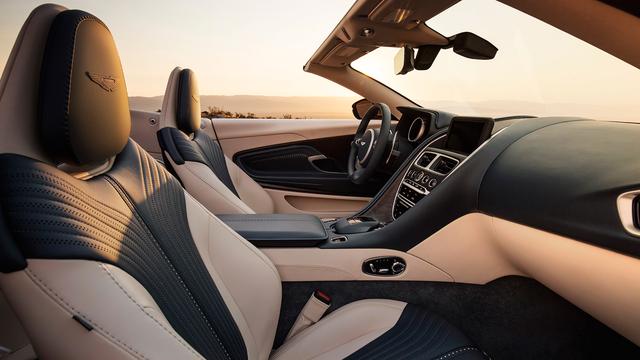 How practical is it?
Boot space isn't bad for a grand-touring convertible because when the roof is up, you can push the boot divider out of the way to make enough room for four flight bags or two golf bags. One noticeable change over previous open-top Astons is the addition for the first time ever of Isofix child seat mountings in the two rear seats, which are just big enough for a couple of seven year olds, or younger ones in baby seats. Don't try sticking adults back there, though, because they really won't thank you. Up front, meanwhile, there's plenty of space for two six-foot adults on cross-continental tours, important in a grand tourer like this.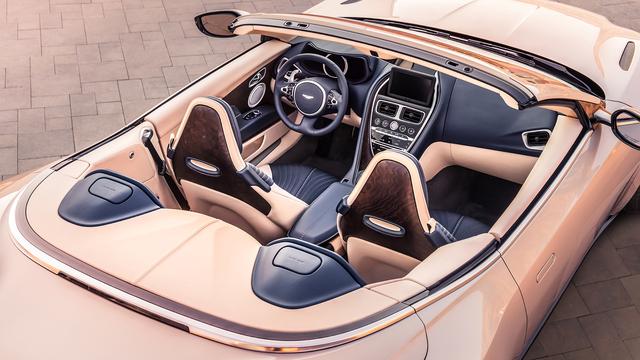 What's it like to drive?
It used to be that lopping the top off a car made it very wobbly and noisy, but that's no longer always the case, and it certainly isn't here. Thanks to a bit of extra strengthening where you can't see it, the Volante is as stiff as a ruler and sharp as a pin to drive. The steering is so precise that this is not an intimidating car to position on the road, and the brakes are fantastic. The steering gets a bit heavy in Sport mode, but that's our only complaint. With the roof up, the cabin is almost as quiet as the coupe's, and with it down, the wind deflector leaves the driver utterly unruffled.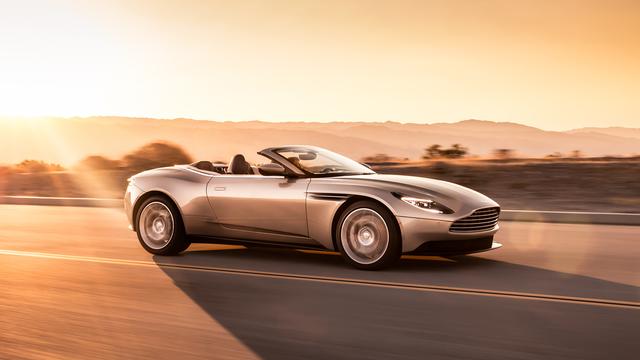 How powerful is it?
Plenty, thanks very much, especially if you fancy holding onto your licence. Overtaking is done with the merest flex of your right ankle thanks to Aston's spectacular 510 horsepower 4.0-litre, twin-turbo V8 petrol engine. It sounds fabulous, too. In normal "GT" mode, the engine burbles and hammers away, and when you put it into Sport or Sport Plus, it pops and barks to let everyone know you're around. With everything set to maximum attack mode, it'll take you from 0-62mph in 4.2 seconds, which only a complete nutcase would complain wasn't fast enough. And don't forget, this is a grand tourer, not a supercar, so performance should be a measured in terms of comfort as well as outright power. On that score, Aston has delivered pretty much the quintessential British GT, with its occupants stirred but not shaken (sorry, there had to be a Bond reference somewhere).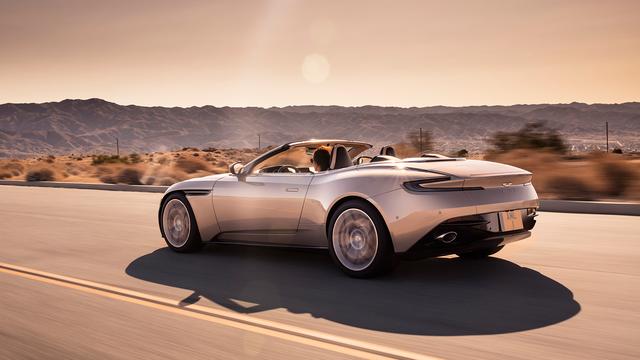 How much will it cost me?
Ah. Quite a bit. In fact, the Volante costs several thousand pounds more than its coupe sibling – we've talking five figures here – and that's pretty steep. You'll be getting about 20mpg from it if you're lucky (the official average figure is 28.5mpg, but really, who drives a car like this like a saint?) and it emits CO2 at a rate of 230g/km, which means taxing it will cost you plenty. Still, if you're spending so much on a car, then steep running costs probably don't concern you a great deal.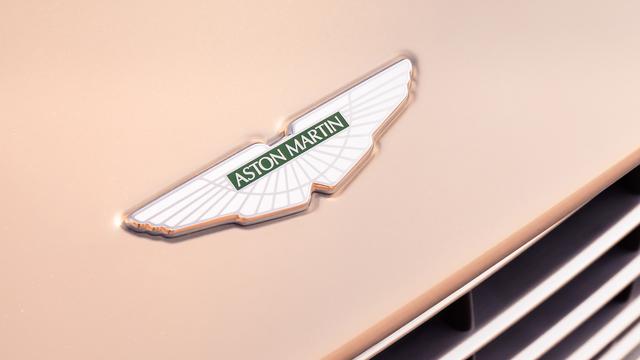 How reliable is it?
You get a three-year/unlimited-mileage warranty and a five-year/50,000-mile servicing plan, which is pretty good going, but the more extended care the better, in our opinion. While Astons don't feature in most reliability surveys (because the company produces cars in such low volumes), we haven't heard as many horror stories of electrical problems as we have about some rival manufacturers. Many will feel that cars like this are thoroughbreds, and so will be prone to hissy fits, but we reckon Astons will be prone to fewer than most.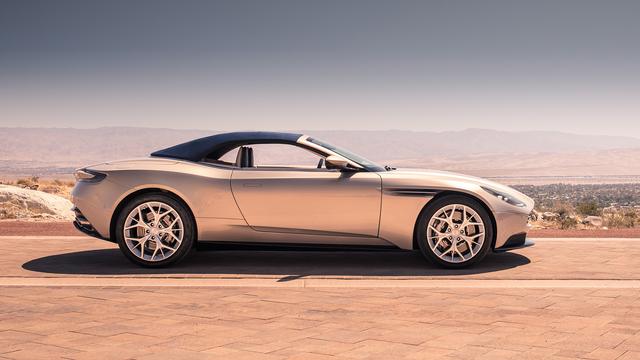 How safe is it?
Don't go expecting to see the DB11 feature on any list of Euro NCAP crash test results any time soon. That said, you do get a decent amount of safety kit provided, including a whole host of airbags and even more electronic driving aids to help keep the car going in the right direction. You don't get autonomous emergency braking, though, which in a car this expensive, is a bit of an oversight.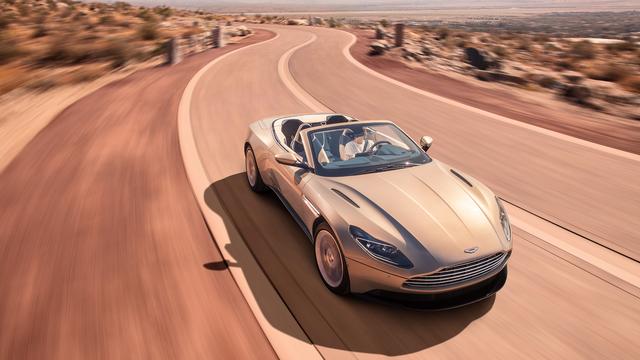 How much equipment do I get?
Swathes of leather, keyless entry and heated seats are provided as standard, along with Bluetooth, sat-nav, DAB radio, a 360-degree parking cameras and an 8.0-inch touch-screen infotainment system. As an option, you can also add a heated steering wheel which, in a convertible on a frosty morning, will prove worth its weight in gold. Other options include a Bang and Olufsen stereo upgrade, a garage door opener, embossed and embroidered headrests, automatic parking, umbrellas, and whole host of other stuff.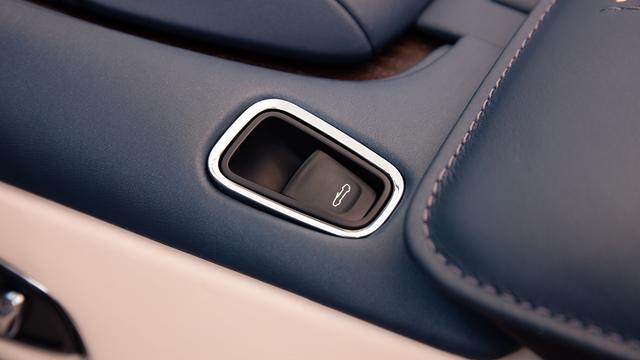 Why buy?
Because it's beautiful, and sexy and glamorous. Let's be honest: there is not much of a practical reason to have one, but that's not the point of a car like this. You buy it because you want it, not because you need it. The DB11 Volante epitomises the joy of driving, and it's British to its very core. And hurrah for that.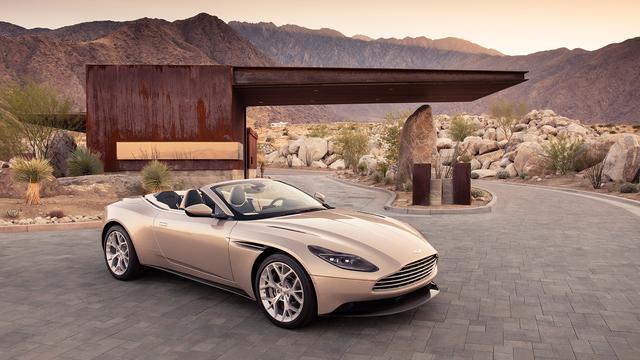 Standard equipment
Expect the following equipment on your Aston Martin DB11 Convertible. This may vary between trim levels.
Other vehicles in the DB11 family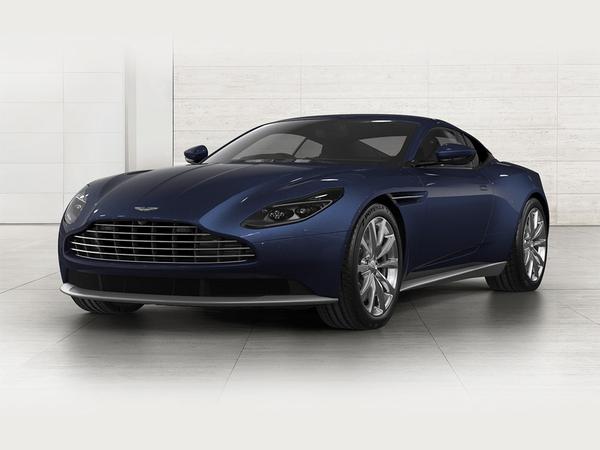 Related articles and reviews