News
Mercedes unveils X-Class luxury pick-up truck
Mercedes has revealed its rival to the Volkswagen Amarok, one of the only up-market pick-ups on the market.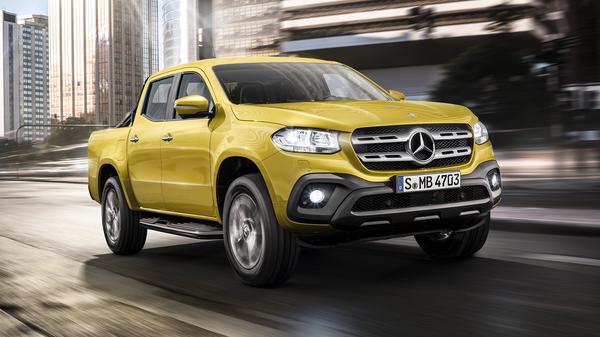 Available to order from November 2017
Should cost from around £33,000
Billed as the first pick-up from a prestige manufacturer
Mercedes has unveiled its new X-Class luxury pick-up truck.
Based on the Nissan Navara, but taking the quality level up a notch, the new X-Class is being billed as the first pick-up from a prestige manufacturer. It will rival the likes of the Volkswagen Amarok. From the front, the X-Class looks like a Mercedes SUV. It's got the company's familiar grille, a bulging bonnet and headlights that stretch back into the wings, as well as flared wheel-arches. Once the vehicle goes on sale, buyers will be able to add on various options, including a styling bar, side bar, canopy, various covers, and several items aimed at improving its cargo-carrying and off-road ability. There will also be a choice of nine exterior colours, and 17-, 18-, or 19-inch wheels to choose from. Three different versions of the X-Class will be available, and the most basic model, 'Pure', is intended as a classic workhorse. The 'Progressive' model adds extra quality and comfort, while top-of-the-range 'Power' is aimed buyers who want a high-end vehicle for urban lifestyles. The X-Class can haul a payload of up to 1.1 tonnes (equivalent to 17 full 50-litre barrels of beer in the cargo area), and can tow up to 3.5 tonnes. It can also pull a trailer containing three horses, or an eight-metre yacht, depending on your lifestyle choices! The wheelbase of the new X-Class is 3150mm, with a load bed length of 1587mm, width of 1560mm, and height of 474mm. To help load and unload the cargo area, the bumper has an integral step; and, if the 90-degree tailgate opening isn't adequate, the X-Class can be ordered without a rear bumper, allowing the tailgate to open through 180 degrees. The X-Class also has lighting in the cargo area as standard, thanks to the third brake light having LED lights which illuminate the whole load bed.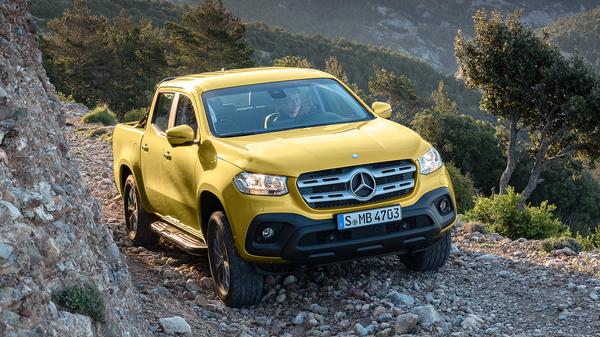 Interior
Inside, things are very, well, Mercedes C-Class. Progressive and Power trims come with an 8.4-inch screen, which can be controlled using buttons on the steering wheel. There's also a touchpad in the centre console, which lets you control the infotainment system by using gestures or by drawing letters and characters on it.
The X-Class is available with three trim parts for the cockpit, six seat covers including two leather variants with contrasting topstitching, and two colour options for the roof lining. The top 'Power' model also comes with electrically adjustable seats and two-way lumbar support; and, drivers can connect to their X-Class via a smartphone, which lets them get information including the location of the vehicle and the fuel level, or navigate from door-to-door.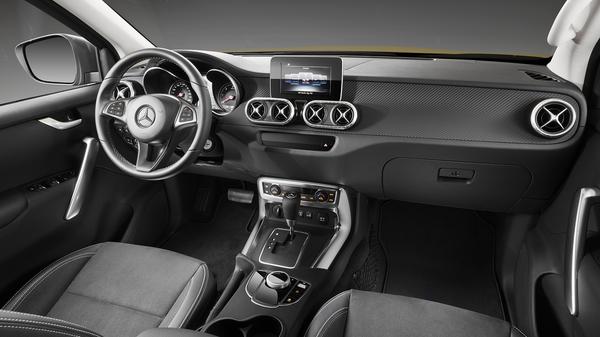 Engines and tech
Mercedes hasn't confirmed exactly which models will go on sale in the UK, but we do know that, initially, European buyers will be able to choose between two four-cylinder diesel engines: the X 220d with 165PS, and X 250d with 193PS. In 2018, a V6 diesel with 262ps will join the line-up, and buyers also have the choice of either a six-speed manual gearbox or a seven-speed automatic.
For most of the time, the X-Class will run in rear-wheel drive, but all-wheel drive can be engaged if needed, with low-range gearing and an optional differential lock on the rear axle to tackle serious off-roading. From 2018, a model with permanent all-wheel drive will be available. The X-Class has a ground clearance of 202mm, with a 20mm higher suspension available as an optional extra. And, there's plenty of safety kit available, too, including Active Brake Assist, Lane Keeping Assist and Traffic Sign Assist. The X-Class also comes with seven airbags, as well as Trailer Stability Assist, tyre pressure monitoring, an emergency call system, cruise control, and LED headlights. A 360-degree camera is available as an option, in addition to the standard reversing camera. The X-Class will be available to order in the UK from November this year; and, although prices haven't yet been announced, we expect that it will cost from around £33,000.