Long Term Review
Skoda Kodiaq long-term test review – second report
Cars Editor Andy Pringle and his family are spending a few months living with Skoda's fist ever seven-seat SUV. Well, once two of his colleagues have borrowed if for their holidays, that is…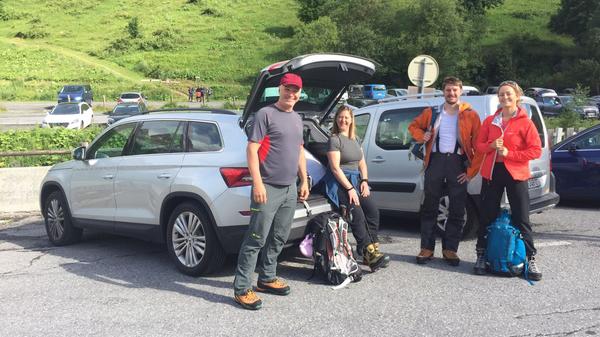 Good news spreads fast here in the world of Auto Trader. No sooner had my colleagues found out that a Kodiaq was joining our long-term test fleet, the requests started flying in…
The Skoda's ever-generous guardian passed on the keys, first to Phill Tromans for a trek down to Cornwall, and then to May Starey, who headed off to the Alps for an assault on the perilous slopes of Mont Blanc. Once Phill was back and dried out after a rather damp week away – well, what he did expect going to Cornwall in the British summer? – he told me, "I can't think of a better car for the job. We had two bicycles on a rack attached to the back, and associated cycling paraphernalia loaded inside, including an indoor trainer, tool kit and a week's worth of luggage. Yet, the five-hour drive from Sussex was dispatched in relaxed comfort at an average fuel economy of more than 50mpg. "On Cornwall's narrow lanes, the Kodiaq was more than nimble enough, despite its size, although the close hedges did occasionally confuse the automatic emergency braking system, which primed the brakes for an emergency stop despite no obvious danger. "As is typical for a British summer holiday, the weather was less than generous, but the Kodiaq coped admirably with the horrible conditions, with the bright LED headlights, automatic wipers and four-wheel drive coming in particularly useful on dingy, flooded and greasy roads."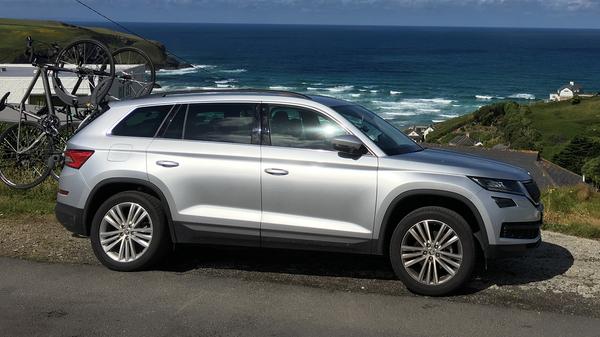 May, meanwhile, headed much further afield, which demanded long stretches of autoroute, but the Kodiaq dealt with all of that admirably. Indeed, 'amazing' was how she described its cruising ability, thanks to its smooth ride and strong, responsive engine.
The only time the car struggled was when it was fully laden, climbing up the winding Alpine roads toward her eventual destination, Mont Blanc, and unable to accelerate quickly enough to get past some slower-moving traffic. However, once they were at their destination and had unpacked the car, it was plenty quick enough for general pottering around. There was also a general thumbs up for the infotainment system and dual-zone climate control; and, for the most part, the sat-nav did its job well, too. Well, apart from a brief aberration in the centre of Geneva, when they had to rely on one of the passenger's local knowledge to get them out of the city.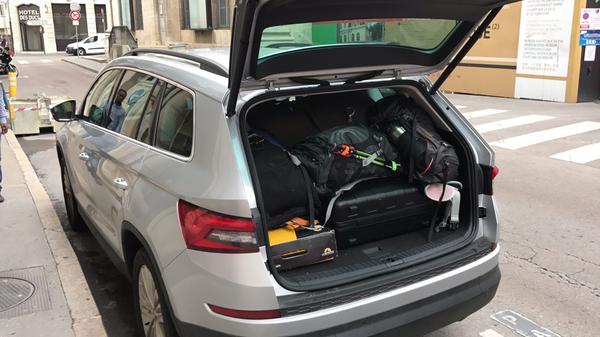 Above all, what made the car perfect for the trip down France with four adults was the space inside. "Everyone had plenty of room, and no one complained or needed to stop for a stretch," she said. Although she and her friends were taking four small suitcases, four 45-litre rucksacks, walking poles and a set of mountaineering boots, they managed to fit it all in the boot and didn't need to move any luggage into the cabin.
Mind you, the car's sheer size wasn't always welcome. May said not only was it a challenge to find suitable parking spaces, it was also hard to judge where the edges of the car were, meaning the front-seat passenger often ended up with a long reach to pay at the peages (toll booths). To be honest, none of this came as real news to me. It didn't take me long to realise just how practical, sensible and big the Kodiaq is, and I look forward to reporting on that from my own experience next month. In the meantime, I just need to find out who's approving so much holiday for my colleagues…
Key specs:
Model: Skoda Kodiaq SE L 2.0 TDI 150PS 4x4
Price as tested: £32,515
Engine/gearbox: 2.0-litre 4cyl turbodiesel, six-speed manual
Power: 150PS
Torque: 340Nm
Top speed: 121mph
0-62mph: 9.8 seconds
Economy: 51.4mpg
CO2/BIK tax liability: 144g/km30%
Boot space: 270/2005 litres
Optional equipment:
An exhaustive list of everything fitted to our long-termer, and the price of each item:
Dynamic Chassis Control £980 Metallic paint £555 Space saver spare wheel £100 Textile floor mat set £80