Long Term Review
Renault Clio long-term test review – first report
Road tester Phill Tromans is spending six months living with the stylish supermini to see how well it can cope with the challenges of everyday life.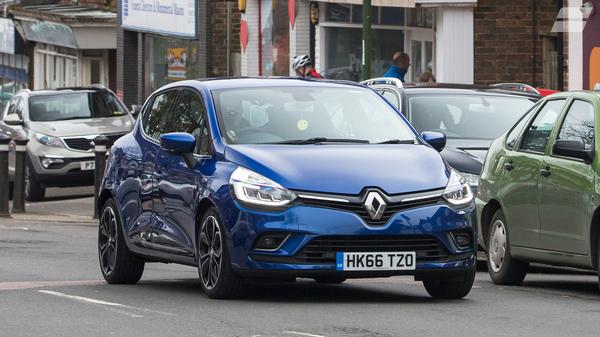 Mileage: 894
Costs: £0 Hello Renault. It's been a while. Before I became the Auto Trader new boy, I spent six years living abroad in a region where Renault sells very little. Now I get to see what it's been up to in recent years. Funnily enough, the arrival of the car you see here means I now have two blue Clios in the family. My new 1.2-litre Dynamique S Nav joins my 2003 Clio 172 Cup, which is simultaneously great fun to drive, and mildly infuriating to own. My chief hope is the latest incarnation of Renault's famous hatchback proves more reliable than my temperamental hot hatch. It's certainly better equipped. The Dynamique S Nav model sits just above the mid-range in the Clio line-up and comes generously equipped as standard. The trim name is apt: it's a dynamic-looking machine thanks to its swoopy lines and rear haunches. It sits on black 17-inch alloy wheels and has full LED front and rear lights with integrated daytime running lights. Although I'm a fan of LED lights, I've been loath to spend hundreds of pounds on them for my cars, so it's great to see them bundled in, and they've already proved much more effective than standard lights at night. The interior is a world away from my spartan 2003 car, with half-leather upholstery, a leather steering wheel, and an infotainment system controlled through a seven-inch touch-screen. As the trim name suggests, it has sat-nav as well. The screen set-up looks cool, but I'm worried about how easy it'll be to use touch-sensitive controls rather than buttons and dials. Thankfully, controls behind the steering wheel let me easily change things like volume, tracks and so forth on the sound system, but operating the sat-nav will be a different matter. Bluetooth and DAB radio are all included, as is a USB socket in the centre console to charge my phone.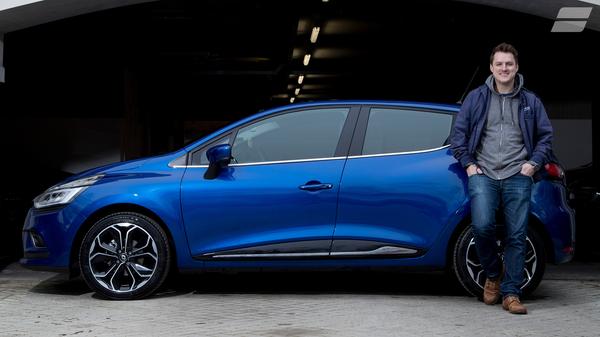 Entry and engine start is all keyless, which is another handy standard feature. I'm a firm convert to keyless entry, to the point where driving a car that requires taking a key out of the pocket is a darned inconvenience. First world problems, and all that.
There were only two options boxes ticked on the Clio order form. I've opted for Iron Blue metallic paint, at a cost of £625, and a reverse parking camera for £250. The former might seem a lot, considering there are several other shades of metallic paint available for £200 less, but this shade of blue is the best colour in the range as far as I'm concerned (besides, it better matches my 172 Cup). The camera is probably a bit of a luxury, but it's always easier to glance down at the screen when reversing, rather than relying on my feeble spatial awareness to avoid bollards and walls. The Clio will largely see service doing motorway slogs between my home in Sussex and the Auto Trader road test HQ in Surrey, with some around-town duty at the weekend, which should give it a good, rounded workload. Under the bonnet is a 1.2-litre turbocharged engine with 118bhp, which hopefully will be enough to cope with most everyday scenarios. I'm not planning on hauling much weight around and I expect I'll be driving alone most of the time, but it'll be interesting to see how it fares on the few occasions when I'm ferrying friends about. Renault promises 53.3mpg combined, but as that's a laboratory figure, I'll be happy to get anywhere near 50mpg in the real world. My fingers are crossed that the next six months spent with my new Clio will be hassle-free and pleasant. Having just spent £200 on a new starter motor for the 172 Cup, they're crossed more tightly than usual.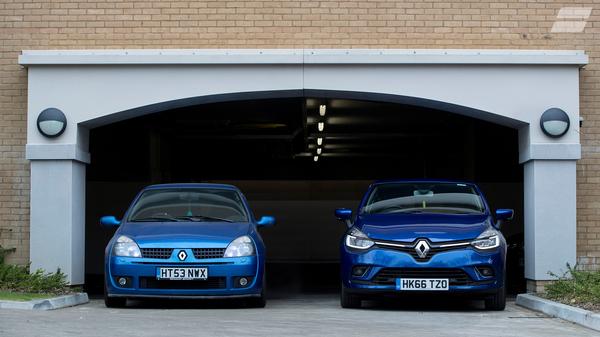 Key specs:
Model: Renault Clio Dynamique S Nav TCe 120
List price: £17,165 Price as tested: £18,040 Engine/gearbox: 1.2-litre 4cyl turbo, petrol, six-speed manual Power: 118bhp Torque: 151lb/ft Top speed: 124mph 0-62mph: 9.0 seconds Economy: 53.3mpg CO2/BIK tax liability: 118g/km / 22% (2017/18) Boot space: 300/1146 litres
Optional equipment:
An exhaustive list of everything fitted to our long-termer, and the price of each item:
Metallic paint: £625 Reverse parking camera: £250