Long Term Review
Honda HR-V 1.6i-DTEC SE Navi long-term test review – second report
Contributing editor Pete Tullin is spending six months living with Honda's smallest crossover to see how well it can cope with the challenges of everyday life
Second report - March 2016
Mileage - 4578
Costs - none
First report
As the spring gales blow me to various points of the compass and I really start to pile on the miles, I can't help feeling I'm beginning to get the best out of our long-term Honda HR-V. Destinations as diverse as Newcastle-on-Tyne for the funeral of a much-loved 90-year old uncle, then onto Kent for my grandson's first birthday, followed by a cross-channel trip to sort out some rising damp and some particularly uppity French builders, have all contributed to the HR-V's odometer rapidly spiralling past the 4500-mile mark. The 1.6-litre diesel engine now feels nicely bedded in and, although it's still no ball of fire, it definitely feels perkier than when it first arrived. I've had the pleasure of running petrol-powered Hondas in the past, so I know that, at exactly 6000 miles, something deep within the engine's electronic brain is triggered into life and releases an additional boost of performance. Although I'm not really expecting the same kind of increase from the HR-V's diesel engine, it'll be interesting to see if it gains any additional spark once it hits this milestone. It won't take long to find out at the rate I'm going. The freer engine has also brought an improvement in my average fuel consumption, albeit a slim one. Singing along on a mercifully clear stretch of the M40 with the cruise set to 70mph, the central touch-screen display beamed out a resolute 59.9mpg for the best part of 65 miles. Yeah, yeah, me too, but when I later did the litres swallowed to miles covered calculations, the cynic in me had to eat a big slice of humble pie as the electronic soothsayer proved to be absolutely spot-on. In mixed driving conditions, though, I reckon the norm is closer to 53mpg. Now, I'm no Rachel Riley, but even my rudimentary addy-ups suggest that I'll whizz past the HR-V's 12,500 mile (£215) first service during the period the car is scheduled to spend with me. Ok, so that's not a financial implication that's going to break the bank, but when you consider many modern diesel engines only need fettling every 18-20,000 miles, the HR-V starts to look like a bit of a hypochondriac. Not that the Honda has ever cried off sick.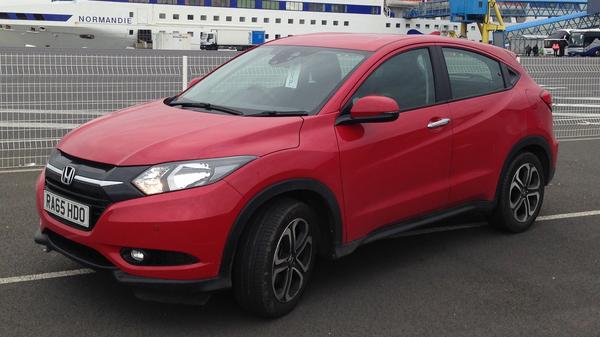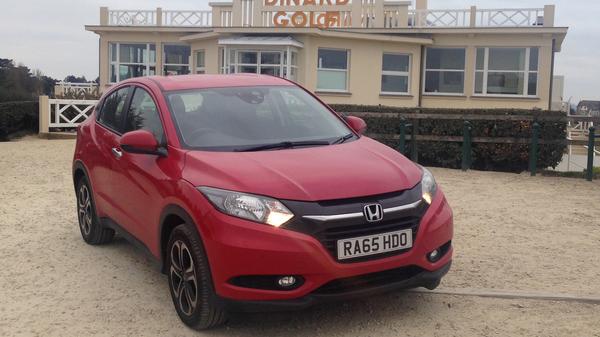 Granted, much like its driver, with advancing age, the engine has become a little more curmudgeonly first thing of a morning: voicing its displeasure with a forty-a-day starter motor cough and a bout of shudders that can be felt through the cabin's floor. This is not something that's repeatable once first gear is selected and the wheels begin toiling, however; and, in the main, the lads and lasses from Swindon who built our HR-V can sleep soundly. With not so much as a squeak, a rattle or a buzz, the cabin remains tight as a drum even when encountering the trashiest surfaces our beloved Highways Agency can throw at it.
Our charge comes standard with lane departure warning, which scolds you if you cross the white line without indicating. If I'm honest, I tend to leave it switched off because I'm of the opinion that, if you drift out of your lane on a regular basis or neglect to inform other road users of your intentions by indicating in advance, you have no right to be on the road in the first place. Equally, the startling array of dashboard flashing lights and the harbinger-of-doom warning bongs that tell you that you are going to collide with the car in front unless you apply the brakes, fall into the same category. However, one piece of tech that I have warmed to is the HR-V's automatic brake hold. Previous experience of these systems had made me pretty wary, as early examples tended to clamp themselves on before the vehicle had come to a complete standstill, hurling you towards the windscreen like a crash test dummy. Additionally, these pioneering arrangements also needed a big boot-full of revs to get the pads to release when moving off, so they actually increased, rather than reduced, the aggravation they were designed to alleviate. Thankfully, Honda seems to have cracked it with the HR-V, as the automatic hold is applied and released in near-seamless fashion. Let me tell you, although it did little to quell the smell of ever-ripening Brie secreted deep in the HR-V's big boot, it helped no end to take the strain off my aching calf as I queued for over an hour at Portsmouth docks trying to get through immigration. Happy days!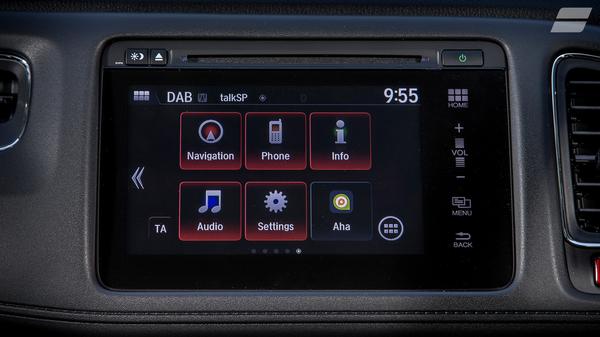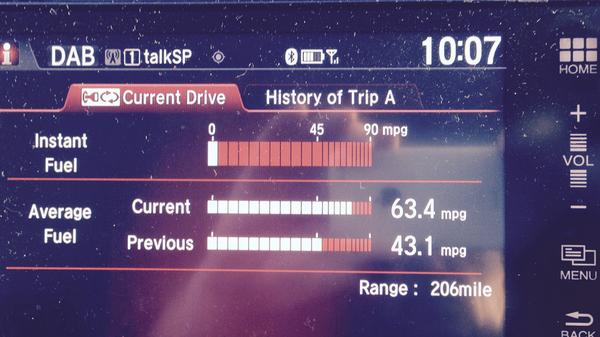 Key specs:
Model: Honda HR-V 1.6i-DTEC SE Navi
Price as tested: £23,050
Engine/gearbox: 1.6-litre 4cyl turbodiesel, six-speed manual
Power: 118bhp
Torque: 221lb/ft
Top speed: 119mph
0-62mph: 10.2 seconds
Economy: 70.6mpg
CO2/BIK tax liability: 108g/km/24%
Boot space: 470 – 1533 litres