Long Term Review
Audi TT S long-term test review – final report
It's time for Paul to give the Audi TT S back. Life will seem greyer without it...
Testing a flash convertible through the summer months? Yes, I agree, sometimes this job is as taxing as being down the mines, but I bravely put my hand up to run our TT S for the warmer half of the year, in a nice shade of canary yellow no less…
In fairness, we have driven through a lot of rain – on a 2,000 mile Scottish Road Trip, down to a very wet Le Mans 24hrs, and put it up against a Porsche, and its siblings. In our time with the car, we wanted to find out if this is the perfect roadster for changeable British conditions, whether you do really need 300bhp in a topless TT, and how it stacks up as a sportscar.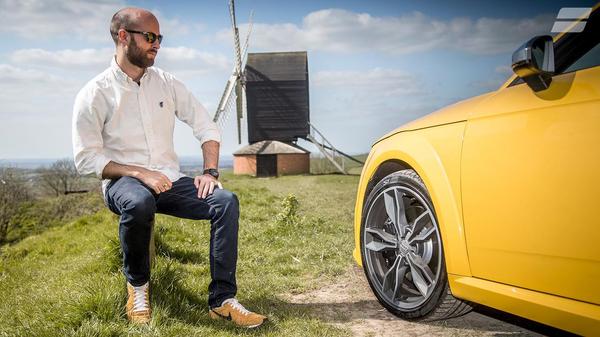 Likes: Top five things we enjoy about it
1. Of course it's the colour – I turn back to look at the TT every time I park it. This Vegas Yellow is only available on the 'S' model – a proper Lamborghini hue that's way better than silver. Some of you will hate it, but I think it makes this roadster bright and sunny, even when it's grey outside. Besides, in bad visibility, it's a safety feature.
2. The Open-Top driving package, a real life saver in the Spring and Autumn, it means we could spend as much time with the roof down as possible, with toasty heated seats, and these vents in the headrests, which are a bit like a gentle hairdryer – and probably the closest I'll ever get to one… 3. The Virtual Cockpit – the VR revolution is here! Every Audi under the sun will get these cool digital dials, but the TT had them first – I found them tricky to use initially, but this system is future of car interiors, technology at its best. 4. The manual 'box. Your TT S will be slower, and thirstier than the auto, but changing gears yourself gives this car another injection of personality. It's so fast, and so capable that you take it for granted, so three pedals is a must. 5. In fact, it's so grippy and so fast that if you squint, and concentrate hard, it feels exactly like you're driving a mini R8.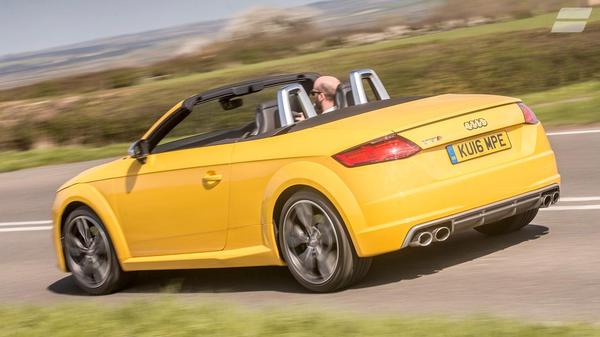 Dislikes: Things that are less good, and why
1. The noise. Half the point of a roadster is to hear the engine, and the 2.0 litre 'S' is a bit… mute.
2. Driving in town: living in the city means there are precious few chances to stretch this car's legs, and it's only on road trips where it's really shone. it's just not as fun in traffic, as out in the countryside. 3. The cloth roof: it's refined, well insulated, and drops in just ten seconds, but it also attracts hairs, fibres, leaves and dirt like a crushed velvet jacket and is a right pain to clean, because I'm quite lazy. Needs a giant lint roller. 4. The attention: It's good to stand out, but some days it's hard to put yourself on display, and you need a pretty thick skin to drive around London in a yellow topless sports car dubbed the turbo banana. Occasionally I feel like I need to keep a disguise in the boot for going incognito. 5. Image. Unbelievably, even now some people still think roadsters are for just for women, which is just plain wrong, but – some – Audi owners are a bit die-hard, if you know what I mean, and that's not really something we buy into…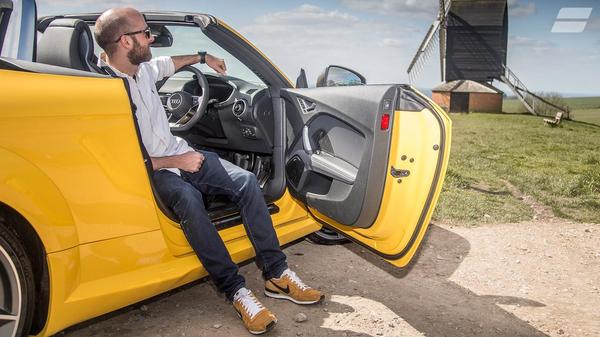 It is with a heavy heart that we say goodbye to the turbo banana. The TT Roadster is one of those cars that journalists drive for a day and dismiss as cold, and uninvolving.
Drive one for six months though, and you fully appreciate the sheer breadth of this car's abilities – there is no situation I've yet come across where it hasn't performed brilliantly, there have been no major niggles, even with the complex Virtual Cockpit, It's a drop-top that demands almost no compromises in terms of driving dynamics, practicality, security or refinement. I just wish I had thought up more excuses to use its power and poise on a more regular basis – oh and the kicker? It does 400 miles on a tank when cruising, so it's not even that costly to run. Life will seem greyer without it.
Key specs:
Model: Audi TT S Roadster 2.0 TFSI Quattro
Price as tested: £46,675
Engine: 2.0-litre turbocharged petrol, six-speed manual gearbox
Power: 306bhp
Torque: 280lb ft
Top speed: 155mph
0-62mph: 5.2 seconds
Economy: 37.7mpg
CO2/BIK tax liability: 173g/km/31%
Boot space: 280 litres
Optional Equipment:
An exhaustive list of everything fitted to our long-termer, and a breakdown of the price.
Base price: £40,450
Vegas Yellow paint: £550 Storage and luggage pack: £175 Comfort and Sound pack: £1,460 Technology Pack with Audi Connect: £1,795 Open-Top Driving Pack: £1,000 Audi Parking system plus, front and rear: £410 Cruise control: £295